A pizza stone, also known as a baking stone,is a flat plate-like kitchen appliance to bake a delicious home flavored pizza. It enhances the texture and gives that extra crispy crust to the pizza. The beauty of a pizza stone is its ability to cook faster and more evenly, whether you are baking your pizza on a grill or oven.
They absorb heat to maintain even baking temperature and the textured surface givesa flaky and golden brown crust to your pizza. Pizza stones can be used for baking bagels, frozen French fries, cookies, biscuits, and rolls.
This post features the types and some of the best pizza stones you can buy online.
Types Of Pizza Stones
Pizza stones are typically made of cordierite, ceramic, steel, stone, and clay. Read on to understand the nuances of the four main materials used for pizza stones.
Cordierite: Cordierite is a mineral that can resist thermal shock and withstand extreme temperatures.The natural mineral can absorb heat from the oven and spread it evenly to bake the pizza. Cordierite pizza stones tend to absorb moisture and are durable.
Ceramic: Less expensive than cordierite, ceramic pizza stones trap and conduct heat at high temperatures. However, they can be fragile and break easily compared to the cordierite pizza stone.
Stone and clay: The stone quickly absorbs the excessive moisture from the dough,resulting in a crisper crust. The key feature of this stone is that it doesn't make your pizza soggy.
Steel: Baking steels are popular due to their ergonomic features. Easy to handle and maintain, baking steels are indestructible and heat up faster. They are immune to thermal shock. The only downside is they can be heavier than the stone-based pizza stones.
13 Best Pizza Stones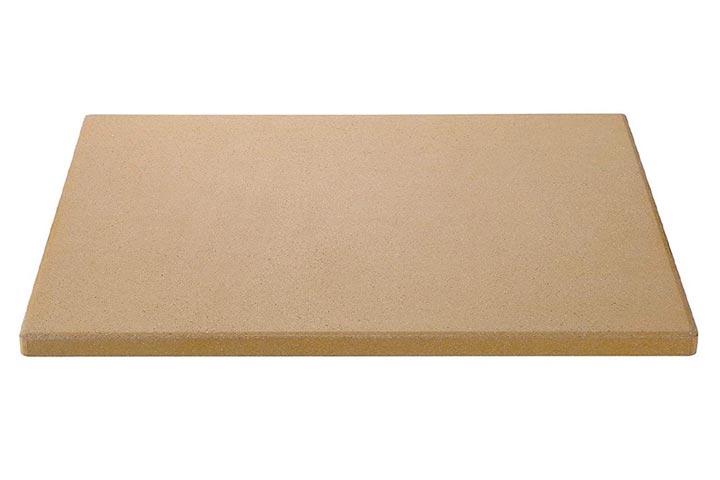 Unicook ceramic pizza stone is crafted to withstand temperatures up to 1450°F, having excellent thermal shock resistance. The stone measures 14.9inx11.8in and weighs 6.6lb, with a thickness of 5/8in(16mm). The unique feature of the Unicook pizza grilling stone is it quickly absorbs the moisture from the dough and helps bake a crispier crust pizza.
Pros
The stone can bake pizzas, bread, cookies, and flatbreads
Made from good-quality ceramic stone
Comes with a free plastic scraper
Cons
Pizza may not bake evenly
Not easy to clean
Pizza may get stuck to the stone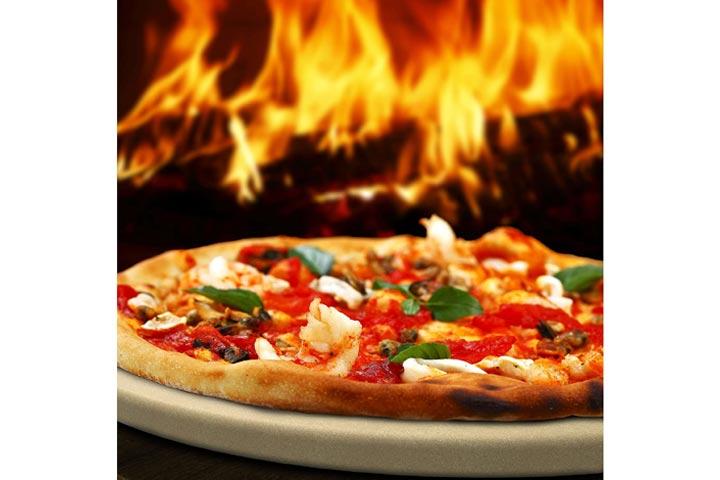 Made of thermite, Cast Elegance stone is designed to last longer. Unlike other stones, it does not smoke but shields pizza from intense heat. The stone comes with a bonus scraper and a free recipe eBook.
Pros
Tested by the FDA and the European Union for food safety.
Can be used on electric oven, gas oven, electric grill, gas grill, and pellet grill
Cons
Pizza may get stuck to the stone and get burnt
Pizza may not cook evenly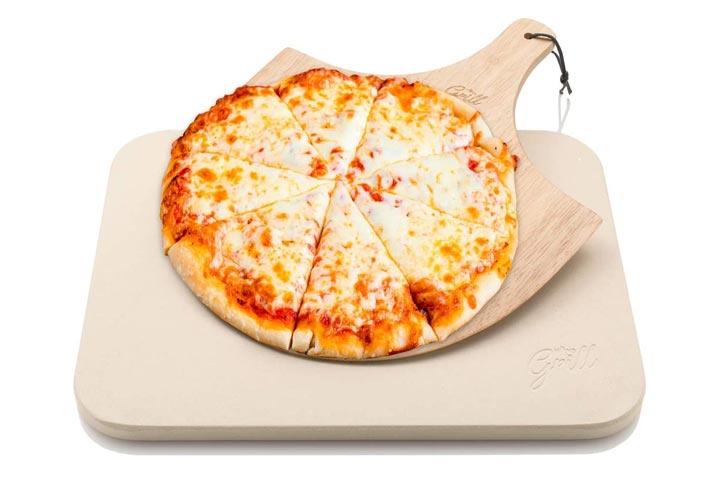 The rectangular baking stone is made of high-quality material, which can resist high temperatures without developing cracks. The ergonomically designed wood board facilitates holding, cutting, serving, and eating to your heart's content. The stone is a versatile kitchen tool used for baking pies, pastry bread, calzone, or pizza bread.
Pros
Comes with a wooden pizza peel spatula
Easy to maneuver with its long wooden handle
Perfectly bakes wood-fired pizzas
Cons
May contain chemicals
Could smell after intense heating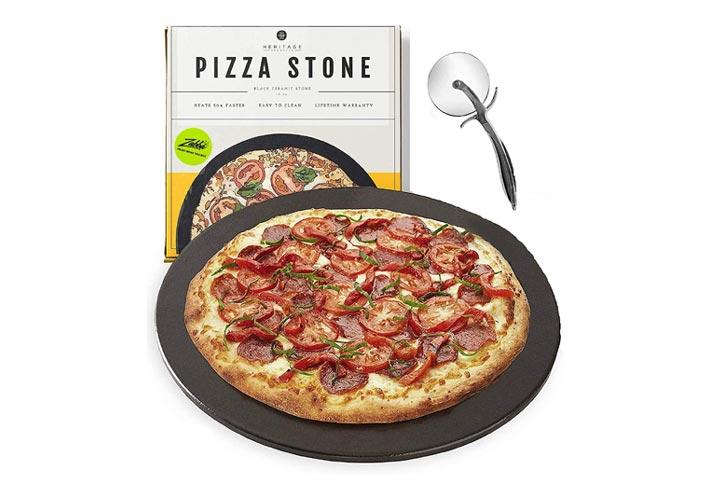 Heritage non-stick ceramic pizza pan preheats faster than most pizza stones, which tend to get stained after continued usage. This ceramic stone does not leave any grease or toppings as it is non-sticky due to its black coating.
Pros
Does not smoke
Easy to clean
Black coating makes it non-sticky
Cons
The black finish may come-off after continued usage
May crack if not handled with care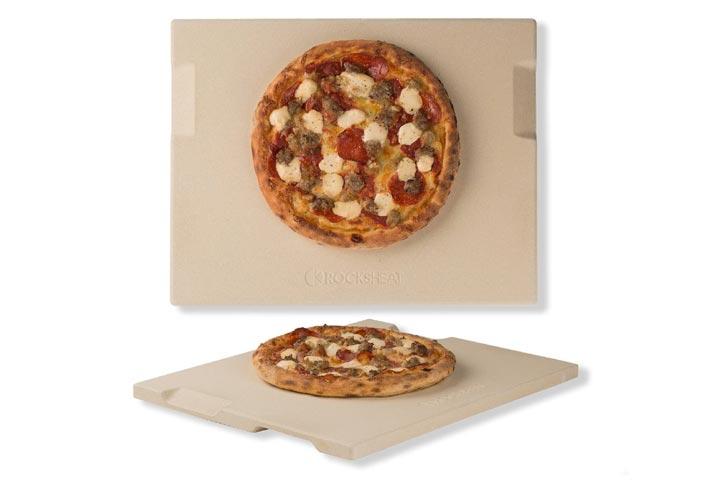 Rocksheat pizza stone is designed with double-faced built-in handles, making it easier to transfer your piping hot pizza to another dish. The stone can withstand up to 1400°F.
Pros
Does not contain harmful substances or odor
Not made of lead or other harmful chemicals
Good to use for the grill
FDA certified
Cons
Not dishwasher-safe
Pizza may stick to the stone if you do not follow instructions in the manual
May break after some time if not handled with care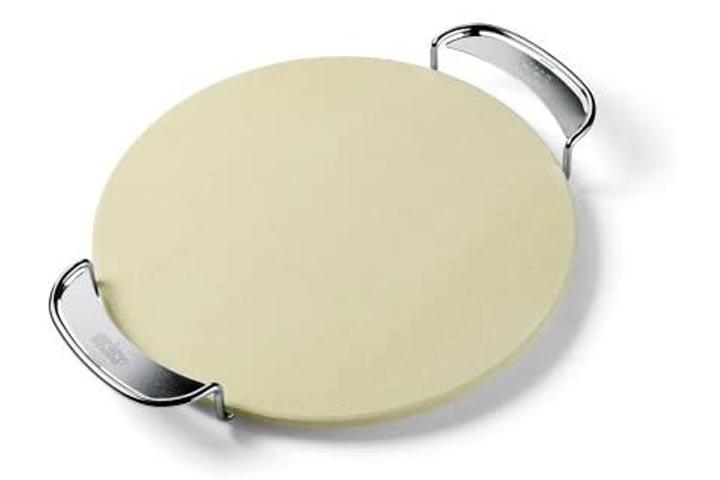 Made up of cordierite, the stone makes your pizza soft and crispy as it can absorb moisture quickly. It comes with a carrying rack, which makes it easier to transport the pizza. The stone is designed to perfectly fit into a BBQ system cooking grate.
Pros
Offers you great cooking quality
Pizza crust can be crispier than baked in a pan
Pizza won't stick to its surface
Cons
Handles may not let pizza paddle to sit on the stone
May take a few minutes to get heated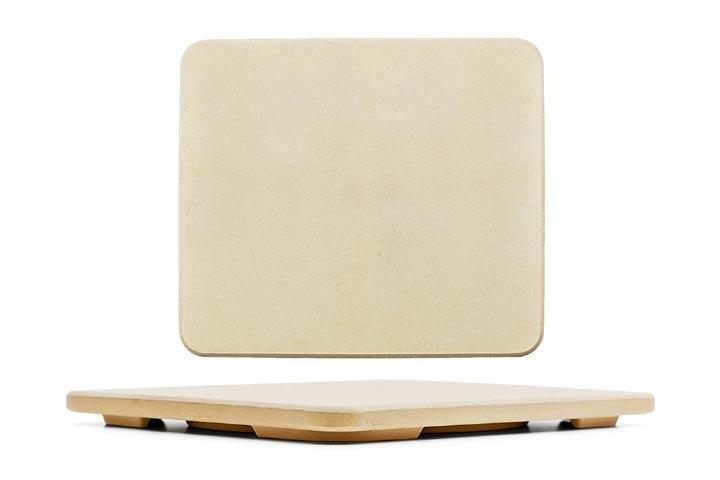 Solido stone can be used for grill or oven. The spiral heat mechanism of the stone stores the heat in the center. The topping will be cooked in the middle just as perfectly as the ones on the corners. The stone measures 14inx6in and weighs 13.32lb
Pros
Easy to clean
Stone has ridges on the bottom to increase the strength
Top-notch design and quality
Prepares pizza quicker than other stones
Cons
Stone may be heavy
Pizza may stick to the stone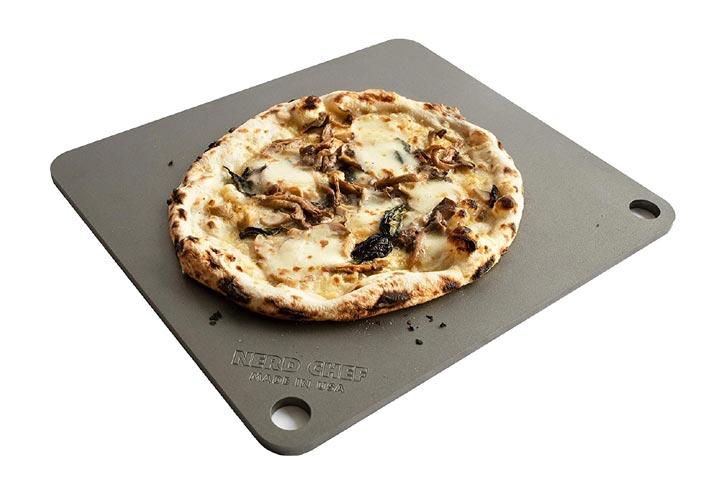 Nerd stone has higher conductivity compared to ceramic stones. The stone has 20 times faster heat transfer ability than ceramic stones and double the heat capacity. The sanded smooth pizza stone is pre-seasoned with flaxseed oil, is heavyand strong, making it long-lasting.
Pros
Durable
Works great for cold desserts as well
Pre-seasoned baking steel
Cons
May be difficult to handle due to its weight
Size may be smaller than claimed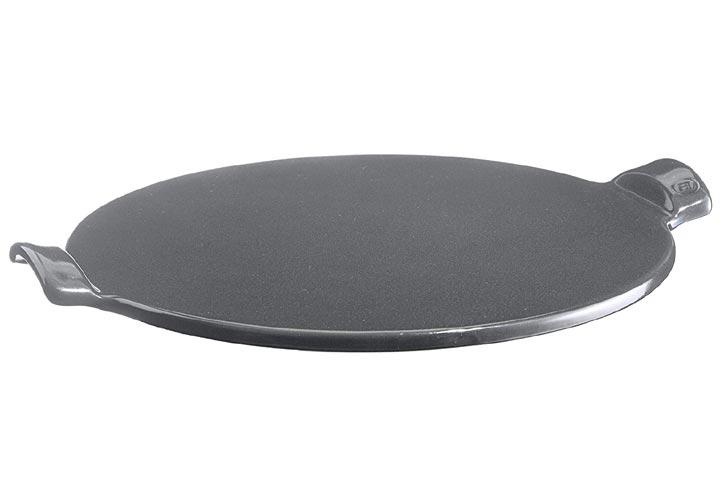 Made of natural materials, the stone can be used on a gas flame, charcoal, natural wood, and oven. The stone was manufactured using Henry's proprietary Flame technology and can withstand high temperatures. The glazed stone allows you to cut the pizza easily without any scratches.
Pros
Dishwasher-safe
Ten years guarantee against manufacturing defects
Ergonomically designed handles make it easier for both indoor and outdoor grill
Cons
May not be durable as it is made of clay
Enamel might chip-off after some time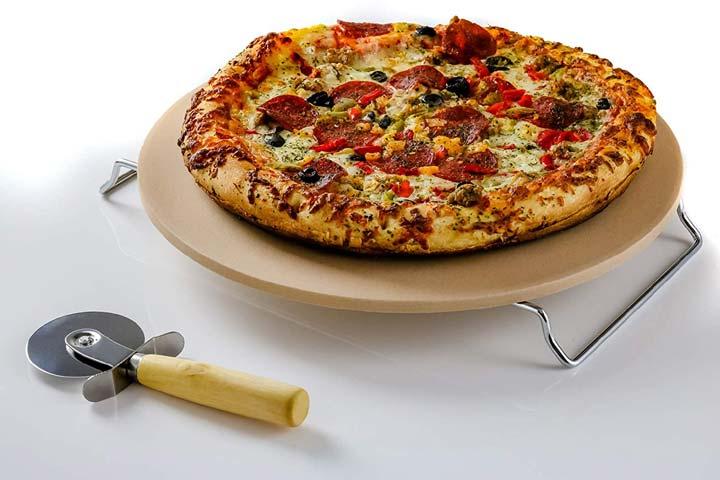 The stone is engineered to handle intense thermal shocks while maintaining its shape and effectiveness. The stone effectively draws out the moisture as it is designed with highly absorbent micro-holes. The best part is that you don't need to purchase a pizza cutteras Ovente offers both the stone and the cutter.
Pros
Low-maintenance
One-year of warranty
Multi-purpose usage. The stone can be used for banking bread, croissants,and other pastry delicacies
Easy to clean
Cons
May crack after some time of usage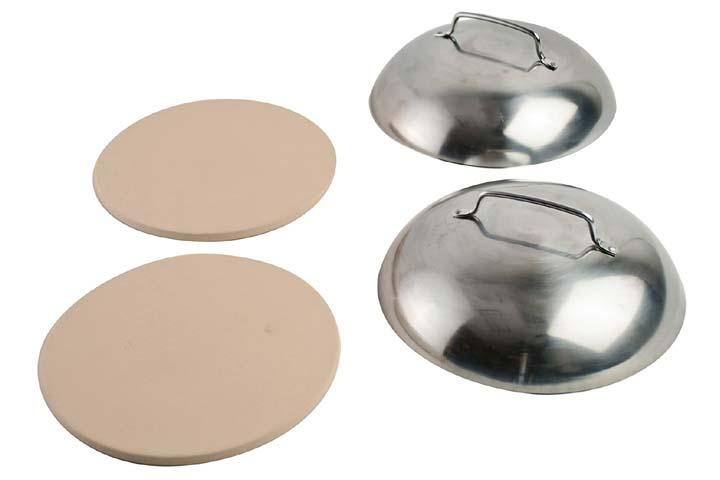 The stone comes with stainless steel domes that intensify the heat for crispier pizza. Itcan be used for baking bread, pastries, frozen and fresh pizzas. You need not soak the stone in the water before usage. For cleaning, scrape off excess food with the help of a spatula.
Pros
Works well on the grill
Lightweight compared to other pizza stones
Cons
May not work for a large size pizza
Hard to clean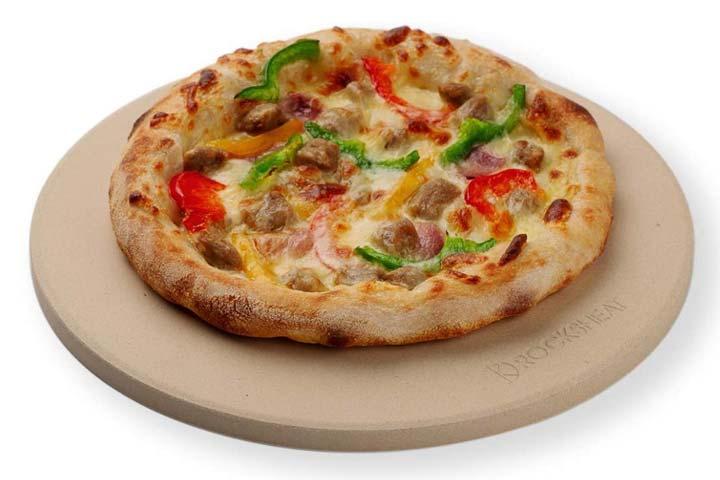 The low maintenance pizza stone doesn't need you to condition or season it before use. The thickness of the stone makes it perfect for using it in an oven or grill. It is resistant to high temperatures and allows even heat distribution, helping you bake a crispy browned crust.
Pros
Good-quality stone
Perfect for baking bread, pizzas,and cookies
You don't have to preheat the stone
Not made of lead or other harmful chemicals
FDA certified
Cons
May be hard to clean
Pizza may stick to the stone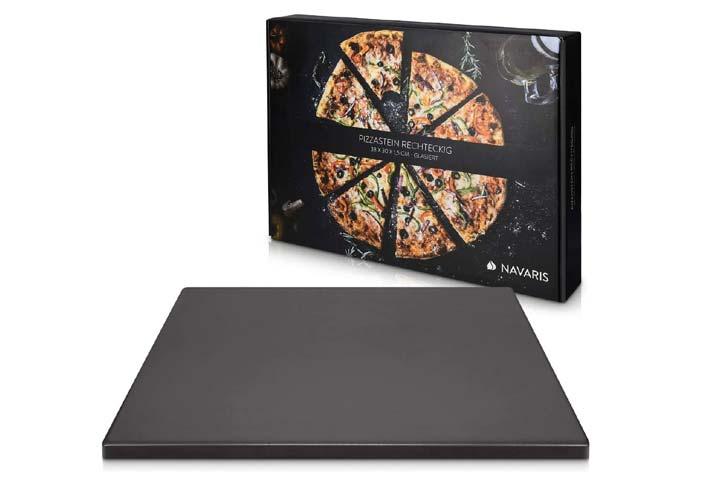 Glazed with ceramic, the pizza stone fits outdoor grills and indoor oven. The pizza stone measures 15inx11.8in and weighs 6.6lb.The stone is easy as it comes with an enameled coating. The stains are less likely to show.
Pros
Perfectly fits the oven
Gets heated up quickly
Heats pizza and flatbreads evenly
Cons
Pizza may stick to the stone easily
May crack if not handled with care
How To Choose The Right Pizza Stone
Material: The most important feature to evaluate before buying a pizza stone is its material. The best choice is stones made of ceramic material as they can help you bake crispier pizza.
Size and shape: Pizza stones come in different shapes – square, circular and rectangular. You must consider the measurements of your oven or grill before you decide the shape or size.
Versatility: Pizza stones have a wide-ranging use. They can be used for baking cookies, croissants, biscuits, and rolls. You should consider stones that serve varied usage.
Frequently Asked Questions
1. How to clean a pizza stone?
Wet the surface of the pizza stone with hot water. Use soap,scrub the pizza stone with a stone brush, and wipeoff the food particles with a damp rag.
2. Do I need to preheat my pizza stone?
You should preheat your pizza stone.
3. What temperature can a pizza stone withstand?
The temperature that a pizza stone can withstand varies from brand to brand. Typically, the minimum temperature that a pizza stone can resist is 900°F.
Pizza stones help you bake perfect pizzas and enhance their flavor. The thickness of the stone is extremely important. Thinner stones can burn your pizza, while a thicker one might not bake the pizza evenly and efficiently. You should choose a pizza stone that is neither too thick nor too thin. Do consider the types and the options listed in this post before buying one.
Recommended Articles: