A pizzella is a popular Italian dessert/waffle (round cookie) prepared with eggs, butter, flour, and sugar. While the cookies are a true delight, preparing them can be quite a task. But thanks to the introduction of pizzelle makers, preparing this mouthwatering dessert is easy now.
Most pizzelle makers are dishwasher-safe and come equipped with a built-in temperature adjustment knob and a few accessories, such as a spatula and measuring spoons, that come in handy while making the pizzelle.
If you are a pizzelle fan and would love to prepare these cookies at home, here is a list of some of the best pizzelle makers available online. Find out how to choose the best one for yourself to make authentic pizzelle at home.
11 Best Pizzelle Makers
With this five-inch nonstick electric pizzelle baker, you can make not one but two mouthwatering pizzelle. Manufactured by CucinaPro, the electric pizzelle maker comes with superior-quality nonstick baking plates to help you make unique and traditional pizzelle, which can be rolled into perfect cones. 
Pros:
Comes with a steam guard to protect the hands
Extra-thick baking plates ensure even distribution of heat for baking pizzelle with uniform thickness
Superior-quality nonstick cooking grids
Makes two pizzelle with beautiful imprints at a go
Easy to clean
Comes with a recipe cookbook
Cons:
In some instances, the pizzelle may not come out as thin and crispy as expected
Not dishwasher-friendly
The nonstick pizzelle maker offers easy and hassle-free pizzelle making experience. The user-friendly pizzelle maker is designed to make two thin, traditional-sized pizzelle (4-3/4-inch) in less than 30 seconds. The pizzelle maker comes equipped with a locking latch to ensure the baked pizzelle are of uniform thickness.
Pros:
Instant temperature recovery, no waiting/prepping time
Ideal for making cannoli
Comes with a nonstick, easy-release coating/ baking surface
Built-in baking indicator light, indicating when the baking is done
Comes with a recipe book
Works real fast 
Cons:
Requires very less baking time, hence the pizzelle may get burnt if not alert
With the Palmer Pizzelle Maker Classic, you can prepare two thin, crispy, and delicious pizzelle (4 ½ inch- 4¼ inch) in about half the time as that required by hand irons. The 120 Volts, 800 Watts, and UL listed pizzelle maker is ideal for individuals who love to make thin, crispy, and perfectly round pizzelle.
Pros:
Superior-quality cast aluminum plates and chrome-cast aluminum body
Comes with a five-year manufacturer warranty
Gives the perfect pizzelle crunch
Ensures even heating of the pizzelle
Cons:
Plates are not nonstick
Relatively heavy
No built-in baking indicator light
If you love small pizzelle, then this product is just for you. With CucinaPro Mini Italian Pizzelle Waffle Maker, you can prepare four perfectly round and crispy mini pizzelle at one go. It can make four mini pizzelle in one go, and with intricate designs on them too. It is designed to bake perfectly crispy pizzelle, each measuring just the right size, at 3.25in in diameter.
Pros:
Nonstick baking grids ensure easy and hassle-free clean-up of the device
Comes with a metal lock and elongated handles
Baking plates are extra-thick, ensuring uniform distribution of heat
Steam guard to safeguard hands from burns/scalding
User-friendly
Cons:
Pizzelle may not cook evenly
Pouring the pizzella batter in the center is quite a task
Cuisinart WM-PZ10 Pizzelle Press is a user-friendly product that helps bake two pizzelle (4-inch each) relatively quickly. The pizzelle maker also has a locking lid to ensure uniform heating (top and bottom). It comes with a useful rolling dowel, a recipe book, and a measuring scoop.
Pros:
Comes with built-in 'Ready-to-bake' and 'Ready-to-eat' indicator lights
Built-in five heat levels for different results
High-quality nonstick baking plates to ensure easy release of the pizzelle
Brushed stainless steel exterior
Easy clean-up
A limited three-year warranty
Cons:
May not be durable
Short handle, and the steam (when you open the lid) may cause burns/scalding
If you want to equip your kitchen with a pizzelle maker that works fast, this is just the product. With this, you can bake two pizzelle (5-inch each) with the traditional Fiori pattern imprints on each one of them.
 Pros:
Bakes two pizzelle in 30 seconds
Xylan nonstick grids for an effortless and easy release of the pizzelle
Easy to clean
Durable
Impressive chrome finish
Built-in automatic thermostat with ready indicator light
Steam guard to keep your hands safe
Comes with a convenient cord wrap
Contains instructions with recipes
Cons:
No indicator/timer signaling baking is complete
An efficient and durable pizzelle maker, the Palmer 1000T Electric Pizzelle Iron-Nonstick can bake two thin (5-inch) pizzelle at a time. The nonstick baking plates go a long way to ensure the easy release of the thinly baked pizzelle.
Pros:
Comes with a 10-year warranty
Has lid lock ensuring uniform and fast baking of pizzelle
Made of cast aluminum and chrome
Uniform distribution of heat
Nonstick baking plates ensure easy clean-up
Cons:
Both the baking plates contain the same pizzelle design
Pizzelle may stick to the plates in spite of the nonstick coating
The VillaWare V3850 Quattro Pizzelle Baker is an ideal choice if you love to bake the thinnest pizzelle. With this, you can bake four really thin pizzelle (3 1/4 inch each) with intricate and unique designs. The baking time for each batch is 30 seconds. The product comes with a detailed user guide and also a recipe booklet. The pizzelle maker can be hand-washed, but not with the help of abrasives.
Pros:
Bakes four pizzelle within 30 seconds
Xylan nonstick grid surface ensures easy release of the pizzelle and also easy clean-up
Comes with a built-in automatic thermostat and ready light
Comes with a 4-inch handle
Steam guard ensures the safety of hands
Pizzelle can also be used as ice-cream cones
Comes with a cord wrap
Cons:
The pizzelle baker by VillaWare is a time-saving product that bakes two pizzelle (5-inch each) with Fiori pattern within 30 seconds. The product comes with Xylan-coated baking plates, ensuring the release of the perfect pizzelle without any damage or break. A user-friendly product, VillaWare V5000 PRIMA Pizzelle Baker is easy to clean. To prevent tangles, the pizzelle baker comes with a cord wrap.
Pros:
Steam guard to keep the hands safe and protected
Xylan coating baking plates
Built-in automatic thermostat
Built-in ready light
Bakes pizzelle quick (two pizzelle within 30 seconds)
Cons: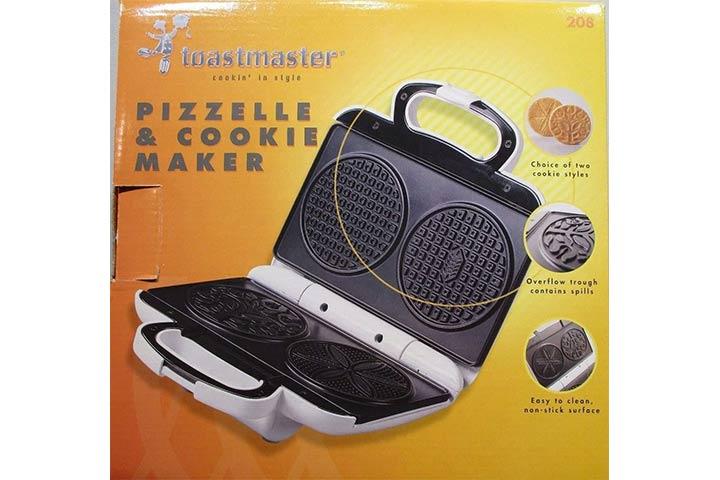 The Toastmaster Pizzelle and Cookie Maker is a quick baking product that bakes two pizzelle within a minute (45- 60 seconds). The product comes with a nonstick coating, ensuring a hassle-free clean-up and also an effortless release of the baked pizzelle.
Pros:
Nonstick grids are oversized, ensuring reduced clean-up of the countertop
Comes with a cool-touch exterior, thus safe for kids to use
Uniform distribution of heat, ensuring perfectly well-cooked pizzelle
Cons:
Does not contain automatic thermostat and ready light
If you are looking for a non-electric pizzelle maker, then this product is just for you. The iron used in this product is of superior-quality warp-resistant cast aluminum. To make the pizzelle, you have to place the pizzelle maker on top of the stove (for heating purpose), add the pizzelle batter, and then shut the lid for some time. Your thin and crispy pizzelle with flowers and leaves imprint are ready to be served. The product comes with a recipe booklet and wood rolling cone.
Pros:
Durable and lightweight
Makes crispy and traditional Scandinavian cone-shaped cookies
Made with warp-resistant cast aluminum
Uniform distribution of heat
Cons:
Time-consuming
Cannot make multiple cookies at a time
How To Choose The Right Pizzelle Maker 
Baking the perfect pizzelle is an art, and the pizzelle maker, when chosen right, will only enhance the experience by several folds. Mentioned below are a few simple yet effective tips that will go a long way to help you choose the best pizzelle maker.
Type of pizzelle maker:  A pizzelle maker can either be manual or electric. While a manual pizzelle maker is often found to be time-consuming, an electric pizzelle maker bakes pizzelle within minutes. If you are pressed for time, an electric pizzelle maker works to your advantage. Some pizzelle makers can also bake many pizzelle at one go.
Safety features: While choosing a pizzelle maker, stress more on the safety features of the product. Most pizzelle makers come with a steam guard to shield your hands from burns or scalding. Also, ensure that the handle of the pizzelle maker is not too short. Such features are a must if you are buying the product for a kid or if you have kids at home.
Heat distribution: An ideal pizzelle maker ensures uniform distribution of heat for perfectly baked, thin, and crispy pizzelle. Uneven heating may severely affect the texture and thickness of the pizzelle. Many pizzelle makers also come with a tight lid lock system so that there is even heating.
Built-in features: Many pizzelle makers come equipped with an automatic thermostat, indicator lights (ready to bake, ready to eat), and temperature regulator for browning results. Such features save you the effort of repeatedly checking on the pizzelle.
Nonstick baking grid: A pizzelle maker with a nonstick baking grid ensures hassle-free release of the baked pizzelle. Such grids and baking plates are also easy to clean.
Accessories: Some pizzelle makers come laden with accessories such as rolling wood cones, measuring cups, spoons, spatula, cord wraps, and recipe booklets. These accessories come in handy while baking the pizzelle.
The many varieties of pizzelle makers available make it easy to bake delicious and crispy pizzelle at home, and maybe you could even customize them as per your taste and requirements. Buy a pizzelle maker today and treat your loved ones to some lip-smacking and authentic pizzelle quickly and without much effort.