The kitchen can be a mysterious and intriguing space for children. Exposing your little one to the kitchen allows them to channel their curiosity into learning a useful new skill, cooking. However, substituting real food with the best play foods for kids can make the experience more fun. This way, you don't have to worry about them mistaking their dinner for a plaything.
Play foods keep young ones busy while satisfying their desire to prepare food. They can pretend-play to their heart's content without any messes to clean up after. Gradually, you could get them to help around the kitchen as well.
Here, we list some of the most interesting play food options that can spark kids' interest in the kitchen and teach them the fundamentals of cooking.
Safety Points To Remember About Toy Foods
Toy foods are ideal for school-going children: Young children and toddlers may feel tempted to take a bite out of the toy food. Therefore, toy foods are best suited for children who are around four to six years of age and ready to go to kindergarten. These children know the difference between toy foods and real foods.
Check for wear and tear: Periodically check for any signs that indicate the child may be gnawing at the toy. Fading of the color at a spot may mean that the child regularly licks or tries to chew it. If they are, take the toy away until they understand that these toys should not be put in the mouth.
Next, we give you a list of the best toy foods that you can consider for your child.
15 Best Toy Food Sets For Kids
Before your child helps you out with real cookie baking, let them practice their skills with this toy. Not sure if this is the right game for you? Check out this video to know more about it.
Pros
Toy set contains 12 cookies and 12 toppings, along with several other baking accessories
Each wooden cookie can be fixed with a range of toppings, such as chocolate and white chocolate with sprinkles
Baking tray has hook-and-loop fasteners that help keep the cookies organized
Toy baking tools include a knife, a spatula, and a baking glove
Cookies can be stored in a cardboard box that resembles a real cookie box/wrapper
Cons
Cookie tray might be slightly wide for the oven
Paint might peel off
This is a great way to introduce your child to fruits and vegetables. Here's a video that demonstrates exactly how easy it is to use this product every day.
Pros
Fruits and vegetables in this set are sorted according to colors
Includes a total of 25 foods in five buckets, with one bucket each for a color
Helps teach children about foods and colors
Helps improve fine motor skills
Cons
Involves many small pieces
May have sharp edges
If there is anything that can be more exciting than ice cream, it is an ice cream cart. This video will tell you more about the book so you can make an informed choice.
Pros
Includes toy ice cream toppings, a scooper, and cones, all set in an ice cream cart
Ice cream cart has functional wheels and a handle that lets the child push the cart
Includes a toy syrup container with a pump, which plays music and other tones when pressed
Has a toy cash register that counts to ten at the press of its buttons
Ice cream scooper lets the child pick the ice cream topping and put them on the top of the cone with a button that helps lock and release the toy ice cream scoops.
Can put one or more scoops on a single toy cone
Cons
Magnets might not be very powerful
Storage might be an issue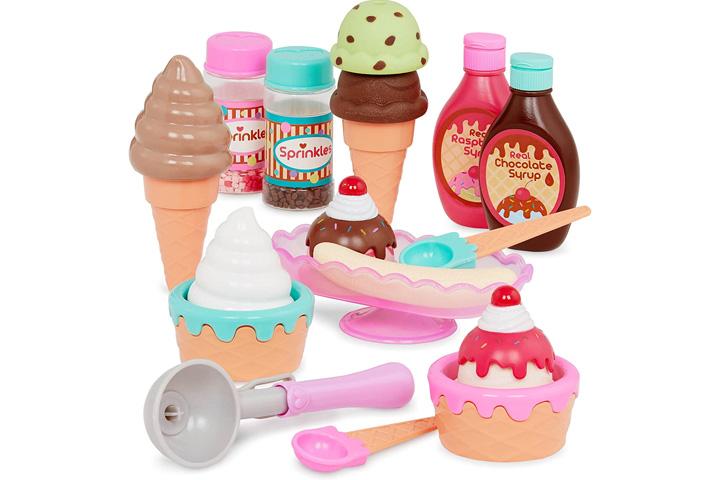 If your child has a sweet tooth, this toy might be for them. The set includes toy ice cream scoops, sprinkles, syrup bottles, ice cream swirls, a banana, sugar cones, and more.
Pros
Includes cutlery such as cups, spoons, an ice cream scooper, and a dish
Stackable ice cream scoops
Non-toxic
Easy to grab
Makes realistic sounds
Syrup bottles have easy-to-open lids
Durable materials
Cons
May be smaller than expected
Scoops may be challenging to stack for some
Let your child start their very own toy pizza store with this wooden pizza toy set.
Pros
Includes six pizza slices that stick to one another through a hook-and-loop fastener
Includes wooden toppings, such as tomatoes, onions, and olives. Toy toppings can stick to the pizza
Accessories include a wooden pizza cutter, serving spatula, and a cardboard oven
The set also comes with fake money, a menu card, a chef hat, and six fake mustaches for the little Italian pizza baker
Helps make pretend play more realistic
Cons
Toppings might be too small for some
Felt might come apart
Here's a toy pie that can store an assortment of colorful fruits and vegetables.
Pros
Toy is shaped like a pie with a removable top
There are five slots inside the pie with each slot dedicated to a specific color of vegetables
Includes two pairs of tongs, which means the child can play with their parent or sibling
Toy pie works as a box to store the toys
Helps promote fine motor skills
Cons
Tongs might be slightly challenging to use
May not have enough variation
Here's an assortment of fruits and vegetables in an adorable tote bag.
Pros
Includes 16 plastic toy fruits and vegetables, each featuring realistic details and color scheme.
Made from plastic, which has a rubber-like feel to it.
Durable and resistant to crushing.
Eco-friendly tote bag made from canvas fabric for easy storage
Cons
Might have a slight chemical odor
Might be small
These toy foods can help your child understand food groups better. The toy food set comes with 21 pieces of wooden toy foods and four wooden crates to store the toys. The toys are divided into four food groups: fruits and vegetables, meat, grains, and dairy. Each of the four crates holds food of a specific category
Pros
The toy set can help the child understand the importance of a balanced diet
Each wooden toy is hand-painted
The wooden crates are sturdy and are made from high-quality wood
Easy to store
Cons
Might be slightly heavy
Paint may get chipped
This toy food set has everything, from carrots to cupcakes!
Pros
The set consists of 115 pieces of toy food. Each piece features a realistic color and detail
Wide variety of options when segregating the food. You can group them as per color, food group, taste, and so on
Includes fake canned food items, beverages, and seasonings
The plastic used is free of BPA
Cons
Some pieces might be thinner and more bendable
Let your child have their very own barbecue within the safety of their room.
Pros
20-piece set contains everything that the child will need to practice their barbecuing skills
Set also consists of toy hot dogs, corn, ketchup, and mustard bottles
Cutlery includes a pair of knives, spoons, and forks
Includes a pair of napkins, which can have a general use
The colors of the toy are bright and realistic
Cons
Hamburger and buns might not be stacked well
May be small
Child bothering you when you prepare breakfast? Get them this toy set and let them make their own breakfast toast every day.
Pros
Includes a toy toaster and toy food items like bread, butter, and honey
The two slices of bread can be placed inside the toaster.
Wooden lever on the side of the toaster lets the child pop the bread as it happens in a real toaster
The butter slices stick together with hook-and-loop fastener
Other accessories include a wooden plate for the bread and a wooden replica of a honey jar
Toys are made from high-quality wood and feature child-safe paints
Cons
Toaster does not automatically pop
Slices may get stuck
Fruits in this toy food set can be sliced to provide an excellent pretend play experience.
Pros
Comes with seven toy fruits.
Each fruit is made from multiple sections stuck together with a hook-and-loop fastener.
Easy to chop with a wooden knife that comes with the set
Slices with a "crunch" sound every time the knife goes through the sections of the fruit
The toys come arranged in a wooden crate.
Fruits are made from wood and feature a realistic paint scheme
Cons
Wooden knife might not be as durable
What can make a party more exciting? A wooden birthday party cake with candles!
Pros
Toy is shaped like a cake sliced into six pieces. There is a candle for each of the cake's slice and an extra candle for the center
A sturdy hook-and-loop fastener connects the slices of cake and candles
Child can decorate the cake with several wooden toppings
Includes a wooden serving knife to pick and serve a slice of the cake
Made from wood and painted in colors that lend a realistic look to the cake
Cons
Fastener might come loose sometimes
Velcro might get dirty easily
This colorful toy also doubles as a good developmental tool.
Pros
Toy cupcakes come arranged in a plastic pan that resembles a real baking pan
Icing on the cupcake is removable
Each icing section of the cupcake features a peg that fits into a specific base only
Base of the toy cupcake is brown while the icing is in various bright colors
Made from plastic that is durable and sturdy
Cons
Might have a slight chemical smell
This toy food set is likely to cover nearly all of your child's favorite foods.
Pros
The 122-piece set features a wide range of foods, including baked items, fast food, desserts, fresh fruits and vegetables, and canned food.
Can be segregated into fruits, vegetables, desserts, fast food, and canned food
Each piece of the toy food set is made from BPA-free plastic
Toys have a realistic color scheme
Cons
Needs to be washed before each use
May not be sturdy
What Are The Benefits Of Toy Foods?
Toy foods are replicas of food items such as vegetables, snacks, and beverages used for pretend play. The American Academy of Pediatrics states, "playing and pretending allow your child to learn and grow" (1). Simple pretend-play like drinking from an empty cup is one of the activities recommended by the academy (2).
Pretend play using toy foods can help children understand various foods, create an interest in fruits and vegetables, and the benefits they offer; it also improves the child's table manners and etiquette.
Pretend -play with toy foods can have its unique advantages. Therefore, you must choose the right toy food set for your child.
How To Pick Toy Foods For Kids?
When shopping for toy food products, consider the following points.
An assortment pack is ideal. The more toy foods in a set, the more fun the child can have in their pretend play.
Look for durable toys. Your kid is going to spend a lot of time in pretend play and toys made from durable wood or plastic will serve the purpose for long.
Pick toy foods with interactive features such as veggies and fruits that can be fake-sliced into pieces with a hook-and-loop fastener.
Some of these toy sets may include small pieces of toys and have certain features that make them unsuitable for little kids.
Why Trust MomJunction?
Many children love to participate in preparing food but seldom get a chance. So to encourage pretend-play, our writer, Priti Bose, brings you a list of the best play food sets for kids. She has explored the product descriptions and user reviews of several items before sorting out the safe and kid-friendly options. Go through the buying guide to select the one your little one would love to play with.
References:
  Recommended Articles: