Keep your child safe while playing with our list of the best playpens for babies. Playpens offer a protected place for your baby to sit and play comfortably. It is a safe place where your baby can play with their toys or take a nap while you finish your chores. The playpen restricts your baby's movement to prevent them from running around and hurting themselves.
Available in different designs, these are foldable, making them easy for you to carry anywhere. To know more, take a look at our list of products to choose the right one.
What Is A Playpen?
A playpen is an enclosed space within which the baby can play with their toys. This area is typicallymarked by a plastic grill closure or a mesh closure so the baby can be seen from outside.
A crib or a play yard, on the other hand, is a relatively smaller enclosure. It can also be a place where the baby sleeps. Since it is smaller than a playpen, the baby might not be able to play in it for long.
17 Best Baby Playpens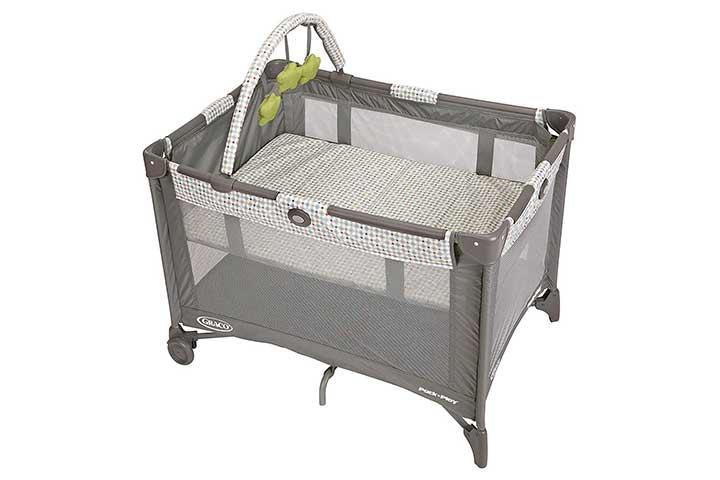 If space is an issue for you, you can opt for this foldable and transferable play yard. It even has its own storage bag. You can watch this video to understand how the Pack 'N Play works before buying.
Features:
Easy to fold and store
Easy to clean
Loop to hang toys above the frame
Wheels on the legs make it movable and transferrable
Nest bassinet provides a comfortable place to nap
Mesh covering on all sides ensures there is enoughventilation
You can carry this on your next outing with family or friends. You can be assured about your baby's comfort, for they will be busy playing in their crib. This portable & lightweight crib is designed with convenience in mind. Check out this simple video to understand the product and how it works.
Features:
Comes in a light backpack carrying case
Full mesh walls ensure proper air ventilation
Zipped side door for easy access to the baby
Soft foam mattress for a comfortable sleep
GreenGuard Gold certified
This humongous play yard occupies over 10 square feet of space. But even with its large size, it is easily foldable and portable. Not sure if this is the right fit for you? Check out this video to understand how the playard works.
Features:
Enough space to accommodate two babies
Heavily padded mattress for a comfortable sleep
Comes with wheels to move it easily
Mesh windows provide clear visibility
Suitable for twin babies
This comes with a changing table and a removable rocking seat, making it a multi-purpose product.
Features:
Removable rocking seat with vibrator helps baby sleep
Bassinet also comes with a gentle vibrator
Changing station makes changing clothes or diapers easy
Play yard and baby bassinet come with built-in storage shelves to store clothes, towels, etc.
Ideal for infants andtoddlers
Easy to clean with soap and warm water
It has adequate space for the baby and is easy-to-carry for the parent. This collapsible metal frame play yard has space for two kids and is extremely easy to fold.
Features:
Comes with a sturdy and fully assembled metal frame
Weather-resistant canvas floor
Suitable for indoor and outdoor play
Easy to fold and store in a travel bag
It looks like a play tent but works like a crib. This travel cot is easy to set up just about anywhere, so your baby remains busy while you enjoy the company of your friends.
Features:
Easy to set up and fold
Includes a carry bag for safe and simple transfer
Mesh walls provide visibility and air ventilation
Removable crib fabric is washable in a machine
This nursery center lets your baby take a nap anytime, anywhere. And when it is time to play, your little one can play in the comfort of their own little space.
Features:
Comes with a removable bassinet
Baby napper contains plush hanging toys
Nursery center can be transformed into a playtime center in a jiffy
Wheels come with brakes for added safety
Folds compact and fits into the storage bag for hassle-free transfer
This cute and spacious play yard has a jungle theme. Its mesh walls are painted with see-through images of jungle animals. The baby can play and rest in their own private jungle.
Features:
Simple setup
Easy to fold and transfer
Includes mattress
Mesh walls enable you to keep a close watch on the baby
Meets all standards set by CPSC & ASTM
The Graco Pack 'N Play Quick Connect Playard is loaded with plush fabric, making it comfortable and cozy for the baby to sleep. Moreover, this playpen can be converted into a bassinet and a full-sized playard.
Features:
Features a changing table
Two-speed vibrations
Three in-built storage compartments
Easily portable
Integrated wheels
Large changing station
This extra-large playpen offers a safe and fun space for your little ones to play in while you take care of your chores.
Features:
Measures 79x59x27in
Non-toxic and BPA-free
Made of 300D oxford material and rust-proof alloy pipes
CPC-certified
Can accommodate three babies
Offers 360-degree wide-angle view
If space around the house is not a constraint for you, this massive baby gate and play yard can become your darling's favorite spot. Its 2-in-1 model makes it worth the money.
Features:
Easy, simple, and tool-less assembling
Most suitable for wide spaces, angled openings, hallways, doorways, and so on
Sturdy and durable steel design
Folds flat for easy storage
Walk-through door comes with double lock lever handle
If you are looking for a simple fuss-free play yard that suits your budget, then have a look at this one. It is spacious and easy-to-use.
Features:
Lightweight and easy to setup
Convenient folding it back with the quick squeeze latch
Two wheels for smooth and easy movement
Mesh walls ensure visibility and ventilation
Comes with a carry bag
This play yard can be used both indoors and outdoors so you can take it wherever you go. Your baby will be busy playing in it while you keep an eye on them through the airy mesh walls.
Features:
Made from water-resistant canvas material
Nylon bottom offers good protection when playing outdoors
Carry case comes with an arm strap for easy travel
Easy to set up and fold up
Easy to wash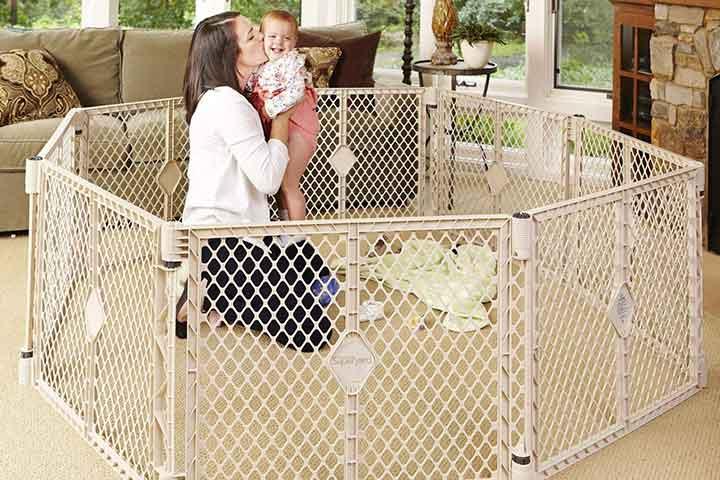 No matter where your child prefers to play, this 8-panel play yard can ensure his safety. It can take any shape to suit your needs.
Features:
Comes with easy-to-set-up pre-connected plastic panels
Suitable for all surfaces, both indoors and outdoors
Weather-resistant panels take any shape
Easy to clean with soap and water
Skip-resistant rubber pads offer stability
Includes a carry strap for easy transfer
If you are looking for a pretty pink play yard for your baby, have a look at this Disney play yard. Its pink and black theme gives it a classy and attractive look.
Features:
Spacious play yard with a sturdy frame
Organizer provides extra space for storage
Comes with an easy-to-clean and removable changing table
Toy arch with hanging toys keeps the baby engaged
Comes with a travel bag for convenient storage
Wheels ensure easy movement
Available in a variety of color themes
If constant bending to fetch your baby is taking a toll on your back, have a look at this nursery center. It comes with a flip-away changing table so changing diapers becomes easy and comfortable.
Features:
Easy to fold and store in a storage bag
Fully removable bassinet
The canopy comes with a toy hanging loop
The detachable changing table comes with a one-hand locking mechanism
Music center plays sweet nature sounds
Washable with soap and mild water
When your baby grows older, you can get him a playpen that is large and spacious. Your baby can make it his personal playground.
Features:
Panels come with anti-skid rubber pads
Height of the fence enables the baby to walk and move easily
Activity wall consists of multiple mental development games
Lightweight body, easy to put together, and easy to fold and store
Odorless, non-toxic, and BPA-free
What To Look For In A Playpen?
Babiesperceive a playpen as their happy or safe place. It becomes their private space and personal playground. Here are a few features essential for a playpen.
Safety: There can never be any compromise when it comes to the safety of babies. The playpen has to be steady and secure. Check for rounded edges and smoothened surfaces that are gentle to a baby.
Portability: The playpen should preferably be lightweight, foldable, and easy to store so that you can travel with it when needed. If it is a play yard with a crib, then it can have lockable wheels for ease of pushing.
Sturdiness: The playpen's frame should be firm and unshakable so that the baby's movements do not ruin it.
Toy arch: A playpen with an arch containing hanging toys is quite likely to make the baby excited and increase the fun factor.
Now that you know what to look for in a playpen, let's steer towards the best playpens or play yards available in the market.
These are some of the most popular, spacious, and comfortable play yards and cribs for babies. Which play yard would you buy for your baby? Do share your thoughts with us in the comments section below.
Why Trust MomJunction?
Having understood the struggles of finding the perfect playpen for your little one, we've scoured several products before rounding up the best playpens for babies. We have considered factors like easy storage and cleaning, materials, and comfort so that you can, with the help of a playpen, create a safe and secure space for your child to play and sleep in. We have also listed pros and cons and looked at user reviews before compiling our list.
  Recommended Articles: