Table Of Contents:
Ben is one energetic crawler, who is making his first crawling attempts around the house. He crawls over anything and everything that lies in his path. This invariably left Ben's mom quite perturbed and nervous: – what if he dangles into a wire? Then one day she heard of play yards, also called playpens. You can safely place your baby in a foldable play yard and not worry about his crawling into something dangerous. Now that seems neat but how do you select one?
Buying is easy and simple once you have a checklist of the features of the best play yards. MomJunction explains you the benefits of a play yard and the various points you must keep in mind before buying one for your baby. Keep reading to learn more about play yards and the top 15 best play yards you can buy.

Why You Need A Play Yard?
Play yards offer several benefits when compared to a conventional play mat or baby gym. Their first notable benefit is their security and isolation that can let your crawler or pre-crawler play without the risk of harm or injury. Here are some more benefits of play yards:
Localized and secure place for your baby to play.
Play yards can be versatile, providing you a single place for your baby's play time, diaper change, and nap.
They can be foldable and are quite light, which means they are portable.
Great option when visiting a relative's place, beach, or when traveling with your baby.
Many play yards have adjustable bassinet/cradle to meet the growing baby's demands.
They can come with arches where you can hang the baby's toys.
Can double as a toy storage basket when your baby completely outgrows it.
How To Choose A Play Yard?
Safety and comfort of your baby should be paramount when selecting a play yard/playpen. Here are a few key features you must check before selecting a play yard:
Removable or collapsible components: The cradle and diaper changing platform should be removable from the main play yard. This allows for easy maintenance and portability.
Easy folding: If the play yard can fold then it should do with minimal struggle. The folding procedure should not be complex. You don't want to spend agonizing moments assembling and disassembling it!
Sturdy but lightweight: Once open, the play yard should not squeak or tremble. All components should fit firmly into one another. At the same time, it must not be heavy. This can defeat the purpose of portability.
Preferably with arches or loops to hang toys: There is a reason it is called play yard. It is primarily a place for your baby to play. Having an arch or loops to hang toys can be a great added advantage. You can hang junior's favorite toys making playtime more exciting.
Lockable wheels: Wheels can make it easy to move the play yard across the house. The wheels should also be firmly lockable so that the play yard does not slide away when your baby is playing in it.
Manufactured recently: Prefer a play yard, which is manufactured recently since it can help offset the chances of any damage caused by long-term storage and handling.
Added features: Look for play yard with added benefits such as attached baskets or pockets to store the baby's toys. Some play yards come with attached toys themselves.
[ Read: Best Baby Cribs ]
How To Use A Play Yard?
Play yards are simple to use. All you have to do is place the baby within the play pen along with some toys.
At home, you can leave the play yard unfolded after your baby is done playing. Repeated folding and packing of the play yard may dull the rigidity of the folding joints. Thus, it is advisable to move play yards only when you are moving to different locations.
Precautions When Using A Play Yard:
Place the play yard away from windows or doors where someone or something might accidentally knock it over.
Play yards provide a safe spot for your baby to play. Despite that, never leave your baby unattended in a playpen. He must always play in your full view.
If your baby is capable of standing, then avoid giving him large toys in play pen. He may try to use them as a stepping stand to roll out of the play yard.
Top 15 Play Yards For Your Baby
Play yard for babies can contain a lot of features such as pack n play, removable bassinet, easy-clean fabric, and built-in pockets for diaper storage. MomJunction has compiled a list of the best baby play yards that you can confidently buy for your baby. Following are the major feature highlights of these play yard for babies:
Portable play yards: Play yards can conveniently fold and fit into a bag to be carried around easily. Most play yards sell with a bag that can snugly fit it. They are lightweight for easy portability.
Attached bassinet: Detachable bassinet or cradle is a common feature.
Padding and easy-clean fabric: Padded play yards provide added comfort and safety to your baby. The easy-clean fabric proves its worth in case your baby soils the play yard.
Activity compatible: They support games and activities with the provision to hook toys while the baby lies in the bassinet or within the playpen.
Diaper changer: Diaper changing stations on the play yard come handy when you are on the move and want an appropriate place to change the diaper. Most play yards come with this feature these days.
Ventilated mesh fabric: The walls of the playpen are lined with mesh-like fabric. This permits ample ventilation while also letting the baby see outside. The mesh is made from strong fibers and will not rip even if the baby plays roughly.
Easy washing: Playpen fabric can be easily detached from the metal frame for washing. Most support machine wash and require no special detergent. Some playpens may have electrical or plastic components embedded in the fabric that can be removed before washing.
1. Graco Pack 'n Play – On The Go Playard Stratus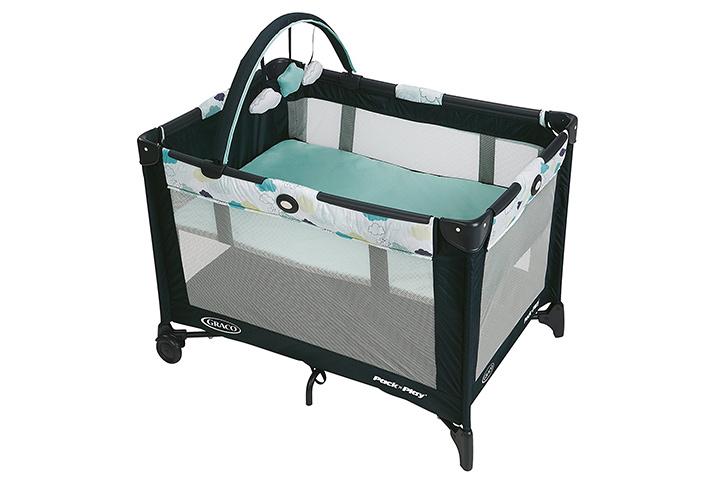 Buy Graco Pack 'n Play – On The Go Playard Stratus @ www.amazon.com/Graco-Pack-Play-Playard-Stratus
The play yard clips to the frame at the bottom, which means there is no risk of the fabric moving from its place even if your baby shifts and moves a lot inside it. This is a lightweight play yard thus making it very easy to carry for your next long trip with your little one. The presence of pockets to store your baby's diapers and wipes helps save space, and makes space for more important items readily available.
Unique feature: Easy push-button controlled folding mechanism
[ Read: Best Baskets For Babies ]
2. Graco Pack 'N Play Playard with Reversible Napper and Changer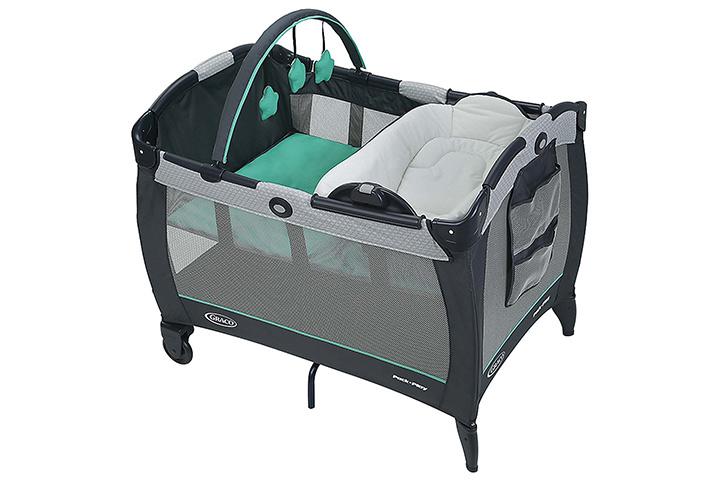 Buy Graco Pack 'N Play Playard with Reversible Napper and Changer @ www.amazon.com/Graco-Playard-Reversible-Napper-Changer
The reversible napper and changer is a great way to save a bit of space and even money. All you need to do is turn the napper by 360 degrees and it turns into a changer. There is a secure switch that can be only controlled by an adult, which facilitates this movement. There is also a toy bar, which is also completely detachable, to hang your baby's toys.
Unique feature: Switch controlled reversible napper and changer
3. Graco Pack 'n Play Playard with Automatic Folding Feet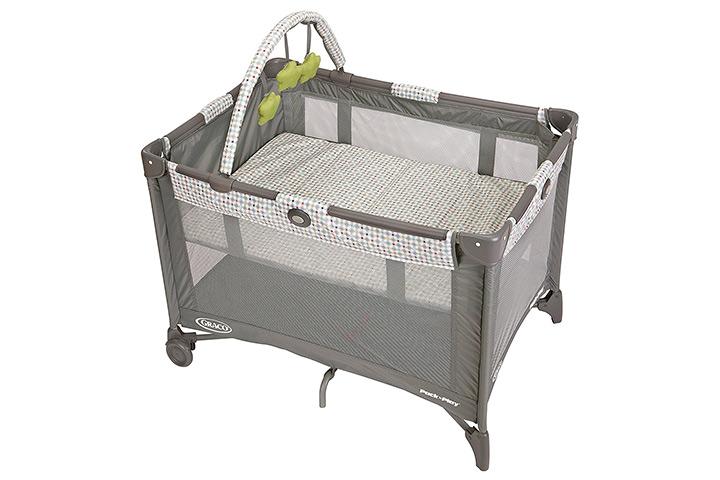 Buy Graco Pack 'n Play Playard with Automatic Folding Feet @ www.amazon.com/Graco-Playard-Bassinet-Automatic-Pasadena
If portability is your major criteria then here is an infant play yard just for you. Along with the benefits of a full-sized bassinet, it features foldable feet and wheels that let it become as compact as possible for easy portability. You also get a bag along that lets you carry it conveniently.
Unique feature: Foldable feet and wheels for easy mobility
4. Graco Pack 'n Play Playard Bassinet Changer with Cuddle Cove Rocking Seat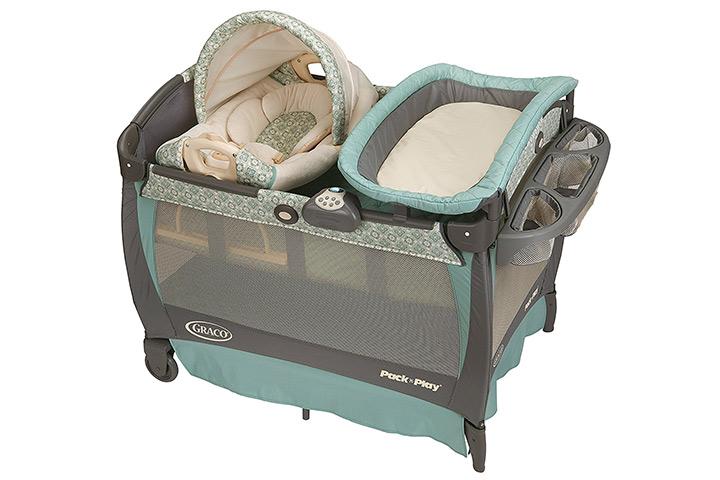 Buy Graco Pack 'n Play Playard Bassinet Changer with Cuddle Cove Rocking Seat @ www.amazon.com/Graco-Playard-Bassinet-Changer-Rocking
This play yard is loaded with features easily making it one of the best playpens for your baby. The play yard features a baby changing table and removable rocking seat with built-in vibrators that can be controlled manually. You can detach the rocking seat from the playpen and place your baby on it somewhere else as well. Switch-on the vibrator to provide soothing vibrations and melodies that will surely drive your little one to a sweet slumber. In this model, the playpen component can also be expanded to accommodate your baby for an extended duration.
Unique features: Detachable rocking seat, vibrator and melody player module that can play five melodies
5. North States Superyard Colorplay Ultimate Playard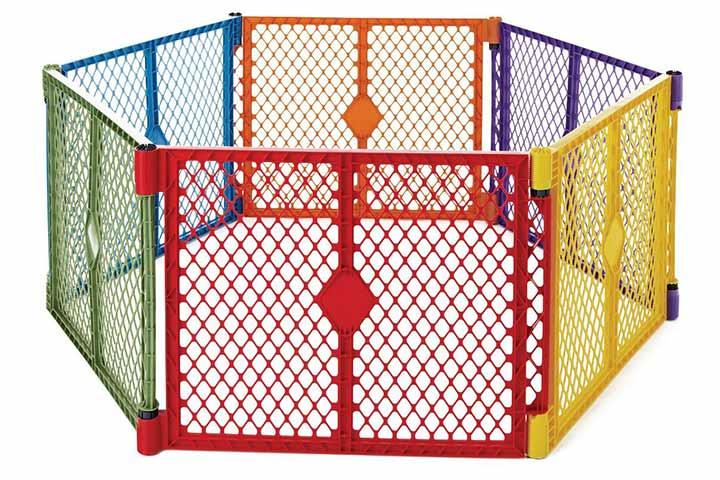 Buy North States Superyard Colorplay Ultimate Playard @ www.amazon.com/North-States-Superyard-Colorplay-Playard
This is a simple and colorful playpen that you can place at any spot of your choice to make a quick, safe playing enclosure for your baby. The six panels of the playpen latch firmly to one another. They can also be extended to increase the play area with two additional panels sold separately. The base pads do not slip, thus grounding the playpen firmly.
Unique features: Brightly colored non-toxic all weather plastic, weighs less than 20 pounds
6. Summer Infant Pop N' Play Portable Playard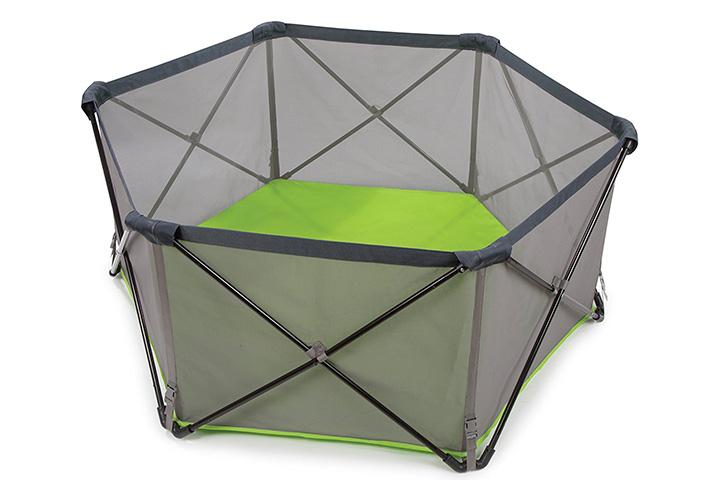 Buy Summer Infant Pop N' Play Portable Playard @ www.amazon.com/Summer-Infant-Play-Portable-Playard
The playpen is made from a lightweight metal base with a durable fabric wrapped all around it. The hexagonal shape makes it a great place for your baby to play. The best part is that there is no assembly required and all you have to do is open the collapsible metal frame to have the playpen ready. The frame neatly folds and fits into a shoulder bag for easy movability.
Unique feature: One-step open and close assembly
7. Chicco Lullaby Baby Playard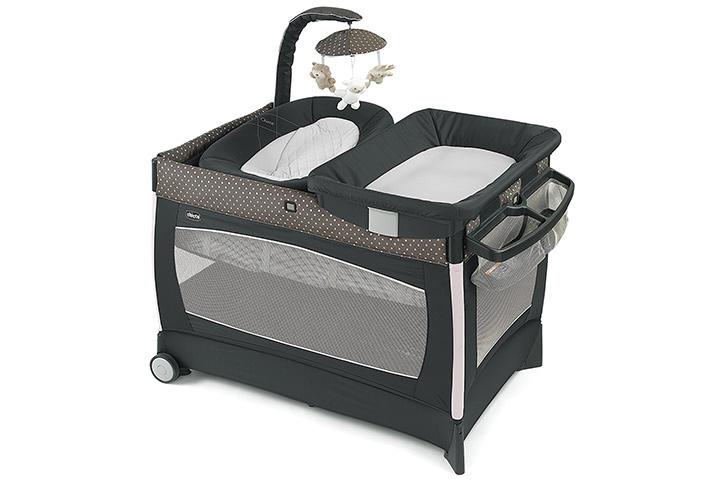 Buy Chicco Lullaby Baby Playard @ www.amazon.com/Chicco-04079094670070-Lullaby-Baby-Lilla
It is a play yard that is made for the various developmental stages of a baby. This means you can use this playard for three subsequent life phases of your baby's life viz. newborn stage, infant stage, and toddler stage. This is quite evident by the features of the playard. The small napper works great for young babies while the bigger bassinet is made for older infants. The diaper changer snaps out easily, which means you can remove it when it is not being used. You can attach the changer to the side of the play yard, which takes away your worry of having to store it.
Unique feature: Utilitarian design of detachable changer
[ Read: Best Baby Rocking Chairs ]
8. BABYBJORN Travel Crib Light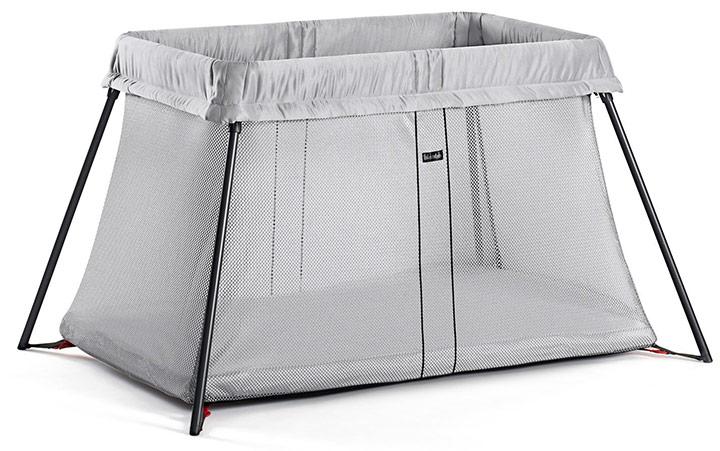 Buy BABYBJORN Travel Crib Light @ www.amazon.com/BABYBJORN-Travel-Crib-Light-Silver
This is the minimal fuss play yard. The BABYBJORN travel crib light comes in an easy carrying bag and can be assembled anywhere in just one step. There are no individual parts to attach nor any initial assembly required. The floor of the play yard is made from a soft mattress, thus providing a safe and comfortable place for the baby to play.
Unique feature: No loose parts and initial assembly required
9. Chicco Lullaby LX Playard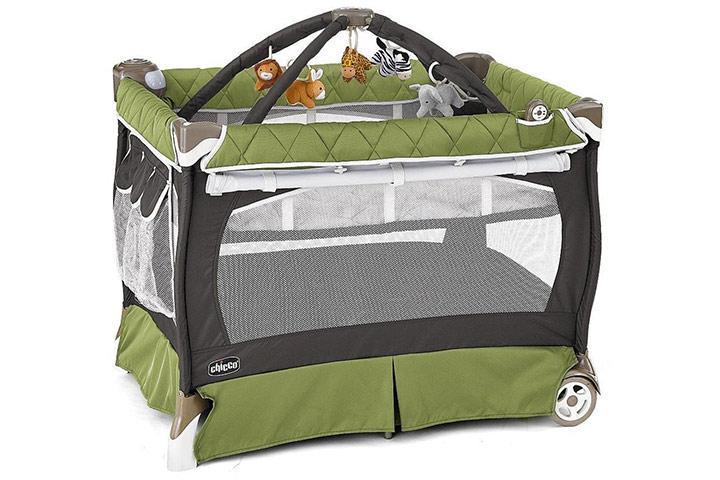 Buy Chicco Lullaby LX Playard @ www.amazon.com/Chicco-Lullaby-LX-Play-Yard
This play yard can also double as a play gym due to its wonderfully designed play bars that come with pre-attached toys. There is also an electronic module in the bassinet, which gives out melodies and vibrations, and ambient lighting to soothe the baby. All this can be controlled with a remote that is included with the play yard.
Unique features: Ambient lighting, Remote control, toys included
10. Fisher-Price Ultra-Lite Day & Night Play Yard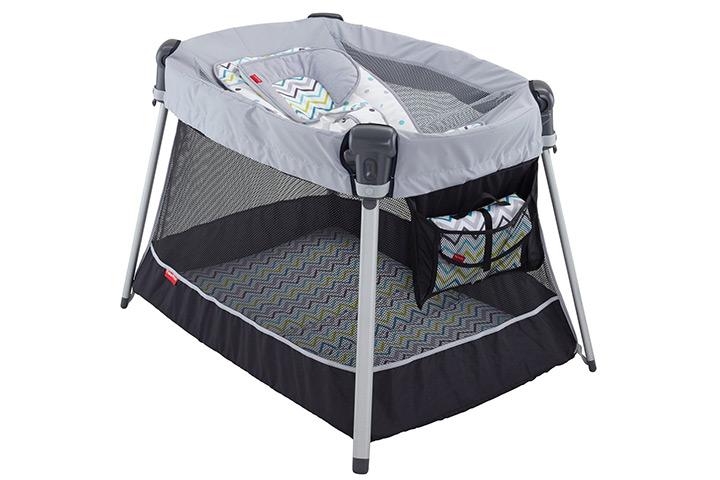 Buy Fisher-Price Ultra-Lite Day & Night Play Yard  @ www.amazon.com/Fisher-Price-Ultra-Lite-Night-Play-Yard
Lightweight play yard with a removable inclined sleeper that you can easily wash. The diaper changer comes folded and stored in a bag which can be stored in the play yard. The best part about the diaper changer is its built-in box to store baby wipes.
Unique feature: Collapsible diaper changer with built-in storage box for baby wipes
11. Baby Trend Deluxe Nursery Center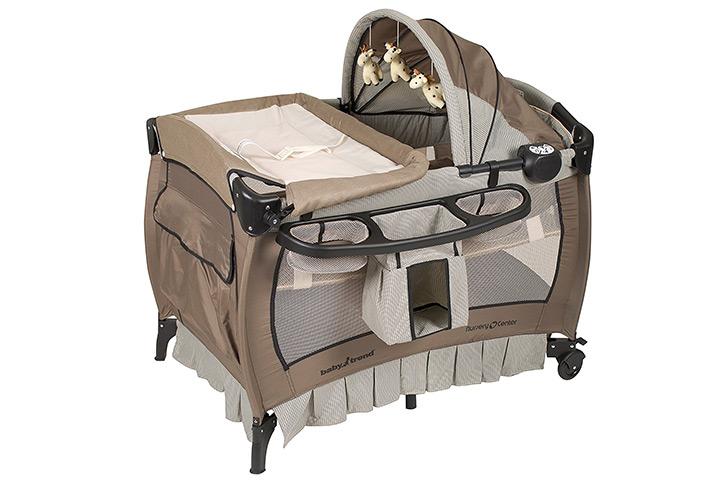 Buy Baby Trend Deluxe Nursery Center @ www.amazon.com/Baby-Trend-Deluxe-Nursery-Center
The baby trend deluxe nursery center comes with all the features that you expect from a modern play yard. The bassinet is removable and washable. The entire play yard fabric is held on a metal frame, which is attached to a pair of wheels for easy maneuvering. The wheels can be locked to a position for safety. There is also an electronic module to play different sounds and melodies to soothe the baby.
Unique features: Lockable wheels, Electronic module
12. 4moms Breeze Playard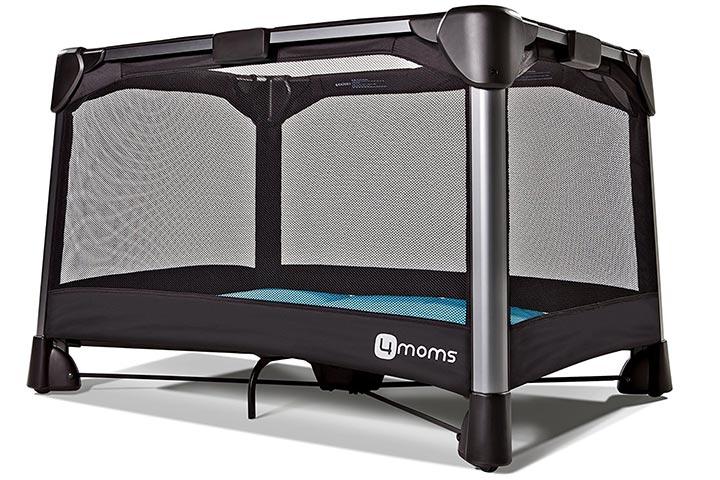 Buy 4moms breeze Playard @ www.amazon.com/4moms-Breeze-Play-Yard-Grey
It has one amazing design and we can't help but admire its ease of assembly. Place the play yard on a flat surface and press it down at the center. That's it, the play yard is assembled. To disassemble it, simply pull a loop from the center, and the metal frame neatly folds back. Put it in a bag, and you are all set to go.
Unique feature: One push-pull assembly and disassembly
13. Disney Sweet Wonder Play Yard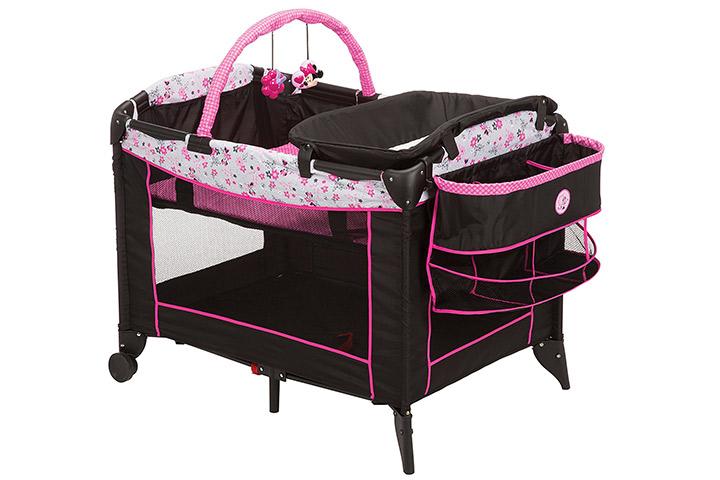 Buy Disney Sweet Wonder Play Yard for @ www.amazon.com/Disney-Wonder-Garden-Delight-Minnie
If your little one loves Disney characters, then this Minnie Mouse pack n play playpen will be a perfect choice. The play yard comes with an easy clean baby diaper changer and a large storage basket attached to the side. It can easily store nearly all your baby's essential items
Unique features: Attractive color scheme, large storage basket
14. Cosco Funsport Play Yard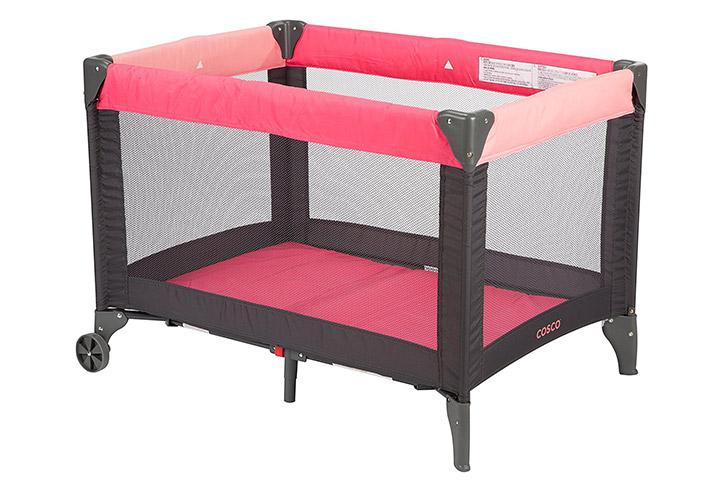 Buy Cosco Funsport Play Yard @ www.amazon.com/Cosco-Funsport-Play-Elephant-Squares
The Cosco funsport play yard is a simple play yard for your baby that has an easy hassle-free assembly. It is lightweight and folds in a compact manner to store easily. If a simple play area is what you want, then this should be your choice.
Unique features: Lightweight, large spacious play area
15. DIY Play Kiddy Pool Yard
If a quick DIY play yard better suits your requirement then make one at home with an inflatable plastic kiddy pool. In case you have a kid's plastic pool lying around in your house, then you can inflate it and convert into a play yard. Simply inflate the plastic frame, place a soft blanket or mattress inside it, and you just made a safe and comfortable place for your baby to play. Just make sure the walls of the pool are high enough to prevent your baby from crawling out. Also keep all sharp and pointy things away from the pool.
It is an effective, economical, and DIY play yard solution.
Unique features: Easy to set up, low cost
[ Read: Top Bassinets For Your Baby ]
13 Safety Points To Keep In Mind
Buy from trusted retailer: Always buy a play yard from a retailer whom you can trust to provide genuine play pen.
Look for safety stamps or stickers: Look for play yards that have endorsement stickers or stamp of approval by credible medical or pediatric associations. You can even look for certification stickers of associations like Juvenile Products Manufacturing Association (JPMA).
Avoid buying second-hand play yards: No matter how tempting second-hand play yards may seem, it is best to stick to a new product. You do not know about the conditions in which the play yard was used and stored therefore stick to a new one.
Buy a play yard meant for your baby's age: If a play yard is meant for a four-month-old baby, then do not purchase it for your five-month-old. Manufacturers make play yards for specific ages, therefore, stick to the recommended age.
Do not use the play yard once your baby has outgrown it: Stop using the play yard right from the day your baby outgrows the recommended age. You may be tempted to use it for some more days or weeks but this can be very dangerous since play yards are designed to meet the specific height and weight requirements of babies of certain age. The build materials may not be able to sustain the increased weight of a baby who has outgrown the recommended age of the playard thus posing a risk of injury.
Prefer play yards with smooth edges and components: Check if all edges and fasteners of the play yard are smooth, non-abrasive, and are not pointy.
Follow all manufacturer guidelines: Read the instruction manual before assembling and disassembling the play yard. Not following the guidelines may break or loosen a certain component that can put your baby at the risk of injury.
Check if the foldable parts are firm: Have a regular check of foldable parts of the play yard for their firmness. Loose foldable components may collapse while a baby is playing thus being a serious safety hazard.
Check the base of the play yard regularly: This applies for the basket-type play yards. Regularly check the base of the play yard for any breach in the fabric. If you feel the base has become alarmingly loose then inspect it and get it repaired. If it is beyond repair, then discard it. Your baby's safety is more important.
Do not place any loose sheets or bedding in the play yard: Do not place any loose sheets or bedding inside the play yard that could pose suffocation hazards. Use bedding that can snugly fit into the play yard.
Do not put two babies in one play yard: There are play yards that are meant for two babies like the ones made for twins. Check for manufacturer info about it. Otherwise, it is best advised to have one baby in a play yard at a time.
Do not move a play yard with the baby in it: Remove your baby out of the play yard before you move it. Even the most sturdy wheeled play yards cannot double as a stroller.
Play yards are good for napping but not for long duration sleep: Your baby may fall asleep in the play yard for a nap while playing and that is perfectly alright. But it is not advisable to let your baby sleep through in the play yard, especially in the night. Choose a more comfortable option such as a crib for the baby's good night sleep.
Playing is the best way your baby can learn new skills. Play yard provides a safe place for your baby to enjoy his fun activities while also giving you time to catch some breath!
Have you used a play yard? Then do share some tips with our other readers, by leaving a comment below.
Recommended Articles:
The following two tabs change content below.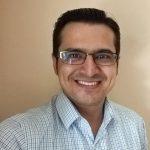 Latest posts by Rohit Garoo (see all)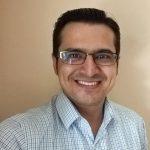 Rohit Garoo
Rohit Garoo took writing as a profession right after finishing his MBA in Marketing. Earlier he graduated with a Bachelor's degree in Botany & Zoology from the autonomous St. Xavier's College in Mumbai. Rohit has also done a Stanford University certification course on breastfeeding. This botanist-zoologist turned writer excels at life sciences, and at MomJunction he writes everything about pediatrics and maternal care. In between writing and being overly curious, he spends time cooking, reading, and playing video games. LinkedIn profile – linkedin.com/in/rohit-garoo-263115aa