One of the best kinds of toys there is, Playmobil sets are imaginative, clean, and include various types of themed play to combine learning and playing. They were created by German toymakers and they keep your kids hooked to the toys with their colorful and engaging details. Your kid will love them and spend a lot of time with these toys as they encourage creativity and imagination.
Here, we have curated for you a list of 15 best playmobil sets that your kids will love so much that they are bound to spend hours playing with them.
15 Best Playmobil Sets To Buy In 2021

Your little ones are definitely going to have fun with the Playmobil Take Along Modern Dollhouse. The case opens with a latch to reveal a 2 story house with 4 rooms. The playrooms are fully furnished including the kitchen, family room, bathroom, and bedroom. This playhouse includes 3 figures, 2 dogs, a baby bottle, and a highchair along with other accessories. Recommended for ages 4 to 10, this toy adds exceptional value and lets your kids explore their creativity and engage in imaginative play.
Pros:
Encourages creative play
The kitchen includes items like table, chair, oven, pots & pans, food, and dishes.
The living room has a TV set, coffee table, and 2 chairs.
Cons:
It might open out from the hinges.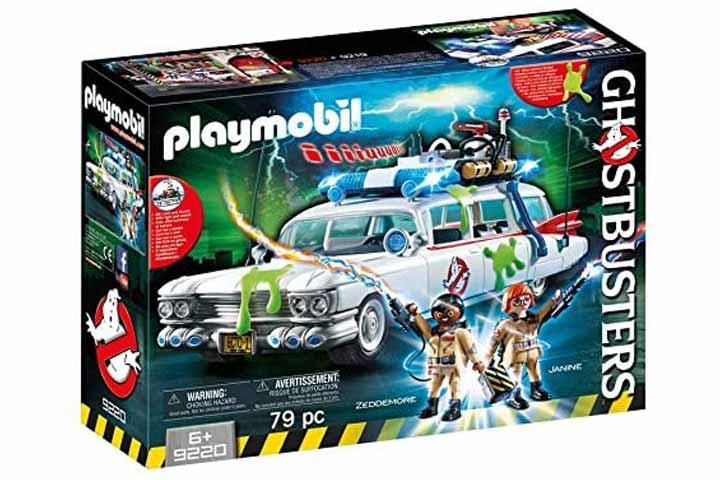 Who said your kid cannot drive? With this legendary action vehicle, your kids can go extra miles by strapping on a proton pack and zap the ghost before capturing it. The detachable roof feature provides plenty of space to set ghost traps with lasers. The Playmobil Ghostbusters also has original sounds and lights for a solid ghost busting action. It comes with its own set of figures that have intricate details to induce creative play.
Caution: Contains small items that could cause choking hazards.
Pros:
Figures can bend, sit, stand, and turn their heads
Ideal for kids to play by themselves or with friends
Set contains Ghostbusters characters in uniforms
Contains poke meter to measure psychokinetic energy
Cons:
Assembling the parts might be a hassle.

This foldable pop-up tent is one of the best Playmobil sets that can accommodate a family of 4. With some hot food in pans and pots, and the folding chairs and table, it's easy to enjoy an outdoor meal and a refreshing beverage from the cooler. The set also includes 3 figures, a cat, clothes, and other accessories.
Pros:
Encourages kids to explore and learn during playtime
Excites kids and boosts their imagination
Figures can bend, sit, stand, and make realistic role play possible.
Cons:
Too many pieces to assemble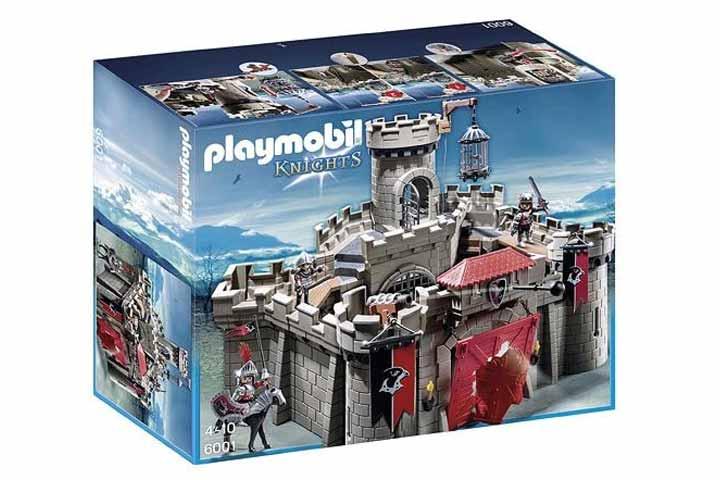 Kids will love playing with this castle which is one of the best Playmobil sets that put them in a make-believe play. Your kid might be the prince of your house but here he is the king. This royalty themed play Playmobil Castle has all the elements that make kids fall in love with playing while also learning.
Pros:
Features a secret stairway, trap door, and treasure hiding place
Enhances imagination and creativity
Contains a prison cage, cannons, swords, and bow and arrow
Includes a drawbridge with a weak spot for enemies to enter.
Cons:
Instructions on how to use the play sets might not be clear.

Kids love the playground and with this set, they can ride the merry-go-round how many ever times they want to with the figures. This playground-themed set includes a swing and a slide. With accessories that allow imaginative play, the set contains 1 adult and 4 children figures, a park bench, kite, cooler, and sand toys. It makes a great gift for kids and adds exceptional value to their toy collection.
Pros:
Enables fun learning during playtime
Easy to set up
Colorful and engaging
Cons:
The slide slips from the main structure.

If your kids are fascinated with red fire trucks and strong firemen, this Playmobil set is a great addition to their toy collection. It contains a fire truck, 2 figures, fire hose, fire extinguisher, and other exciting accessories. The figures can sit, stand, bend, and turn their heads which allows realistic role play. The Playmobil fire truck themed set is the real thing that your kid needs to create great stories.
Pros:
Equipped with realistic sounds and lights
Easy to assemble
Siren sounds are not too loud
Cons:
The ladder might be a little loose.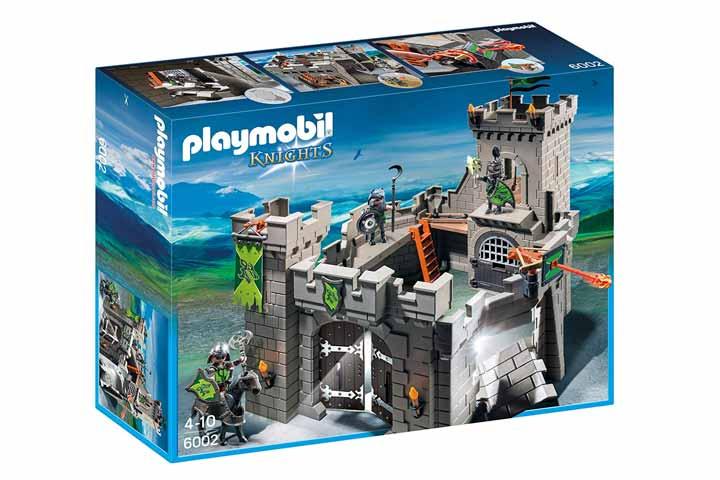 Every kid loves to embark on adventurous, make-believe play that boosts their imagination and excites them. The Playmobil Wolf Knights' Castle Playset is one of the best themed sets that take your kids to a faraway kingdom into a world of castles and kings. The set includes armored figures, horses, breakaway walls, and other exciting accessories that encourage dream play and fairytale creatures.
Pros:
Includes two towers to keep an eye out for unwanted visitors
Perfect for kids to explore the primal world of knights
Contains a secret trap door that deals with a dungeon
Cons:
Products fall apart easily.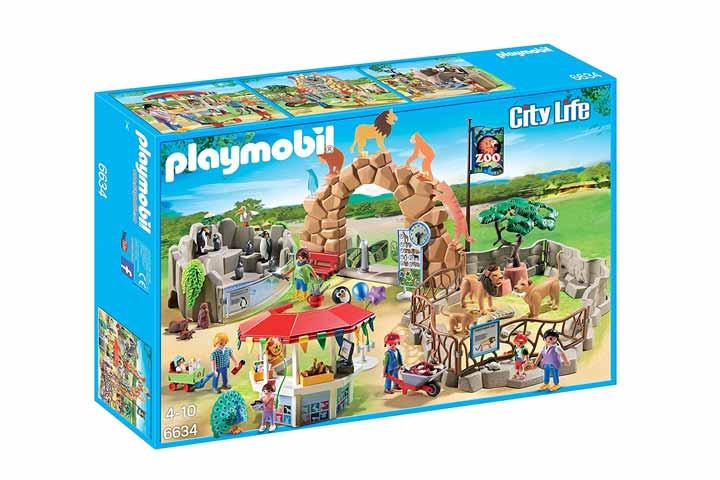 Learn all about the animals and the wonders of the zoo with this super cool Playmobil zoo themed set. It comes with a set of 7 figures and animal toys which include 2 lions and a cub, 2 adult penguins, and a baby penguin and other interesting zoo accessories. The Playmobil zoo set also includes a souvenir shop where visitors can stop and pick up something to keep with them for memory.
Pros:
Pieces can be assembled easily
Keeps your kids engaged for hours
Educational and exciting
Gives your kids a feeling of being in a real zoo
Cons:
The pieces might fall apart once assembled.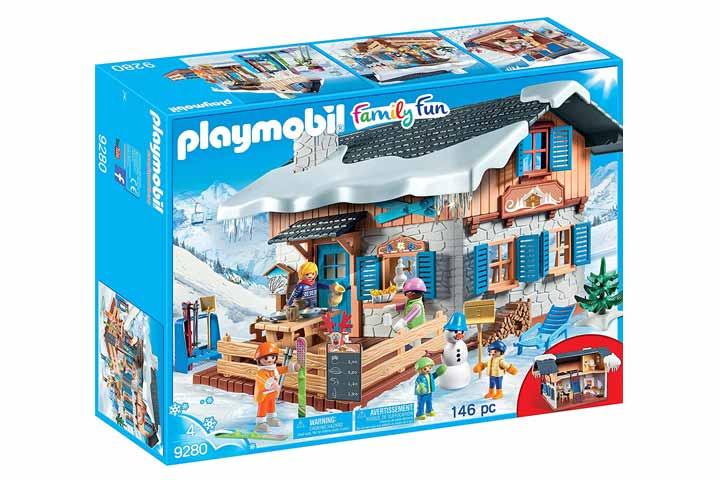 It's summer but your kids want to go skiing? Get the Playmobil Ski Lodge Building Set and watch your kids enjoy a whole day playing with it that they get lost in time. It comes with a beautiful patio setting for great stories during tea time and a buildable snowman as an extra gift. You can also step inside and sip on some hot cocoa on a cold winter day.
Pros:
Includes 2 cozy beds in the loft and a ladder to reach them
Perfect winter setting including winter accessories
There is a skis equipment station where you can check the trail board.
The top floor rooms are furnished.
Cons:
Includes tiny parts that could get lost

Great for kids who love airplanes, the Playmobil Private Jet lets your kids cruise through the clouds with the spacious jet. This Playmobil set is a sleek black and gray airplane that can seat 2 passengers and their luggage. It has a high entertainment value and helps in the motor skill development of your kids. The play figures improve the dexterity and motor skills of your child and are a great addition to their toy collection.
Pros:
Includes table and cup holders
Improves creativity and imaginative play
Set includes 3 figures, jet, briefcases, and cups
Jet's wheels fold up beneath the aircraft
Cons:
Does not make aircraft sounds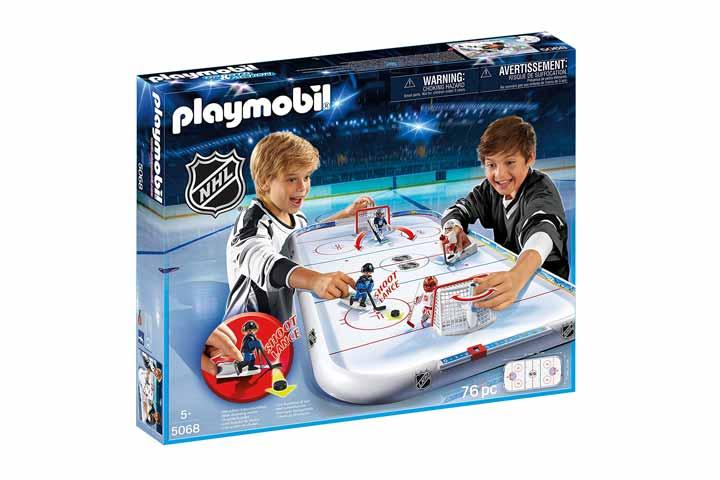 Channel the sportsman in your child with this realistic hockey gameplay. It features each of the 4 NHL players as action figures with movable arms and hockey sticks. All you have to do is pull the lever back to swing the stick and fire the puck down the rink. This hockey-themed set also includes a goalie to defend the shots and a joystick to maneuver him.
Pros:
Players can be customized as per the choice of the kids.
Suitable for ages 5 and upwards
Includes accessories that enrich the game's experience
Contains logo decals for all 30 NHL teams
Cons:
Might be a little tricky to assemble

If your kids love to enter a world of fairytales and fantasy, this Playmobil Fairy Garden Play Box is what they need. One of the best Playmobil sets that help in dream play to create make-believe stories, this set includes a unicorn friend, magical potions, and exotic flowers. This set is recommended for ages 4 and above and includes an adult fairy, a child fairy, wand, leaf chair, and other magical accessories.
Pros:
Top of the set can be made into a handle
Perfect on-the-go Playmobil set
It can be converted into a storage bag and carried around for travel.
Either side of the panel can be opened to reveal a magical garden.
Cons:
Might be tedious to put together

Perfect for an add-on fun pack, this Playmobil Winter Sports Trio Building Set is a great set that enhances family fun. It is a themed set that shows a ski resort and has 3 action figures, a tube, snowboard, a few skis and other winter accessories that make it fun and exciting.
Pros:
Makes a great additional set
Easy to assemble
Great toy for kids to explore their imagination
Figures can sit, stand, and bend.
Cons:

This portable carry case can be taken with you on-the-go and is great for kids who love to engage with sports. One of the best Playmobil sets that encourage imagination, the Playmobil NHL Shootout Carry Case includes 2 play figures, a goalie, net, puck, and other realistic accessories. This set is recommended for kids above the age of 5.
Pros:
Kids can choose their favorite NHL teams for a face-off.
The pieces can be stored inside the case.
NHL teams logos are at the front of the jerseys
Perfect to play alone or with a group of friends
Cons:
The latch on the case does not work smoothly.


Your kids might be too small to take part in extreme sports, but they can play with these realistic toys until they are the right age. The Playmobil set adds exceptional value to your kids toy collection and includes a skater, ramp, mountain bike, hat, helmet, and other sporting accessories. It is recommended for kids above 4 years of age.
Pros:
Can be used for adventure sports activities
In-built case that can be used to store the toys after playtime
Toys include helmet which encourages safety
Cons:
The figure does not stay on the bicycle easily.
Now that you have a list of what you could buy, here's a heads up on how to choose the right Playmobil set for your kid.
How To Choose The Right Playmobil Sets?
With so many options to choose from, how do you decide which Playmobil set is the best choice? Here are a few key features that you can consider when choosing a Playmobil set for your kids:
Sensory Stimulation: Some of the Playmobil sets have lights, sounds, and textures that help engage with your kids more. Most of these toys have a combination of features that help young kids learn different colors, sounds, and details that help stimulate their senses.
Physical Development: Playmobil sets are great for children to increase their hand-eye coordination, dexterity, muscle development, and other vital abilities. Combining learning and fun is the best way to teach your kids and also help develop their skills.
Entertainment Value: These Playmobil sets come in so many different themes that they boost your kids' creativity and imagination. They use the toys based on their imagination which helps them think more and entertain themselves. Kids spend hours on these toys creating make-believe stories to suit the figures and accessories.
Design: The sets are realistic replications of a particular scene which enables children to understand and learn the details in a fun but educational manner. For example, some Playmobil sets are based on a zoo, hockey field, summer day out, playground, and other such scenes that teach kids a great deal about the different kinds of things found in these areas.
Portability: Another feature to consider is the portability of the case. Some cases have the option of storing the toys in the case so you can carry them along when you're on-the-go. This way your kids can play with them even while traveling.
Age Range: The recommended age for kids to play with these sets is between the ages of 4 and 10. Since these sets have several tiny pieces, it becomes a choking hazard for toddlers younger than the age of 4. We suggest that you keep an eye on your younger kids if they have the habit of putting things in their mouths until they reach a comfortable and safe age.
Children enjoy Playmobil sets because they fuel imagination and creativity. The best part is that they also help keep your kids entertained for long hours because of the different accessories that come with each set. Your kids can combine two or more add-on sets to create a make-believe fantasy world and play with their friends. Which is your favorite Playmobil set? Comment below and let us know.
Frequently Asked Questions
What is the best age for Playmobil sets?
The recommended age of kids to engage with Playmobil sets is between 4 and 10 years. For kids below the age of 4, these toys may be a choking hazard.
Why is Playmobil so popular?
These toy sets increase creativity and imagination in your kids and keep them entertained for long hours. They are also attractive and innovative to play with, which lowers the chance of kids getting bored with them.
Recommended Articles:  
The following two tabs change content below.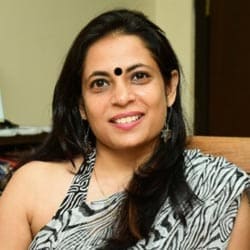 Priti Bose
Priti Bose is a poet, songwriter and blog writer. She did her masters in English, Public Relations and Advertising. Her creative skills and hunger for details make her do in-depth research on the topics she covers. For MomJunction, she writes on product analysis and reviews, especially for kids' products, toys and gifts. Before her association with MomJunction, Priti worked in the...
more