You can never go wrong by choosing the best Pokemon toys for your children. And no matter what generation you belong to, Pokemon will remain iconic and evergreen. This popular TV show has all the elements of fun and entertainment and lovable characters that children and adolescents absolutely adore.
If you have played the updated Pokemon Go video game, you know what we are talking about. Explore the following list and find a Pokemon toy that best suits your child's personality. These toys also make great gifts and can be worthy additions to anyone's toy collection.
13 Best Pokémon Toys
The toy of Bulbasaur can be a good addition to Pokémon collectibles. It is a cute toy with the perfect finishing and polishing. The toy is 3.75in in size and is made of pop vinyl material and is ideal for children aged four years and above. Watch this video to know more about the product.
Pros 
Perfectly styled toy
Safe for young children to play
Comes in a well-packed box
Can be a souvenir or a toy to play with
Cons 
Price at the time of publication: $12.01
The plush and soft Pikachu toy is made from premium-quality materials. Your child can cuddle and play with it too, for it is made to be safe for kids. The toy is ideal for children who are aged three years and above. Press it gently to hear Pikachu's signature phrase. This video will give you more insights into the product.
Pros 
Features light and sounds
Has movable ears
Plays different phrases and sounds
Measures 10in
Made of soft and high-quality fabric
Cons 
May require frequent changing of battery
May not last for long
Price at the time of publication: $15.94
The kit contains building bricks that can be used to build the Pokémon named Venusaur. Building their favorite Pokémon is not only fun but also improves the cognitive skills of children. The bricks are easy to use for making a three-dimensional toy.
Pros 
Bright and colorful bricks
Original micro-sized blocks
Each measure 4x5mm
Makes palm-sized art
Suitable for children aged eight and above
Comes with instructions
Cons 
Not suitable for younger children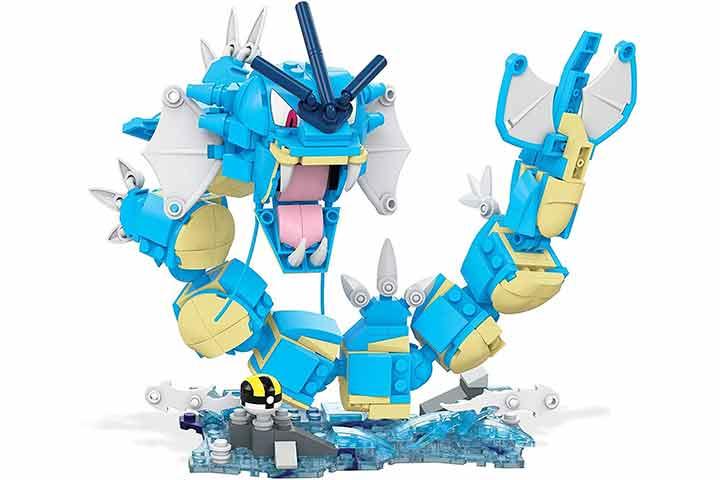 Price at the time of publication: $91.33
The set contains fins, spikes, and fangs to build an exclusive 9in figure of the Pokémon Gyarados. Once the figure is assembled, you can find its articulate features, giving a unique playing experience to the children. To make an informed decision before buying, you can check out this video.
Pros 
Fully articulated body for increased poseability
Can be put in different poses
Comes with detailed instructions
Ideal for children aged eight and above
Cons 
Assembling could be difficult
May take longer to build
Price at the time of publication: $39.96
The guessing game set includes a Pokémon ball and a field guide. The electronic ball requires three AAA batteries. It has a voice recognition feature and is appropriate for children who know a lot about the game.
Pros 
Fun and interactive
Promotes critical thinking skills
Ideal for children aged six and above
Measures 4x4x5in in size
Improves Pokémon knowledge
Cons 
May not recognize all voices
May not be consistent
Price at the time of publication: $25
Your child could be the next Pokémon trainer and enjoy playing with this set of Poke ball along with two popular Pokémons Pikachu and Cubone. Playing with the set could increase your child's curiosity about the show.
Pros 
Includes a repeat ball with belt
Fun and engaging
Each figure measures 2in
Improves hand-eye coordination and motor skills
Ideal for children aged four years and above
Cons 
Price at the time of publication: $39.53
Gift your little one this cute Dragonite action figure from the Pokémon TV show. It is neatly designed and has a proper finish, making it an ideal toy for children aged four years and above.
Pros 
Measures 12in
Has detailed features
Palm-sized, charming design
Comes with articulation
Smooth and painted
Cons 
Price at the time of publication: $23.99
The interactive plush toy of the popular Pokémon Magikarp can make sounds that will impress the child. It requires three AAA batteries to shake and flop. The toy is made with good quality materials and is soft and huggable.
Pros 
Measures 10in
Has a touch sensor
Wiggles and jiggles when squeezed
Soft, cuddly, and safe
Ideal gift for children aged four years and above
Cons 
Price at the time of publication: $39.95
When you want to encourage your children to build and play, then this building set can be an appropriate choice. The set contains two action figures, Litten and Popplio. You can build them and make a battle scene as a unique addition to your Pokémon ollectibles.
Pros
Easy-to-build set
Improves cognitive skills
Includes beach environment pieces
Can build a mini Pokémon world
Exciting, unique, and durable
Cons 
Pieces may be too small to hold
Price at the time of publication: $27.66
The set includes several popular figures of Pokémon. Each figure is two or three inches in size and is colorful with highlighted details. The Pokémons included in the set are Pikachu, Squirtle, Bulbasaur, Pysduck, Meowth, and Charmander.
Pros
Contains eight mini figures
Attractive and safe
Has an articulated design
Ideal for display
Comes well-packed in a box
Cons 
Figurines may be smaller than expected
Price at the time of publication: $19.94
The toy set includes three 4-inch Pokemon Quest Plush toys in different colors. It is made of soft material. They have an even shape which is helpful to store them properly.  These soft toy characters – Charmander, Jigglypuff, and Bulbasaur – are picked from the pokemon video game.
Pros
Easy-to-use
Soft material
Officially licensed
Cons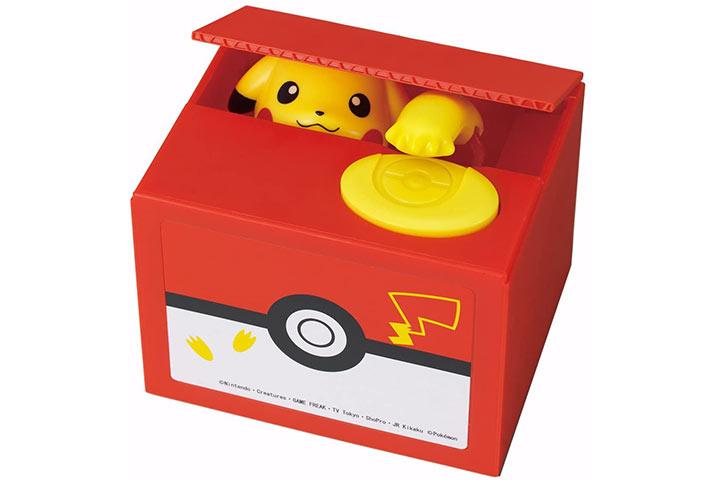 Price at the time of publication: $28.7
Your child can play and be encouraged to save coins in this piggy bank. It is bright red in color and has a figure of Pikachu inside. When your child keeps a coin on the top, the Pikachu takes it inside.
Pros 
Measures 6x6x3in
Makes the 'pika' sound
Encourages to save money
Safe, attractive, and playful
Cons 
May stop working after a while
May be too small
Price at the time of publication: $49.99
This detailed Pokemon Mewtwo Figure is made to scale at 1/10. The figure illuminates a light when you press a button on the bottom of the figurine. It stands 13 inches tall. This toy is suitable for children aged 4+ years.
Pros
Made of high-quality material
Officially licensed
Easy-operation
Cons
Lights flick rapidly
Short-lasting battery
How To Choose The Right Pokémon Toys?
 Here are a few tips to help you.
Category: There are different types of Pokémon toys, including building sets, plush toys, Pokeballs, and mini figures. Decide on one category and then find relevant toys in that category.
Age: Pick toys as per the age of the child. For instance, if your child is too young, say three or four years old, then mini figures or plush toys would be ideal. However, if the child is above six years old, then Pokeball and building sets would be appropriate.
Quality: The toys should be made of high-quality materials and not with toxic or chemical substances. This way, the toys are durable and safe for children to play. 
Why Trust MomJunction?
Priti Bose is passionate about kids' products and toys and reviews them by carefully going through various websites to find the products with the best user ratings. In this article, she has followed the same approach to round up a list of the best Pokemon toys. She has also included a detailed buying guide and the pros and cons of each product to help readers make an informed decision.
Recommended Articles: