Heating a swimming pool can be an expensive affair, considering that it needs a lot of energy. However, a quality pool heater can reduce energy consumption as well as heating bills. Pool heaters are efficient in extending the swimming season for people living in colder areas.
However, what type of heater should you buy? And what makes the best pool heater for you? Here is a list of the best pool heaters that can warm up the pool water sufficiently without adding to the burden of your monthly bills.
Safety Tips For Using Pool Heaters
Here are some essential safety tips to keep in mind while using a pool heater:
Install the pool heater correctly by following the instructions
Go for regular maintenance and service of the heater to keep it in good condition.
Clean the area around the heating system regularly so that nothing obstructs the flow.
Clean the heat exchanger regularly to keep the burner exhaust-free from soot and debris.
10 Best Pool Heaters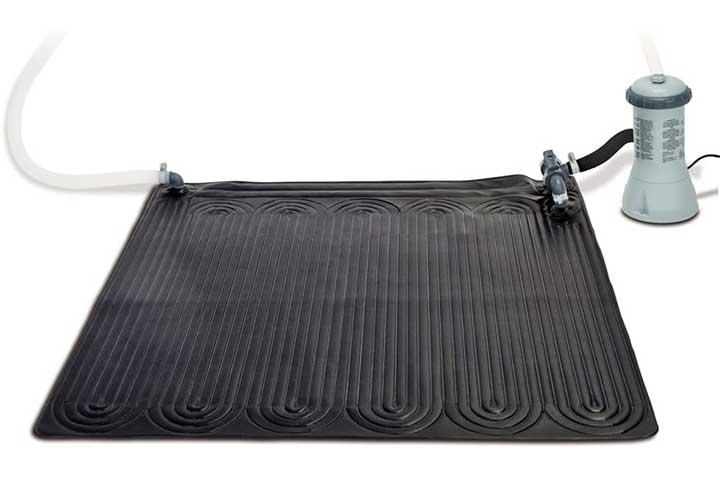 The Intex Solar Pool Heater measures 47x47in and comes with a 1.25in diameter connecting hose. It is designed for above-ground pools of up to 8000 gal capacity. This is an eco-friendly solar pool heater that increases the pool water temperature by approximately 5° to 9°F, depending on weather conditions.
Pros
Compatible with filter pump up to ½hp
Has a generous surface of 1m² to absorb sun rays
Quick to setup
Does not involve running cost
Compact and saves space when not in use
Cons
Does not work on cloudy days or nights
Not suitable for large pools and in-ground pools
May be prone to algae in warmer temperatures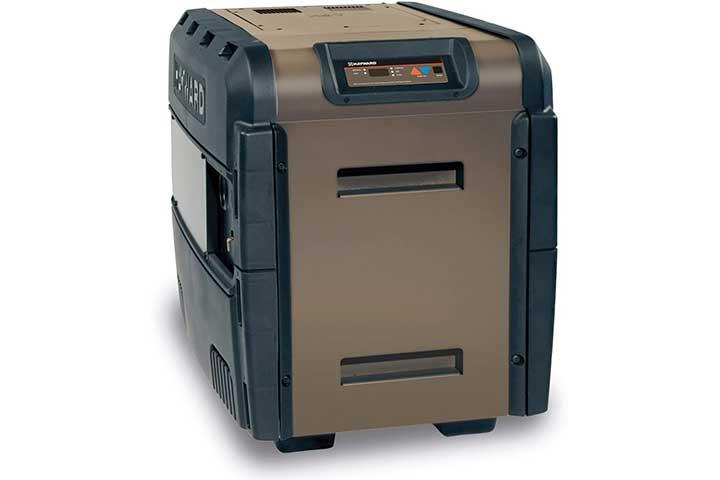 It is one of the best gas swimming pool heaters powered at 150,000 BTU. Perfect for medium-sized in-ground pools and relatively large pools above the ground, it features 2×2.5in CPVC union plumbing connections and an easy-to-use LED control panel. The stainless steel burners, Cupro Nickel Heat Exchangers, and insulated combustion chambers promise durability.
Pros
Lightweight and low-profile construction
Eco-friendly design with low NOx emissions
One-year warranty support
Quick and efficient heating system
Easy to setup
Provides accurate temperature readings
Cons
May have leakage issues
May be noisy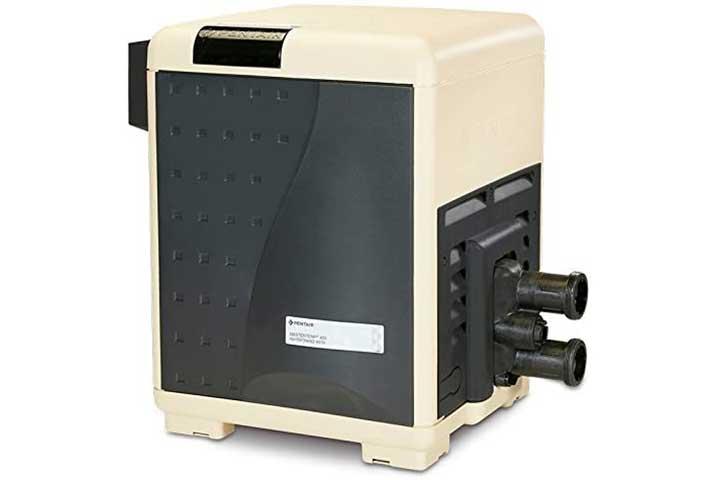 The Pentair Gas Pool Heater backed with 400,000 BTU works on natural gas that ensures quick heating. You can control the temperature of your spa or pool with its user-friendly digital control unit.
Pros
Heats up fast
Certified for low NOx emissions
Sturdy and durable construction
Exterior made of rust-resistant non-metal sheets
Accurate digital thermostat
Cons
Installation may be complicated and requires a professional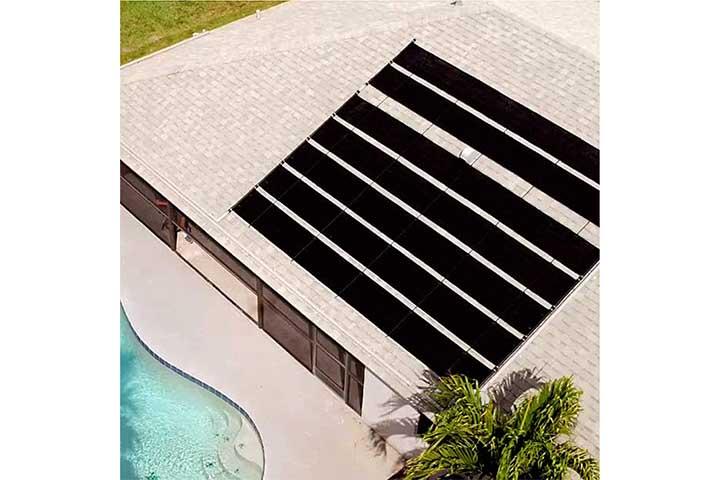 You do not have to spend a fortune for heating the pool, thanks to this in-ground solar pool heater. It features 80m² durable polypropylene solar panels that raise the temperature by 6° to 10°F.
Pros
Works with in-ground and above-ground pools
Does not involve running costs
Flexible mounting
Wind vents maintain panel integrity during windy conditions
Individually fed collector tubes for better water flow
Cons
Does not work on cloudy days
May be difficult to unroll
Does not come with instructions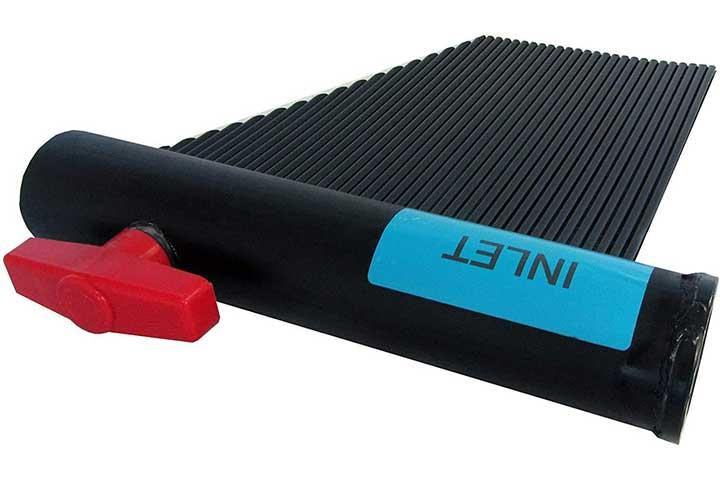 Heating your pool is easy with the Fafco Pool Heater that measures 4x20in. This above-ground pool heater can perform when tilted at an angle of 10° to 30° South. Water in the pool circulates through a heated solar collector with a pool pump to raise the temperatures.
Pros
Extra-large two-inch headers promise better heat transfer
Made of tough UV-stabilized polyethylene
Ten-year warranty
Can be installed on a rack, ground, or nearby roof
Saves on running cost
Cons
Does not work in the absence of sunlight
Requires purchasing extra parts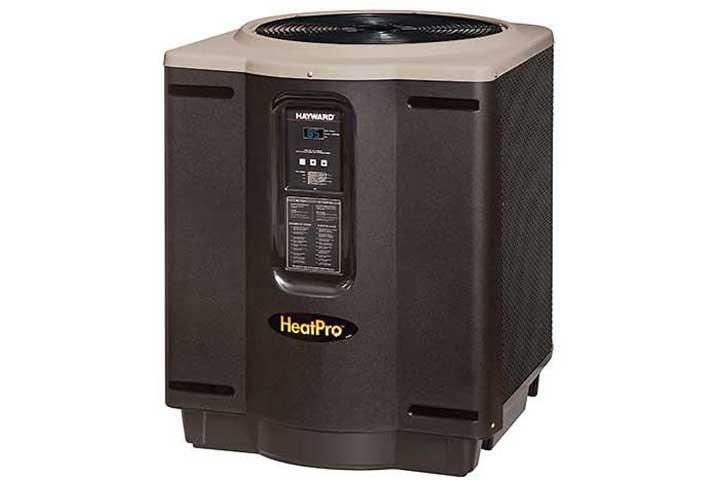 Backed with 95,000 BTU power, this in-ground pool heaters incorporate counter-flow heat exchangers made of titanium for effective performance. This heavy-duty pool heater comprises stainless steel hardware, UV-resistant body panels, and a polyethylene screen. You can swim comfortably even in low-temperatures with this heat pump.
Pros
Durable and strong
Corrosion-resistant evaporator
Noise-free scroll compressors
Works even in harsh temperatures
Ideal for coastal environments
Cons
Requires extra-space for releasing cold air while heating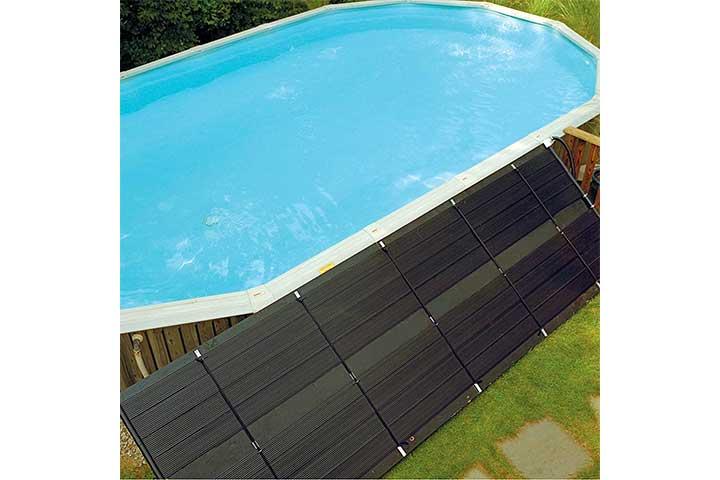 The solar heater measures 48x240in and is made of individual 4x20ft solar panels and a polypropylene heat collector. The tube-on web design exposes a large surface area to the sun for better heating.
Pros
Ensures better in-flow of water
Internal baffle maximizes the heating potential
Threaded heads provide flexibility when connecting to in-ground or above-ground pools
Wind vents offer stability in windy weather
Can be mounted even on the fence
Easy to setup
Cons
Does not work on cloudy days
May have leakage problems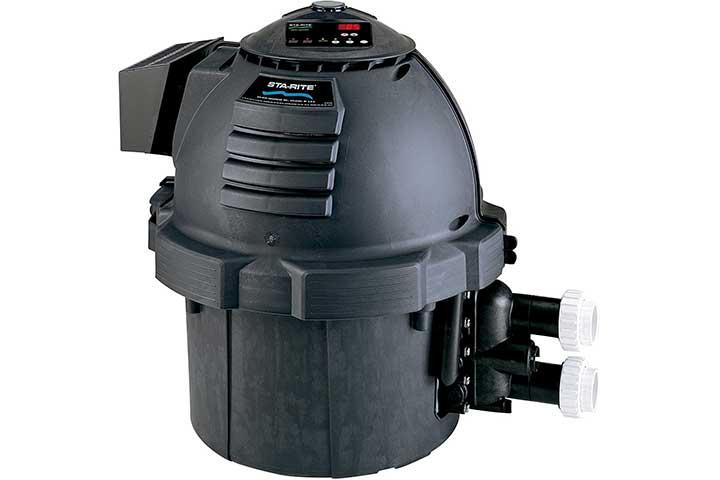 The Sta-Rite pool heater runs on natural gas and features a six-position control panel, top-mounted dual-thermostat controls, and an LED temperature readout. Designed with PMG burner technology, it heats the water quickly. It is made of exclusive material that can resist heat and extreme weather conditions.
Pros
Compact and heavy-duty construction
Rated as top high energy-efficient model
Lightweight
Made of rust-proof material
Easy temperature reading
Cons
Copper coils may not be durable
May have gas leakage problems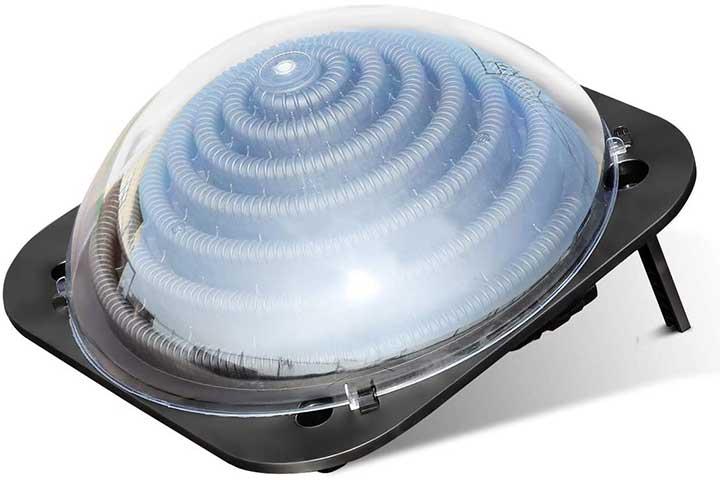 The solar-powered pool heater is designed to extend your swimming season in an eco-friendly way. It has a foldable stand to set the desired angle for maximum sun exposure. It magnifies the solar energy through the clear lens and black-coiled hoses.
Pros
Protective cover protects the dome when not in use
Space-saving and aesthetically-pleasing construction
Easy to install
Environmentally friendly
Cons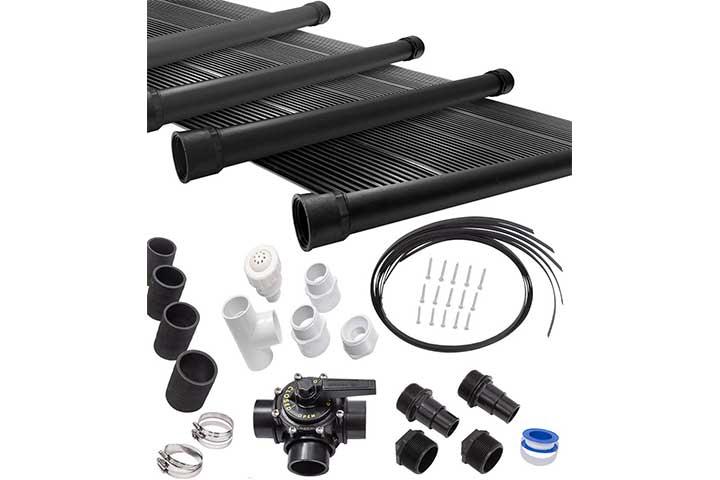 It is designed to capture solar energy for heating pool water through the solar panels. The professional-grade panels guarantee impressive performance. It comes with a complete kit to ensure easy installation.
Pros
Works for in-ground and above-ground pools
Saves running costs
Comes with an easy-to-follow instruction manual
Efficient functioning
Increases temperature by up to 10°F
Cons
Does not work in the absence of sunlight
How To Buy The Right Pool Heater?
Here are some essential points to keep in mind to choose the best pool heater.
Size: Know the surface area of the pool to select the power of the heater. A heater with greater heating capacity is required.
Heating time: Electric pool heaters with high power will heat quickly but come with high running costs. Solar heaters are a better choice though they take longer to heat the water.
Pool type: Pool heaters that may work for in-ground pools might not be right for above-ground pools. Choose a standard heater that works for any pool.
Budget: A pool heater includes the buying cost and running cost. For instance, solar pool heaters may be expensive to buy and install, but they come with no running costs than gas pool heaters and electric pool heaters.
Frequently Asked Questions
1. Can a pool heater be installed under a deck?
It depends on the type of pool heater. You cannot install gas heaters under a deck because they need proper ventilation to allow exhaust gas to pass. However, you can install an electric pool heater.
2. Are pool heaters environmentally friendly?
Some pool heaters, such as solar pool heaters, are eco-friendly. They are energy-efficient heaters with low NOx emissions, light carbon footprints, and rust-proof parts.
3. What is the perfect pool temperature?
The perfect pool temperature is anywhere between 77°F to 82°F.
4. How to cool down a swimming pool?
Here are a few tricks to cool down a swimming pool:
Install a waterfall system or fountain to run down the water
Adjust landscaping to ensure the flow of wind over the pool
Add ice if you have a whole lot available at a low price
Drain the pool partly and refill it
Use nocturnal cooling to radiate heat into the sky and away from the pool
Pool heaters can extend your swimming season irrespective of your location or climatic conditions. Designed to raise the water temperatures, they make a smart and cost-effective choice. There are electric water heaters, gas water heaters, and solar water heaters that vary depending on their performance, price, and running costs. We hope our list helps you find the best pool heater that raises water temperatures and takes care of the overhead costs.