Keeping a pool sparkling clean can be a difficult task. The best pool skimmer baskets can come to your rescue in collecting debris and waste in your pool. Skimmer baskets trap dirt and litter. It sits inside the swimming pool and strains out debris.
Simply clean out the trapped waste in the basket, and you can easily maintain the pool hygiene.
If you're confused between the ones available online, here is our list to help you shortlist and find the one that meets your unique needs.
10 Best Pool Skimmer Baskets
The pool skimmer basket from Custom Molded Products was specially designed for Hayward SPX1070E and Aladdin B-9 skimmers. It has a height of 5 1/8 inches, 8 ¼ inches outside top, and 5 ¾ inches outside bottom to fit several filtration systems. The basket is easy to install and will enable the user to empty the collected debris quickly.

Pros
Weighted bottom
Durable
Removable handle
Lightweight
Cons
GVT SP-HP pool skimmer basket is designed with a towering vent that arises from the center, allowing a continuous water flow. It keeps your pump motor safe and prevents it from drying, while the hard plastic material makes it look solid. This skimmer basket is compatible with Pacfab, SwimQuip, Hayward Skimmer SP1070, Jacuzzi deck mate, and American Products skimmers.

Pros
Easy debris removal
Heavy-duty basket
Lightweight
Weighted
Cons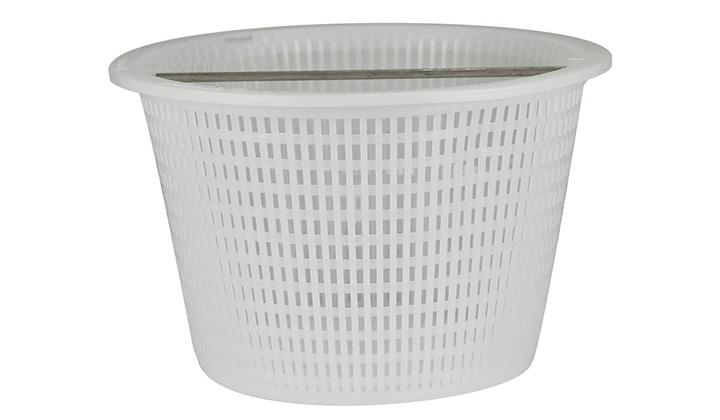 The basket has a robust metal bar and an extra weight to enable it to rest in the pool skimmer. It's carefully engineered to suit Pentair U-3 skimmer so your pool can stay clean. The height, bottom width, and top width measure 5.25 inches, 5.75 inches, and 8.5 inches, respectively, thus collecting much debris.

Pros
Large size
Fits well
Durable and reliable
High-quality, reinforced rim
Cons
U.S. Pool Supply pool skimmer basket comes in a set of two, and it's compatible with many skimmers. Its depth, top, and bottom measure five inches, eight inches, and 5.5 inches, respectively, which is spacious enough to handle your pool waste. The chlorine-resistant mesh is strong, durable, and practical, and it won't be affected by the water. These two replacement skimmer Baskets allow easy and efficient extraction of debris and leaves before they clog your pump.

Pros
Lightweight
Enough storage space
Long-lasting
Includes one-year warranty
Cons
The pool skimmer basket works with Hayward automatic skimmers and is large enough to let debris in, minimizing the need for frequent emptying. The high-quality plastic material enables it to retain its functionality by evading the harsh pool chemicals. Its 5-inch deep, 7 1/8-inch wide top and 6 5/8-inch wide bottom take longer to fill. Generic Hayward B-152 has a mesh-like design that is efficient at filtering debris and leaves.

Pros
Durable construction
Long-lasting
Fits well
Easy to maintain
Cons
Aladdin's pool skimmer basket is designed to work with vinyl liner and Pentair Bermuda Gunite skimmers. Its sturdy plastic material makes it solid and durable, while its universal dimension allows you to use it in many pool skimmers. This pool skimmer is capable of handling debris, leaves, and pool pressure.

Pros
Easy installation process
Lightweight
Functional handle
Durable and reliable
Cons
Hayward's pool skimmer basket is manufactured to work with several Hayward skimmer models. It has a small weight to the bottom to help it rest well on your pool's filtration system. Its metal handle is reliable, and you can use it to remove debris from the pool quickly. The basket is five-inch deep, 6.5-inch at the bottom, and seven-inch at the top.

Pros
Fits well
Long-lasting
Helps prolong the pool pump's life
Lightweight
Cons
The pool skimmer basket is made of chlorine-resistant plastic, making it long-lasting and sturdy. It is five-inch deep, 5.5-inch wide (bottom), and eight-inch wide top. The basket can trap leaves and debris before they get to your filtration system, prolonging the pump's lifespan. It works with Hayward SPX1070/SPX1071 Skim Master, SwimQuip U-3 skimmers, Pentair Bermuda, and more.

Pros
Fits well
Available in a pack of two
Easy to remove
Lightweight
Cons
FibroPool's pool skimmer basket is suitable for above-ground pool skimmers. It's available in a pack of two, so you can change the buckets when one is full. The basket is 3.8 inches tall and will work well with your pool skimmer to prevent levees, dirt, and debris from getting into your filtration system. With a bottom and top diameter of four inches and 6.2 inches, it can keep your pool clean.

Pros
Easy to install
Fits well
Durable
Includes a handle
Cons
May not suit all skimmers
The pool skimmer basket is designed with a plastic handle that allows easy removal of debris from the pool skimmer. The top part has a slight extension to ensure it fits well on pool skimmers. It is suitable for Hayward SP1091LX or SP1091WM above-ground pool skimmers. The body is crafted from sturdy plastic material that's durable and resistant to chlorine.

Pros
Strong and reliable handle
Long-lasting
Snug fit
Easy to clean
Cons
May not have a large capacity
How To Choose The Right Pool Skimmer Baskets?
Consider the following factors when choosing the right pool skimmer baskets.
Ease of installation: You should choose a product which you can install by yourself. Ensure it is weighted or has a twist-lock system to make it remain underwater.
Handle: Choose skimmer baskets with metal rods, plastic handles, and more for easy handling and cleaning.
Quality: Ensure the basket is made of durable plastic that doesn't break easily due to water pressure. Choose chlorine-resistant material for long-lasting use.
Why Trust MomJunction?
Wedetso Chirhah, the writer of this article, aims at providing authentic product reviews to our readers. He has studied and analyzed feedback on pool skimmers and has filtered the best ones for this list. After considering their material and durability, some of the best pool skimmer baskets were selected for this post. He has also included a buyer's guide and the working mechanism of skimmer baskets to help you choose the right one that suits your needs.
Recommended Articles: