Nothing beats the heat better than a homemade popsicle. What could be more satisfying than reaching into the freezer on a hot summer afternoon and finding a popsicle of your favorite flavor? And if you have never made one at home, it is time to upgrade your frozen dessert game with this fun and easy-to-make ice pop.
Of course, you will always have the option to pick up a box from the nearest store, but hey, how fun would it be to make your own and serve your family and friends after a fun afternoon lunch at home. From classic pop molds to some fun shapes that could be conversation starters, the market is flooded with a variety of them. We have put together a curated list of some of the best ones. Here's our guide to the 15 best popsicle molds to buy in 2021.

Top Products From Our List
15 Best Popsicle Molds In 2021

Nothing like the classic ice popsicle shape that reminds you of the ice cream truck. This one will bring back the good old memories of you and your friends sharing the frozen treat on hot summer afternoons, without having to leave the comfort of your house. Each of these six molds can hold 4 fluid oz., and once frozen, you will have to just run it under warm water to release the popsicle easily.
Pros
Dishwasher-safe
Drip guard handles
Made of BPA-free plastic
The base holds ice pop upright in the freezer.
Cons
The base may be a bit shallow.

These oval-shaped popsicle molds are super convenient to use and will let you make a batch of 8 at a go. So, if you are hosting a party for your children, just stuff these in the freezer with some ice and flavor it with fruit syrups. You can also use these light blue and light green molds to make other popsicle shaped desserts such as cake, pudding, chocolate fondant, and rice balls. You can also use these molds if you are trying out one of those DIY soap tutorials.
Pros
No odor
Easy to clean
Great for mini frozen treats
Made of food-grade silicone
Cons

Turn "Finding Nemo" into a fun game of popsicles with these fish-shaped molds. Gather around kids at the party and plan a popsicle-making play with these Zoku Fish Pop Molds. They include shapes of different sea creatures that are identified with the tail handles. Let the kids dive into the ocean of their imagination and make popsicles with their favorite fruit flavors. This one is definitely one of the most fun and creative molds that will let you try out an endless combination of flavors. You can also mold and freeze chocolate in these to use them as edible decorations for your cake.
Pros
No BPA
Includes drip guards
Phthalate-free
Popsicles come off easily
Cons
May not be dishwasher-friendly

Experiment with multiple ingredients or go with plain fruit ice for your friends and family with these Shpebs popsicle molds. These soft and non-stick molds come with 100 popsicle sticks and 100 bags. You'll also get a funnel for easy pouring. You can use these molds for other recipes, too, such as lemonade pops, chocolates, and fruit treats, among others. It has a temperature resistance that ranges between -40°C and -220°C.
Pros
BPA-free
Easy to pull out
Dishwasher-safe
Premium food-grade silicone
Cons
Needs to be rested outside before getting the popsicle off the molds.

Looking for an excellent non-stick mold? Find your match with these CHEFMADE Popsicle Molds. They release frozen treats easily and are super easy to clean — throw them in the dishwasher or just hand-wash it with a mild soap. You can turn a variety of fresh fruit juices and homemade chocolate batter into decadent frozen desserts with these molds.
Pros
BPA-free
Food-grade silicone
Classic style modeling
Available in different colors and shapes
Cons

Are your little ones aspiring islanders who love fictional characters? Well, they will love the popsicle coming off these Tovolo Tiki Ice Pop Molds that have fun detailed faces topped over reusable sticks that are shaped like bamboo, adding a finishing touch to the tropical vibe. This is a great mold if you are freezing treats for a theme party, Halloween, or even just a fun night with friends and family.
Pros
Sturdy base
Flexible silicone
Dishwasher-safe
BPA-free material
Cons
May take a while to get the popsicle out

Planning a kids' party with not much time to spare? Pour in their favorite fruit juices or flavored yogurt in this Norpro Popsicle Maker and push it in the freezer, and voila, you will have 10 frozen treats in almost no time. It comes with 24 wooden sticks to give you the feel of an authentic popsicle experience.
Pros
Durable
BPA-free
Aluminum frame
Sticks stay upright while freezing
Cons

How long have you been craving a cola popsicle? Well, wait no longer. Just pour in your favorite carbonated beverage in this HIC Ice Pop Maker Set for a tasty frozen treat from simpler times. Unlike other sets in the market, this does not leave you with that unpleasant freezer taste. The pull tabs on the set ensure you can easily get your popsicle out of the mold once it is ready.
Pros
No BPA
Non-stick
Airtight lids
Dishwasher-safe
Cons

Friends coming over to binge-watch your favorite show? Well, how about you pop in some alcohol treats with this Kootek Popsicle Molds. Customize your favorite cocktail mixes into a popsicle for a fun party night. Turn it into an activity by inviting friends over behind the counter to let them customize their popsicles with a flavor of their choice. Of course, on days when you are planning on staying sober, these molds work equally well with fruit punch and chocolate.
Pros
BPA-free
Dishwasher-safe
Stylish blue and green color molds
Includes a funnel and cleaning brush
Cons

Made of durable material with easy-to-hold features, these Helistar Popsicle Molds are great for children's use. You can let your kids mix their favorite fruit juices and see it turn into a popsicle. You can also make jams, jellies, and ice creams in these molds. It is completely non-stick; hence you don't have to worry about struggling to get the popsicles out.
Pros
BPA-free
No sharp edges
Food-grade silicone
Includes a cleaning brush
Cons
May have an unpleasant odor initially

Craving for a dessert while on a diet? How about you create some healthy sweet options, like organic fruits, juiced and frozen into a treat with this WYOK Popsicle Mold Set. They are extremely easy to use, and the non-stick interior allows you to pop out the popsicle easily from the mold without exerting much pressure. Try out healthy desserts with these molds, be it sugar-free juice pops or dark chocolate fudgesicles.
Pros
Drip guards
Food-grade silicone
High-quality plastic shell
-20°C temperature resistance
Cons

This set of 4 ice pop trays in multiple colors comes in cute sizes and is ideal for babies. Just puree nutritious fruits and vegetables and freeze them in these pop trays for a healthy creative meal for your little one. Use your imagination and sneak in the fruits that they wouldn't otherwise eat. You don't have to worry about creating a mess with this product as the wide popsicle-holder base easily catches any drip falling from the melted popsicle.
Pros
BPA-free
Easy to clean
Safe for everyday use
Great for teething babies
Cons
May be a bit difficult to pull out the frozen pops

Fretting over the amount of calorie intake with the kinds of snacks your kids have been munching on? Well, stop worrying. Try out DIY fruit and vegetable blends and just freeze them after filling in these FroZip Ice Popsicle Mold Bags. Your kids will love a frozen treat, and you'll succeed in getting them off junk food. It is easy to use, and you don't have to toil hours in the kitchen over what to make.
Pros
Non-toxic
Sealed zip
No tearing
BPA and phthalate-free
Cons
May not be environmentally-friendly

Available in 8 bright colors, these Ouddy Popsicle Molds will definitely grab your kid's attention. Make delicious frozen treats out of cake batter, melted chocolate, and flavored ice for your children and their friends with these attractive molds. It is made of premium quality material that allows for quick-freeze and a lid so you can close it and put it back in the freezer for later use.
Pros
BPA-free
Non-toxic
Affordable
Made of food-grade silicone
Cons
May be a bit difficult to clean

Looking for eco-friendly and reusable ice pop makers? Try these Mamasicles Popsicle Molds. The set is of Tupperware quality that includes large molds to hold in more quantity and is sturdy enough to stand securely in the freezer tray. It comes with a funnel, which lets you easily pour in your fruit juice blend into the molds.
Pros
BPA-free
Dishwasher-safe
Includes a cleaning brush
Drip catches at the end
Cons
May not be easy to take the popsicle out of the mold 
Now that you are all caught up on the best popsicle molds in the market, let's take a look at how to pick one for you.
How To Choose The Right Popsicle Molds
Here are a few parameters you can judge it by.
Design: Whether you are looking for fun shapes or want to keep it simple with the classic oval-shaped mold with ridges, these molds are available in a range of shapes, sizes, and colors.
Material: Planning on upping your dessert game? We advise that you invest in a popsicle tray that is made of sturdy material; one that will last you long.
Reusable: If you are looking for something environmentally-friendly, you may want to stay off disposable plastic bag kind of molds.
Non-toxic: Always check for BPA-free and non-toxic labels before buying the molds. You do not want to play risky here.
A popsicle may be a fun experiment for a few and about reminiscing the good old days for others. Picking a popsicle mold does not sound like much work, and it shouldn't be. You just want to have some fun in the kitchen, play around with traditional recipes, or revisit the classic with some good old juicy popsicles on a hot summer afternoon. We get it. Hence, we have ensured to cover every little detail that you would have to keep in mind before buying a product for your house. We hope our guide to the 15 best popsicle molds helps you find the mold that suits your kitchen and style the most.
The following two tabs change content below.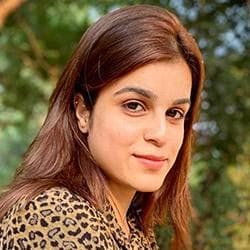 Sakshi John
Sakshi did her graduation in Journalism from the Madras Christian College, Chennai, before starting her career as a freelance writer. She is into blog writing and for MomJunction, she covers various topics, including products to buy for your kitchen, furniture, and other home requirements. Previously, she interned as a content writer in a cyber security firm. As a content writer, Sakshi...
more