Many devices in our home run on electricity, right from our computers to refrigerators. In case of a power cut, backup is important, and it is achievable efficiently with the best portable generators. They are suitable not only for homes but also for traveling. If you plan to go out for camping, picnic, or any other outdoor activity, you might be needing a portable generator. In the most unexpected circumstances, these generators act as a savior for many devices that rely on electricity. They are compact and can power several devices at the same time.
To help you select one, we have a list of top devices that you can consider looking at before you buy one. You will also get to know the types of generators and essential factors to keep in mind before purchasing the portable generator.
Types Of Generators
Portable generators are mostly used to provide energy for low-powered households and small businesses. They are best-suited for places of residence, or construction sites, and are typically powered by a combustion engine.
Inverter generators produce AC power with the alternator connected to the engine. The inverter generator then converts AC power to DC with its in-built rectifier. It undergoes 3 phases to produce electricity, while keeping the flow of energy to the appliance constant.
Standby generators are backup generators used mostly for unexpected power outages, as the name suggests. It has an automatic switch that powers it on as soon as light goes off. Powered by an internal combustion engine, standby generators operate automatically.

13 Best Portable Generators Of 2022
This portable generator features a push electric start button, making it easier for you to set it in motion without breaking into a sweat. It operates at 7500 running watts and 9500 peak watts with electric and recoil start that gives this generator up to 11 hours of runtime. It is equipped with a 6.6-gallon tank. The generator comes with 2 ground fault circuit interrupters, so you need not worry about added safety. It is powered by a 420 CC 4-stroke engine, and the user-friendly control panel makes it easy to navigate.
Pros
Low maintenance
Dual fuel and remote electric start
Easy-to-connect battery
Fuel gauge
Cons
This generator's portable size makes it one of the best portable generators on this list. If you are a supporter of finding eco-friendly solutions, you will love this generator that does not need fuel or gasoline, and it doesn't blow out fumes either. Rather, it is equipped with solar panels. The quiet nature of this generator is another reason why it is one of the best-selling portable generators. For activities like a party at the beach or a night of camping under the stars, this generator will come in handy. With the energy that it provides, you can power up to 4 devices.
Pros
Can easily serve as a camping companion
Lightweight
Power-saving mode
Can charge up to 100 phones or 12 laptops
Cons
Cannot support devices over 200 W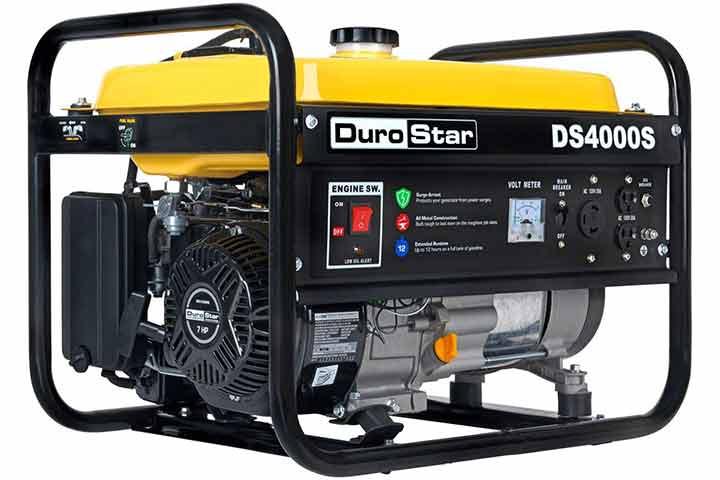 This portable generator features a 4-gallon gas tank powered by a 208 CC engine that is sure to provide efficient power. It also comes with a voltmeter, low oil sensor, and an AC breaker that makes it one of the best portable generators available. Suitable for powering job sites and camping RVs, the generator also comes with copper windings that give it more power and ensure a longer lifespan.
Pros
High-power
Easy to transport
8-hour runtime
Dual-voltage outlets
Cons
DuroMax's portable generator runs on gas or propane and is powered by a beastly 457 CC engine and comes with copper windings. This makes it powerful and suitable to cater to electronics with high watts. The generator features a control panel that consists of a low oil sensor that alerts the user when the oil is running low. It also comes with an AC breaker, voltmeter to check the voltage in use, DC charging, and MX2 switch. It has 4 outlets, making sure that there is ample room for any kind of plug.
Pros
12000 watts that provides enough energy
Dual fuel options
Dual-voltage
Easy control panel
Cons
This portable generator has enough power to meet the most basic electricity demands. It is also truly portable as it weighs just 4 pounds. The stand-alone AC/DC makes operation easy when charging numerous devices. A solar generator, it is home-friendly, and is sure to be a top priority for those who prefer eco-friendly devices. It comes with a lithium battery that is chargeable with the solar panel.
Pros
LCD screen
Triple rechargeable modes
40800 mAh power station
Lightweight
Gas-free
Cons
The generator can't be charged and used at the same time.
Providing clean electricity with 1600 watts running power, and 2000 watts starting power, this portable inverter generator by A-iPower is sure to make your next outdoor event a grand and enjoyable one. It has a USB port and multiple outlets that make it suitable for powering low-energy electronics. You need not worry about noise levels as it operates at a humble 58 decibels as it is powered by a 79 CC engine.
Pros
Low noise level
Lightweight
Clean power
Extended run time
Cons
Cannot power devices with large watts
This portable inverter generator operates on a 79 CC 4-stroke OHV engine that provides sufficient power for small devices at an extremely quiet level. It is also safe for electronics, and with it, you do not have to worry about your devices being affected. The generator weighs only 39 pounds, making it a desirable travel generator. It helps to save fuel with its motor that adjusts itself automatically to reduce fuel consumption.
Pros
Easy to navigate panel
Panel comes with 2 USB ports
Low oil and low fuel automatic shutdown
Indicator lights to safeguard against electronics
Cons
Low power for high electronics
The Aeiusny portable generator conforms with using energy-saving devices. Suitable for outdoor and indoor activities, it is powered by a battery and can be charged in 4 different ways — with solar panels, AC wall socket, more powerful generators, and 12 V cigarette lighter socket. The lithium-ion battery that powers the device ensures that it provides light efficiently. It is mostly suitable for low-powered electronics, but it can comfortably power laptops, smartphones, low power fans at 50W, a 32-inch LCD TV, and a 12 V LED.
Pros
Serves as a UPS
5 pounds
500 W output
Eco-friendly
Cons
Cannot power high-energy devices
This power equipment runs on dual fuel, so you can choose between gas or propane. It also has a touch start battery that ensures that starting it up is as easy as pie. A battery is also provided for the electric start. It is suitable for work, play, and for the home. Helping to power electronic devices with its 7500 Watts and 439 CC engine, it runs up to 8 hours on gasoline and 5.5 hours on propane.
Pros
Durability ensured by a cast iron sleeve
In-built surge protector
Keeps track of the voltage, hertz, and runtime
Low oil shut-off sensor
Cons
The PAXCESS portable generator provides impressive power to keep your outdoor get-togethers going through the night. The 110V AC outlet provides a 200 W power. Helping to serve as a reliable power supply outlet for hours on the go, it also offers a quick charge when it's used to charge devices with its 3.0 port and 18 W type C PD port for charging 40% faster. Chargeable with wall outlet, 12V car charger, and solar panel charger, it serves as a great power source.
Pros
Eco-friendly
7 ports
200W US standard AC outlet
Universal compatibility
Cons
Devices 200 W and above cannot be used on it
This portable generator by Rockpals provides power with its 288 WH lithium polymer batteries, enough to charge smartphones of 2500mAh 30 times, laptops of 50 W 5-6 times, power a 3-inch TV for about 3 to 4 hours, a mini-car refrigerator for a couple of hours, and other low powered electronics. It also comes with 4 USB ports that make charging of smartphones easier. Easily rechargeable with the solar panels, car chargers, wall outlets, and generators, you can never run out of spaces to charge.
Pros
Eco-friendly
Quiet to use
Easy to charge
Overs overheat protection
Cons
Cannot be used to power heavy electronics
Its 660 watt hour battery capacity makes sure that you have enough energy to power your devices. It also has 4 AC outlets that can be used to power household items: 2 USB ports, 1 12V DC outlet. The USB port makes sure that you get to power your smartphones even on the go. With this generator, you can get UPS features as it helps to serve as a backup when the normal power fails.
Pros
Lightweight
Easy control panel
Can be used for emergency purposes
Built-in solar controller
Cons
Heavy compared to other solar powered devices.
This generator hits this list because of its unique features such as the X-boost algorithm that helps to support 80% of essential devices. The fast recharge ability makes it quick-charging, charging it up to 80% in just a little under 2 hours. Because of this feature, you can hit the road with this portable generator with little or no planning. With the modular design and the extra battery of this device, it is easy to expand the capacity from 288 Wh to 576 Wh. It is reliable, and efficient, to power a wide range of useful devices. Finally, solar charging makes it very easy to charge and most importantly, eco-friendly.
Pros
LED light
LCD display screen
USB fast charge
LED light that accompanies On/Off button
Cons
Does not have the ability to accommodate heavy devices.
Now that we have looked at the 13 best portable generators, let's take a look at the things you need to keep in mind when buying one.
How To Choose The Right Portable Generator
While some are powered by gas and propane, others have batteries and are solar-powered. So, if you are in search of one, you need to choose the one most beneficial to you. However, you need to know that traditional generators with fuel tanks are generally more powerful than small, solar powered generators.
Before getting a portable generator, you need to also consider the size. The size will determine the ease of mobility especially if you need it for picnics or for construction sites. Most Inverter generators are smaller than standby and other portable generators, so you should look towards this if size is a priority on your list.
The fuel tank will determine how often you need to add fuel to keep it running. The average portable generator has a fuel tank size that can run for about 7 hours before being refilled, so you might have to consider this. However, you should know that the bigger the fuel tank, the heavier the generator.
Electronic fuel injection(EFI)
Carburetors are tricky. They give a lot of problems to generator owners when they get clogged. With the EFI, you need not worry about carburetor issues because generators with EFIs do not use carburetors.
You need a portable generator to help you solve a problem, and that is power outage. So, you are trying to solve a problem, not create additional ones. Generators with high noise levels are a no-no because the noise can be disturbing. As such, you need to look out for the noise levels of a generator before getting it to avoid problems.
You need to consider how mobile a generator is before getting one. Generators are traditionally heavy, so you need to consider the ones that have wheel kits that can help you move them easily.
Frequently Asked Questions
1. How many watts will power a house?
The watts that will power a house is dependent on the electrical appliances available in the house. However, the average house will require about 5000 to 7000 Watts. So, before getting the portable generator, watch out for how heavy the appliances in your house are.
2. Will a portable generator damage electronics?
Generators are powered by motors that can sometimes experience fluctuations. The fluctuations called harmonic distortions can cause small power surges that can be harmful to appliances. To remedy this problem, you can use a surge protector. This will help to maintain a stable flow of power.
3. Will rain damage a portable generator?
As with other appliances, the portable generator is not rain proof. If left in the rain, it can be damaged overtime. This is because some of the materials used in making the portable gen is not rain-proof. So, endeavor to keep away from rain.
Why Trust MomJunction?
Wedetso Chirhah is experienced in creating top-quality content by thoroughly researching the products and understanding consumer preferences. This article is no exception as it contains some of the best portable generators and gives an insight into picking the most suitable one. Wedetso gives detailed information about every product so that the readers can compare and shortlist the generators based on their requirements.