If your toddler is at that stage where he/she is ready to be potty trained, then know that this milestone can be achieved easily with the right support by your side. Potty training can get intense, messy, and stressful not just for parents, but for your little ones as well. You have to be patient, understanding, and take your child's temperament into consideration to successfully potty train your little munchkin.
Thankfully, there are numerous books available in the market today that will help you teach them the process in fun and simple ways, while also reassuring them it's nothing to be embarrassed or be ashamed about. After all, don't we all do it? Continue reading the MomJunction post as we have curated a list of the 17 best potty training books for toddlers.
17 Best Potty Training Books
A great pick among potty training books, here Elmo teaches young kids how to use the potty in fun and interesting ways. The lift-the-flap board book comes with 30 flaps that your little one can open and read. The flaps are quite sturdy and can hold up even if your toddler repeatedly lifts and peeks for hours. With this book, your toddler will also be in for a surprise every time they lift the flap to find what's underneath it. This potty-training book definitely makes for a delightful reading experience.
If you are looking for a foolproof plan to potty train your preschooler, then you might want to consider this next book from our list. Brought to you by the potty-training expert, Jamie Glowacki guides you through her 6 proven steps to potty train your toddler. This book is sure to answer all your questions regarding potty training, making it one of the most popular potty training books available. It addresses all the real-world common issues without any gimmicks so you can successfully move your child out of diapers.
If you wish to stick to a gender-specific potty training book, then you'll surely love Big Girl Panties by Fran Manushkin. The book features hip illustrations and rhyming text that is sure to get both toddlers' and adults' attention alike. Inspired by the pigtailed protagonist in the book, your little girl will also look forward to wearing panties just like her mommy and grandma. The artwork by Valeria Petrone is fun and exciting and will definitely find a place in your little girl's bookshelf.
Potty training is made a lot more interactive with this book by Daniel Tiger's Neighborhood. Kids can listen to fun sounds by pressing buttons and even sing along with Daniel as he gets potty trained. The book features picture icons that prompt kids to press the buttons for sound effects. What makes the book even more interesting is the take-along handle that makes it look like a cute suitcase that they can carry. This book will surely be a hit among kids with its colorful illustrations, sound effects, and take-along handle.
This lift-the-flap book is funny, sweet, and engaging. It shows that all creatures including their favorite animals have a place to do the business. It helps your kid understand that just like tigers poop in the jungle and monkeys in the rainforest, even he/she has a place to poop. The book also features three flaps for each animal. The colorful and fun dialogue between the characters in the book will make for an interesting read.
We know, it's hard to imagine a princess using the potty. But if your little one fancies princesses or sees them as role models, then this book is one of the top potty training books for your little girl. The princess-themed book introduces your child to the concept of potty training with its step by step story. The book shows the protagonist transforming into a girl using the potty from a royal baby in diapers and includes reward stickers as well.
This book on potty training is hands down one of the best potty training books available in the market today. Your bambino is sire to bid goodbye to diapers and embrace his/her life in underpants real soon. The colorful illustrations and fun text make it a delightful read to start the journey of potty training with your little one. So, are you ready to chug away on the potty train to underpants station?
If you want to stick to a gendered book instead of a gender-neutral one, then you might want to check out this potty training book by Alona Frankel. With its bright graphics and simple language, the book can be easily understood by toddlers. The book can also withstand occasional water spills, making it ideal to read it while on the potty. With the gender-specific concept, it makes it more relatable for young girls.
The potty training sound book makes learning how to use potty interactive and fun! The book includes 7 buttons which when pressed makes fun washing and flushing sounds as well as encouraging words. The plot of the book revolves around Elmo training his doll, Baby David, how to use the potty, just like Elmo once did. While teaching your kid about potty training, the book also helps improve their motor skills with play-a-sound buttons. Who knew potty training would be so much fun!
Another great pick from the list of the best potty training books, it encourages young toddlers to use the potty just like big girls. The step-by-step guide is both fun and informative and helps your baby girl achieve this milestone in their lives with ease. Your child will soon bid adieu to diapers and love using the potty with pride. The book consists of rhythmic texts and illustrations with star stickers and a pull-out chart.
Let your child take their first step towards a diaper-free life with this book for potty training. It helps your little superhero at home embrace big boy pants and to start using a potty. Potty training is made easy with its supercool illustrations and a superhero story. The book shows that every superhero needs to use the potty and helps them feel less embarrassed about the situation. Made of thick board pages, it's easy to carry around as well.
If your toddler is new to the idea of potty training, then this pick will give them a head start in this new journey. From catchy rhymes, lift-the-flap interactions, to positive phrases, the book takes the worry off your child's mind. For all those toddlers who are unsure of using the potty, the book shows that it's okay to take time and do it when they are ready. This modern approach to potty training will empower your child to use the potty and entertain them while they're at it.
This book by Mercer Mayer makes the cut on the list of the best potty training books for all the right reasons. The book revolves around  Little Critter who is helping his little sister potty train. Little Critter is doing the best he can by helping her make it to the toilet, encouraging her for her efforts, and even getting frustrated at times. This is a book that will be relatable to parents and kids alike. The book is a classic for its heartwarming and hilarious storyline.
Everybody Potties board book can be an excellent option to introduce to your kids when they are ready for potty training. Letting your child know that there's no shame in using the potty can be challenging sometimes. And that's exactly what this book focuses on. The book follows a very lively storyline that encourages toddlers to speak up when it's potty time. It also includes colorful illustrations that would grab any toddler's attention.
This board book is designed specially for your little boy who is ready for potty training. It will help you encourage your toddler to cheerfully kickoff the training and start wearing big boy underpants. The board book consists of vibrant pictures that focus on the joys of finally tossing off those baby diapers. Moreover, the text is quite simple for your boy to understand and it guarantees a fun read. The book also comes with a sturdy binding.
This potty training book is as real as it gets to help your child achieve this new milestone. Filled with real pictures of toddlers using the potty, Boys' Potty Time will encourage your little munchkin to do the same. With toddlers leading by example, your child will practice using the potty in no time. The book also comes with a padded cover just like the one on toilet seats. The potty training book is visually pleasing and comes with reward stickers as well.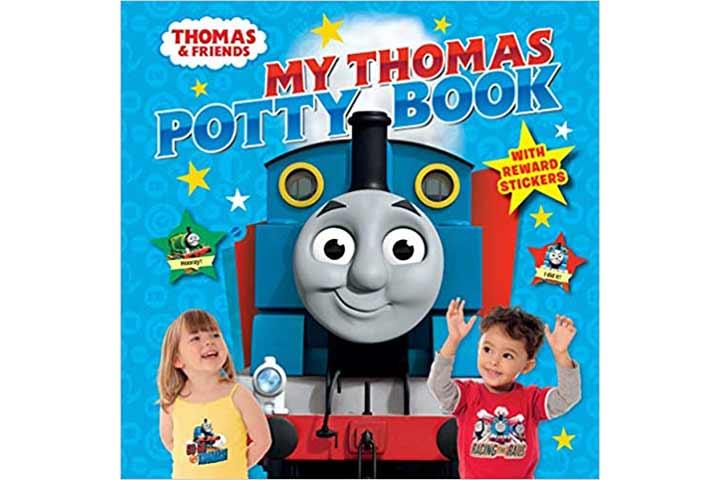 Next on our list of the best potty training books for toddlers is the My Thomas Potty Book. The book is filled with illustrations of toddlers potty training. With Thomas The Tank Engine encouraging toddlers as they potty train, it will help your kid finally ditch their diapers and become a bit more independent. The book also includes reward stickers so your toddler has something to motivate them in this new journey.
Potty training can be challenging for parents and toddlers alike. Whether you have decided to take it slow or follow a faster and stricter approach, having a potty training book will take the stress off their minds and familiarize them with the concept. We hope that with our list of handpicked books for potty training, your child can now take their first step towards independence.
Frequently Asked Questions
1. At what age should a child be potty trained?
Children can start to be potty trained from the age of 18 months to 3 years old. It's important to remember that not all kids might be ready to be trained at the age of 18 months.
Recommended Articles: