A pregnancy journal is a special book to document all the memories and moments you experience during pregnancy. Also, a journal could help you relieve stress, make you more efficient, keep a tab on your and your baby's health, while writing about the special bond you develop with your baby.
Whether you want one for yourself or to gift somebody, a journal is a good idea. With a pregnancy journal, you can go down the memory lane later and reminiscence the beautiful nine-month journey.
In this MomJunction post, we give you a list of the best pregnancy journals to make a note of all that matters to you during your journey to motherhood.

No products Found
13 Best Pregnancy Journals
Available in both hardcover-spiral and spiral-bound editions, The Belly Book is categorized into trimesters. For each trimester section, you will have a week-by-week guide to track your baby's growth with questions to answer. You can collect all your special memories in an organized manner in this 96-page book. The week-by-week belly pages also have space for sticking the bump photos.
This is a diary-style combined journal that takes you from pregnancy through the baby's milestones in their first year. It moves at a weekly pace with prompts and space for writing down your important pregnancy moments, birth experience, and the baby's first smile, steps, words, etc., until their first birthday. It also has plenty of room for pasting sonography pictures.
Want something to record the many feelings and emotions that surround you at this time? Then this may be one of the best pregnancy journals that offers enough writing space you need. You may spill all your thoughts, feelings, and experiences in this compact and easy-to-carry journal whenever you travel or go to the doctor. Besides quotations and illustrations, other notable features of the journal include its hardcover made of cloth, the removal bellyband, and a ribbon marker.
Pearhead's Pregnancy Journal has detailed prompts and questions to guide you as you make a note of the special moments during your pregnancy. This pregnancy journal may not be suitable if you journal regularly and in detail. It has 74 pages with a pocket in each section for holding keepsakes and pictures. It is spiral-bound and includes an elastic band to keep it secure. The faux leather cover has "xoxo" printed in black and hearts printed in golden foil.
Available in both hardcover and spiral-bound editions, this classic journal has plenty of information on how to track the mother's health and the baby's development. It gives a personal journaling space full of facts and advice on health and nutrition for the mother. It is packaged beautifully and makes a great gift option too.
Heidi Murkoff, the author of the What to Expect series of pregnancy and parenting books, brings this unique journal and organizer. You might note down all the moments from conception and the first ultrasound to the first kick and eventually delivery. It helps you keep track of the pregnancy stages, doctor visits, birthing plans, shopping checklist, baby names, and gifts.
A pretty colorful journal with a trimester-wise guide that talks about all the special moments you would experience for the first time as a mom-to-be. There is a space for you to enter all the milestones and memories, to track the doctor appointments, to-do lists, activities, and so much more. It also has many fun activities that would excite the new momma.
This is a beautifully designed journal that you would cherish forever. There are many pages for you to write down your pregnancy journey, favorite moments, and easy-to-fill prompts to improve your thought process. It displays your baby's development with watercolor fruits and veggies from pea to pumpkin. There is a bonus space for keeping all the treasured sonograms and memories. It also incorporates a ribbon placeholder.
Studio Oh's Bump for Joy features a hardcover that has beautiful foil-stamped accents and artwork. It includes 144 pages with charming illustrations, trimester-wise development, fill-in prompts, checklists, quotes, and spaces to paste pictures and track down your progress.  This one is a comprehensive journal that starts from the family tree to signs of labor. It also has pockets for extra keepsakes.
Sophie la giraffe is a teether that has been a classic baby item worldwide for decades. This is an interactive journal and a timeless gift for a mother-to-be. It has a dedicated space for recording every milestone and changes that come with the pregnancy. There is a pocket to store any extra memories, ample space for pictures, a page for baby names, astrology wheel, and a Chinese horoscope chart and a designated place for sonograms.
If you are a busy mom-to-be who does not have enough time to journal, this may be one of the best pregnancy journals for you. There are nine colorful tabbed sections for each month. It contains smart prompts to help you quickly answer the questions to record important details. You will find space to write down your memories, how you felt during each milestone, and funny moments. There are also monthly check-in pages for adding the baby bump pictures.
If you need abundant space to chronicle your thoughts and feelings, you may consider this 40ish Weeks Pregnancy Journal. It covers varied topics, including symptoms, cravings, baby names, maternity clothing, and more. The journal has all the classic prompts to help you capture your fleeting moments and milestones. There is a lot of room for pictures, in addition to the exciting illustrations and charts that it has.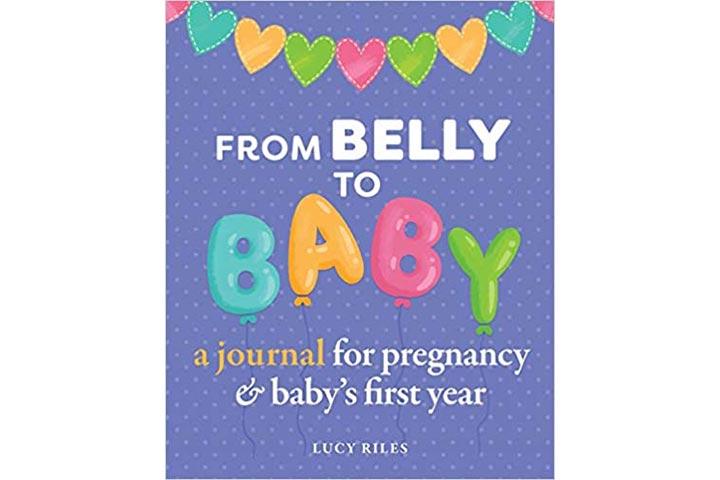 From Belly to Baby is a sweetly illustrated paperback edition that documents all the significant developments of pregnancy and the baby's first year. There is a lot of space to note down the memories and weird experiences during the journey. It has beautiful prompts that allow you to give quick answers, and inspirational motherhood quotes at every pregnancy stage. It also has space for placing sonogram pictures.
How To Choose The Right Pregnancy Journal?
Here are some tips that could help you find the right pregnancy journal:
Length of the journal: If you enjoy journaling and want to note down every detail of pregnancy, then consider taking a journal with ample writing space. A day-to-day or week-to-week journal would work.
Prompts, questionnaires, and illustrations: Some journals have activities, questions, and information that help you record details from the beginning of conception to giving birth. These prompts and such can also help you understand what is happening with yourself and the baby. Check if the journal has such features.
Tips or advice: Some journals may also have certain sections that give more insights about your pregnancy stage. If you like going into details, look for such a journal.
Material: Consider buying a journal with a sturdy design, cover, and pages so that it will stay intact all your life. It will be a treasure with golden moments that you can read together with your child in the future.
Pregnancy journals help you document the ups and downs of your pregnancy journey. If you are a fan of journaling, then you should buy one. We hope this list of best pregnancy journals and tips for choosing the right product would help you find a journal of your choice.
Recommended Articles: