The combination of a perfect soap and washer spray works like magic to remove the toughest of stains. It also reducescleaning time whenyou use the right tools. A washer soap or detergent formulated to strip off the grim and dirt can make your car and other surfaces sparkling clean. Investing in a quality washer soap can give you the best cleaning results. But how do you choose the best one?
Read on, as we have narrowed down some of the best pressure washer soaps and detergents available online to make your indoors and outdoors look sparkling clean.
11 Best Pressure Washer Soaps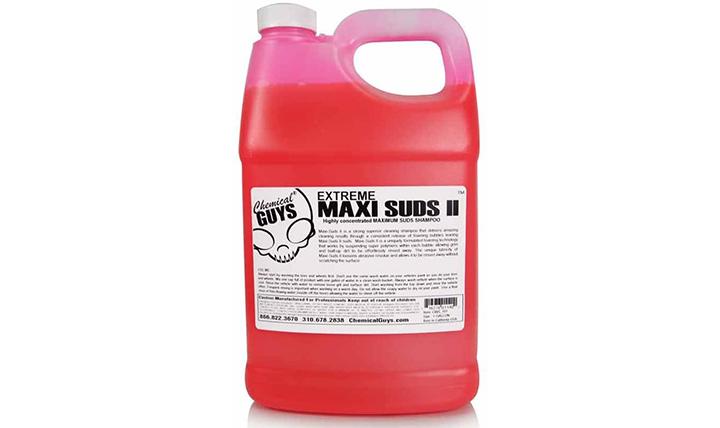 The Chemical Guys shampoo has advanced foaming technology and is formulated with water softeners to clean and shine automobiles. The pH formula is safe and washes away filth and dirt from all wax, gloss, and sealant coating and can be used even in direct sunlight for a spot-free rinse. It is available in three scents and can be used in acannon or foam gun for deep cleaning.
Pros
pH balanced
High gloss shine
Versatile formula for all cleaning
Includes foaming agents
Cons
May have a thick consistency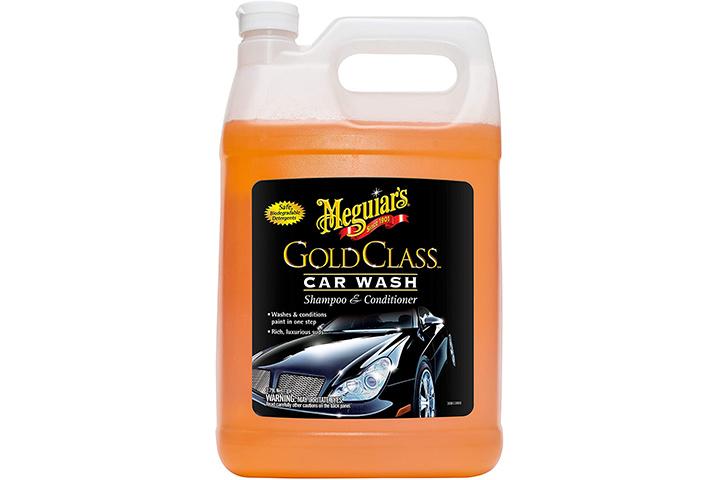 The gold class from Meguiar's is blended with premium ingredients to give the best results with car washing. Its premium formula gently foams away road grime and tough dirt, keeping the wax coating intact. You can use this rich soap with foam or snow cannon for deep cleaning. The ultra-rich paint conditioners protect the color of your car, making it look radiant.
Pros
Provides thick foaming
Long-lasting suds
Perfect for all paints
Advanced formulation
Cons
Could be too soapy and difficult to rinse off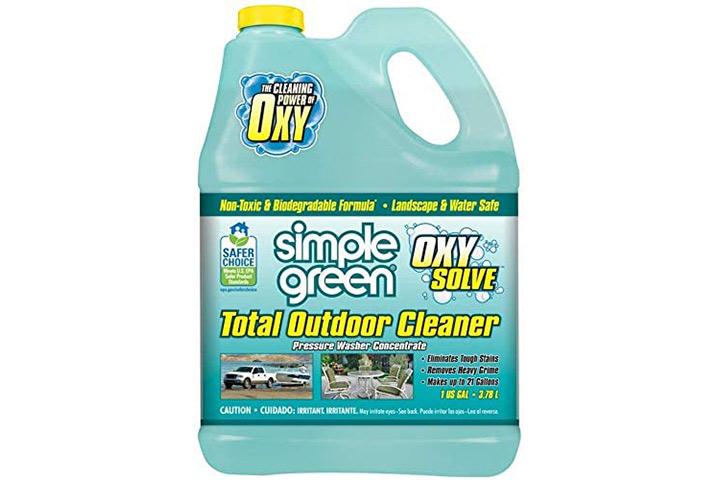 The Simple Green cleaner contains peroxide to clean grime and remove stains due to moss and mold. Its gentle formula does not harm the surrounding greenery and vegetation and can effectively be used on metal, plastic, vinyl, wood, and other surfaces. It doesn't contain any harmful bleach.
Pros
Eliminates tough stains
Non-toxic and biodegradable formula
Landscape- and water-safe
Safe for pets and humans
Cons
May not be suitable for light duty cleaning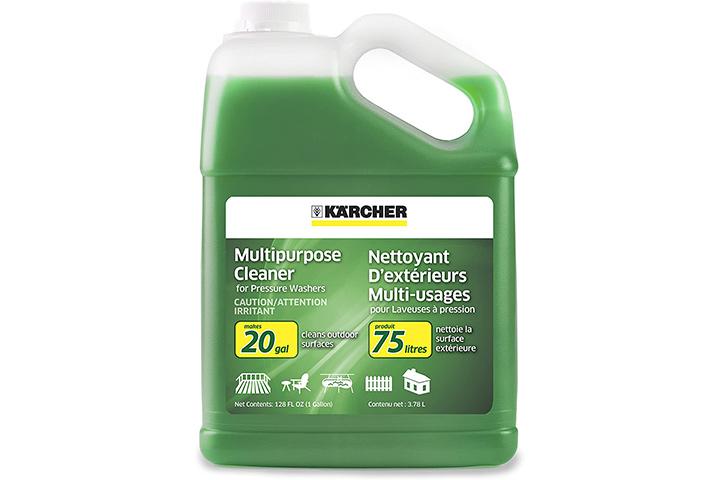 The pressure washer from Karcher is a highly concentrated cleaning detergent, perfect for removing the toughest stains on outdoor surfaces like sidewalks, driveways, stones, and bricks. You can also use it for pressure washing and clearing lawnmowers, garden tools, and patio furniture. It is compatible with all Karcher home and garden pressure washers. The soap is available in two forms, multipurpose and vehicle.
Pros
Suitable to remove tough stains
One quart produces five gallons
Biodegradable formula
Can be used to clean metal surfaces
Cons
May have an unpleasant odor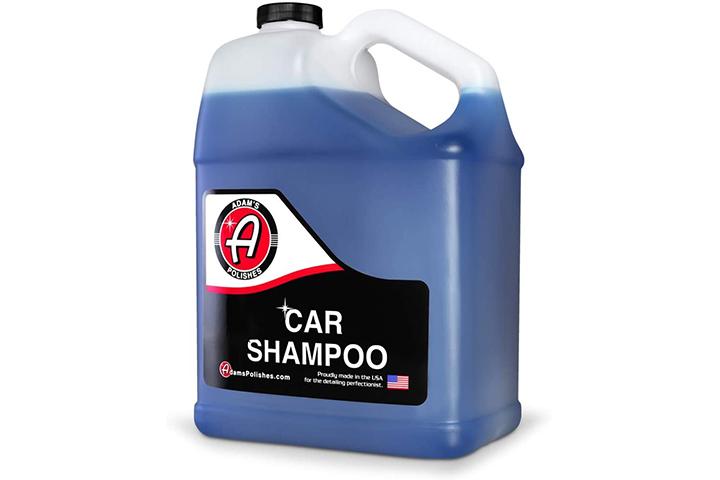 Adam's shampoo is a concentrated formula made with a unique blend of waxes, acrylics, and high-quality polymers. It creates more suds for superior cleaning and can safely be used on any part of the car to remove dirt and contaminants. The pH neutral formula is blended with surfactants and lubricants to increase the effectiveness of washing. You can use it in a foam gun, foam cannon, or a wash bucket for a spot-free cleaning without damaging the car's protective wax layer or paint.
Pros
pH-neutral formula
Retains the shine
Can be used in all weather conditions
Safe on all surfaces
Reduces the chances of swirls
Cons 
May have less quantity than mentioned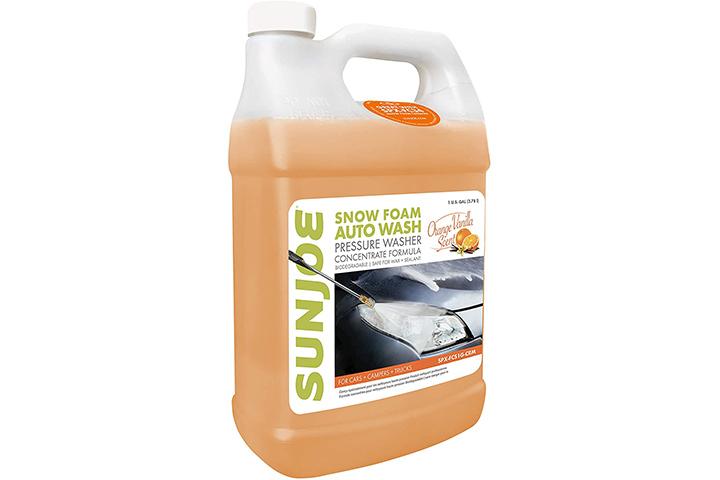 The Sun Joe foam is a concentrated formula to remove deep dirt and grime while protecting the wax coat and sealant. Its high viscosity snow foam is gentle on the paint and helps fight contaminants. Use a pressure washer foam cannon attachment with maximum foaming action and achieve a brilliant shine. This foam has multiple scent options and can be used on cars, trucks, and campers.
Pros
Biodegradable formula
Safe on metal surfaces
Clean and bright finish
Versatile and fast-foaming detergent
Cons
Residuemay take a little longer to get rinsed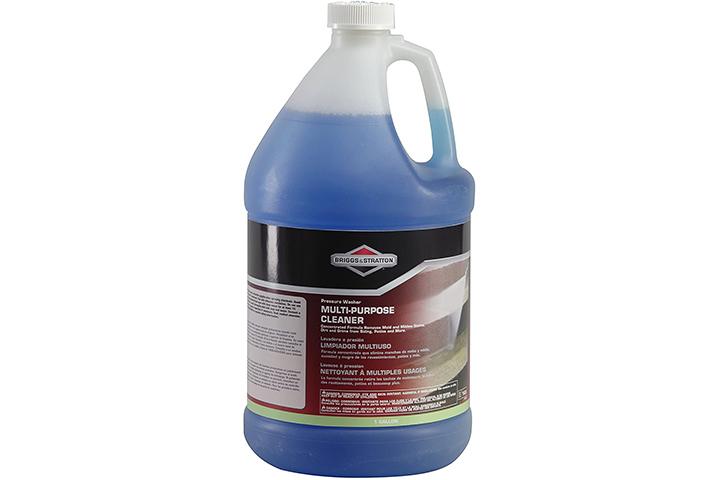 Briggs & Stratton brings a strong concentrate solution for cleaning dirt, mildew, and mold from surfaces. The cleaning solution helps remove stubborn stains from siding, patios, and vehicles. Its one-gallon container creates 16 gallons of solution. Use it with pressure washers for deep and satisfying cleaning.
Pros
No mixing required
Blends easily in water
Easy-to-use formula
Versatile washer
Cons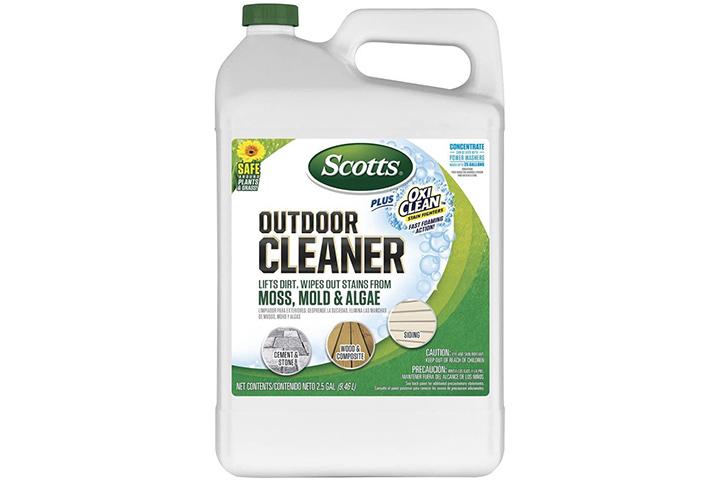 The fast-foaming cleaner from Scotts is ideal for cleaning large outdoor areas. It is perfect to use on wood, stone, cement, brick, patio furniture, pots, and other surfaces. The bleach-free cleaner protects the plant and grass by cleaning the dirt and wiping out rigid stains caused by algae, moss, and mildew. It gives good results when used with a brush or scrub.
Pros
Doesn't have chlorine bleach or phosphates
Removes dirt from all surfaces
Does not harm fabrics
Safe to use with power washers
Cons
Heavy-duty cleaning may not be very effective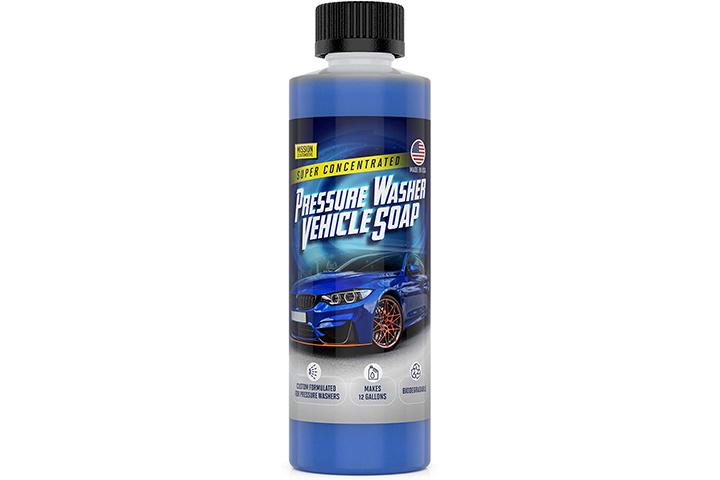 The Mission Automotive pressure water detergent soap gives a perfect finish for long-lasting cleaning. The powerful formula is safe to use on aluminum, fiberglass, plastic, rubber, and gel coats. It effectively cleans the dirt build-up and allows deep cleaning to give a professional look to your vehicle. For a more powerful clean, use pressure washers and foam guns. It can make up to 12 gallons of solution for extensive use.
Pros
Safe and biodegradable
Super concentrated
Custom formulated for pressure washers
Works well on all vehicles
Cons
Could leave a residue if not cleaned thoroughly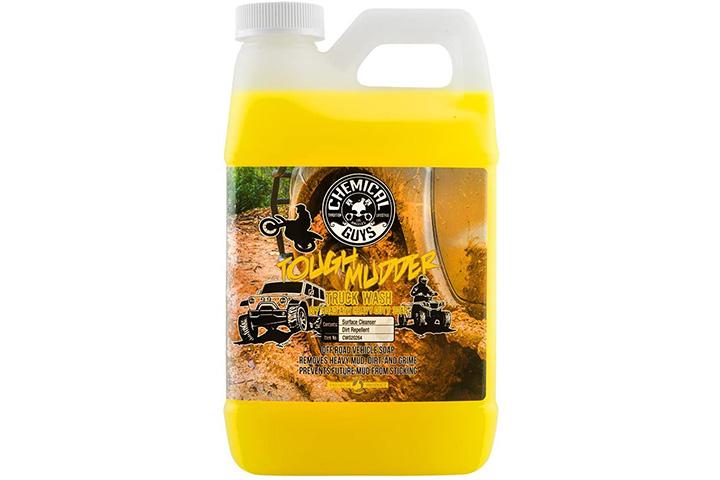 The Chemical Guys wash is perfect for heavy-duty vehicles that go through mud and sand. Its versatile formula works great on high-pressure foam cannons and guns. You can safely use it to clean and shine undercarriage parts, metal, engines,and plastic surfaces. The wash soap pulls off mud, dirt, grease, and grime and enhances high gloss shine without stripping wax or sealant coating.
Pros
pH balanced solution
Perfect for dirt bikes and modern trucks
Works well in the pressure washer
Prevents scratches on any paintwork
Cons
May take a lot of time for cleaning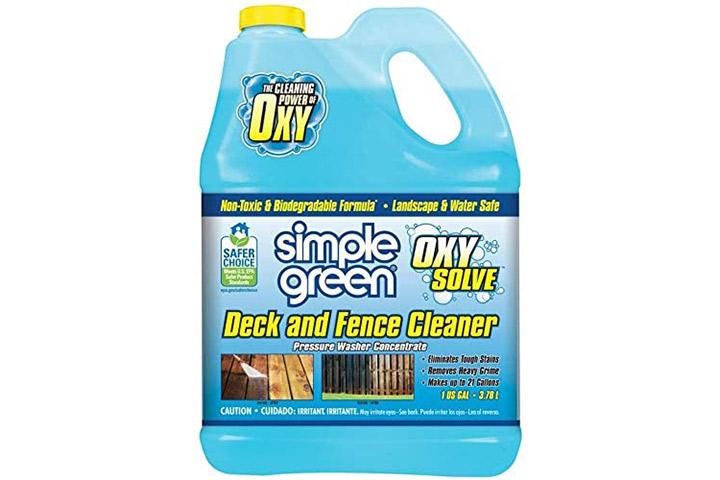 The simple Green cleaner is an eco-friendly, biodegradable, and non-toxic formula that can clean up to 6,400sqft of area. It is powered with peroxide to remove grime and dirt from the patio, furniture, and pots. The pressure water concentrate clears grease and oil from decks and fences and clears stains of algae, mold, mildew, mud, and clay.
Pros
Easy to use
Fast-acting results
Nice scent
Landscape and water safe
No chemicals
Cons
May require two applications on tough stains
Frequently Asked Questions
1. Can't I use regular soaps in pressure washers?
Regular soaps such as household cleaners cannot bear the high pressure from the washer. Hence the pressure washer soaps or detergents are specifically formulated.
2. What chemicals are used in pressure washer detergent?
The most commonly used chemicals in pressure washer detergent are citric acid, oxalic acid, vinegar, sodium hydroxide, sodium hypochlorite, bleach, and ammonia.
Pressure washer soaps can be easily diluted so that they jet out through the nozzle with ease. Most of them are designed to keep your pets and the greenery of your garden safe. Decide the purpose of pressure washer soap, whether you want to use it to clean vehicles or outdoor areas, and then pick the one that suits your needs.
Recommended Articles: