A pressure washer can quickly and efficiently clean dirt and mud on the walkway, in the garage, and on cars or RVs. It takes in water from a garden hose, while its pump head accelerates the water to high pressure and squirts it via a spray wand and nozzle. The water pressure is controlled via a trigger and nozzle, and it quickly gets rid of oil, stubborn dirt, and even paint stains on surfaces.
Some models also heat the water so the detergent and cleaning liquids can effortlessly remove grease and mold from tough-to-reach areas. Read on for a list of the best pressure washers and pick the right one using our buying guide.
Safety Tips While Using Pressure Washer
Do not run the washer near any electric wires or outlets as it can result in electrical shocks.
Use the right nozzle and pressure setting for the cleaning to avoid any damage to vehicles.
Clear any obstacles that you could trip over when using the pressure washer.
Do not use a pressure washer when standing on a ladder as sudden kickbacks on the hose can make you fall.
Do not operate in an enclosed space where fumes can cause dizziness and nausea.
Wear protective gear, including gloves, boots, and safety glasses, as the output water pressure can be harmful.
Do not aim the jet spray at any person or pet, as it can result in severe injuries.
13 Best Pressure Washers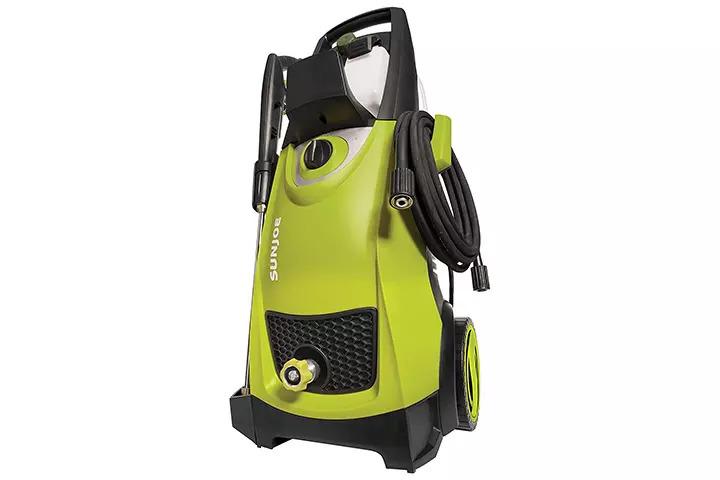 The Sun Joe Pressure Washer has an 1800-watt electric motor that can efficiently clean homes, buildings, RVs, cars, decks, patios, driveways, and more. Its internal pressure of 2030 PSI allows maximum cleaning as per CSA standards. It also delivers moderately warm water for better cleaning and has an inlet water temperature of 104°F. The company also provides several accessories that can be bought separately.
Pros
Two tanks for storing different detergents
Lock switch shuts off the device when the trigger is not engaged
35-foot long power cord
Wheels allow fast and easy maneuvering
Cons
Oil may leak from the motor case
Connecter to garden hose may leak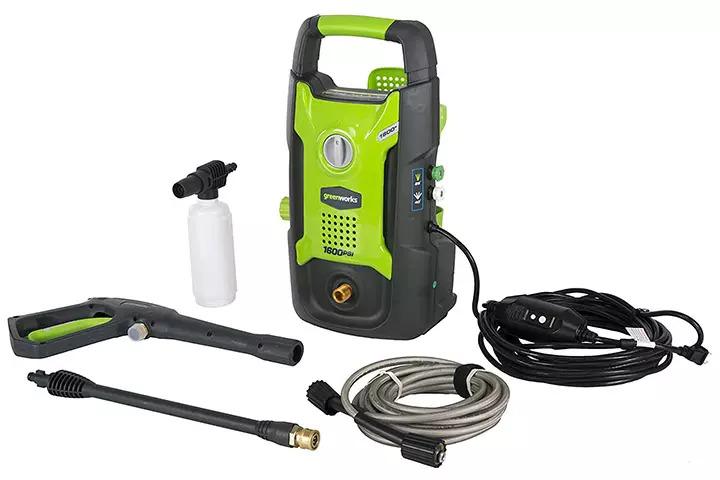 Using this electric pressure washer, cleaning a variety of indoor and outdoor surfaces becomes easy and fast. It has a heavy-duty 13amp motor, soap applicator, and two nozzles for various cleaning jobs. The power cord is 35-feet long, allowing easy setup of the machine.
Pros
1600 PSI at 1.2 GPM to remove the grime and dirt quickly
20ft long flexible hose
No emissions from the machine
Lightweight and easily movable
Cons
Parts tend to break
Pressure hose may not connect properly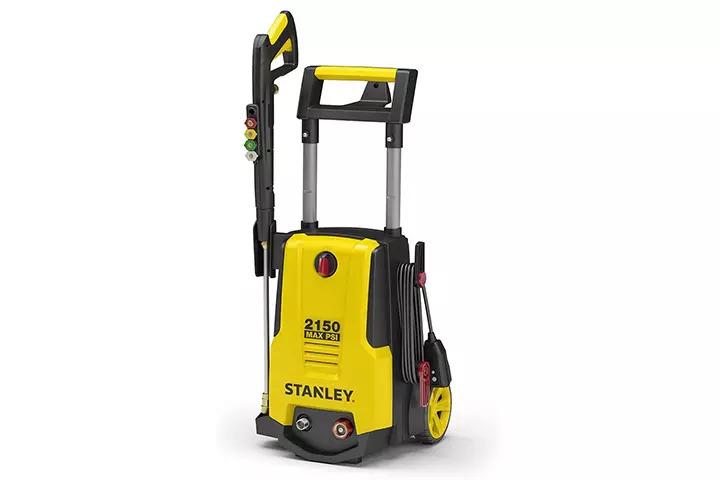 The Stanley Electric Power Washer delivers 2150 PSI output that easily cleans vehicles, fences, and other outdoor structures. It is also one of the best pressure washers for driveways as it can quickly remove stains caused by antifreeze and oil. The machine has a professional-grade brass connector for attaching a garden hose and a 25-foot long pressure hose. The electric cord is 35ft long and comes with a GFCI plug and an auto-reset feature.
Pros
Four quick-change nozzles
Detergent bottle doubles as a high-pressure foamer to remove tough stains
Ideal for foaming soap and is the best pressure washer for cars
Uses less water than a 7 PSI garden hose
Cons
Might blow the circuit breaker
Motor can be oddly noisy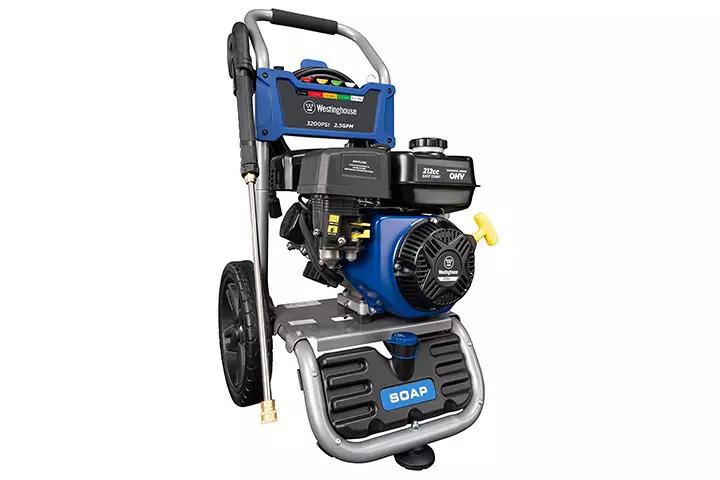 The heavy-duty pressure washer with a spray wand has an additional locking mechanism for a safe shutdown. It 25ft long abrasion-resistant hose that makes it ideal for covering large areas outdoors. There is a half-gallon soap tank onboard, and the washer delivers 3200 PSI with 2.5 GPM for a thorough clean.
Pros
Five color-coded nozzles for varied cleaning purposes
Durable steel frame
Powerful four-stroke 212cc engine
Easy-to-fill, one-gallon fuel tank
Design allows easy portability
Cons
Oil may leak
Hardware to attach the hose is not provided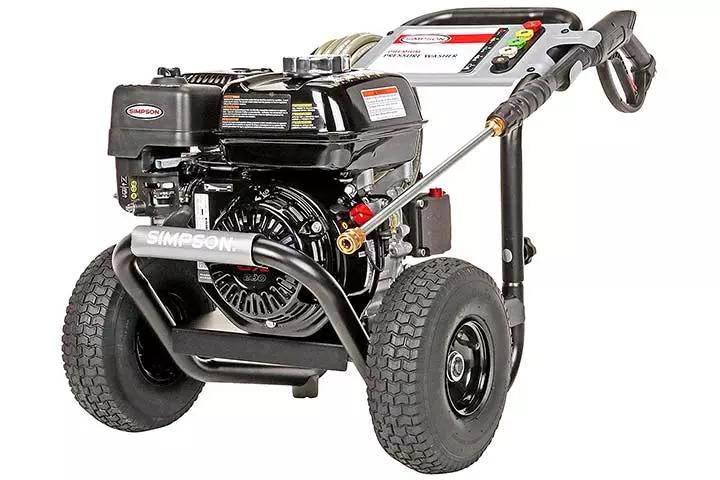 With this sturdy gas-powered pressure washer, you can clean outdoor surfaces and gutters on the roofs with ease. It features a GX200 engine manufactured by Honda and has a warranty period of three years. The frame is made of steel and is long-lasting. Its spray wand is ergonomically designed and allows good handheld control. The washer delivers 3300 PSI at a 2.5 GPM rate, enabling you to efficiently clean mildew and mold from a patio or dirt and mud on a car.
Pros
Safe shutdown option
Five nozzle tips with one for soap, making it a multipurpose washer
Large, 10-inch pneumatic tires
25-foot long abrasion-resistant hose
PowerBoost Technology provides consistent water flow
Cons
Oil may leak
Needs frequent repairs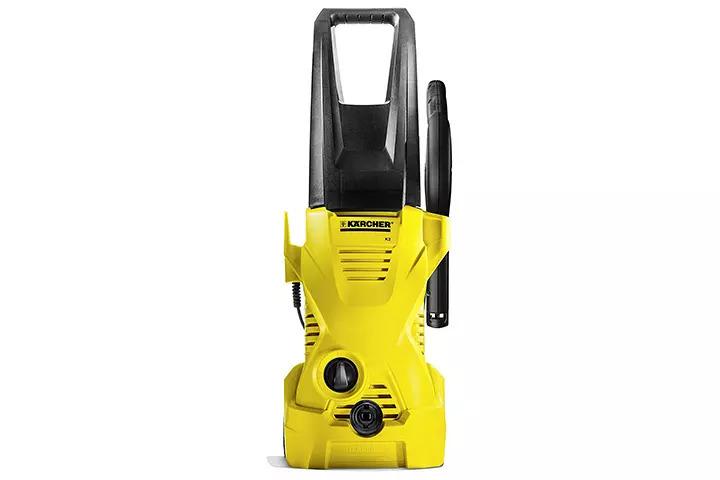 The Karcher Electric Power Washer delivers 1600 PSI at 1.25 GPM water flow for efficient and quick cleaning. It is lightweight, weighing just 16.8 pounds without any accessories, and portable for cleaning outdoors or indoors. The spray wand removes dirt while another adjustable version automatically dispenses detergent when cleaning.
Pros
Siphon hose for detergent
20-foot long pressure hose
Water inlet with quick-connect for hose
Handle, and large wheels make it portable
Cons
Operating manual does not have proper instructions
Hose does not fit securely to spray gun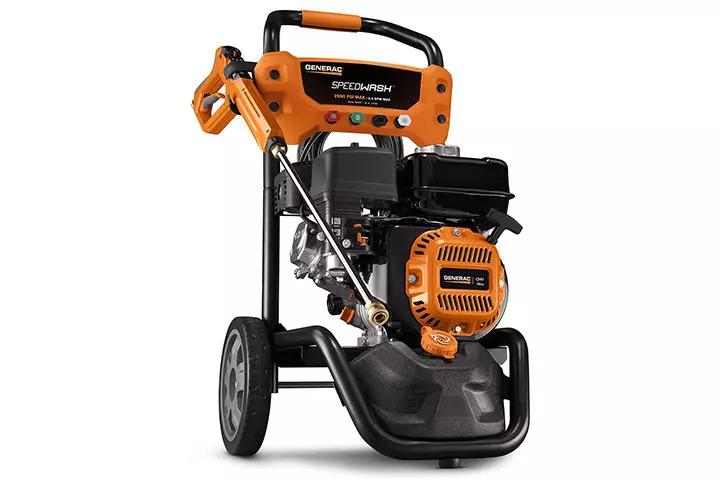 The Generac Gas-Powered Washer, with its 2900 PSI output pressure, is suitable for moderate to heavy cleaning tasks. It has a powerful 196cc OHV engine that ensures maximum cleaning performance and a 25-foot long durable hose resistant to abrasions. The hose also does not develop kinks, and four different nozzles are provided to handle cleaning jobs.
Pros
Soap sprays three times faster
Inbuilt tank for dispensing soap
Turbo design nozzle is 30% faster in removing dirt and grime
Good center of gravity over wheels
Adjustment knob on gun
Cons
Seals tend to fail, causing water leakage
Screws may form rust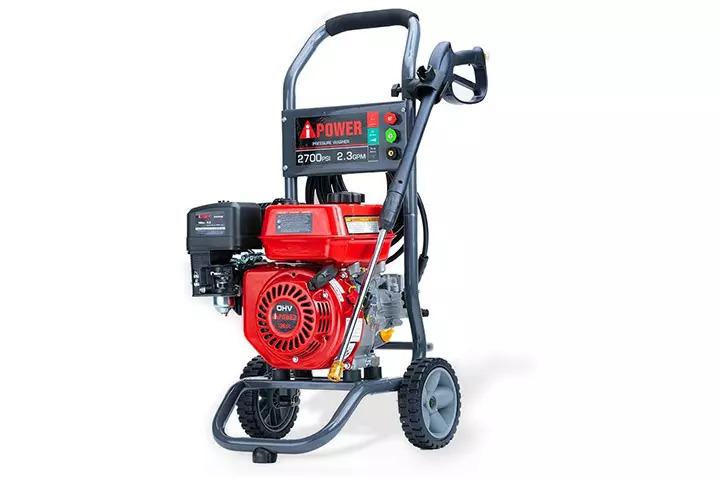 Whether you are preparing an area before painting or cleaning the patio, this gas pressure washer could help. It delivers 2700 PSI at 2.3 GPM, which allows you to clean dirt over a large area. It comes with a quick-connect wand with 0°, 25°, and one soap nozzle.
Pros
Gas tank with 0.95-gallon capacity
Built-in detergent siphon tube upgrades the washer
Onboard accessory storage
25-foot long hose enables cleaning hard-to-reach areas
Two eight-inch wheels for easy transport
Cons
Gas might leak
Parts may break on frequent use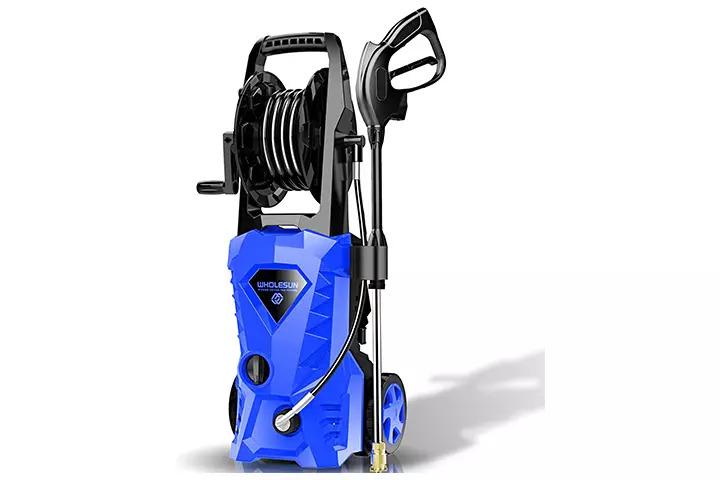 With this best electric pressure washer delivering 3000 PSI, you can efficiently and quickly clean areas within the home or outside. The machine comes with in-built GFCI protection and has a 1600-watt motor on board. It has a 22mm water outlet and a metal garden hose connector, while the 33-foot long power cord allows for easy setup and use of the machine.
Pros
Auto-stop when the trigger is not engaged
Foam canon and detergent bottle for effective cleaning
Four different nozzles for varied cleaning purposes
Sturdy handles and wheels allow easy movement
Cons
Gears might crack
Plastic build may not be durable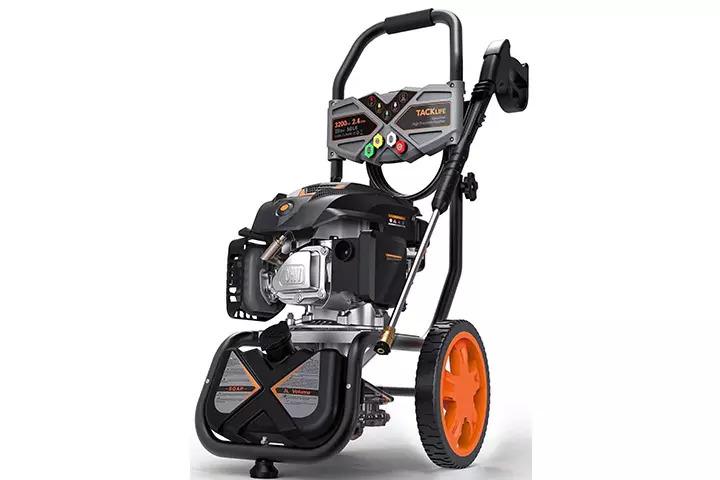 Created for heavy-duty use, it is suitable for cleaning various outdoor areas, including deck and furniture on patios. The gas-powered version has a powerful OHV Engine with four strokes, making it a durable option. It has a maximum of 3200 PSI pressure and uses 2.4 GPM to eliminate stubborn stains and molds.
Pros
Five nozzles, including one for soap to cater to different cleaning purposes
Onboard 0.8 gallon detergent tank for intense cleaning
High 11-inch wheels make it portable
Durable frame
Cons
Block seal and oil cap may be faulty
No quick-connect garden hose attachment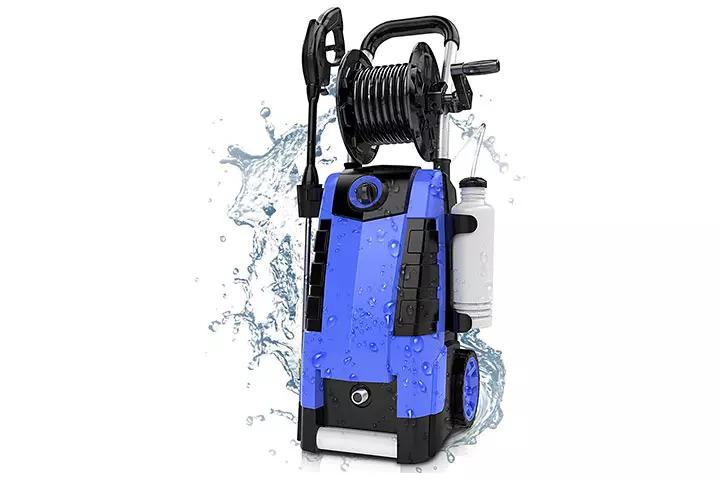 It could be one of the most powerful pressure washers powered by electricity. It is ideal for indoor use as it does not produce any fumes. You can also use it to clean driveways, sidings, facades, and bricks. It has a powerful 1800W motor that provides 3800 PSI pressure at 2.8 GPM. There are five quick-connect nozzles for cleaning different surfaces.
Pros
Uses less water
Machine is not noisy
Durable frame and sturdy wheels
Auto shut off when the trigger is not engaged
Built-in overheating protection ensures the safety
Cons
Limited spray pressure output
Some may find it difficult to attach a water source hose to the input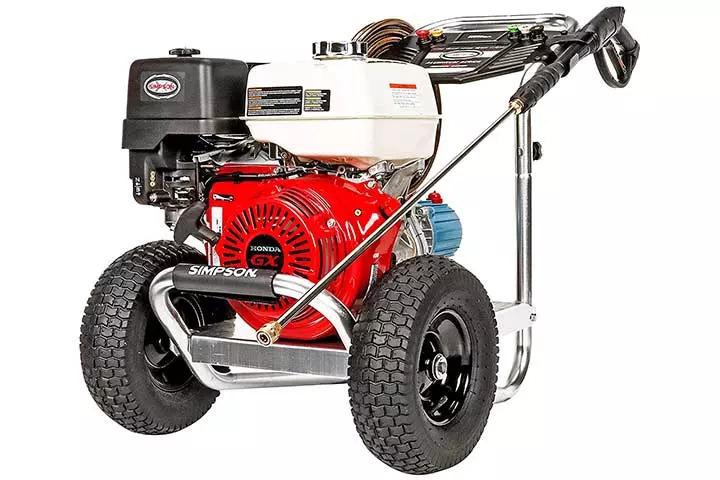 A Honda GX390 engine powers the Simpson Gas Pressure Washer, and it delivers a massive 4200 PSI pressure at 4.0 GPM. The long output monster hose extends over 50-feet and is resistant to kinks and abrasions.
Pros
Five nozzle attachments, including one for soap for varied cleaning purposes
Ergonomically designed spray gun
Minimal residual fuel
Sturdy and durable pneumatic wheels
Cons
Output disconnect may damage with frequent use
Nozzles may get clogged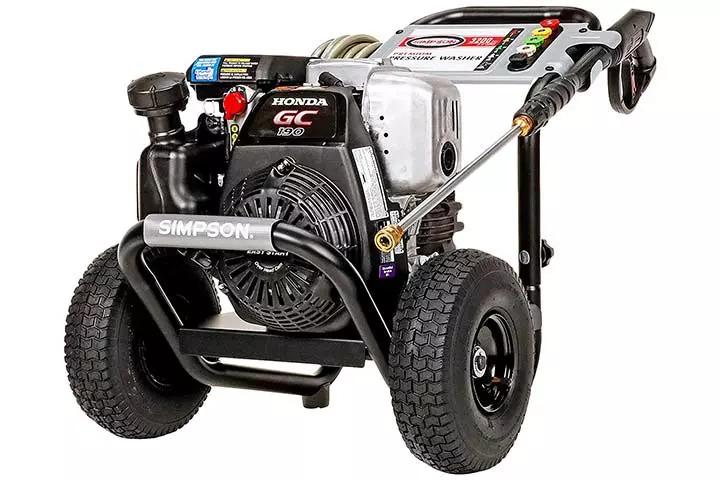 The Simpson Megashot Pressure Washer comes with a heavy-duty, durable pump that requires less maintenance and delivers an output pressure of 3200 PSI. The frame is made of steel, and the 10-inch pneumatic tires allow easy maneuverability outdoors.
Pros
25ft long hose
Five nozzles with different spray patterns
Easy to repair and maintain the pump
Suitable for indoor and outdoor surfaces
Cons
Metal on pump casing may break with frequent use
May cause a lot of vibration
How To Choose The Right Pressure Washer?
Here are some factors to keep in mind to choose the best pressure washer for your requirement.
PSI and GPM output: The pump is powered by electricity or gas, and the water pressure output is measured in PSI (Pounds per square inch). A heavy-duty pressure washer will have a higher PSI and higher GPM (Gallons per Minute) to clean deep stains fast and easily. You can pick one that has a lower PSI of 1300-1900 for residential purposes, while heavy-duty machines of 3100 PSI and 4GPM are ideal for washing sidings, driveways, patios, paint, or graffiti from walls.
Water pressure input: Check the water pressure in your garden hose and buy a washer that can work safely when connected.
Hot water pressure washer: Prefer hot water pressure washer for farms and industrial uses.
Nozzles: If you want the pressure washer for cleaning various windows, floors, vehicles, boats, or driveways, go for the washer with a set of nozzles to handle such tasks.
Indoors or outdoors: A gas pressure washer is ideal for cleaning areas outdoors as these machines do not have to be connected to an electrical outlet, and you do not have to worry about the cord length. An electric power washer is suitable for indoor cleaning or driveways and does not produce fumes.
Detergent tank: It makes it easy to dispense soap for easy cleaning. The tank only needs to be filled with the washer soap or a detergent liquid, and you can start cleaning.
Accessories: Check if it comes with accessories, such as a wash brush, nozzles, powerful spray gun, power cable, hose, water filter, and more.
Buying the best pressure washer allows you to remove tough oil stains on driveways and maintain the back patio without paying for a cleaning service. You can even use pressure washers indoors to get rid of stubborn stains and get sparkling clean surfaces within minutes. With the shortlisted pressure washers and guidelines on picking the right product, you can now make an informed choice.
Recommended Articles: