Investing in the best primer for large pores is a good idea if you have large pores. A primer formulated for large pores forms a protective barrier between the makeup and skin and helps cover up fine lines, pores, and wrinkles.
The best primers contain squalene, vitamin E, vitamin C, calamine, hyaluronic acid, and natural ingredients such as Mediterranean algae and Padina Pavonica to help retain the skin's moisture, reduce skin redness, and minimize the appearance of large pores. They also help make your face smooth and firm. Keep scrolling as we list the best primers for large pores and tell you how to choose the right product.
Types Of Primers
Primers can be categorized into four types.
Matte primers: These primers have a matte effect on the skin and are suitable for oily skin. They can prolong the foundation effect and form a barrier between makeup and skin, blurring marks and smoothening pores. The addition of silicone in these primers offers additional benefits.
Hydrating primers: These formulae are ideal for dry skin. They contain antioxidants and hyaluronic acid to keep the skin hydrated and soft.
Color-correcting primers: These primers are usually tinted and counteract underlying skin tones. For example, blue primers can balance yellow skin tones, while green primers can eliminate redness.
Blurring primers: If you have wrinkles and fine lines, these primers can provide a soothing effect and reduce aging signs.
Top Products From Our List
15 Best Primers For Large Pores

Elizabeth Mott's Thank Me Later face primer is a light, smooth formula that you can use before foundation. The primer can reduce fine lines and enlarged pores and enhance the makeup effect and keep it longer. The non-greasy, silky-smooth formula has a matte effect and prevents shine. Furthermore, the primer controls excess oil and balances the complexion, and makes it brighter. The cruelty-free primer does not contain parabens and is water-proof and sweat-proof.

If you are looking for a formula to conceal large pores on your face, choose e.l.f primer. It is the perfect skin repair cream with a velvety, smooth texture. The easy-to-apply poreless putty primer can lock the makeup for a flawless makeup look. The squalene infused in it can keep the skin hydrated. It makes yourmakeup last all day long and protects the skin from moisture loss. The primer does not contain parabens, sulfates, phthalates, and other chemicals and can provide nourishing, poreless, and smooth complexion to the skin.

Maybelline Facestudio Master Prime is a color-correcting primer that preps the face for makeup. The blurring formula reduces pigmentation and skin marks, while the water-soluble base with active ingredients can help reduce large pores and provide a refined appearance to the skin. The primer can smooth out imperfections and fine lines, making your makeup last longer and giving you a non-greasy feel. You can use the lightweight, non-oily formula as a standalone primer or under foundation.

Touch In Sol's No Pore Blem primer is the perfect solution to cover large and open pores. The primer can instantly camouflage fine lines and wrinkles, giving your skin a flawless texture and evening out skin tone. It provides an excellent foundation for all-day makeup. The light and silky formula is rich in green tea extract that protects and energizes the skin. The primer contains soluble collagen to increase skin elasticity and moisture content while controlling sebum and acts as an invisible barrier to pollutants.

If you are looking for a skin-perfecting serum, then L'Oreal Paris Studio Secrets Magic Perfecting Base primer is the one for you. It can cover large pores and imperfections and smoothen fine lines. The set of two primers is lightweight, gives the skin a soft touch, provides a smooth texture to the skin, and maintains makeup throughout the day. The non-comedogenic and dermatologist-tested face primer gives a uniform matte effect to the facial skin.

Benefit CosmeticsPRO balm is an oil-free formula that reduces the appearance of facial pores and fine lines. The translucent formula is a light balm that you can apply to the skin before foundation and makeup. It is infused with vitamin E to protect the skin from damage and is suitable for all skin types and complexions.

Pores No More by Dr. Brandt is a skin-refining primer that instantly minimizes imperfections on the face and provides a clear, smooth canvas for makeup. The matte formula absorbs excess oil and reduces the shiny effect of the skin. The primer from Dr. Brandt Skincare is dermatologically tested, hypoallergenic, and fragrance-free. It can reduce enlarged pores and blemishes.

Monica Ann's Dual Action primer uses vitamin C and hyaluronic acid to nourish the skin and provide hydration to the face, giving it a healthy glow.  The makeup base can keep your look flawless all day long. It has a soft and silky texture, which helps smooth out imperfections on the skin. The foundation primer has a matte effect on the skin while minimizing the appearance of large pores. The anti-aging formula plumps the face and brightens it and does not contain sulfates, parabens, and phthalates.

Latorice Face Makeup primer is the perfect makeup base for the face, helping conceal large pores, acne marks, and other skin imperfections. The primer can moisturize the skin, control excess sebum, and act as a concealer to cover wrinkles and fine lines. Rich in plant extracts, the primer can penetrate the skin deeply, prevent meltdowns and keep the skin dry. It also helps repair blemishes and erythema and brightens a dull complexion. This natural product can be used on its own or under foundation powders or bronzers.

The Airbrush Away primer is a formula that instantly gives you a smooth skin texture by covering the skin's pores and flaws. It creates a perfect, even canvas for all-day makeup, absorbs quickly, and creates a perfecting base for your foundation. The primer forms an effective barrier on the facial skin, protecting the skin from UV rays and reducing greasiness.

Vue De Pulang primer is a pore minimizer mainly formulated for use in the eye area. It is rich in calamine and is suitable for oily and sensitive skin. The primer stick can soothe acne-prone skin and is made of high-quality ingredients. The eye shadow primer can form a poreless base for eye makeup and is easy to carry. The blur stick makes it easy to apply and reduces wastage.

First Aid Beauty's Hello Fab Pore Be Gone primer is an oil-free, matte formula rich in fig extract and salicylic acid. The non-comedogenic formula improves the skin texture and instantly blurs imperfections or pores on the face, providing a smooth complexion. The formula is rich in nutrients to nourish the skin and control sebum and forms a protective barrier between the skin and the makeup. The primer also has antibacterial properties and optical diffusers to provide a soft, matte appearance. The primer does not contain parabens, mineral oils, artificial additives, nuts, gluten, and alcohols.

Elemis Insta-smooth primer helps cover fines lines and wrinkles. The ultra-firming skincare reduces the appearance of large pores and makes the face firmer and smoother. The primer, formulated with a cryo-firming complex, cryo-extracted brown algae, and Italian glacial water, acts as a base for makeup and lasts long. These ingredients firm the skin and have a cooling effect. Mediterranean algae and Padina Pavonica keep the skin moisturized and strengthen its moisture barrier. Marine extracts help give the face an immediate and flawless appearance.

Beautyblender's makeup primer is a smoothing primer with a vegan formula rich in high-performance silicone, which helps lock the skin's moisture and forms a humidity-proof barrier. The lightweight formula with a light to medium color reduces shine, helps the makeup last longer, and does not cause acne. The lightweight, non-comedogenic formula can minimize redness, enlarged pores, and uneven texture. The primer provides hydration and is an excellent base for your foundation and concealer.

CCPT primer is a makeup base that can be used under the foundation to obtain a smooth canvas feel.  The pore minimizer is suitable for all skin types and helps conceal fine lines, wrinkles, and other facial blemishes. It is rich in Deep Sea Pearl powder and hyaluronic acid, which relieve skin redness and irritation and keep the skin moisturized and nourished. The primer comes in three colors to suit your skin tone. The lightweight formula glides smoothly on the skin and makes it soft. It adds radiance to makeup and gives a unified, matte finish to the face. 
How To Choose The Right Primer For Large Pores?
When choosing a primer for large pores, keep the following points in mind.
Skin type: The primers are largely based on your skin type.
If your skin is oily, choose a matte primer. This helps control and absorb excess oil secretion and prevents the skin from looking shiny.
If your skin is dry, the primer must have hydrating and moisturizing properties. A primer with a light creamy texture keeps the skin nourished.
For normal skin, an illuminating formula with a dewy effect may be the right choice. A matte primer may make your skin look dull. A pore-minimizing formula can provide an excellent base for foundation and concealer.
For combination skin, you need a primer to control sebum while keeping the dry skin moisturized. It is best to choose a neutral primer or buy a primer with a matte and a hydrating formula. You can buy a primer with a matte formula to control shine and a primer with a hydrating formula to moisturize the skin.
For mature and aging skin, use a primer rich in antioxidants. It can cover fine lines, wrinkles, and large pores. It can also moisturize your skin and lock makeup.
Skin problems: Primers are available in different colors to help you deal with various skin discoloration problems. However, when choosing a primer to conceal pores, it is best to look for a pore minimizer primer.
Anti-Sweat/heat-resistant: If youdo not want your makeup to flow on your face, choose a heat-resistant and anti-sweat primer.
SPF factor: SPF primers can provide extra protection for the skin from the sun's harmful UVA/UVB rays.
Facial primers not only help you create a perfect canvas for your makeup but also minimizes large pores, fine lines, and wrinkles. They can even out skin tone and balance discoloration. Choose a primer from our list of the 15 best primers for large pores to protect your skin from enlarged pores, acne scars, wrinkles, and fine lines.
Recommended Articles:
The following two tabs change content below.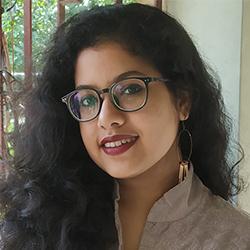 Poulami Nag
Poulami Nag is a writer and associate editor at MomJunction. She did her MA in English from Miranda House, University of Delhi and has qualified UGC-NET. Her journey as a content writer began in 2017 and since then she has garnered diverse interests along the way. Her knowledge of literature and language has given her an eye for detail and...
more