Printers have stood the test of time and endured technological advancements. In this age of digital transformation and the IoT, printers continue to play a crucial role. Hard copies are still preferred and valued, though there is a slow transition from print to digital documents.
As technology is evolving, so are printers. Modern printers on the market today are multipurpose, sophisticated, and smart. The multifunctional printers connect wirelessly through Wi-Fi or over Bluetooth and offer scanning, copying, and faxing options too.
In this post, we list some of the best printers in India in 2021. for you to make an informed choice.
10 Best Printers In India 2021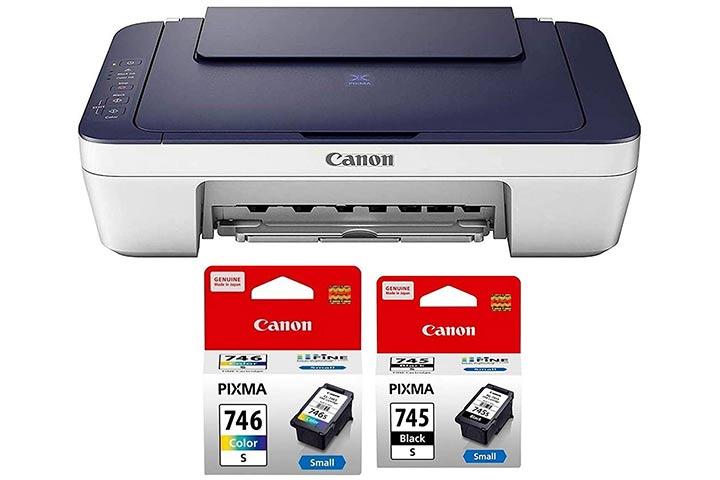 Are you looking for a machine that can print, scan, and copy? Canon's PIXMA will do the job for you. The ISO standard inkjet printer gives out color output and easily connects with other devices using USB. The printer is compatible with Windows 8, Windows 7, Window Vista, Windows XP, and Mac OS X v10.7.5.
Canon's PIXMA prints at speeds of 8 IPM (Images Per Minute) for black and 4 IPM for color and supports different page sizes and inks. The machine is suitable for homes. 
Pros
Good print resolution of 4800x600dpi
Easy to handle
Comes with My Image Garden software
Compact shape; fits in small to medium-sized shelves
Offers true-to-life colors
Recommended page volume up to 80 pages
Lightweight
Has an auto power ON/OFF mode
Does not make noise
Scan resolution is great with 600x1200dpi
Cons
May not have LCD display on printer
May not be suitable for large workplaces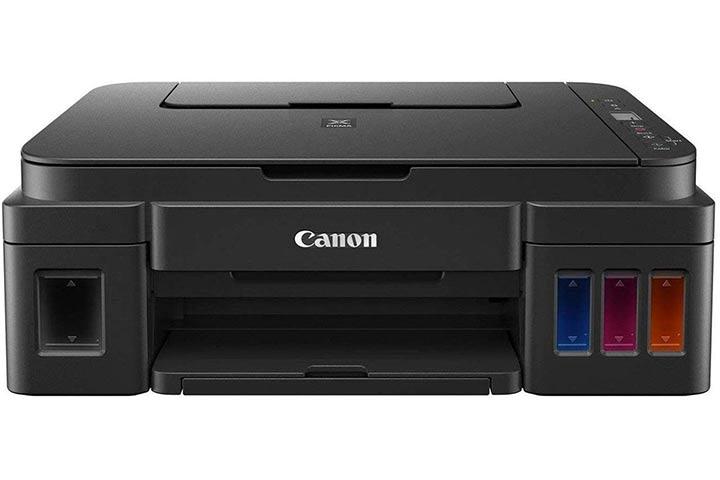 Designed for high-volume printing at low running costs, Canon ink tank color printer can perform multiple functions like scan, print, and copy. The multifunctional printer is refillable, with its cost per print being around eight paise for black and 21 paise for color. The printer offers an optimum photo speed of 60 seconds and comes with a tiny LCD display measuring 1.2 inches.
The all-in-one printer is compatible with different kinds of OS and inks. Canon offers two additional black ink bottles.
Pros
Integrated ink tank system is convenient
Minimal chance of paper jamming
Spill-resistant ink bottle
Good resolution printing
Can print business cards
Print speed of 8.8 pages per minute (ppm) in black and five pages per minute in color
Ink tanks have good visibility
Exclusive button panel for easy operation
Comes with 4 color ink bottles–cyan, yellow, magenta, and black
Perfect for home and small businesses
Easy installation and maintenance 
Cons
May not be compatible with iPads and Mac
Slightly bigger than other printers in Canon's segment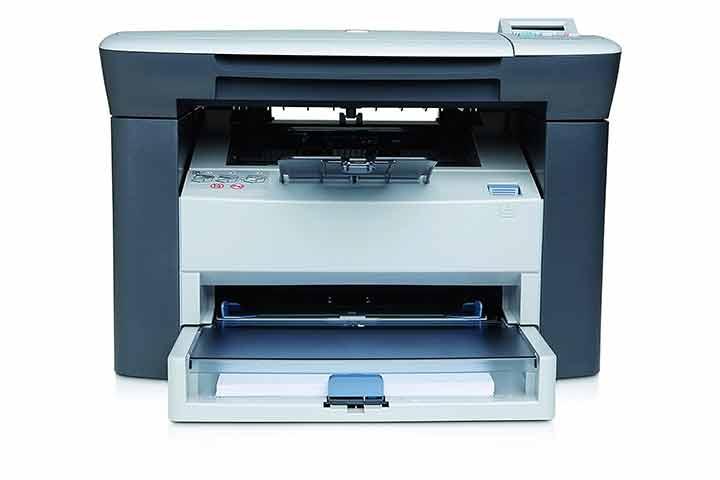 HP offers a reliable LaserJet with print, copy, and scan functions. Ideal for major enterprises and businesses, the printer can be trusted for a heavy-duty cycle of max 5,000 pages per month. The laser printer supports various page sizes, including 4, A5, B5, C5, C6, DL, postcard, and delivers high-quality black and white prints.
Pros
Print resolution of 600x600dpi
Quick and high quality printing
Great choice for bulk printing
USB connectivity
Has a two-inch LCD
High-quality, refillable cartridge
ISO standard system
Flatbed scanner with a high resolution scan up to 1200dpi
Energy star qualified
Input tray can hold about 160 sheets
Cons
Not a color printer
May not print simultaneously on both sides of paper
Not a duplex printer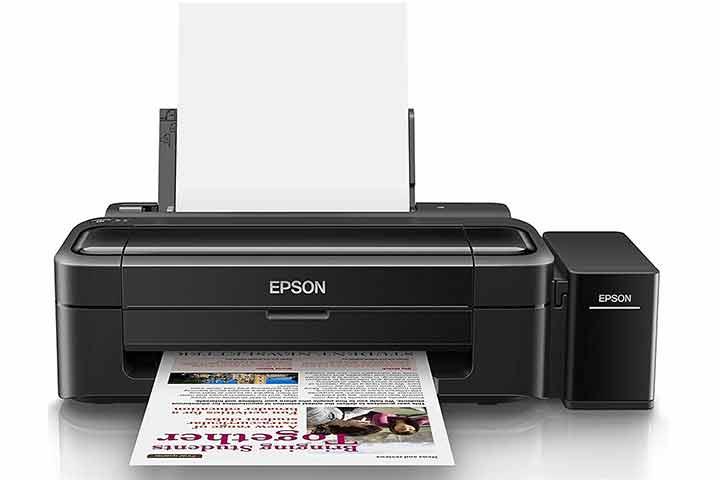 If you are looking for an exclusive print function, Epson's color printer could be the right choice. The system is equipped with special tubes for reliable and smooth ink flow. The compact machine can print about 27 pages in black and white every minute and 15 pages in color.
The cost of printing is efficient at seven paise and 18 paise, respectively. The easy-to-install printer offers USB connectivity and easy refilling of the cartridge. The printer comes with four color inks in black, cyan, magenta, and yellow.
Pros
Sharp prints with a resolution up to 5760dpi
Windows and Mac compatible
Compatible with cards, envelopes, A4 posters and party invites
Creates fine prints without blotting or damaging the paper
Ink dries up quickly
Wireless design
Sleek design 
Cons
May have ON/OFF problem in the system after a few years of use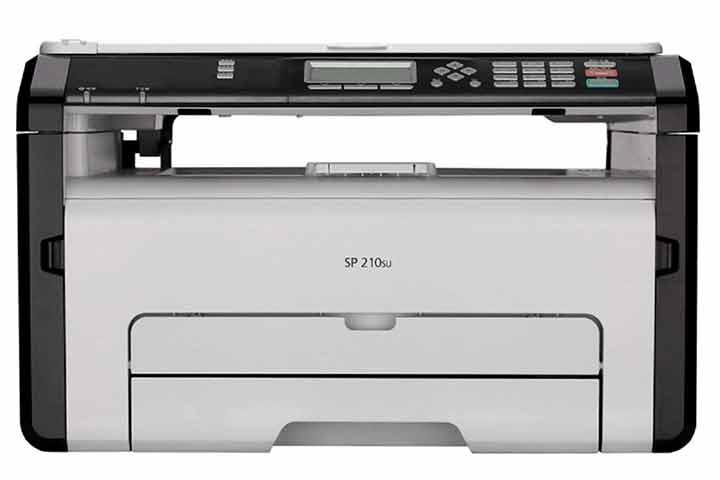 The black and white multifunction laser printer with copier facility is cost-effective and good for routine printing jobs. Easy to use, Ricoh can print 20,000 pages per month with 2,600 pages for high-yield and 1,500 pages for low-yield toner. The printer can print legal papers, with a speed of 22ppm for A4 and 23ppm for letter size.
Pros
Low warm-up time of 25 seconds
Can be easily refilled at home with original Ricoh toner
Low print cost of 40 paise per paper after refilling
Resolution of 600x600dpi
Has USB 2.0 connectivity for quick prints from USB flash drive
Cons
No Wi-Fi connectivity for remote printing applications
Interface may be complex
May not be plug-and-play friendly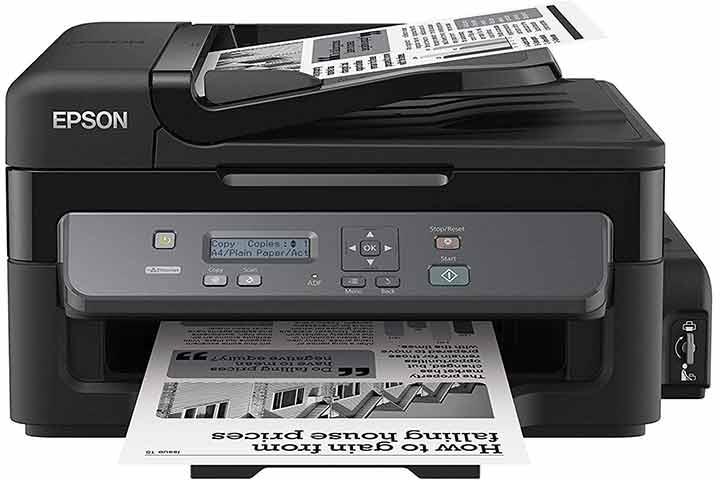 Ideal for home and heavy usage, Epson's M200 monochrome ink tank has a print resolution of 1440x720dpi. The printer sports a two-line attractive LCD and can be easily connected to various Windows OS or Mac devices. The all-in-one printer supports multiple types of pages from A4 to C6. Designed as per ISO standards, the printer has a good page yield of 6,000 pages. Easy to operate and handle, the printer produces a black and white output.
Pros
Compact and lightweight; easily fits in smaller spaces
Comes with two ink bottles for better support
Print speed of 15ppm and draft speed of 34 per minute
No need to constantly refill the ink cartridge
Produces fade-resistant printouts
Can be connected to a wireless network
Efficient and easy installation 
Cons
May not produce color prints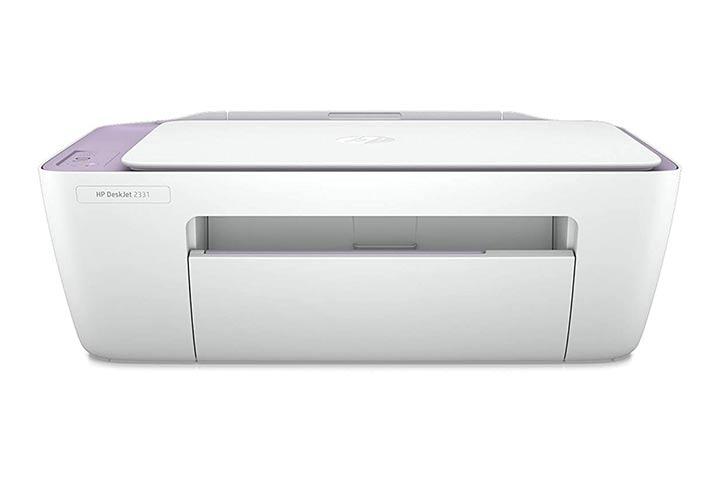 HP's DeskJet color printer has a 60-sheet input tray and a 25-sheet output tray. The machine is operated using a simple control system panel. The inkjet printer can produce up to 20ppm in black and white colors. Additionally, the printer produces 16ppm of color prints. The device supports different page sizes — A4, B5, A6, and DL envelope. The printer has a flatbed scanner along with printing capability and a USB 2.0 highspeed port. The resolution of the prints is 1200x1200dpi. The printer can be connected to different computer systems. 
Pros
Does print, scan, and copy at a go
Set up takes only few minutes
Interface is user-friendly
Ink cartridges for this printer do not cost much
Cons
Ink cartridges may be difficult to find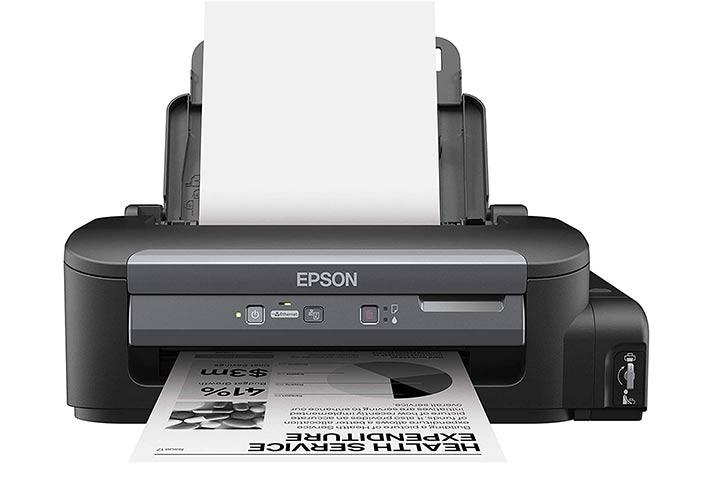 With a distinctive print speed and good page yield, Epson's Inkjet printer is a space-saving design with high-quality prints. The printer comes with two authentic ink bottles and offers black and white print outputs that do not fade away easily. A compatible Ethernet connection is sufficient to use this device. Epson M100 is Energy Star qualified, which means you need not worry about high power bills.
Pros
Printer offers Wi-Fi connectivity
The ink of the printer does not dry even after non-use of over two months
Cost per page is nominal
Sturdy and reliable device
Cons
Automatic duplex printing may not be available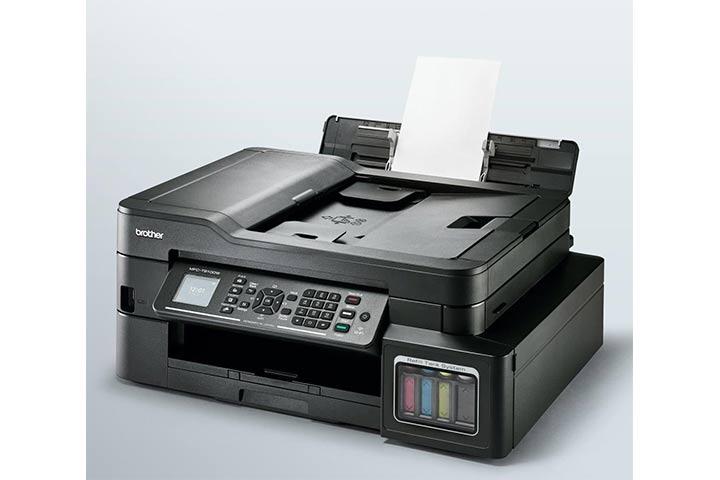 With an optimal operating temperature of 10 to 35° C, the printer does not get easily heated up. The multifunctional printer lets you connect wirelessly through Wi-Fi or Bluetooth. The printer supports a diverse range of print input pages, including A4, letter, legal, Mexico legal, India legal, folio, executive, A6, and Envelopes.
The printer produces 23ppm of color prints. The device is about 43cms wide and 19cms long. With a RAM size of 128MB, the printer is sturdy and tough. The printer is paper jam-free and can be used for both medium-sized offices and homes. 
Pros
Easily connects to Wi-Fi
Contains auto duplex printing mode
Can perform multiple functions—print, scan, and copy
High-quality color prints
USB connectivity
Compatible with various inks
Page yield is over 13000
Easy to use
Cons
Printer plugin may be slow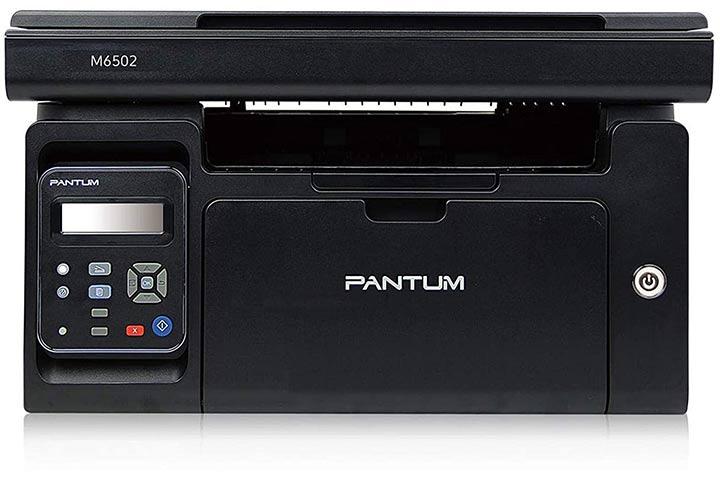 Pantum's printing, copying, and scanning abilities are up-to-mark. The device produces fast and high-resolution prints. The printer comes with a flatbed scan for easy operation and installation. The printer leverages a highspeed USB 2.O connection. The ink cartridges for this printer are diverse. The additional features of the printer include CD-ROM, USB-interface cable, a power cord, and a starter cartridge.
Pros
Folding LCD control panel
High-resolution printing with 22ppm on an A4 sheet
Takes less than 7.8 seconds for first page time-out
128MB memory
User interface is simple and friendly
Comes with a quick setup guide for easy understanding on the product
Cons
How To Choose The Best Printers?
Easy ink replacement: Choose a printer that has a diverse range of ink options. Easy refilling makes the process convenient. 
Quiet in operation: Sometimes, the noise produced by printers can be bothersome. Choose a printer that is quiet during work. 
Speed and efficiency: The speed of the printer in terms of copying, scanning, and printing is an essential factor. Look at the numbers that indicate ppm or pages per minute. Choose one that suits your need.
Resolution of the print: An ideal print resolution is somewhere around 4800x600dpi. The resolution of the print depends on whether you want to use the printer at home or office. Resolution is an essential factor you must consider before buying a printer. 
Auto duplex mode or not: It is always convenient to have an auto-duplex mode.
Low paper jams and consistent prints: Paper jams can be irritating. Read the past reviews about the paper jams while selecting a printer. Choose one that avoids frequent paper jams.
Simple user-interface: A good user-interface contains an LCD screen and a simple control panel. A simple interface enables even your kid to operate the printer. 
Deep paper trays: Loading the paper trays over and over can be exhaustive. Choose a model with deep paper trays. 
Connectivity: Printer should offer a USB 2.0, Bluetooth, Cloud and Wi-Fi connectivity.
Weight and portability: Lightweight devices are always preferred. These are easy to be stored, packed, or carried. Consider this parameter while selecting your printer.
Printers are highly useful, whether for your office, small business, or home. The all-in-one smart and compact printers can help you print, scan, or copy photos, notes, or documents. We have listed the best printers in India for you to pick the right one based on the features that suit your needs.