A projector mount gives a projector the necessary flexibility to deliver the best viewing experience. A good mount can help you install your projectors permanently without moving them for adjusting the angle of projection.
Projector mounts also eliminate the chances of accidentally moving the device and disturbing the visual. Plus, it also helps you make the best use of space by removing the need for a table to host it. A mount could be a good investment, especially if you have compact living spaces.
But what kind of mount should you pick, and what makes a good projector mount? Read on as we list some of the best projector mounts to buy, and a buying guide to help you choose one that is best suited to your requirements.
11 Best Projector Mounts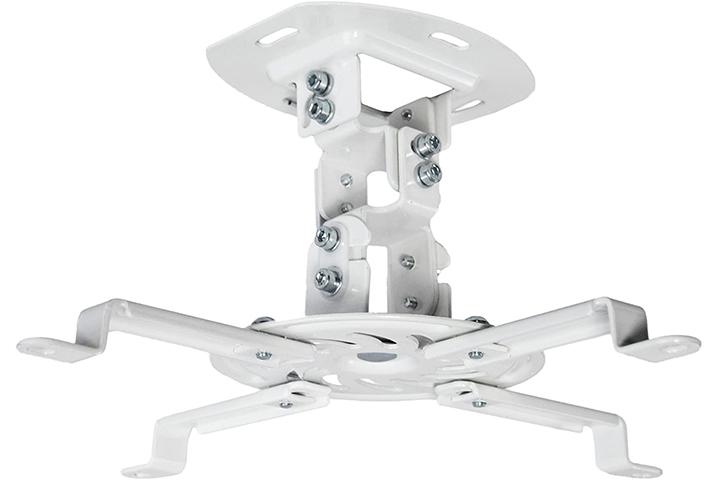 The universal projector mount from Vivo is compatible with most projectors on the market. Made of high-grade steel, it's build quality ensures that it can withstand 30lb of weight, keeping your projector safe. Its 360° rotation and tilt and swivel to +/- 15° ensure easy adjustment of the device for a better viewing experience. The mounting system holds the projector at a distance of six inches from the ceiling.
Features:
White powder-coated finish matches most ceilings, making it ideal for home and office use
Features quick-release hooks, which help you easily attach and detach the equipment by loosening or tightening the bolts
Adjustable arms are compatible with most projectors with a mounting range of two to 12.5 inches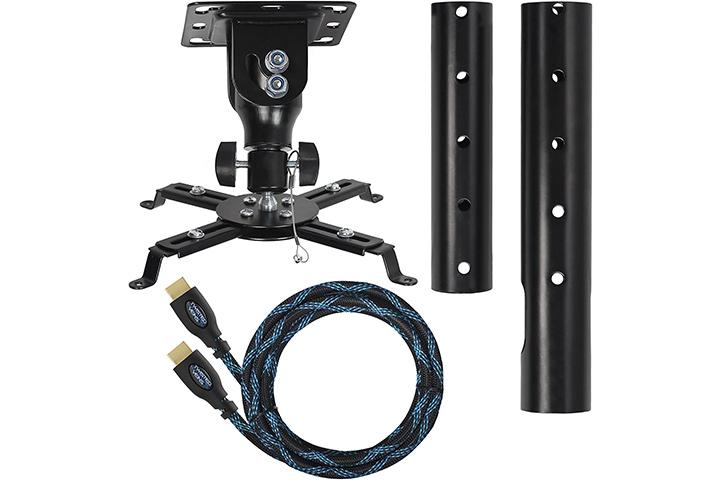 The projector ceiling mount from Cheetah Mounts has a universal design and four adjustable and removable arms compatible with any projector. It also works with projectors that need an extension pole or low profile mounting and comes with a smooth cable management system. The projector mount also has a metal tether for better security during the installation. You can use the cable as an added security element once the installation is complete.
Features
Profile has an adjustable range of 18.75-27in with extension and 7in without it
Universal design that is compatible with most projectors
Mounting plate has a 0-90° turn capability for recessed installation
Can withstand 65lb of weight
Can be used for vaulted ceilings as well.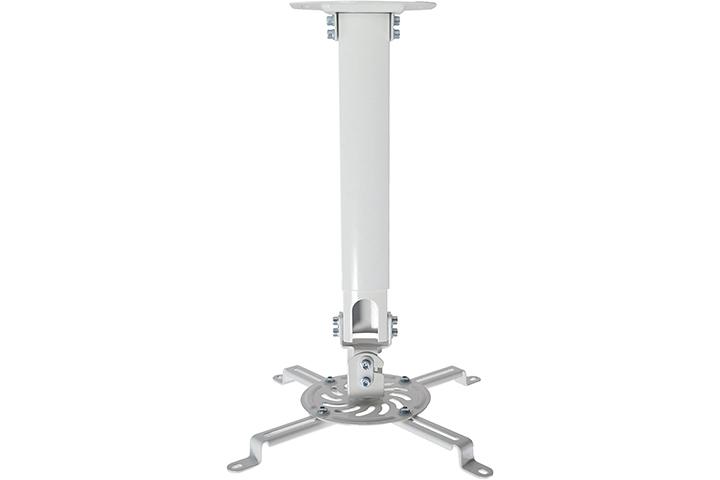 Made from high-grade steel, this universal projector mount can support a weight of up to 30lb. Compatible with most projectors in the market, it offers 360° rotation, 15° swivel, and 15° tilt capability and comes with universal mounting capabilities.
Features
Telescoping height adjustment function helps you extend the projector between 15 and 23in from the ceiling
Quick-release hooks allow easy attachment and detachment, making installation seamless
Comes in a white finish
Ideal for use in any home or office setup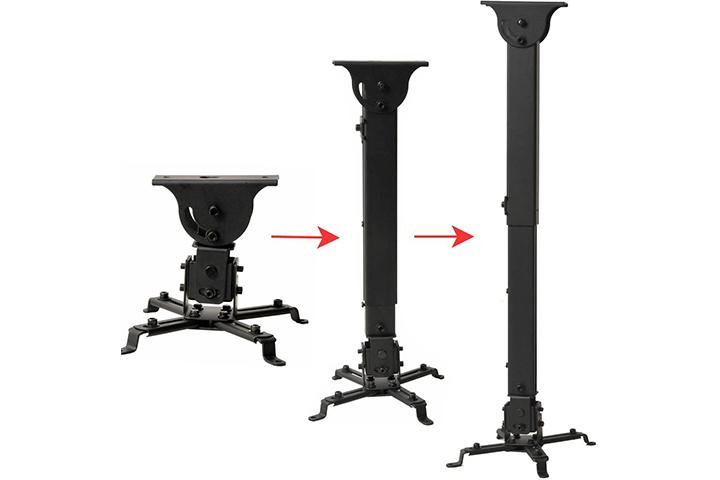 This projector wall mount from VideoSecu has an attractive and lightweight design and has been given a sturdy black finish.  You can achieve a perfectly square image through its no-slip adjustment function, while its safety and security features ensure it stays put. The unique arm design allows for easy installation and adjustment of width and depth. The well-equipped mounting system has everything you need for assembling a complete mount.
Features
Integrated cable management system is ideal for flat and vaulted ceilings
Height adjustable between 18.1 and 26.7in with an extension pole, and up to 5.9in without the extension pole
Sturdy steel construction allows it to handle a maximum weight of 44lb
Can be rotated to five degrees on the left and right sides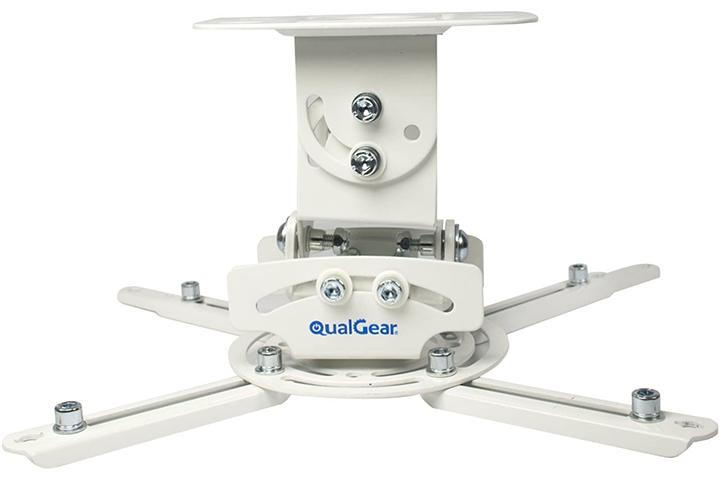 The next in this list of projector mounts is the universally designed mount from QualGear. It has a durable construction because of the heavy gauge cold-rolled steel material and can withstand a maximum weight of 30lb.
Features
Snap-on and snap-off design allows for easy installation and release.
Multi-axis adjustment points — tilt: 0 and 60°, swivel: 360°, roll: +/- 20°, pitch: +/- 30°
Supports a range of 6.6 to 16in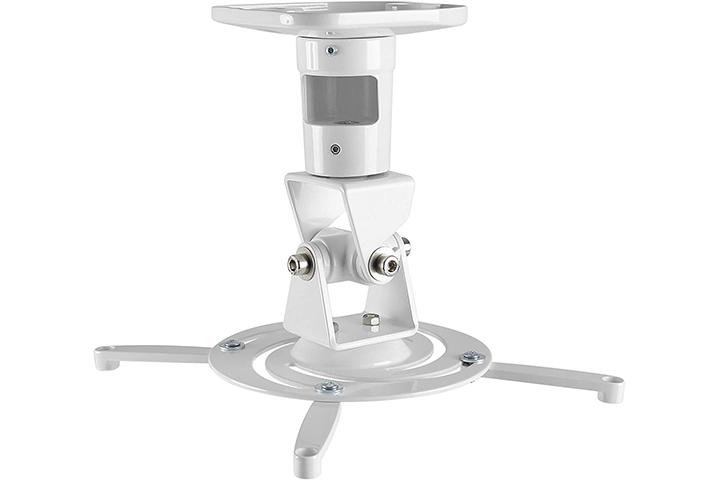 This ceiling projector mount comes with a unique design and an array of drop extensions. The smooth cable management allows it to get adjusted to any installation. It comes with a cast aluminum mounting head and reinforced steel plate, allowing it to withstand a weight of 30lb. The heat-dissipating platform suits any AV projector, and the easy cable management system ensures a good aesthetic appeal.
Features
Adjustable mounting arms facilitate flexible installation
Comes with a tilt function for the best viewing experience.
Available in white, silver, and black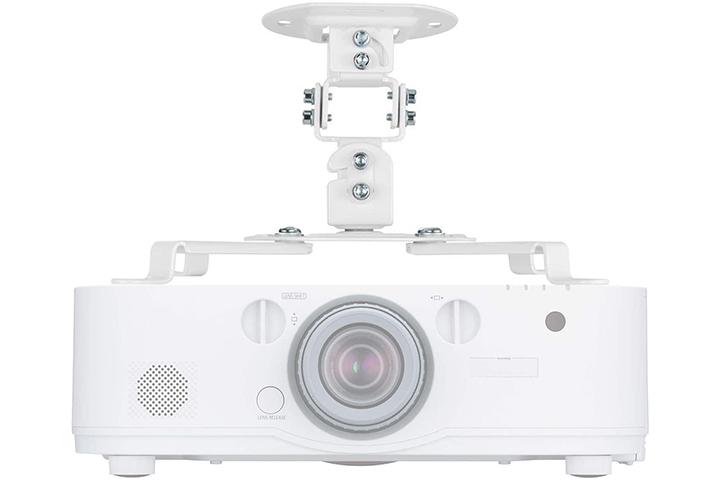 Next in this list of best projector mounts is this universal projector mount. It is compatible with distance mounting holes between 2 and 12.5in. The heavy-duty design can handle a weight of 30lb and can be fixed to any concrete and brick ceiling. With a low profile mounting system to hold your projector at a distance of 6in from the ceiling surface, this mount comes with a quick-release and fasten function for easy installation.
Features
Fully adjustable design allows +/- 15° tilt and swivel
Angle adjustment universal bracket enables 360° rotation
Supports both three-hole and four-hole pattern projectors
Brackets of three lengths to support mounting holes between 2 and 12.5in
Comes with a 10-year warranty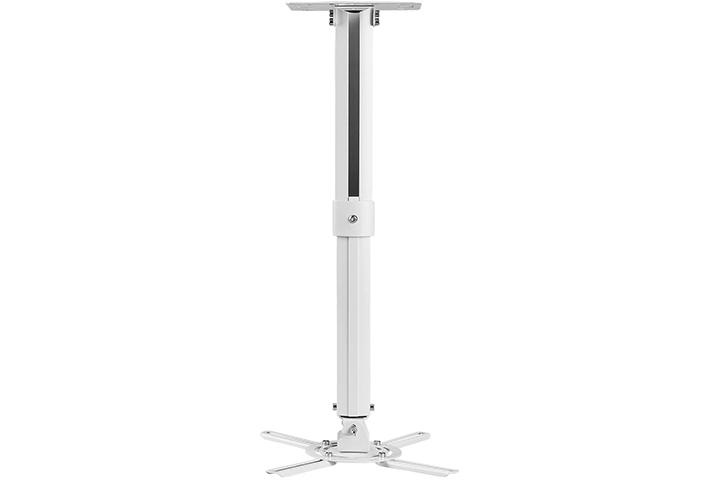 This adjustable projector mount from Suptek comes with a three-in-one bracket for installation on ceilings, sloped ceilings, and walls as well. The universal design enables you to use it with projectors with mounting holes of less than 12 inches and weigh less than 30lb. Made of cold-rolled steel and aluminum alloy, it is resistant to rust and damage.
Features
Can be tilted 90° up and down and swiveled 360°
Height adjustable between 10.62 and 21.25in
Available in a shade of white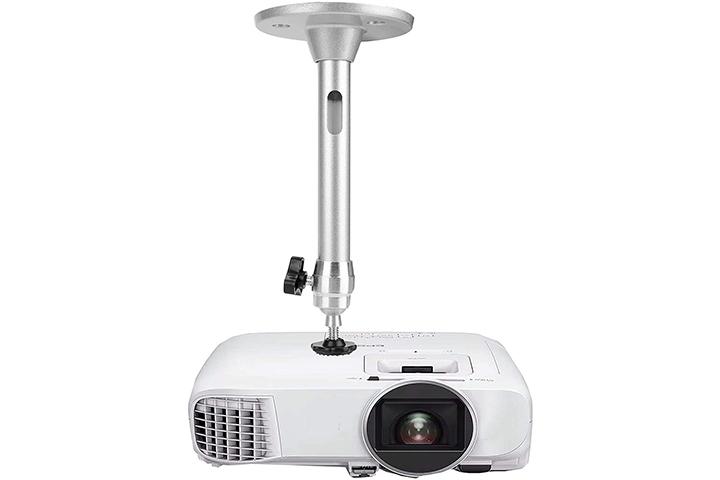 This universal projector mount is compatible with a range of mini projectors with three sizes of screw adapters. The accessories, screws, and adapters make installation an easy process. All you have to do is rotate the knob and tighten it for the best angle. This projector mount is compatible with projectors from brands, including DR. J Upgrade, QKK, AAXA Technologies, Artlii, and Anker.
Features
Screw adapter sizes of 3.9mm, 6mm, and 6.35mm
Safety load of 5kg
Can be tilted 90° and rotated 360°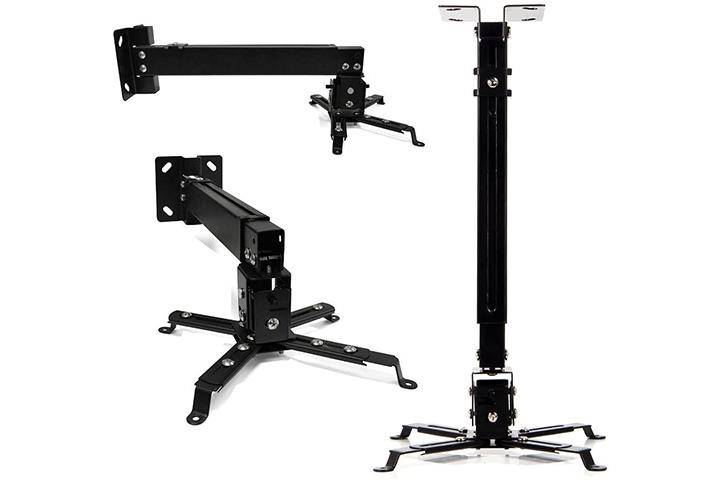 This portable projector mount comes in a durable black finish and has a loading capacity of 66lb. The removable extension arm allows a variable height adjustment between 16.9 and 25.6in. This projector mount is compatible with projectors that have a three-hole or four-hole pattern.
Features
Maximum distance between any of the two holes is less than 14.2in, and the minimum distance is more than 9in
Mounting holes on your projector must be between 9 and 14.2in
Height without the arm is 4.3in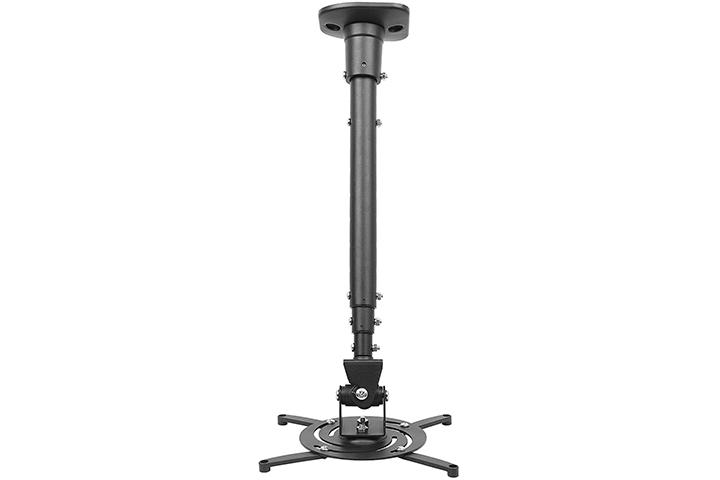 This universally compatible projector ceiling mount is ideal for projectors with a distance of 12.1in or less between the mounting holes. It is made of heavy-duty steel and quite reliable for holding projectors weighing up to 30lb. The extendable arm allows an extension of 43.6in, and without it, the height is 8.9in from the ceiling. This pre-assembled projector mount is easy to install because of its quick-release hooks.
Features
Can be tilted 25° up and down, swiveled 90° from left to right, and rotated 360°
Compatible with projectors from Sony, Dell, Optoma, and other brands
Ideal for flat ceilings
How To Choose The Right Projector Mounts?
Here is what you should consider before buying a projector mount.
Mount type: It is best to identify the space for the projector and your seating arrangement. You can dedicate wall or ceiling spaces depending on what offers a better viewing from all angles. Make sure you pick a safe and secure space for mounting so that the projector does not get damaged. A kiosk mount affix is ideal for offices.
Motion options: Identify whether the viewing angle will remain the same or change. Also think about whether you want to hang it flat or make it tilt.
Surface: The type of mount you choose will also depend on the material of the anchor. Make sure the surface is hard and strong enough to withstand the load. Also, look for one that matches the aesthetics of the surface.
Spacing and clearance: The projector needs to have sufficient clearance from all sides to ensure that it sits safely and securely.
Power and cables: Figure out how the cables will be accommodated – through the ceiling, or along the wall. It is also good to have a surge protector to plug the wires in for better safety.
Frequently Asked Questions
1. Are projector mounts universal? 
Some projector mounts are universal and can fit different projectors based on the screw hole patterns. Check the product compatibility with your projector before purchasing it.
2. Where should I mount my projector? 
You can install it on the ceiling or wall, depending on where the screen is and how the audience is seated. You can also place it on the floor or a table if needed.
3. How do I mount a projector on the ceiling? 
Measure the area where you would want to place the projector. Then follow the instructions given by the manufacturer and follow the steps. The mounting kit usually comes with a template for identifying the center hole, and the drill must be big enough to fit the cable heads.
4. Can I mount a projector vertically? 
You can do it with the lens pointed downwards. However, it only increases the failure rate of the projector. The fan, lamp, and internal electronics are important and need proper placing at all times. The airflow is another concern as it is different in the vertical position. It will increase the heat, which reduces the life of the projector.
A projector mount is an important device that can help you get the best viewing angle from any corner of the room. Consider the factors in the buying guide before choosing a projector mount for yourself. Take a look at the reviews and other important considerations before buying a projector mount.