Our feet are the least cared for parts of our bodies and are regularly exposed to dust, dirt, water, etc. Over time, they show the effects of dryness, cracks, and bumps with corns and calluses. The best pumice stones for feet exfoliate the hard upper layer from dead cells and keep the feet smooth and fresh.
Pumice stones are used for feet and other body parts, including the back and legs. So if you are suffering from hardened feet, you may check our list of some great working pumice stones to buy one of your requirements.
Types Of Pumice Stone
Pumice stones are available of following types
Earth-formed pumice: They are of the exact origin as a volcanic formation and found nearer to the earth's surface. The earth-formed pumice can vary in vesicles depending on their geographical locations.
Lava pumice: These are formed deep under the earth's surface and have a softer composition that soothes the skin easily.
Microvesicles pumice: These stones carry small tube-like vesicles that run across one surface to another.
Sub-spherical vesicle pumice: They are formed through high vapor pressure during volcanic eruptions and have tiny vesicles in a small area.
Terracotta pumice stones: These are artificially designed pumices made with precision for easy exfoliation of dry and rough skin.
11 Best Pumice Stones For Feet


The Maryton foot pumice stone is professionally designed to remove calluses from the feet, lending the tough skin a soft and healthy touch. You can use it to exfoliate hands, elbows, and other rough surfaces on the body. The double-sided pumice stone has two coarseness levels for smooth exfoliation of cracked heels. Its perfect size fits into the palm enabling easy usage for a spa-like exfoliating experience.
Made of 100% natural terracotta, the pumice foot stone can exfoliate hard skin with ease and lasts longer. With its two separate scrubbing surfaces, the stone can remove pesky hooks on the skin, leaving your foot feeling naturally smooth. Its patented ergonomic design for easy hold and efficient scrubbing also makes it one of the best pumice stones for feet. Use it regularly on wet feet for professional pedicure results.
The scrubbing stone gently works on uncomfortable and unsightly feet calluses, leaving your feet feeling soft and fresh. It is made synthetically and provides two-in-one foot care treatment. The other side of the scrubbing surface carries moisturizing soap infused with the goodness of aloe vera, vitamin E, and shea butter to leave the skin soft and supple.
Zenda pumice foot scrubber is made of earth-formed volcanic lava and offers excellent skin exfoliation, leaving your feet free of harmful, chemical-induced synthesized stones. Obtain a spa-like experience from your home's comfort to efficiently remove corns and calluses with this natural, hand-picked pumice exfoliator. It has an ergonomic design to enable convenient handling while scrubbing.
The extra-fine textured product made in Japan is known for its quality and comfort. Made of 100% pure natural volcanic rock, the pumice stone comes in an ergonomic, unique round dent designed for heel exfoliation. The stone helps clear dry skin cells on hands, elbows, knees, etc.
The exfoliating stone from Healifty comes with a long handle for easy handling during foot filing. It has bumps on the bottom to enable easy massaging of the skin. Use the pumice rock for feet to remove grease and dust from skin pores. The pumice rock is designed for ultra-smooth cleaning and comes with a hole on the top, ensuring storage convenience.
Your woes of bending over during foot cleaning are now eliminated using this pumice stone with built-in suction cups. The foot scrubber and exfoliator help remove dead skin and calluses. Its suction cup design enables easy attachment to shower floors for exfoliation and offers massage while you are standing.
The two-in-one pumice stone comes with a rasp scrubber for efficient dead cell removal from coarse and cracked heels after a deep exfoliation. Use the professional foot filer to experience a spa-like treatment at your home. Its unique design makes it suitable for cleaning dry and wet feet. It is compact and can easily fit in the palm for convenient handling.
Pumice Valley exfoliating brush suits crack removal from hands, elbows, heels, and feet. The double-sided foot brush is covered with a natural pumice grit layer on one side for easy abrasive function on coarse skin. The pumice stone foot scrubber keeps your feet naturally soft with its 100% eco-friendly composition.
The eco-friendly lava pumice stone could be a perfect solution to relax your tired feet muscles. Obtain a thoroughly relaxing experience with the complete foot cleaning convenience kit that includes a loofah pad, a pumice holder, and a natural lava stone. The pumice rock is naturally durable and 100% safe with paraben- and sulfate-free composition. Its regular use for routine exfoliation helps transform the look and feel of your feet.
The pumice for feet is an effective tool that enables deep cleansing and rejuvenation of the heels, elbows, and hands. It has a 100% hygienic composition that prevents the multiplication of microbes growing with extended use. Its trace elements enable skin massage for improved blood flow, thus promoting healing and relaxation. The artificial foot pumice lasts longer.
How To Choose The Right Pumice Stone For Feet?
Here are some features to consider while buying a pumice stone for feet.
Size of the pore: Pumice exfoliators come in different pore sizes and varying exfoliating efficiencies. Different pore sizes mean harsh or soft removal of dead skin from the heels.
Type of pumice: You can choose among natural rocks, terracotta, and artificial pumice exfoliators depending upon your feet' condition.
Handle inclusion: The ease of use among pumice rocks is marked by the handle attachment that comes with these products. Some pumice rocks have suction cups that reduce the handling efforts required during exfoliation.
Other inclusions: Some pumice rocks come with additional inclusions, such as scrubbing surfaces and moisturizing soaps to enhance their functionality.
Frequently Asked Questions
1. How long do pumice stones last?
The duration of pumice stones may vary depending on their composition, usage, artificiality, etc. On average, pumice rocks can last for up to two to four years.
2. Should I use a pumice stone on wet or dry feet?
It is advisable to use pumice rock on wet surfaces for a smoother cleaning and exfoliating experience. Soaking the feet a few minutes before use can help remove dead cells quickly. Some pumice stones enable cleansing on both dry and wet skin.
3. Can you use a pumice stone daily?
You can use pumice stone daily and in your everyday cleaning routine. Ensure to moisturize your feet after using the stone and pat the skin dry for added benefits.
Now that you have ample options to choose from the best pumice stones for feet, compare prices and check user reviews to understand your selected product better. Include it as an essential tool for your skincare routine for smooth, soft, healthy, and happy feet.
Recommended Articles: 
The following two tabs change content below.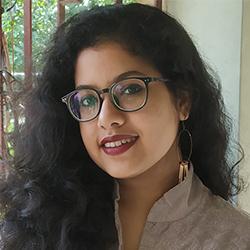 Poulami Nag
Poulami Nag is a writer and associate editor at MomJunction. She did her MA in English from Miranda House, University of Delhi and has qualified UGC-NET. Her journey as a content writer began in 2017 and since then she has garnered diverse interests along the way. Her knowledge of literature and language has given her an eye for detail and...
more