A rangefinder is a device that estimates the distance between you and the target. A good rangefinder helps you hit the target with greater accuracy by indicating the distance, usually in yards or meters. It also offers other information, such as the target's speed, the degree of inclination, the direction you are facing, and the outdoor temperature.
Whether you are in the military, golfing, surveying, shooting, or hunting, the ability to determine the distance of a target in the range is crucial. While some have the natural knack to calculate distance, others may not and could benefit from having a reliablerangefinder as a companion. Keep reading this post for a list of the best rangefinders and their features.
15 Best Rangefinders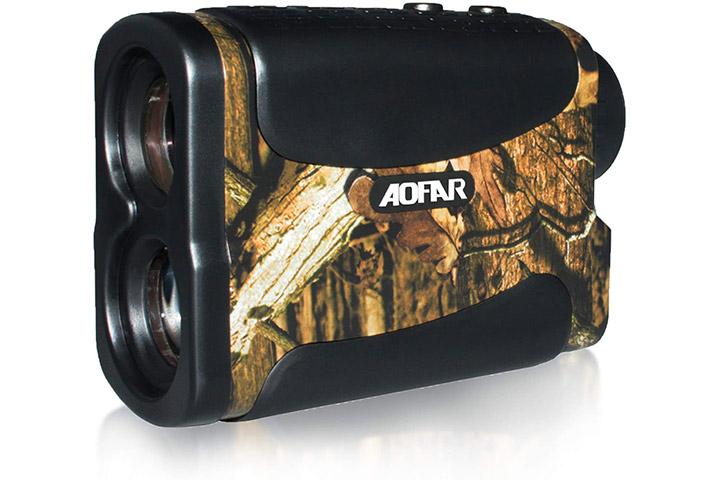 The Aofar rangefinder is a lightweight device that uses an advanced Pinsensor technology to locate prey up to a distance of 700yd. With 6X magnification, the product offers a clear view of targets and better readings. It operates in four modes, namely range, scan, fog, and speed,to meet the various demands of outdoor activity.
The device has an automatic power-off function that activates after eight seconds of idle time. Reliable for a clear line of sight, this portable rangefinder guarantees an amazing experience for hunting, archery, and golfing.
Features
CR2 battery provides long-lasting power
IPX4 waterproof structure makes it usable in rain
± 1yard accuracy aims the target correctly
Lightweight, compact, and waterproof
Two buttons to control all the features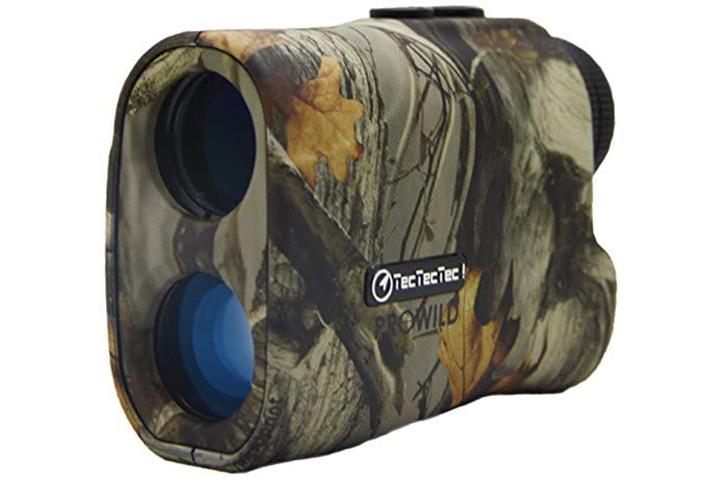 Cleverly patterned to match the environments, this rangefinder measures both speed and distance to ensure performance. The device has a multilayer lens to give a clear picture of the surroundings, and measures with an unobstructed view to locate the target precisely. The pack includes a fully equipped pouch, wrist strap, and a quick start guide to help beginners.
Features
Water-resistant body to prevent damage
Advanced speed technology
6X magnification to peep into the viewfinder
500 yards measurement to scan the target
Weighs 185g, light and portable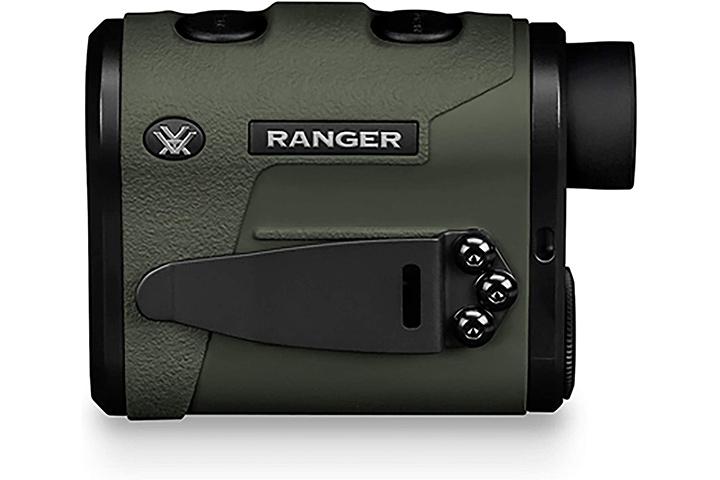 Who doesn't want a clean, illuminated display of surroundings when exploring the outdoors? The Vortex rangefinder is ideal for shooters and hunters who aim for high angle shots.With increased precision, a quick scan through the device gives a continuous set of readings,even when the target is moving. The device boasts a textured rubber armor to provide a non-slippery grip. It works effectively even during the harsh weather conditions of fog, humidity, and rain.
Features
Ranges up to 1800yd to calculate long distances
Horizontal Component Distance (HCD) display mode to shoot from different levels
Advanced LOS mode to proffer increased precision
Three brightness settings to stay visible in varied light conditions
Tripod adaptable for better stability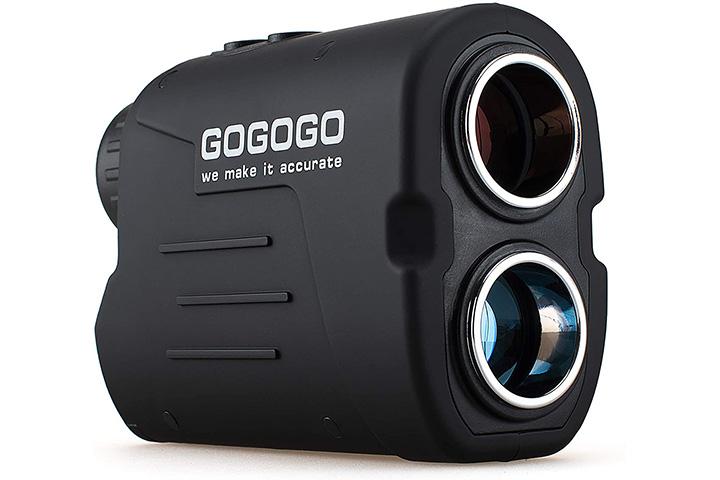 The timing of the shot is critical when shooting a target. The Gogogo rangefinder prevents delay of seconds and calculates the range correctly. With an accurate scan and slope function, the instrument makes an excellent choice for outdoor activities. It works equally well for golfers and hunters. The device boasts a fully multi-coated lens to suit different lighting conditions and has a rubber effect coating to provide a soft touch and feel.
Features
Scope compensation calculation
650/900yd rangefinder to scan long distances
Flag-lock and vibration plays an active helper role
20-300km/h measuring range of speed
184g net weight and its mini size make it pocket-friendly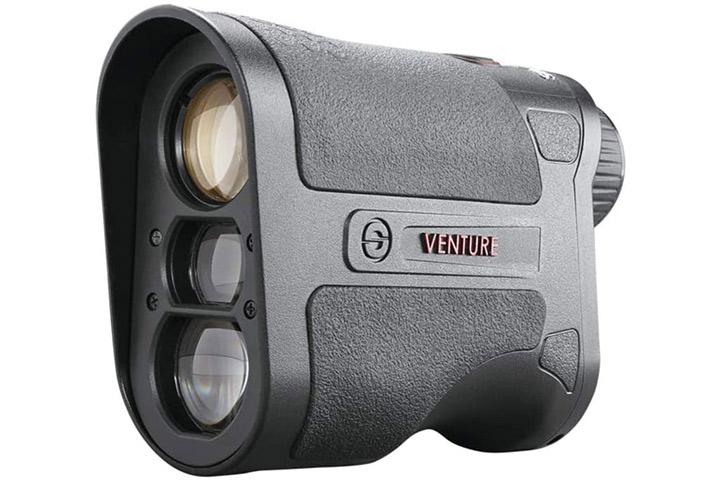 The Simmons hunting laser rangefinder works by emitting a laser beam to determine the distance between you and the target. With a tap of a single button, it provides in-depth information about the target on its LCD screen and offers hairsplitting accuracy. From at-par distance range calculations to 4X magnification, it brings out clear optics to provide an unparalleled advantage to seekers. It is weather-resistant, has a good power output and compact vertical design.
Features
Weighs 250g, light and efficient
Excellent for bow-hunting and archery
Accurate by ± 1yd
Simple one-button design
Battery level indicator for added convenience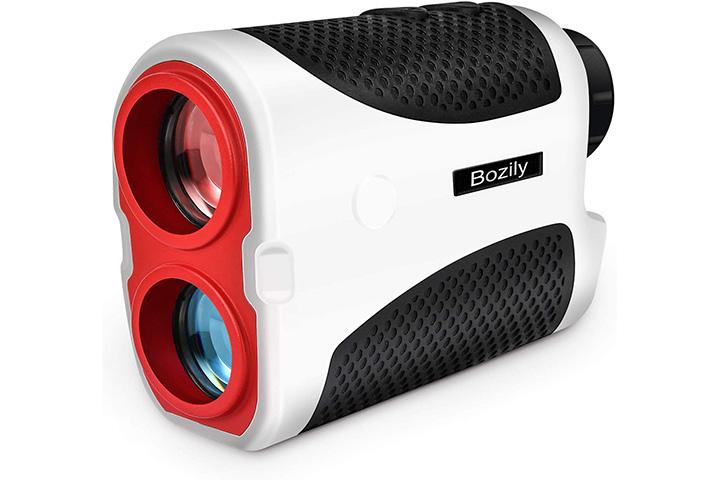 Exclusively designed to augment your golfing experience, this rangefinder enables easy distance reading with a fast focus system to hit the goal. The eyepiece adjusts to 6X magnification to provide a distinct view of the field. The device calculates the slope-adjusted distance and shows in yard and meter modes.The device has two modes, a flagpole lock, and works on the pinseeker with JOLT technology. 
Features
Ergonomic design, compact
Measures ± 1yd accuracy for precision
Scan mode support, lightweight, and portable
Water and fog-resistant and durable
1000yd measurement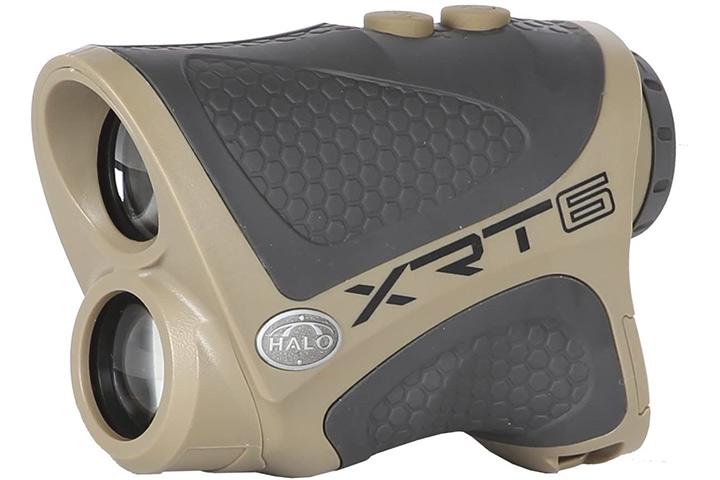 The Halo rangefinder is a useful tool if you are looking for excellent magnification and accuracy. It is a professional, smart, and efficient instrument with up-to-the-mark optics. The device precisely measures +/- 1yd and can see the reflective target up to 600yd. It is ideal for someone keen about the shooting, hunting, or golfing periodically.
Features
Scan mode for a continuous range
Durable and water-resistant
6X magnification for a clear view
Comes with a handy carrying case
Suitable for bow hunting and golfing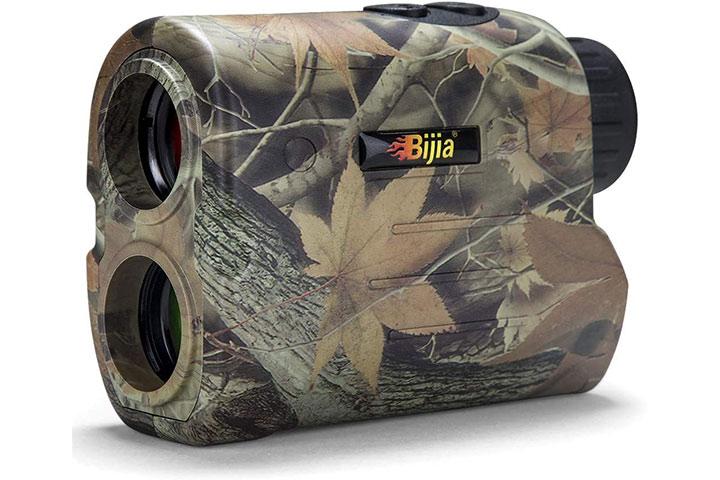 Suitable for tech lovers, this rangefinder comes with unique features to meet the outdoor activity requirements. The device has a mode button, power button, eyepiece knob, battery compartment, laser emission, and receiving apertures. It can calculate both speed and distance.
The continuous scan mode of the rangefinder offers fast reading and measurements. It also provides a slope correction technology to hit the target accurately. You get a manual, battery, carry bag, color box, cleaning cloth, and a strap to hold the rangefinder in this pack. Whether you're up camping or hunting, this rangefinder can be handy.
Features
Advanced pinseeker technology
Quick measurement with +/- 1yd and +/- 45°accuracy
Weighs 180g, lightweight and portable design
Displays information in both yards and meters
Ranges from 5-650yd
Clear LCD screen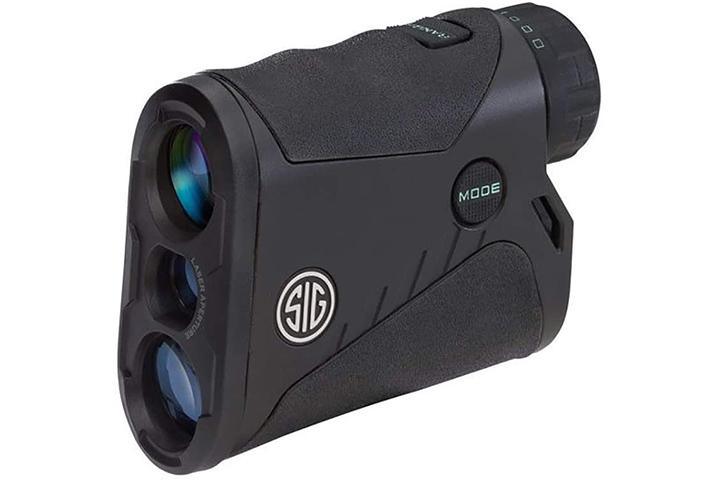 The Sig Sauer laser is one of the most advanced and comprehensive rangefinders with a hyperscan mode,reflective up to 1600yd. It has a robust and reliable SpectraCoat CR2 battery and a sleek design. With unprecedented speed and accuracy, the rangefinder refreshes at a 4x/second ultrafast speed. This compact tool is ideal for beginners.
Features
Suitable for one-handed operations
Can fit in a pocket and other small places
Measures non-reflective targets up to 600yd
Comes with a padded ballistic nylon case
Sees through the narrow openings between trees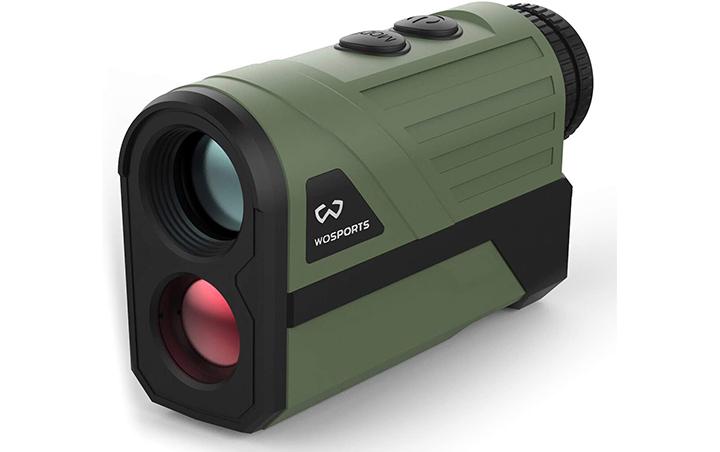 The Wosports hunting rangefinder is specifically built for outdoor sports, golf courses, hunting, construction activities, and watching games.It allows you to get measurements conveniently without getting closer to the target. With a sharp lens as an eagle's eyes, it calculates angles, distances, speed, and vertical height without any errors.It weighs 223g and has a premium lens display as an additional perk.
 Features
Water and dust-resistant
Multilayered optics for good display
Measures in both yards and meters
Can work across long-distances up to 650yd
Lightwave DSP with hyperscan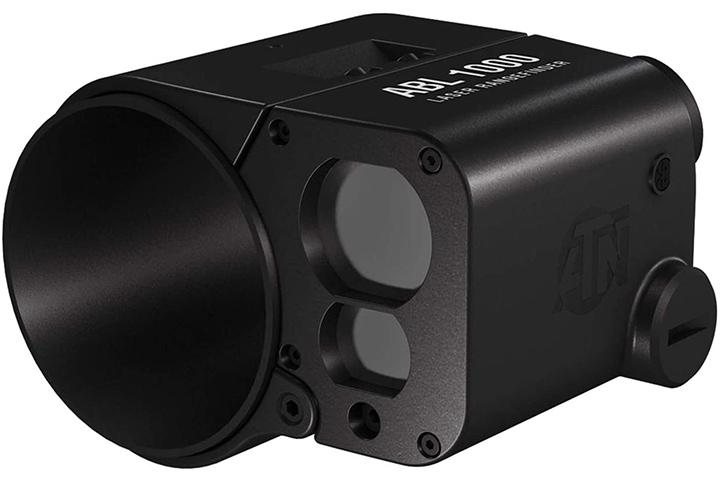 The smart and advanced rangefinder by ATN works on a simple one-button operation.It is efficient to perform myriad tasks, such as distance and speed calculation, creating a point of impact, and seeing the distance on videos. The device has several other smart features including, Bluetooth connectivity and range tags. You can use it for all outdoor activities, such as hunting, golfing, archery, and shooting.
 Features
Automatic POI adjustments
Can be connected to a smart scope
Spot on with ranges and distances
Night vision mode and smart controls
Can quickly attach itself to other devices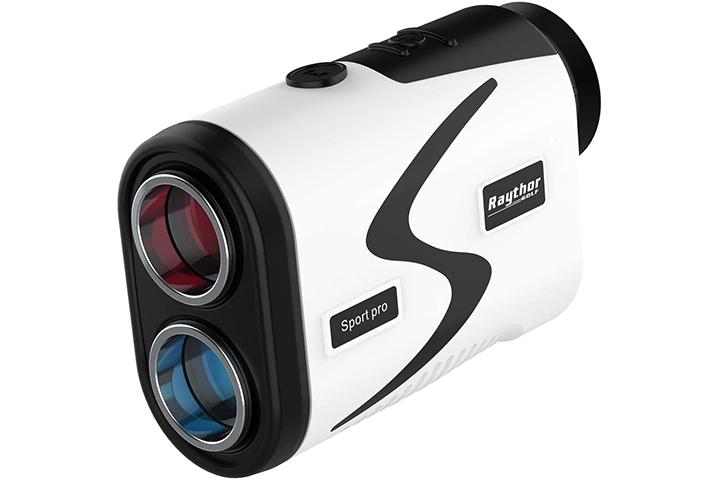 Withprofessional design and cool body, this rangefinder looks sporty and acts as a primary tool to master golf, archery, and shooting. It helps to reduce the swing mistakes by offering accurate +/- 1yd measurements. With an LCD, 6X magnification, and a three-mode working procedure, the device supports continuous scan and slope-switch technology.It calculates accurate distances in both'slope' and 'no slope'conditions.
Features
7V/900mah rechargeable lithium battery
Provides overlapping subject measurement, actual distance, slope adjustment, and target angle
Pinsensor technology and flag lock function
Digitally-enhanced accuracy
Works for a range of 5-1000yd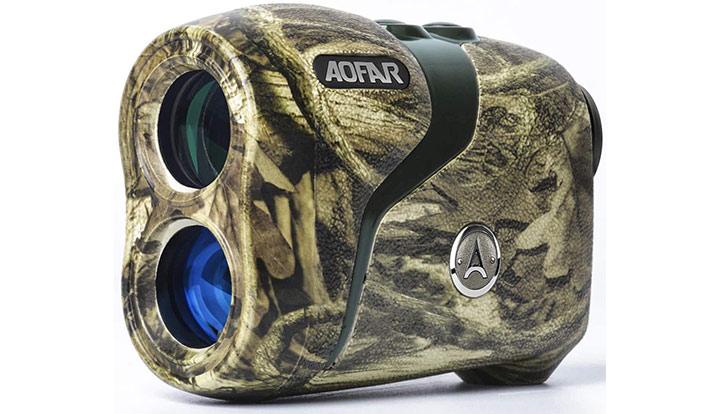 Portable and compact with a weight of 180g, the Aofar rangefinder works well even when there's dust, fog, or water around. It measures up to 800yd and can accurately calculate distances. With an interchangeable display mode of meter and yard, the instrument is calibrated to provide clear instructions.It works on the latest pin technology to display crucial information, such as straight-line distance, angle, and horizontal distance. You can use any of the two modes, hunting and range,to cater to different functions.
Features
AI-based technology functioning
Automatic power-off after 8 seconds of inactivity
Rubber enclosures on the outer surface provide grip
CR2 battery for optimal performance
Fast measurement and high accuracy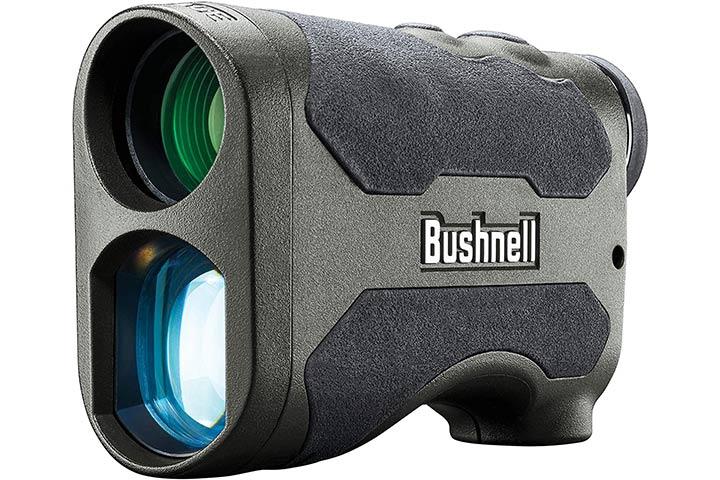 The Bushnell rangefinder is a small and friendly companion that can conveniently fit in your palm. With the right ergonomics and grip, you can feel the power of the device. It works on the ARC or angle range compensation technology, which further supports the outdoor activities on a terrain. You also get a durable carrying case, lanyard tether, and a paracord with the rangefinder.
 Features
3-inch long and 2X brighter
Provides a clear vision
Calculates correct distance at uphill or downhill
Helpful to hunt at dusk and dawn
Ultra-wide band coatings on the optics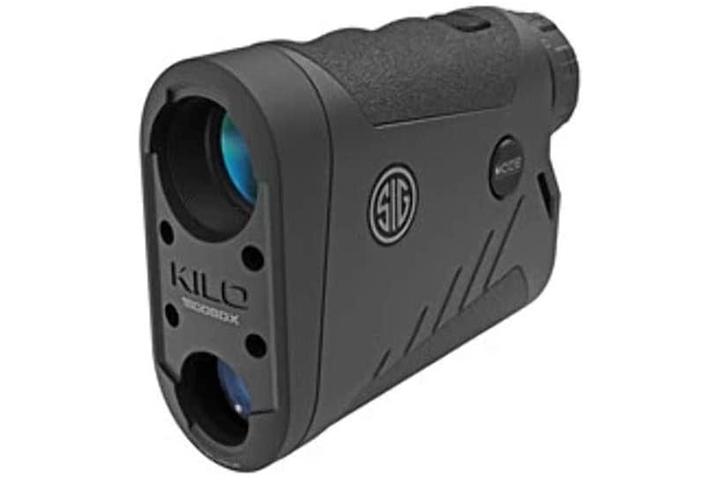 Compact, lightweight, and functional, this rangefinder has anti-reflection coatings for optical clarity and a superior light transmission useful for outdoor activities. It has a Bluetooth pairing ability with diopter adjustment levels and works on hyperscan technology to provide four range updates per second in the scan mode.
Features
Unprecedented simplicity and accuracy
Electro-optics industrial design
Suitable for military and commercial use
Uses Field Programmable Gate Array (FPGA) signal processing algorithms
Works in both bright sunlight and snowy weather
How To Choose The Right Rangefinder?
There are a lot of specifications you need to consider to finalize your rangefinder. To ease your process, we have come up with a list of features you should check before buying.
Scanning mode: The scanning capability of a rangefinder is an important feature to look for. It decides various calculative aspects such as speed, distance, and angle. These are measured in real-time, and therefore vital for the performance of rangefinder.
Magnification: The view of the target, regardless of the distance, is decided by its magnification. Look for a product that offers accurate optical magnification.
Battery: Despite having best-in-class features, a rangefinder may not function well if the battery isn't powerful enough. Find a reliable battery type that works longer without interruption.
Weight: Carrying a heavy rangefinder in the forest or fields, along with other items, may cause discomfort. So,look for a lightweight model with appropriate weight and size that fits well in your palm.
Range measuring accuracy: The distance needed for a perfect shot is a major deciding factor to choose a rangefinder. Even if you are a casual hunter or a professional shooter, consider the range measuring accuracy of a rangefinder.
Operating temperature: The temperatures during outdoor activities such as shooting, golf, or hunting are either too low or high. So, consider a rangefinder that operates effectively at the specific temperature you need.
Comfortable grip: There's quite a difference between a comfortable grip and a weak, cramped hold.A good rangefinder should fit well in your palm and have an anti-slippery rubber cover for a better grip at all times.
Working outdoor could be challenging, and you would need a reliable and easy-to-carry instrument. The best rangefinder is a go-to device that helps you create a mental map of the entire surrounding. Supported by numbers, rangefinder empowers you to make a right, informed decision. Compare the features and get the best one for yourself.
Recommended Articles: