Preparing ravioli at home can be a tedious and messy process. A ravioli maker is a simple tool that eases making this type of pasta from scratch. The ravioli maker is convenient, easy to maintain, and an undeniably useful tool that can customize ravioli according to your taste.
Here, we give you a guide to the best ravioli makers in the market. With their perfect design and incredible outcome, you would be left wondering if the ravioli is really homemade.
Types Of Ravioli Makers
Knowing the different types of ravioli makers can help you conserve time and effort. These two types of ravioli makers are readily available.
Automatic models: These are stress-free models that usually come with an attachment that must be set up on your standard pasta maker. So, before purchasing an automatic ravioli maker, you may need to get a pasta maker. Though these models are easier to use, they are slightly on the expensive side.
Manual: These models are affordable but require effort. But after some practice, you will get acquainted with their functioning. These models usually have molds or cutters with sharp edges to obtain perfect ravioli pockets.
15 Best Ravioli Makers To Buy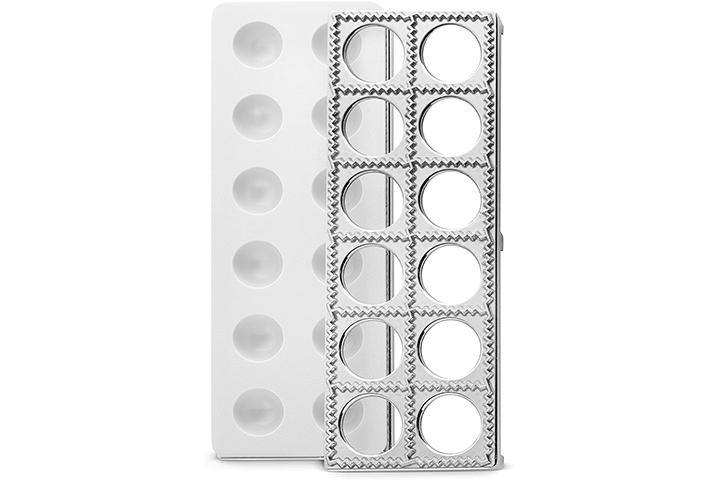 If you're looking for along-lasting ravioli maker, this durable tool is what you need. With a sturdy body, this machine is ideal for beginners. Its one-inch square-shaped molds help you prepare large batches with ease. The metal cutting frame seals and cuts perfect shapes to prevent your ravioli from spilling open during cooking.
Pros
Can provide 12 ravioli pockets in one go
Easy to maintain and clean
Mess-free removal of ravioli from the mold
Thick metal frame, doesn't bend or break
Cons
Doesn't come with a rolling pin
Has a plastic mold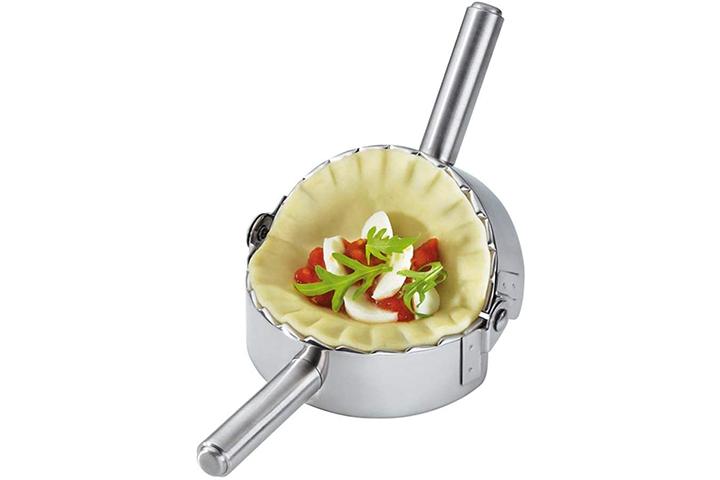 This multipurpose ravioli maker with a stainless steel bodycan make dumplings andpierogi with its half-circle mold. Its high-quality mirror polishing on the frame makes it adurable option, while the long handles guarantee a firm grip and efficiency.It hasa sharp outer edgethat cuts the pasta doughas perthe required size,making the processquick and convenient.
Pros
Firm rim for proper closure of the mold
Corrosion-resistant material
Dishwasher-safe
Available in three sizes to suit your needs
Cons
Makes only one piece at a time
Maynot be suitable for large batches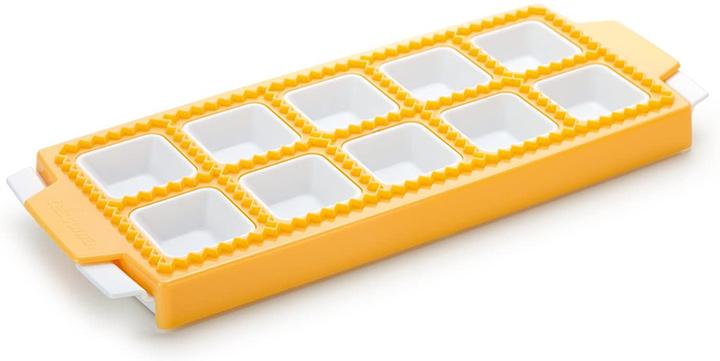 You can prepare up to ten ravioli pieces with this cutter fromTescoma. With the placement of the fillings between two pasta dough sheets and a few rolling pin strokes, you can getwell-sealed ravioli in no time. Its anti-skid base stands firm on most kitchen counters, adding to your convenience.
Pros
Made of durable plastic
Dishwasher-safe
Comes with an instruction manual and a list of recipes
Time-saving design
Available in four styles
Cons
Molds may require constant buttering to remove pockets easily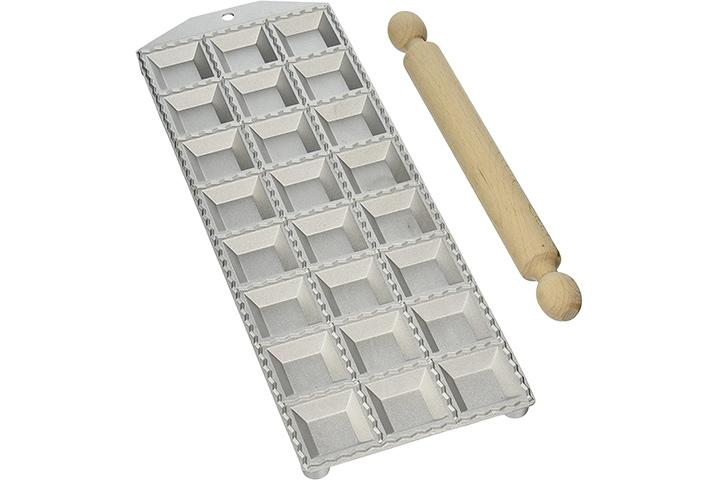 Made ofdurable, food-grade aluminum, this ravioli maker from Eppicotispailets you make 24 pieces in one go. By simply stuffing the filling between two pasta sheets, you can use this mold with ease. It comes with a wooden rolling pin to spread the sheets evenly. The serrated edges aid in firm closure and easy removal of the ravioli pockets, reducing your efforts to cut them manually.
Pros
Ideal for preparing large batches
Even shaped, small-sized pockets
Available in different shapes and sizes
Natural beechwood rolling pin included
Cons
May not be dishwasher-safe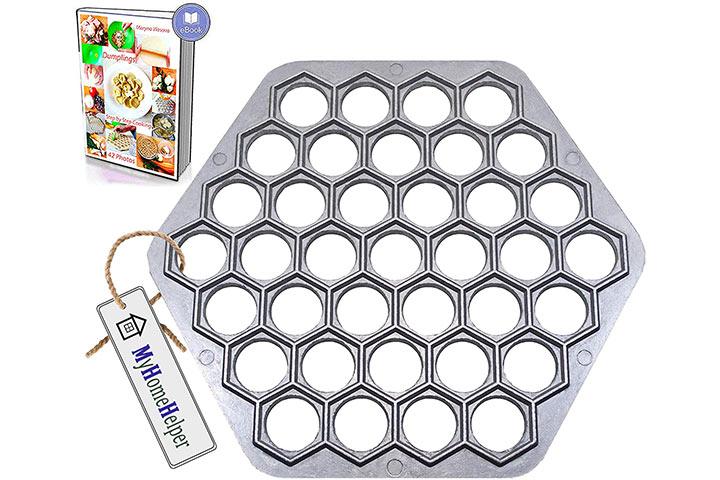 You can prepare ravioli for your entire family in one gowith this 37 pieced mold fromMHH.Itsconvenient and improved design can reduce the preparation time significantly. Ithas an aluminum body that lasts longer, making it a one-time purchase. You can also use this mold as a trivet for your pots when not in use or simply hang it up on a wall.
Pros
Multipurpose and durable
Baseless design makes removal of ravioli pocketseasy
Wide and sturdy base for efficiency
Heightened platform for user convenience
Cons
May not bedishwasher-safe
Requires oiling or flouringbefore use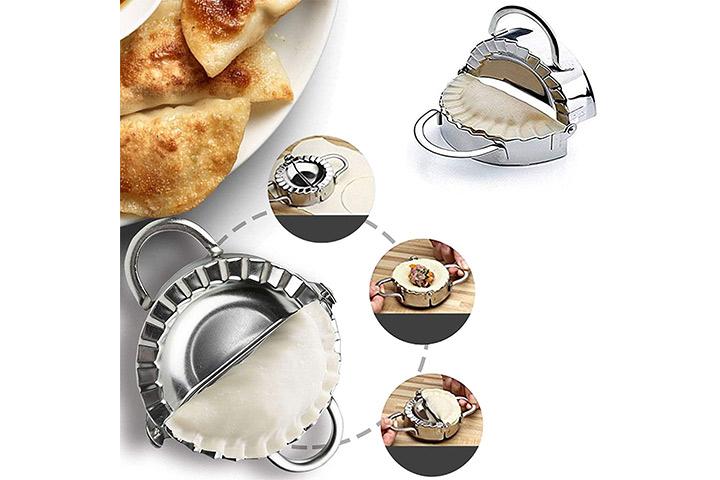 If youprefer more filling in a ravioli piece, this ravioli maker is for you, as its 3.74in diameter offers high capacity. You can use it to make pies, dumplings, pierogi, and empanada at home without investing much effort. The stainless steel bodymakes it durable and easy to clean. To geta perfect ravioli pocket, lay the filling in a pasta sheet, fold, and press the seal for an evenly shaped and firmly closed ravioli.
Pros
Curl design for a tighter seal
Easy to use and maintain
Handles for comfort
Durable and safe
Cons
Time-consuming as it makes only one ravioli pocket at a time
Sharp cutting framemaytear the pasta sheet when pressed too hard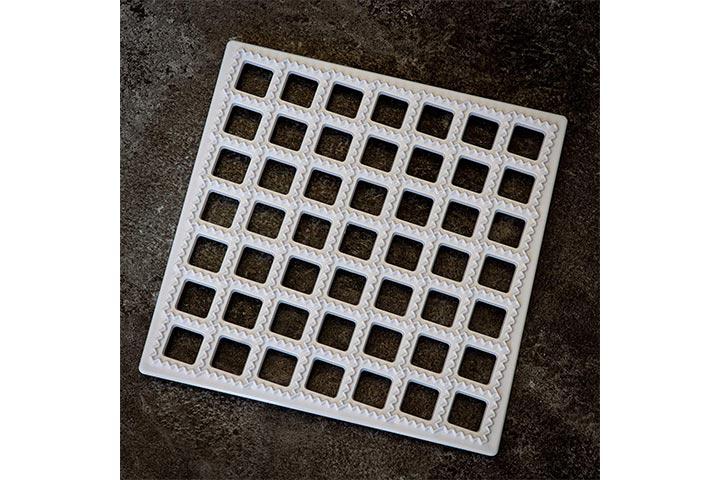 Theravioli maker fromJD Europe is what you need to prepare delicious and perfect ravioli in bulk.Ithas 49 ravioli slots to make large quantities of pasta in less time. With a 0.1in diameter hole, the square-shaped mold provides tinypasta pieces ideal for most recipes. By simply putting thepasta dough sheets on one another, with filling in between, you can getfirmly cut ravioli pocketswitha few strokes of a rolling pin.
Pros
Easy to use
Highly efficient design
Serrated corners near each slotfor cutting
Baseless design for easy removal
Recipe and operating manual included
Cons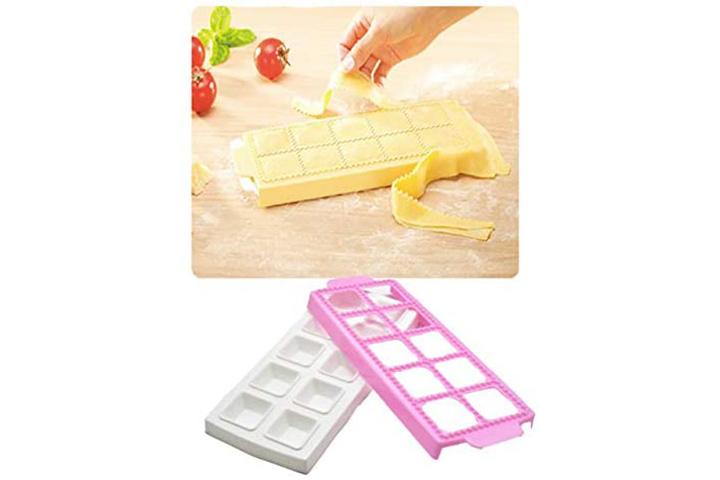 You can make ten ravioli pockets in one go with this mold fromTA Best. With its small hole, this mold is suitable for those who prefer lessfilling in their pasta. Its anti-skid base stands
firm on most surfaces to spread the pasta sheet evenly with theroller pin.
Pros
Dishwasher-safe
Serrated edges for firm closure and cutting
Available in round and square shape
Made of resistant plastic
Cons
May not be easy to clean due to its looped edges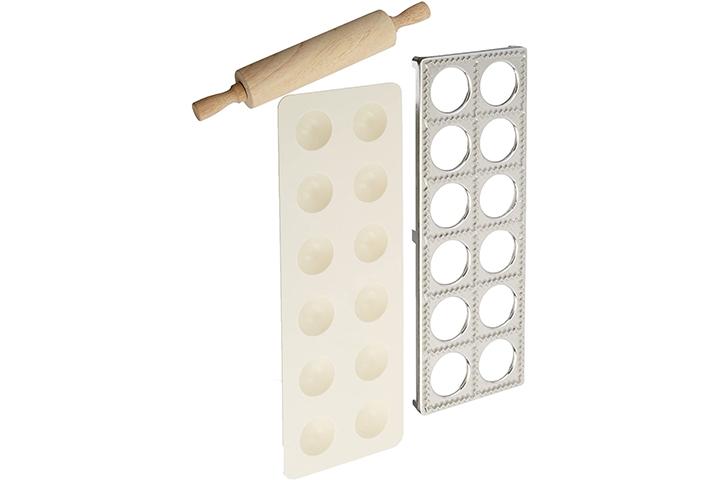 The three-piece ravioli cutter from Norproincludes a plastic base, a cutting frame, and a wooden rolling pin. Its cast aluminum sheet pan has heightened legs for a firm grip on any kitchen counter. With a 0.6in diameter hole, this press set can make12 ravioli pockets at one go. Its easy usage and mess-free design make it ideal for beginners.
Pros
Provides neat cuts
Easy to clean
Comes with a book of recipes
Fluted edges to ensure a proper seal
Cons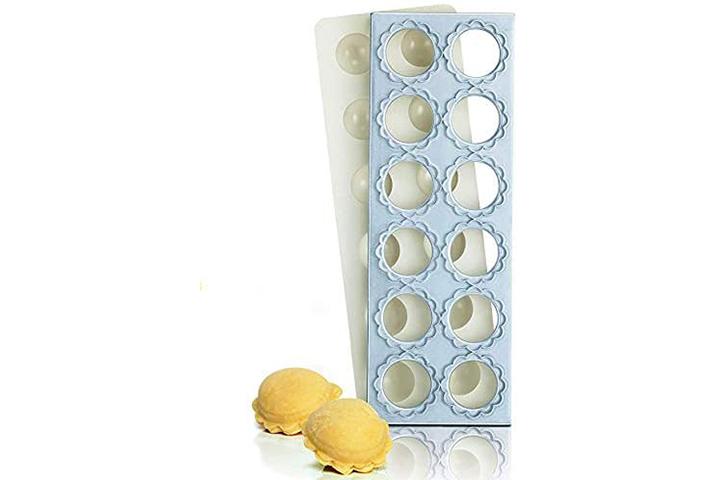 You can make pasta easily with this large ravioli maker from the O'Crème store. It is easy to clean as its top non-stick surface prevents the dough from sticking. With a sturdy and skid-resistant base, the mold provides a firm grip on any kitchen counter. Once you fill the bottom tray, a simple stroke of a rolling pin on the second sheet can provide you with tiny and sealed ravioli pockets.
Pros
Fluted edges for firm sealing
Ideal for beginners
Provides 12 pieces at a time
Each pocket has a two-inch diameter
Suitable to make ravioli in bulk
Comes with an instruction manual
Cons
May not be easy to clean due to its curved edges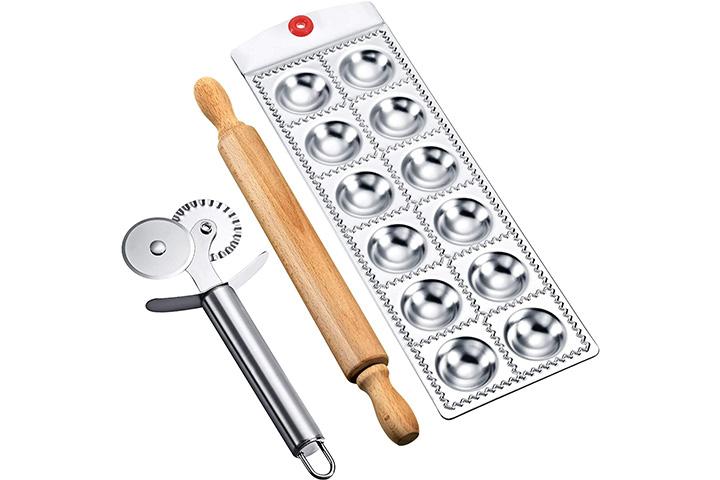 The multipurpose ravioli maker mold comes with a pizza wheel cutter to prepare up to 12 ravioli pockets in one go. It saves time and gives youendless possibilities. The ravioli mold is made of aluminum alloy, which is durable and corrosion-resistant. Despite the provision of serrated edges on the mold, you can use the pizza cutter for an efficient and smooth seal of the ravioli pockets.
Pros
Wooden roller pin for smooth function
Stainless steel pizza cutter for strength and durability
Ergonomically designed handle on the pizza cutter
Compact design for easy storage
Anti-skid base
Cons
Size of the ravioli pockets may seem too small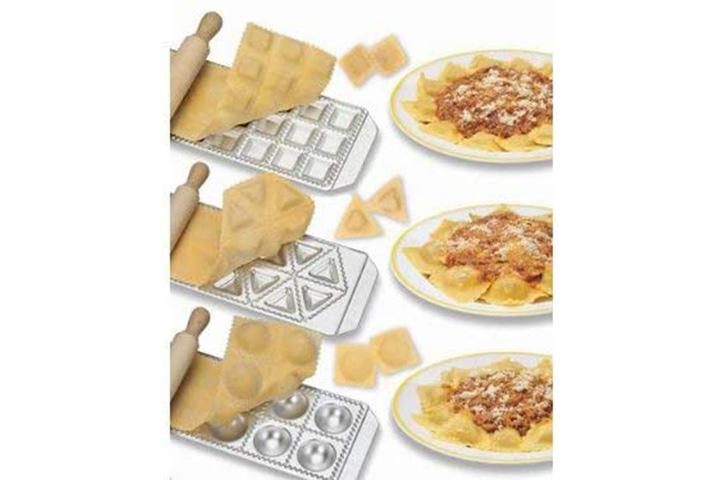 With the set of threeravioli makers, you can impress your guests by preparing square, rectangular, and circular ravioli without much effort. The bottom non-slip rubber grip prevents sliding of the mold when in use. Place the rolled pasta dough, stuff the filling, cover, and stroke the roller pin to get smooth, well-sealed ravioli pockets.
Pros
Stainless steel body
Quick removal of pockets
Easy to use and simple maintenance
Can make mini ravioli, ravioli, and tortellini
Cons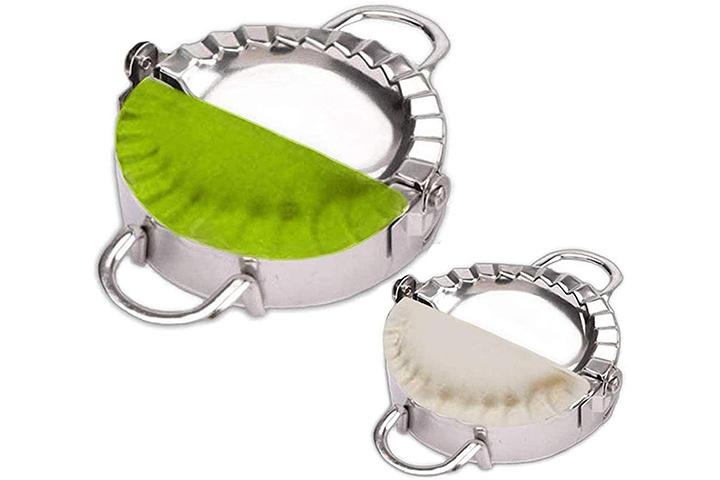 The stainless steel ravioli maker from Auamaids in easy cleaning and smooth removal of the pockets after usage. You can make ravioli, empanada, and dumpling effortlessly with its arc design, which is safe and prevents any mishaps. With its fluted edge, this pierogi mold seals the pockets tightly to prevent any leakage. It is rust-proof and hence durable.
Pros
Dishwasher-safe for easy maintenance
Offers even and firm closure
Can also be used to cut pasta dough
Large size for endless possibilities of fillings
Ergonomic handles for convenience
Cons
Can make only one ravioli at a time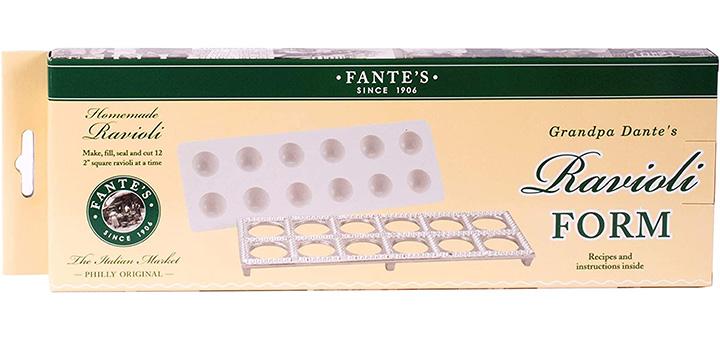 Prepare up to a dozen ravioli at one go with this durable pasta maker from Fante's. Its non-skid base enables a firm grip on the counter, preventing any mishaps. Sprinkle dough on the aluminum frame beforeplacing the rolled pasta dough so that it doesn't stick. Fill your choice of stuffing and use the plastic tray for a closure. With a simple stroke of a roller pin, you can get12ravioli pocketsinno time.
Pros
Fluted edges for a firm seal
Compact design for easy storage
Made of BPA-free plastic and aluminum
Recipe book included
Available in two sizes
Cons
Requires hand-washing
Could be too small for some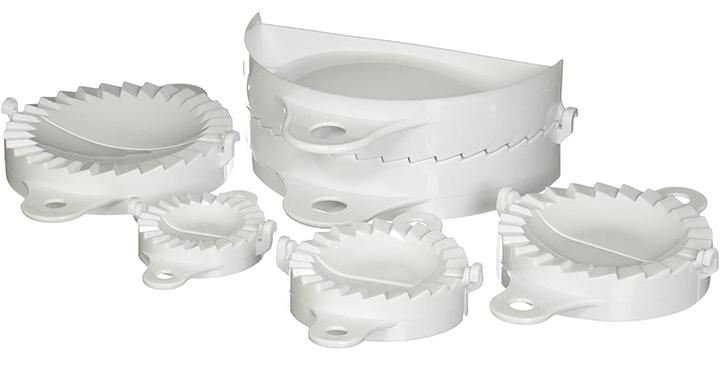 The manual ravioli maker from Weston lets you make ravioli, dumpling, calzone, and perogies with its five different molds. With size ranging from small to large, this ravioli and dumpling maker is ideal for those experimenting with different stuffing. It is lightweight and versatile to make perfectly shaped ravioli.
Pros
Easy to use, cut, and fill
Tightly seals the edges
Simple maintenance
Versatile and lightweight
Cons
May not be suitable for large quantities
How To Choose The Best Ravioli Maker?
Let us look at a few features before buying a good ravioli maker.
Type: Based on your requirement, you can choose a manual or an automatic one. Automatic models are convenient to use but are expensive. Manual models are time-consuming but affordable.
Quality: Metal models are high-quality and durable compared to plastic ones. Aluminum and steel are used in metal models to provide smooth cuts of the pasta.
Size: If you want more filling, large molds should bepreferred. Small size can only accommodate little amounts of cheese and few shredded vegetables. But if you need a variety of fillings, a larger size is better.
Quantity: Ravioli makers with large production capacity are time-saving. There are several molds in our list that can produce between 20 to 40 ravioli pockets in one go.
User convenience: Few ravioli makers have ergonomic handles for convenience. Easy operation is also a contributing factor. Sharp edges may be harmful and hinder cleaning.
Frequently Asked Questions
1. How do you make ravioli from scratch?
To make perfect ravioli from scratch, knead the dough and let it rest for a while. Meanwhile, you can prepare the filling of your choice. It is recommended that you flour or grease your tool with oil before use. Roll the pasta dough with a rolling pin to your desired thickness. Then follow the instruction from your ravioli maker manual to get well-sealed ravioli pockets.
2. How do you use a ravioli rolling pin?
Rolling pins are easy to use. These pins can be used to spread the pasta dough into a sheet. Hold the pin's ends and run them over the dough until you receive the desired thickness. You can also use the pin to seal the pockets. Place a second sheet on the mold after stuffing and roll the pin to lock the pockets firmly.
There are endless possibilities when it comes to stuffing for a delicious batch of ravioli. Given the wide variety of ravioli makers available in the market, we hope that our list of the best ravioli makers help you relish the desired ravioli dish without spending a lot. Surprise your guests and family by preparing fresh ravioli at home and make delicious dishes with ease.
Recommended Articles: