Reading is a hobby that can take you into the world of myriad characters, with stories that leave you with various emotions. To enjoy a book thoroughly, you need a conducive setting, including a good reading chair. The best reading chair is durable, comfortable, and flexible to suit your needs. It also enables good body posture and blends in with the aesthetics of the room.
In this post, we look at some of the best reading chairs designed to serve as long-term friends to bibliophiles, if you are one of them.

Top Products From Our List
11 Best Reading Chairs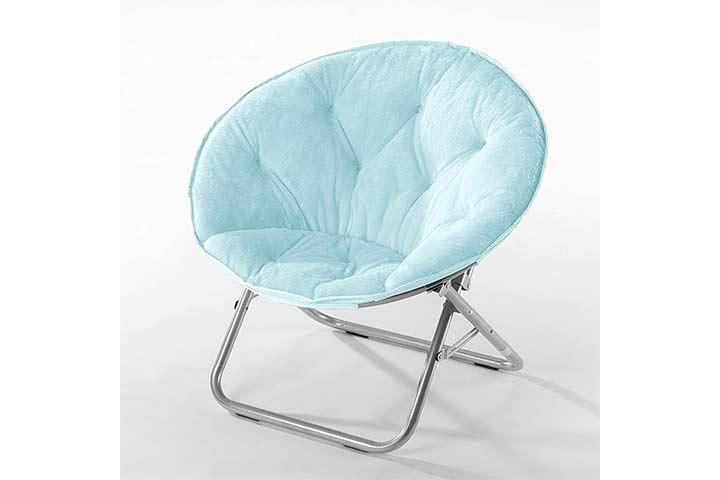 Made of a sturdy metal frame, this chair from Urban Shop is stable as well as durable. It is foldable and thus enables easy storage. The compact chair fits anywhere and can be stored discreetly, should you want to keep it away from others when not in use. The soft fabrication made of faux fur offers a great deal of comfort and is ideal for kids, teens, and young adults. It does not require assembly, as all that needs to be done is to unfold the chair! It can hold weight up to 221lb.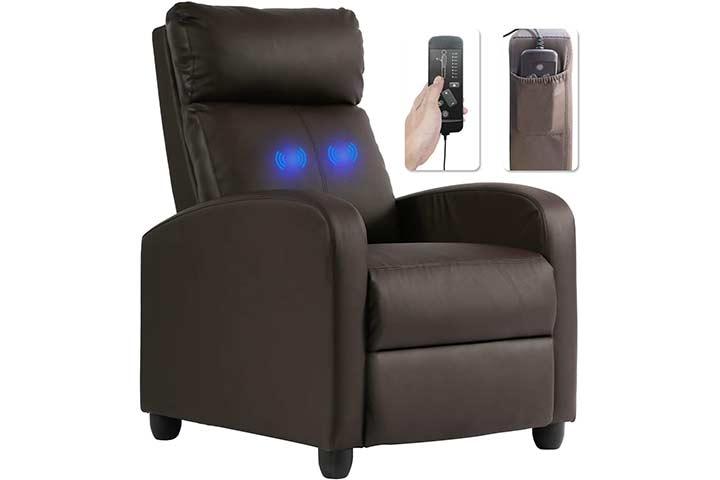 Is it a chair or a massager? The ergonomic PU leather reading chair has an adjustable backrest and armrest that can be used to relax while reading, watching TV, or even sleeping! Made of PU leather, the recliner chair has a foot extension too. It is easy to clean and is waterproof, which makes it durable. The legs and frame are made from solid hardwood, which adds to the stability. The chair can be easily adjusted and comes with a massage control that simply includes a button to enjoy a relaxing session.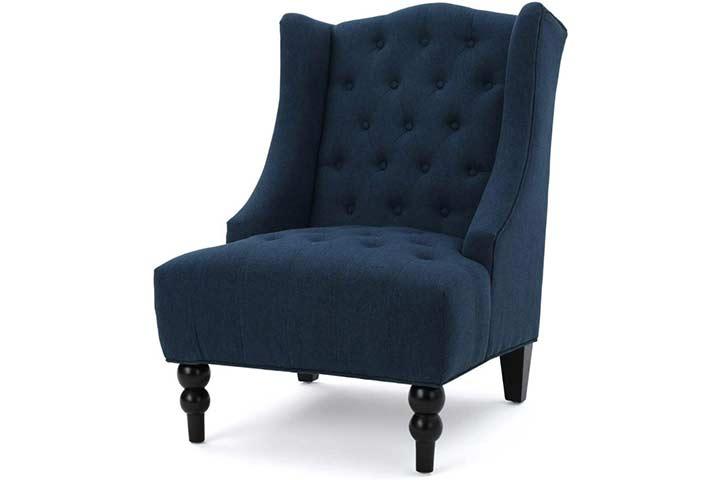 The club chair is unique in terms of its snugness as it is covered in soft and durable fabric. It has a traditional design and yet gives out a contemporary look due to its mismatched legs. With no armrests, it gives enough space for you to settle and slide in for a cozy evening by the fireplace with your favorite book. The tufting and curved sides make it look like a star in a room full of antiques. The design makes it easy to fit into a smaller space. This reading chair with a high backrest can be set up by the fire or used as a lounge chair.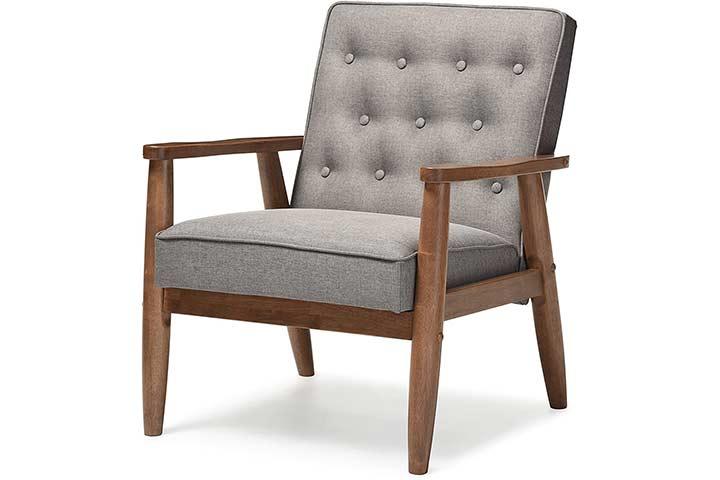 Made of solid rubberwood legs and frame, this reading chair can be a delight if you love a simple yet retro-modern design. The removable cushions, with button-tufts and neat piping on the edges, make cleaning an easy task. The rounded armrests of the lounge chair ensure that your arms do not hurt while resting on them. The chair is lightweight and easy to handle, adding flexibility to the placement of the chair. The sleek design can complement any decor settings in the house.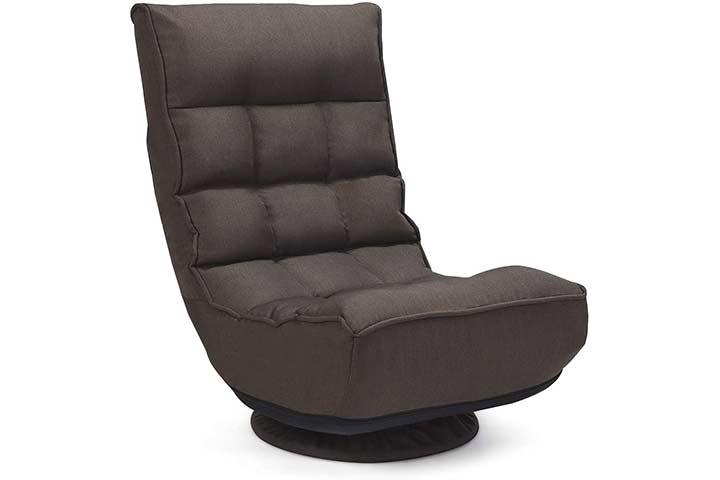 The chair's most attractive feature is the 360° swivel, which makes reading or gaming in this chair so much more convenient. It has an adjustable padded backrest set to four different positions, ensuring sufficient back support. The cushion contains a thick, soft sponge that adds to the comfort quotient. It is also foldable and easy to store and is hence space-saving. The floor chair is perfect for short people.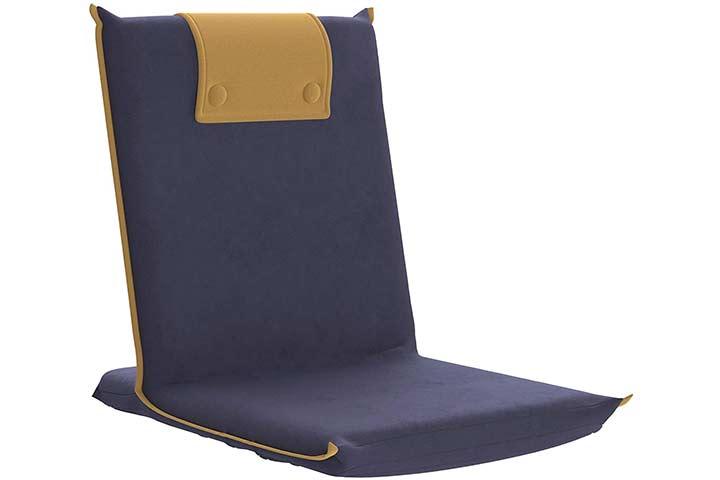 The foldable chair fits anywhere and can be easily moved around and stored. It weighs just 2.5kg and is easy to travel with it. The lockable backrest ensures that it stays in place, preventing you from falling back when you rest on it.
The high-quality stain-resistant synthetic fiber also makes it easy to clean using a damp sponge. The superior quality of linen fabric used prevents it from being torn easily, and the steel frame provides stability needed for a child or an adult to use it.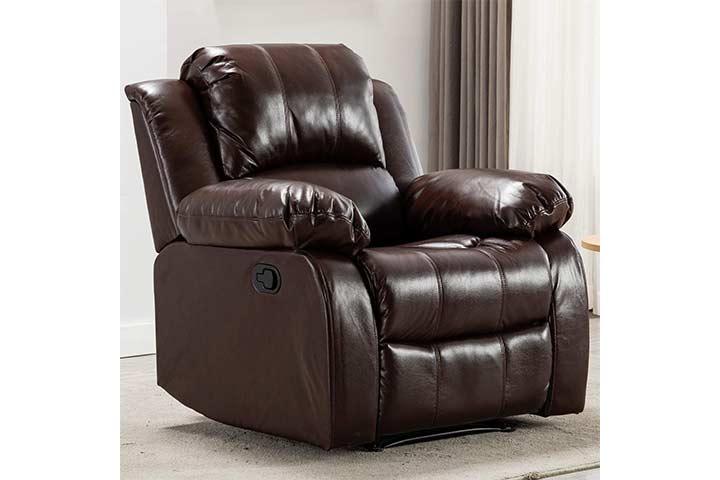 The Bonzy recliner chair is cozy enough to be the perfect reading chair to place in the bedroom or the living room. With easy one-pull reclining, it provides sufficient cushion support, excellent leg support, and overstuffed armrests. It is expected to last for up to 25,000 times of usage and is easy to assemble too. The chair uses air leather, a type of faux leather that is easy to clean and maintain. However, note that this chair is most suitable for people under six feet of height.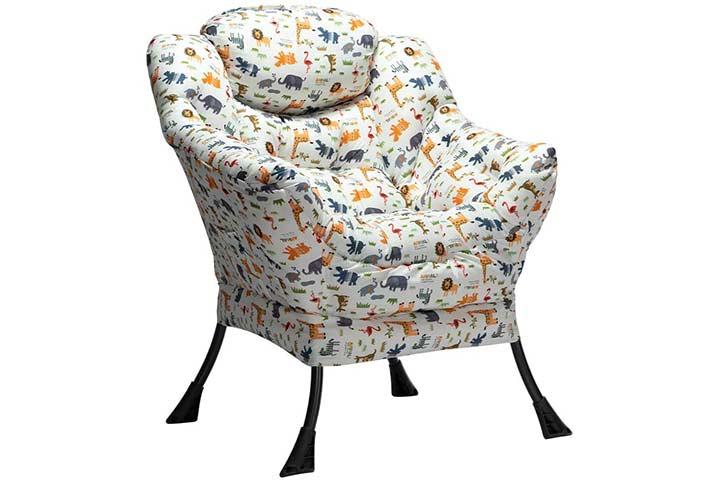 The HollyHome chair gives your living room or bedroom a modern touch that you would welcome. This can be conveniently called a kids' reading chair owing to its comfortable armrests, a comfortable deep seat, and a cushioned backrest filled with cotton.
A small pocket on the side can be used to keep stationery, a book, or a newspaper. Its steel frame ensures durability. The chair's plastic footstool cover gives it a stable structure, making it safe for adults and kids alike.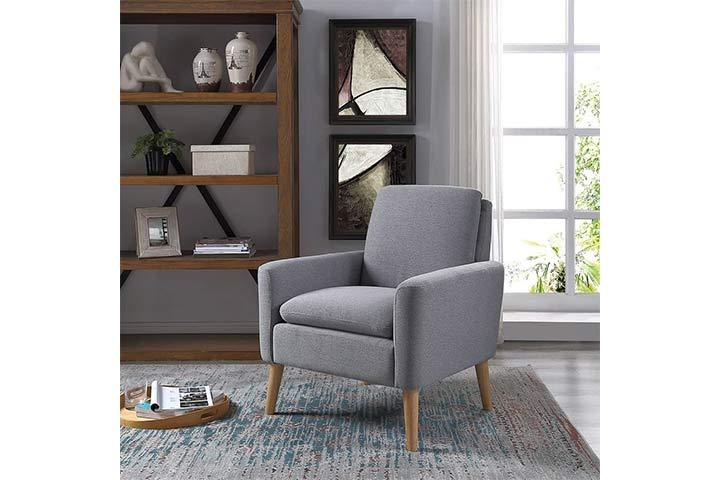 The upholstered armchair is made of a wood frame and is wrapped in fabric that keeps you warm. The use of fabric also makes the chair durable and easy to clean. It matches any decor – living room, bedroom, or office. The seat cushion is made from soft sponge, and its ergonomic back cushion provides comfort and coziness, making it a comfortable reading chair. It is perfect for a fireplace and does not occupy a lot of place in the room. It is also easy to assemble.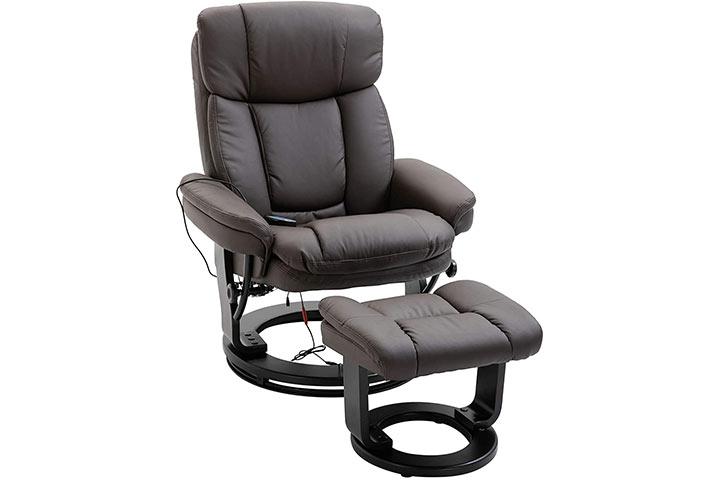 If you would love a massage while reading or relaxing, this chair is an apt pick for you. A massage sofa with ten vibration points on the backrest, seat, and footrest, this is an ergonomic chair focused on relieving muscle tension. It uses heating elements throughout the entire back of the chair, adjusted up to 145 degrees. The faux leather makes it easy to maintain and extends the life of the chair. The rounded metal frame increases the stability of both the chair as well as the footrest.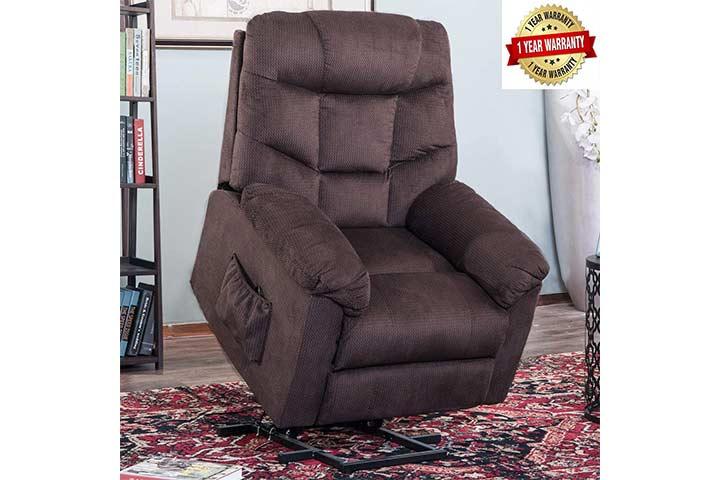 Harper & Bright's unique chair has a power lift feature that makes it easy for seniors and others to get out of it. It is made of environment-friendly timber and fabric with superfine fibers that keep the body warm. The chair's low moisture regain feature ensures longevity and prevents the growth of bacteria. It provides 160° reclining and a footrest allowing you to fully stretch and relax. Adding to the comfort are an overstuffed seat, backrest, armrest, and a thickly padded headrest. You can use the side pocket on the right to store small items.
This recliner chair should not be used by people with specific health issues and a pacemaker. It is advisable to consult your doctor before using the Harper & Bright Designs recliner chair. If you experience pain in a muscle or joints after using the chair for a prolonged period, discontinue using it and consult your doctor.
How To Choose The Right Reading Chair?
A reading chair is where ideas and thoughts can spring while relaxing in it or reading your favorite book. So, it is important to put in sufficient thought into what kind of reading chair you want and how to choose one.
Here, we have a few aspects that one must look at to purchase a comfortable reading chair.
Dimensions: Dimensions play a pivotal role, especially if you are taller or shorter than average height. Proper seat height will ensure back support and comfort while reading. The chair's size could also be a deciding factor if you do not want the chair to occupy a sizeable portion of the room. For instance, an oversized reading chair would make a small room crowded.
Color that blends with the room: Some chairs can be extremely colorful and bright but may not fit in with your décor. The chair can look out of place and ugly if not chosen per the room's color tone.
Pocket-friendliness: Reading chairs range anywhere from $50 to $250 and upwards. Simple chairs such as the foldable ones could be on the lower end of the range, while recliner chairs could be above $150. Accent chairs not only provide sufficient back support but can also be in the middle of the range, making it affordable while adding elegance and comfort.
Maintenance: A comfy reading chair might be easy to find, but it should also be easy to maintain. For example, recliners are best if you would like extra cushion and headrest. However, most of them (especially if made of non-detachable fabric) would be difficult to clean and maintain.
If you travel frequently, you could opt for a comfy reading chair that is foldable and portable while also being lightweight.
Finding a reading chair is not difficult. However, finding the best reading chair requires you to put in the effort of listing down your preferences, going through the features, and identifying one that matches your needs and budget. Choosing a chair that does not meet your needs would end up wasting your money and time. Important considerations such as height, material, budget, placement, and maintenance play an important role in helping you arrive at the best reading chair.
Recommended Articles: