Are you bored with the usual curly, kinky hair? Salon-visits and hair straightening sessions can be tedious, time-consuming, and costly. Hair relaxers are an ideal solution for straightening hair. They are cost-effective solutions to salon-treated keratin therapies and are easier to maintain over a longer time. Relaxers offer permanence along with hair nourishment and health with the least effort. The relaxer kits include a shampoo, color treatment, and conditioner along with the relaxer.
Here is our list of the best relaxers for black hair that you may consider buying to get straight and lustrous locks.
13 Best Relaxers For Black Hair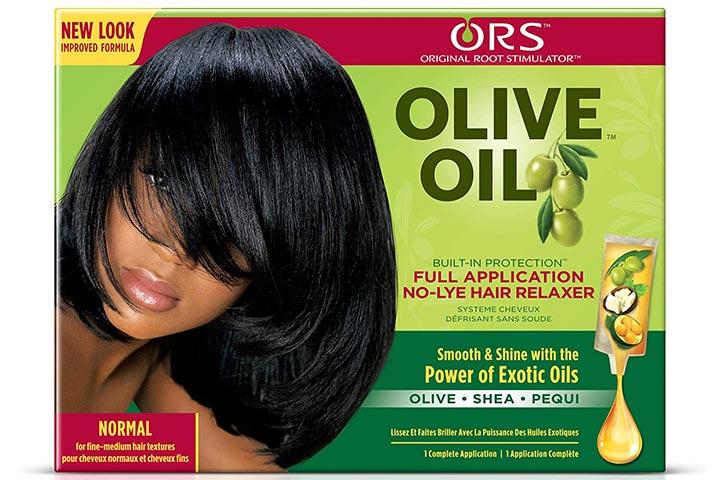 The ORS no-lye hair relaxer protects the hair from damage during the relaxing process. This hair relaxer system is infused with the goodness of olive oil and other exotic oils, including African shea, Mediterranean olive, and Brazilian Pequi oils. The rich formula offers nourishment, hydration, and moisturization to the hair, making it smooth, healthy, silky, and shiny.
Pros
Built-in protection
Leaves hair lustrous
Strengthens hair strands from the roots
Full application treatment
Cons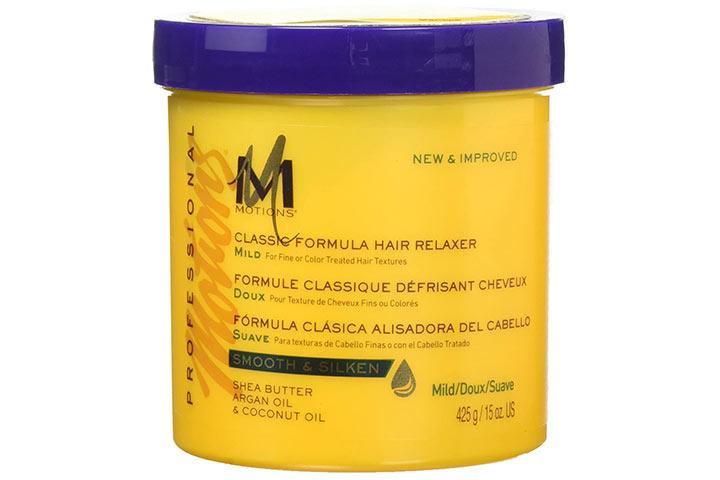 The mild hair relaxer from Motions is formulated from natural humectants. It is enriched with coconut oil that nourishes the hair, restoring its health. Shea butter moisturizes the roots, replenishes dry hair, and strengthens the follicles. Argan oil smoothens the cuticles and protects the hair. The no-base hair relaxer contains cationic conditioners to make the hair soft and glossy.
Pros
No-base formulation
Hydrates and repairs the hair
Prevents breakage
Adds shine
Cons
Hair may look over-processed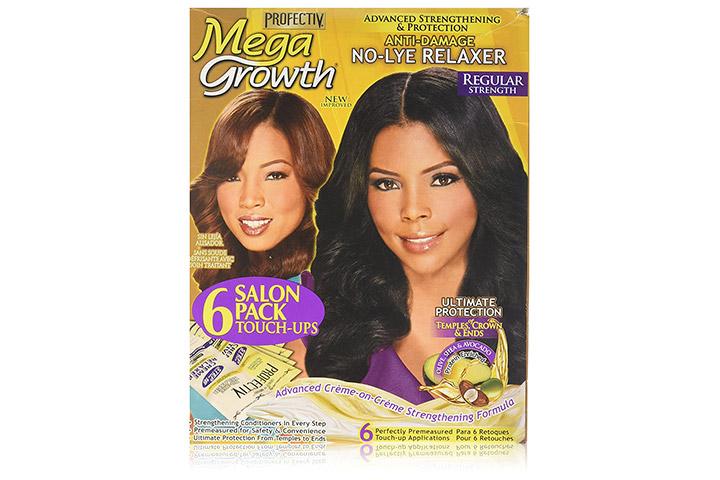 The Profectiv no-lye hair relaxer is a blend of natural wonder oils and conditioning proteins. It protects the hair from dryness and split ends. The relaxer increases strength and elasticity of the hair. It makes the hair silky-smooth, straight, and healthy. The easy-to-use pack contains pre-measured sachets of crème activator, crème relaxer, neutralizing shampoo, and BreakFree leave-in strengthener.
Pros
No mess formula
Prevents hair breakage
Straightens the hair perfectly
Protects hair from damage
Suitable for medium and fine hair
Cons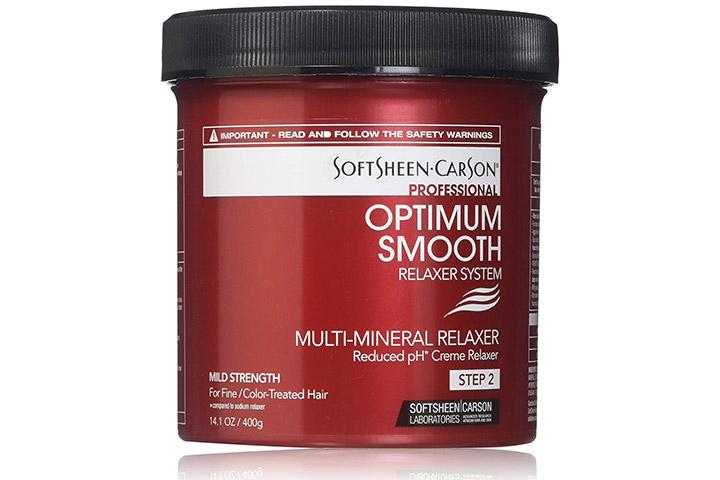 Optimum relaxer is a multi-mineral formula infused with sodium, calcium, and lithium hydroxides. This patented technology adds volume and shine to the hair. It is a pH-balanced product, offering optimal comfort. The relaxer moisturizes the hair, leaving it silky soft, and lustrous.
Pros
 Detangles and straightens the hair naturally
Comfortable
Suitable for color-treated and fine hair
Multi-mineral technology
Cons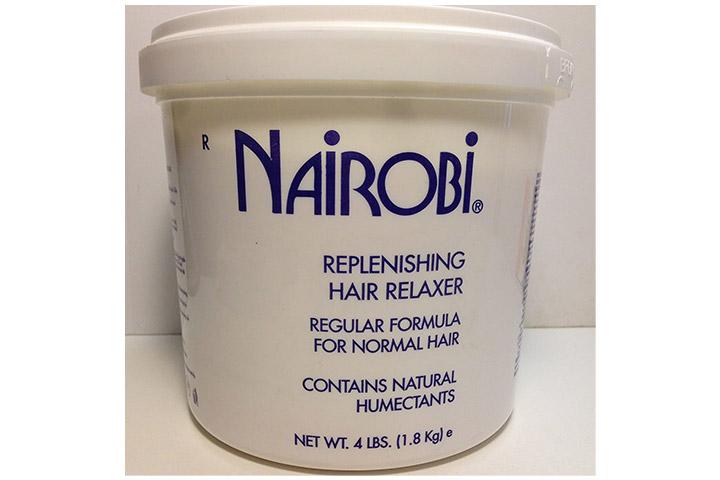 The Nairobi replenishing hair relaxer for normal hair is formulated to replenish moisture, oils, and proteins during relaxing. It contains natural humectants and is ideal for coarse to resistant hair. It leaves the hair feeling naturally healthy, soft, moisturized, and nourished.
Pros
Makes hair soft and bouncy
Gentle on hair
Time-efficient formula
Relaxes evenly and rinses easily
Cons
May cause an itching sensation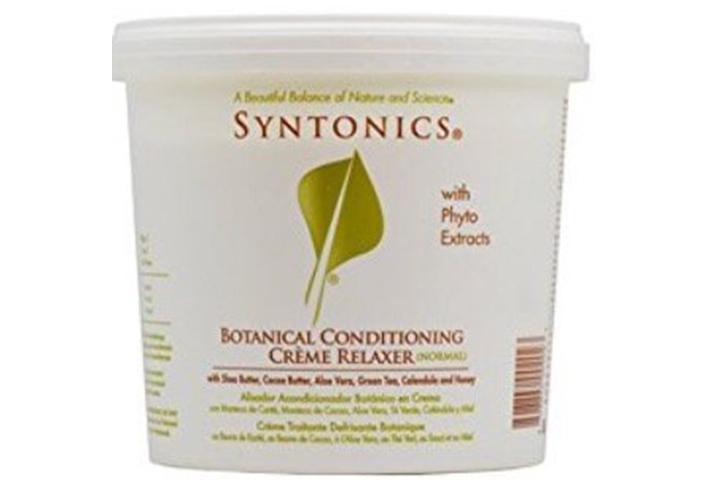 Syntonics relaxer is a conditioning creme made of botanical extracts. It is enriched with aloe vera, green tea, and calendula that reduce irritation and soothe the scalp. The cocoa butter, shea butter, and honey lock in the natural moisture content of the scalp. It makes the hair super soft, smooth, and free-flowing. The scientifically balanced sodium hydroxide formula provides a deep conditioning treatment to the hair.
Pros
Paraben-free
No artificial colors
Contains phyto extracts
Botanical formula
Cons
Container is not leak-proof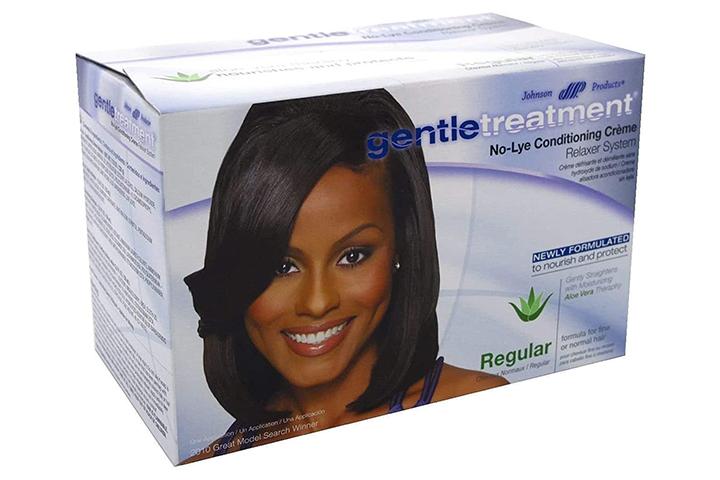 The Conditioning Creme Relaxer System from Johnsons is a regular no-lye formula. It is formulated to nourish the scalp and protect the hair. The relaxer is infused with aloe vera to provide moisturizing therapy to the hair. It gently straightens the hair and relaxes it. It nurtures each strand with superior conditioning and leaves the hair healthy and lustrous.
Pros
Makes hair manageable
Suitable for normal to fine hair
Single application
Hydrating formula
Cons
Chemicals in the relaxer may cause dryness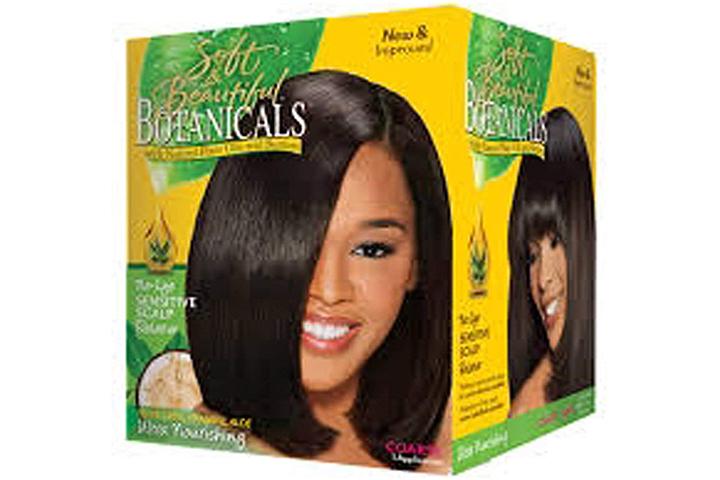 The Soft & Beautiful scalp relaxer is ideal for sensitive scalp. It is formulated from botanical plant extracts that nourish and condition the hair. The no-lye relaxer makes the hair voluminous, giving the body to the hair. Aloe vera provides gentle relaxing along with excellent straightening. This relaxer has a pleasant guava-mango fragrance.
Pros
Provides aromatherapy experience
Perfect mix system
Minimizes irritation
Leaves hair soft and manageable
Cons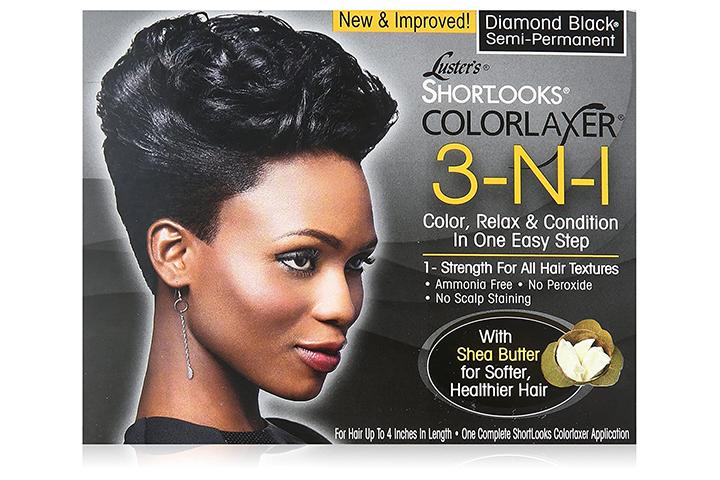 The three-in-one diamond black color relaxer from Luster's Shortlooks gives you hair maximum straightness and strong color. Designed especially for short hair up to four inches, the Colorlaxer colors the hair while relaxing and conditioning it. It takes less than 30 minutes to deposit rich color for full coverage or highlights for existing tones. This cream leaves the hair soft and silky.
Pros
Ammonia-free
Peroxide-free
No scalp-staining
Available in three shades
Suits all hair textures
Cons
Color may not last longer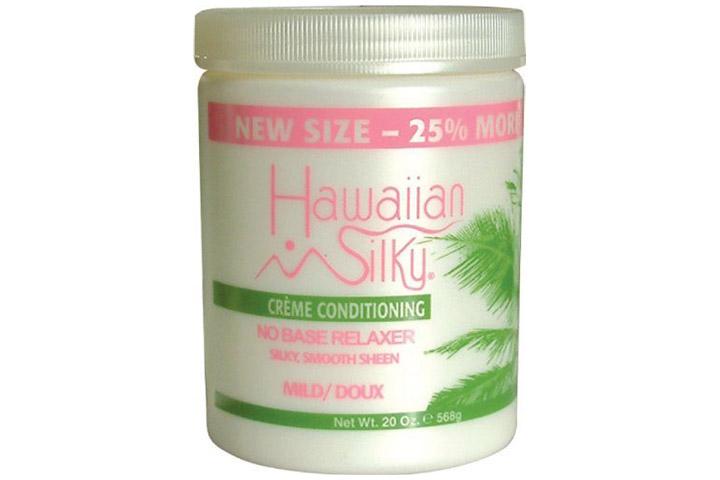 Hawaiian Silky no-base relaxer is a mild formula containing olive oil for stronger hair. Jojoba and mink oils nourish the scalp and protect the hair during relaxing. The protective oils are blended with the relaxer creme that coats the scalp and prevents burning. It uses lithium hydroxide to minimize scalp irritation.
Pros
Nourishes scalp
Suitable for medium to coarse hair
Leaves the hair shiny and soft
No base creme required
Cons
Not suitable for colored hair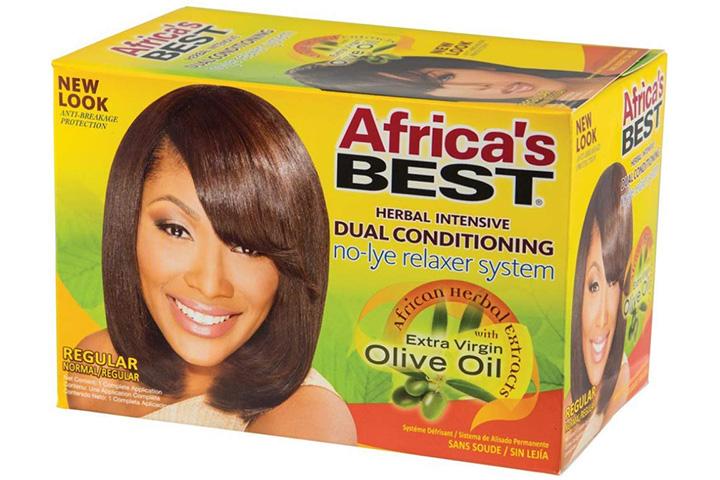 Africa's Best no-lye relaxer kit includes an intense dual conditioning relaxer system that offers superior hair straightening. It is enriched with extra virgin olive oil and African herbal extracts to nourish, condition, and protect the hair during relaxing.
Pros
Makes hair healthy
eaves hair silky and soft
Does not irritate the scalp
Protects from damage during relaxing
Cons
Not suitable for wavy hair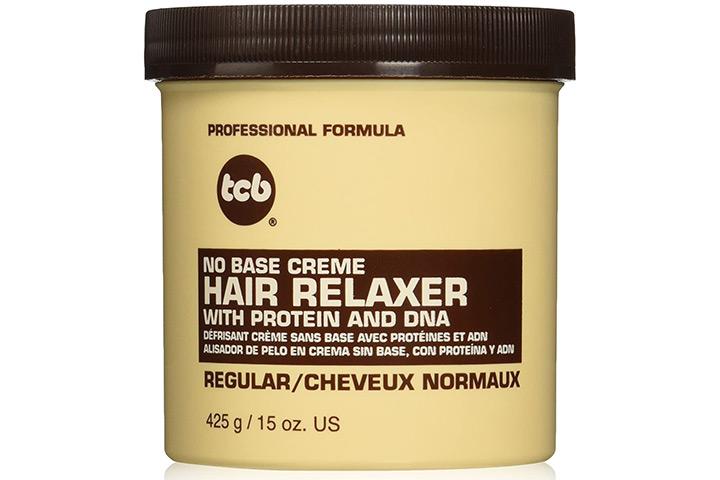 TCB hair relaxer is a no-base creme formula ideal for permed, colored, textured, or relaxed hair. It is a blend of proteins, natural oils, and DNA that help strengthen and protect the hair while relaxing. The proteins offer nourishment to the hair, making it healthy. They provide structural support to the hair and help reduce damage. The formula contains natural mineral oil and petroleum jelly to create a film on kinky hair, lessening irritation.
Pros
Professional formula
Irreversible hair straightening
Makes hair soft and manageable
No-mix formula
Cons
Not suitable for sensitive scalp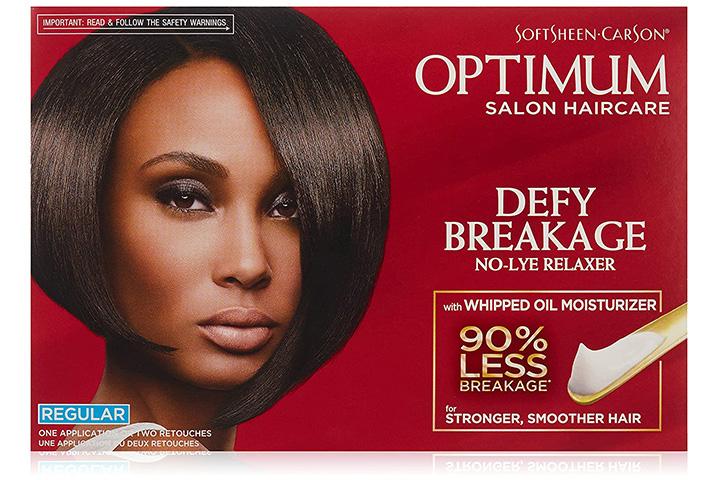 Softsheen-Carson no-lye relaxer provides optimum hair care to minimize breakage for normal hair texture. It is infused with coconut oil and hair strengthening ceramides. The kit replenishes the natural hair moisture, making it healthy and smooth. It includes a protective pre-treatment, a conditioning relaxer cream + activator, a neutralizing shampoo, a reconstructor treatment, a leave-in strengthener and a whipped oil moisturizer. The whole kit is suitable for one application or two retouches.
Pros
Straightens hair
Nurtures over-processed hair
Available in regular and super strength
Patented formula
Cons
How To Choose The Right Hair Relaxer For Black Hair?
Below are some considerations while buying a hair relaxer for black hair.
Hair type: Know your hair type and condition to pick a suitable relaxer. It could be your hair color, types of curls, and if your hair is prone to breakage.
No-lye relaxer: A no-lye relaxer is mild, has low pH, and works well on most sensitive scalps. The relaxer you choose should be able to maintain the pH balance of the hair and scalp.
Kit: A relaxer kit contains a neutralizing shampoo, an activator, and a conditioner. These work in tandem to relax the hair and keep it clean, soft, silky, and healthy.
Natural ingredients: Choose a relaxer infused with essential oils olive, jojoba, and mink oils. Aloe vera also is an essential ingredient to nourish the scalp and hydrate the hair. Natural ingredients work to strengthen the hair roots, minimize damage and allergic reactions.
Frequently Asked Questions
1. Can I make a natural relaxer for black hair?
Yes, you can. Mix one cup honey, and half cup each of olive oil, lemon juice, and caramel. Apply this to the hair thoroughly and wash off after 30 minutes. Repeat the application for the best results. You can also find other tried and tested recipes on the net.
2. How is a relaxer different from keratin treatment?
Relaxers are a permanent treatment to straighten perms and curly hair. They change the structure of the cuticles over time. Keratin treatments gradually wash away. The natural curl of the hair returns over six weeks to a few months.
If you want beautiful straight hair at an affordable range, the relaxer could be your perfect solution. Pick a no-lye relaxer as it is safe and has mild calcium hydroxide. Natural relaxers with botanicals are also great for the hair. We have curated a list of the best relaxers for black hair from the various relaxers available in the market. Choose the right one to get those curls straightened with ease.
Recommended Articles: