Overcooking and under-cooking of rice is a common problem that most of us experience. It could lead to wastage of food and make cleaning difficult when the rice sticks to the vessel. In such a case, a rice cooker that cooks rice at the set temperature and for a set duration can come to your rescue.
A rice cooker uses a heat source, a cooking bowl, and a thermostat to control the cooking process. The source of heat could either be electricity or a stovetop. Whether you cook rice daily or occasionally, a good quality rice cooker is necessary to prepare rice with the perfect texture and softness. It also saves your time as you don't have to keep checking if it is cooking or requires draining the excess water once it is done.
Keep reading this post for a list of best rice cookers and a buying guide.

Top Products From Our List
13 Best Rice Cookers
Aroma's rice cooker is a stainless-steel pot that helps cook brown rice, white rice, and other grains, including barley, quinoa, and bulgur wheat. The cooker comes with a vegetable steamer for easy and light boiling so that nutrients are not lost. It can accommodate two to eight cups of rice, which is ideal for a family of four or five members. The cool-touch handles make it easy to carry and serve.
Pros
Six easy-to-use functions on the panel
15-hour delay timer to pre-plan your meal
Can be used to prepare a fluffy cake
Nonstick inner pot
Gives the right texture and softness in just a few minutes
Measuring cup, spatula, and a user manual included
Programmable digital control
Cuts cooking time by 50%
Easy to clean and use
Removable accessories for easy storing and handling
Cons
Plastic hook that holds the lid may break
The multi-use programmable pressure cooker lets you steam, sauté, warm, and boil food. It also helps you to make yogurt and sterilize items. The rice cooker can accommodate three quarts of rice or grains, which is enough for a small family. It is lightweight at just nine pounds and has 11 safety mechanisms. The rice cooker functions on third-generation microprocessor technology and cuts down kitchen time by70%. It has a blue LCD to show time and other selections.
Pros
Easy-to-use dial for program selection
Cooking progress indicator included
Adjustable temperature settings
Stainless steel pot
Designed for both left and right-handed users
Dishwasher-safe lid, inner pot, and steam rack
Steam release button
14 easy-to-operate smart programs
Cons
Front dial may get stuck at times
The Black+Decker rice cooker is a simple machine with two heat settings. It has a black tempered glass lid for safety, and it can accommodate 16 cups of rice. The cooking base leverages the coil to heat the pot and cook the ingredients perfectly as per the desired texture. It comes with a steaming basket, cooking bowl, glass lid, serving spoon, and a rice measuring cup. Whether you want to cook brown rice, white rice, quinoa, or any other kind of grain, this rice cooker can be a good pick.
Pros
Stops automatically when the moisture gets absorbed
Red and green LED light indicators
Removable nonstick bowl
15 to 20 minutes of cooking time
Steaming basket, measuring cup, and a spoon included
Spoon prevents accidental scratches
Cons
Pre-set cooking options not available
No delay timer
The removable nonstick pot from Dash cooks all grains and vegetables quickly. It keeps the food warm and fresh for a long time. The black compact appliance is useful for daily use and special occasions. It is easy to handle and store and does not occupy much space on the kitchen counter.
Pros
Plastic and metal combination
Portable and travel-friendly
Cool-touch handles
Light in weight
Easy to use and clean
Mixing paddle and a measuring cup included
Recipe book and a user manual included
Cons
Not suitable for large families
The Zojirushi rice cooker with a one-liter capacity is sufficient for medium families. It has multiple setting options for steaming and cooking white rice and brown rice. The cooker has a removable inner for easy cleaning and a retractable power cord for convenient storage. It comes with a separate steam basket for easy steaming vegetables and a nonstick cooking pan for cooking other stuff.
Pros
Micro-computer fuzzy logic technology for intelligent cooking
Automatic warm, reheat, and extended warm settings
Interchangeable melody and beep signal
Menu settings for white rice, brown rice, steaming, and cake set
Easy-to-clean stainless steel exterior and nonstick cooking pan
Cons
Heat distribution may not be even
May take longer cooking time
Prepare a complete meal with the Hamilton Beach rice cooker that comes with an integrated basket for steaming vegetables. It has a cooking capacity of eight cups, ideal for a family for two or three people. The accessories include a measuring cup for ratio and a paddle for easy serving.
Pros
Four pre-programmed settings
Rinse and steam basket for vegetables and rice
Countdown timer included
Warm function to keep food warm
Ideal for one-pot meals
Cons
Rice could become hard when kept on warm
Brown rice and whole grains may take longer to cook
The simple and easy-to-use rice cooker with single switch control from Zojirushi is suitable to cook grains and vegetables. It has a nonstick cooking pan for easy cleaning and heat-resistant handles for portability. With a see-through glass lid and heat-resistant knob, the rice cooker is easy to use and maintain. 
Pros
Easy to use
Heat-resistant handles and knob
Durable cooking pan
Lightweight and durable
Cons
Warm mode is not available
May cause spattering for some varieties of rice
Imusa's rice cooker is a simple vessel that comes with a smart pot and a glass top. It has two LED options, warm and cook, to know the status of cooking. There's a small button at the bottom of the LEDs to reset the cooking option. The appliance comes along with the measuring cup and a spoon for ease.
Pros
Accommodates three to six cups
Automatically switches to warm mode
Tempered glass top for extra strength
Easy to clean and store
Useful for cooking and serving
Energy-efficient
Cons
May not be suitable for large families
Useful to cook grains and cereals, the Proctor's rice cooker can hold up to eight cups of rice. It helps you with day-to-day cooking for a large family by reducing the cooking time and energy. The dishwasher-friendly rice cooker's body is a combination of aluminum and plastic and is safe to use. The cooking pot is useful to prepare versatile items, including seafood, poultry, and vegetables.
Pros
Steam basket, lid, and measuring cup included
Automatically switches to warm mode
Nonstick coating cooking pot
Adjusts the extra amount of water
Cons
Could splatter water from the top
If you are looking for a unique rice cooker, Cuisinart's appliance could be the right choice. It comes in a shiny silver color and has a glass lid on the top. The cooker has holders on the sides for a comfortable grip. The appliance can accommodate four cups of cereals and grains. It comes with a measuring cup and serving spoon.
Pros
Switches to warm mode automatically
Corrosion-resistant stainless steel
Steaming basket included
Easy-to-clean built-in tray
Chrome-plated cool-touch handles
Steam vent on the top helps
Doesn't spill the ingredients
Cons
Teflon coating requires maintenance
Tiger's rice cooker has a one-push operation and a unique look. It can be used for cooking rice and steaming vegetables at the same time. The appliance can hold 5.5 cups of rice and has four cooking menu settings for added convenience. The removable inner pan is suitable for cleaning and serving, and it comes with a nonstick spatula, cooking plate, and a measuring cup.
Pros
Synchronized cooking functions
BPA-free cooking plate
Automatic warm mode
Detachable inner steam cap
Keeps the flavor and texture of rice perfect
Cons
Doesn't have a timer
Teflon coating requires maintenance
The Tiger rice cooker has an elegant design with a warm and floral pattern. It is suitable for a large family as it can accommodate ten cups of rice or other cereals. The locking system of the cooker is perfectly safe and reliable. It has a removable and washable steam vent for perfect and fresh cooking. A simple and easy appliance has a nonstick inner pan and can save your time and energy.
Pros
Retractable power cord
Measuring cup and spatula included
Cooks quickly
Keeps the item warm up to 12 hours after cooking
Auto-warm mode available
Vacuum installation technology
Two LED lights for indication
Cons
13. Elite Gourmet Electric Rice Cooker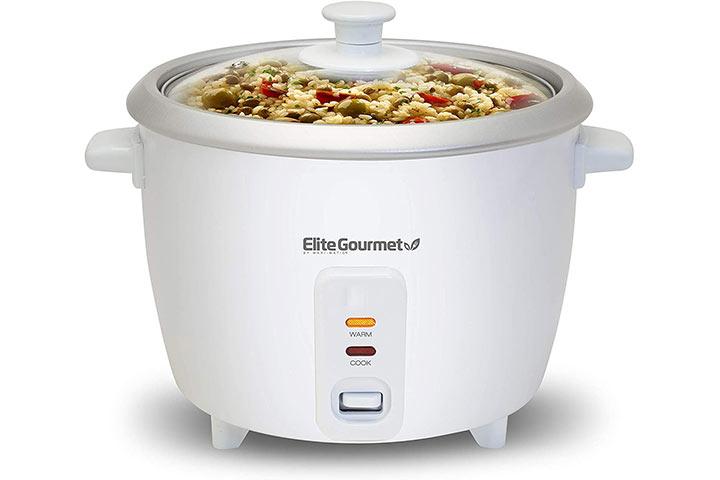 The electric rice cooker from Elites Gourmet saves energy and time by cooking any type of rice quickly. It can be used to cook different items, including white rice, brown rice, and millets. It has a transparent lid on the top and a simple two-step cooking indicator, cook and warm. You also get a steamer attachment with the cooker for the dual functionality of the appliance.
Pros
Can cook six cups of rice
Removable aluminum cooking pot
Keeps the food fresh for a long time
Measuring cup and spatula included
Suitable for rice, soups, stews, oatmeal, and porridge
Tempered glass top
Cons
Doesn't have a programmable timer
How To Choose The Right Rice Cooker?
Here are a few factors to keep in mind when selecting a rice cooker.
Quantity: Decide on the amount of food you would need daily based on the number of family members. If yours is a small family and you don't cook rice often, a medium-sized cooker would be ideal. On the other hand, if your family has eight to ten members, go for a big cooker.
Energy efficiency: Rice cookers work on electricity, and so these appliances need to be energy-efficient. Look at the energy rating they have before choosing one.
Versatile: An ideal rice cooker allows you to cook multiple items, including varieties of rice grains, cereals, seafood, soups, and poultry. Also, look fora multi-functionality feature to make cooking easy and quick.
Nonstick cooking pot: The cooking pot should have a good quality nonstick coating as it makes cleaning and maintenance easy and hassle-free.
Others: Look for a few accessories, including a steam basket, spatula, and a measuring cup. And see that they are dishwasher-safe for easy cleaning. Some add-on features you can look for are the size, shape, and weight of the rice cooker for portability and storage.
Rice cookers are versatile appliances that add value in terms of ease, feasibility, and convenience. In just a few minutes, the appliance cooks fresh, healthy, and perfect food automatically. Compare the pros and cons of different products and pick the best one as per your requirements.