If you have a large property to maintain, our list of the best riding lawn mowers can come in handy. Unlike regular lawn mowers that are difficult to use, riding lawn mowers can get the work done swiftly and efficiently. It looks like a compact tractor with a cutting deck attached under the mower. They are also larger than regular mowers and can easily cut grass measuring 70 cm to 100cm. You can use them for smaller lawns.
Finding a suitable one can be complex, with multiple riding lawn mowers available. So, explore our list and features to make an informed decision.
 9 Best Riding Lawn Mowers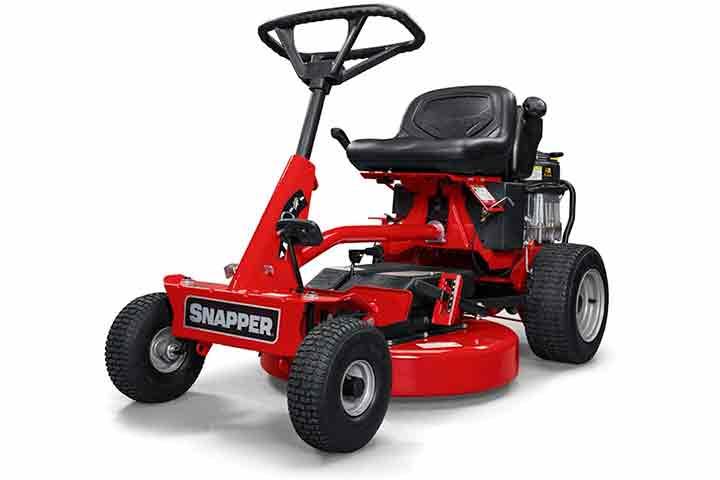 The Snapper 2911525BVE mower is equipped with an 11.5hp Briggs and Stratton power built four-cycle OHV engine. This iconic riding lawn mower is ideal for all lawn sizes. It has easy-to-reach controls at the comfort of your seat. The convenient five-speed shift control on-the-go drive system and the vertical stand-on-edge features make this mower simple to maintain.
Pros
Perfectly sized to move in between trees
Easy to change the blade
Greased fittings
Chops up remaining clippings very fine
Easy to store
Cons
Reverse shifting can be hard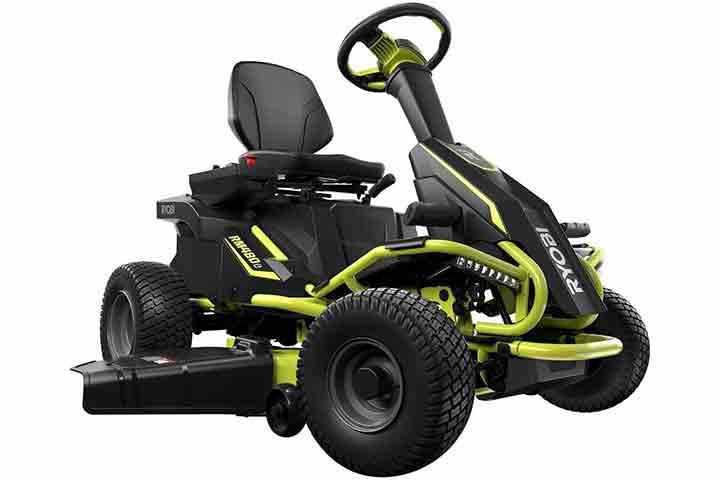 The 38-inch Ryobi mower runs on a 100Ah battery. It features a brushless motor for optimal performance and superior power. The fully charged battery gives up to 2.5 hours runtime and covers up to 2.5 acres. It supports standard 120V outlets and is compatible with a USB phone charger. The 12-position manual adjustable feature and cruise control allow you to conveniently cut your lawn evenly.
Pros
Powerful and convenient LED headlights
Low maintenance and easy to use
Prompt customer service
Quiet operation
Cons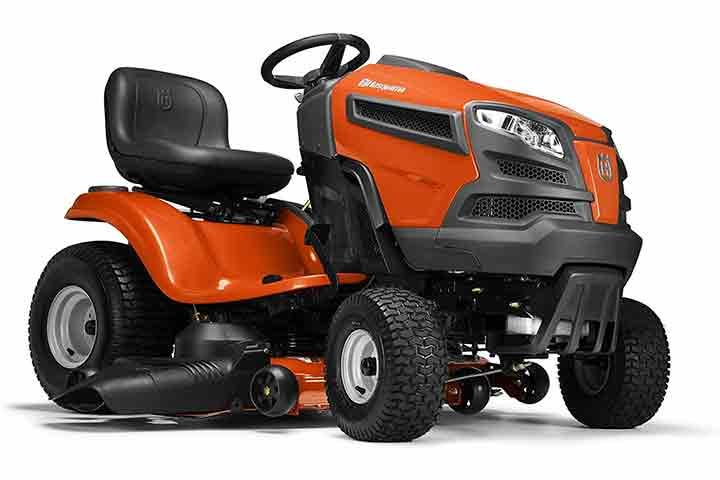 Husqvarna lawn mower is equipped with an 18.5hp Briggs and Stratton Intek engine. Its foot pedal-operated hydrostatic transmission allows you to change direction and speed. This lets you keep both your hands on the steering wheel for optimum driving control. The tight 16-inch radius blades help move in tighter spaces, and the 13-inch adjustable mid-back seat lets you ride in comfort.
Pros
Durable
Well-built and easy to manage
Reverse operating system
Dual anti-scalp wheels
Cons
No warranty for the blades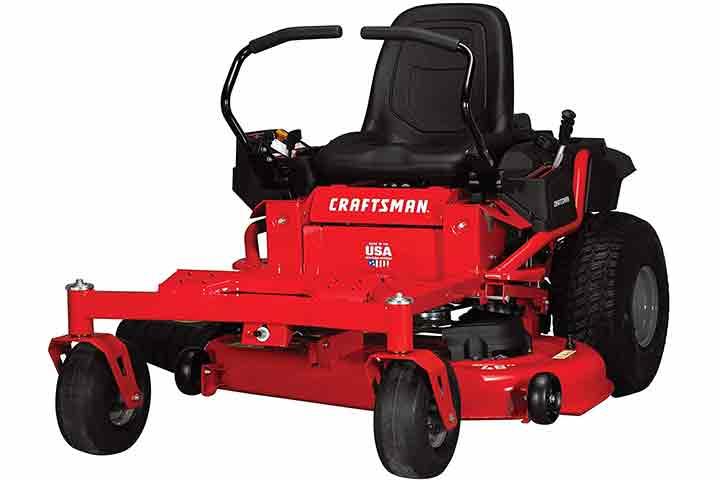 Powered with a 679cc twin-engine, Craftsman is ideal for larger spaces. The 46-inch-wide deck cuts and trims grass in one-quick sweep. It features deck wash that saves time when underside cleaning. The mow-in-reverse function allows you to quickly move in reverse without the need for pausing your machine. It features a 360° instant turning radius and a supportive high-back seat.
Pros
EZT hydro-gear drive system with easy-to-operate dual levers
Adjustable blades
Easy-to-install seat
Optimum comfort
Two-year warranty
Cons
Instructions are not easy to understand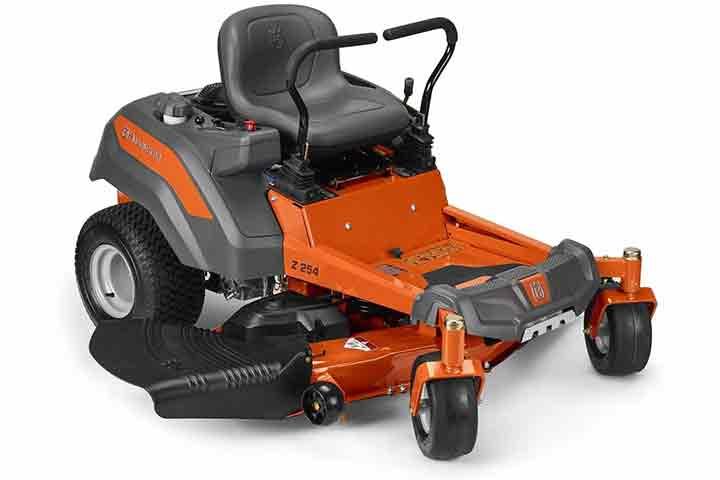 The zero-turn riding mower is equipped with a 26hp Kohler engine that reaches a maximum speed of 6.5 MPH. The patent-pending brake system automatically activates and deactivates in contrast to the steering levers. The air induction feature draws air from the top and bottom, delivering an even cut.
Pros
Super powerful and easy to use
Easy to assemble
Keeps the rpm constant
Trims the lawn in a jiffy
Durable reinforced steel built
Cons
The deck may crack due to excessive vibration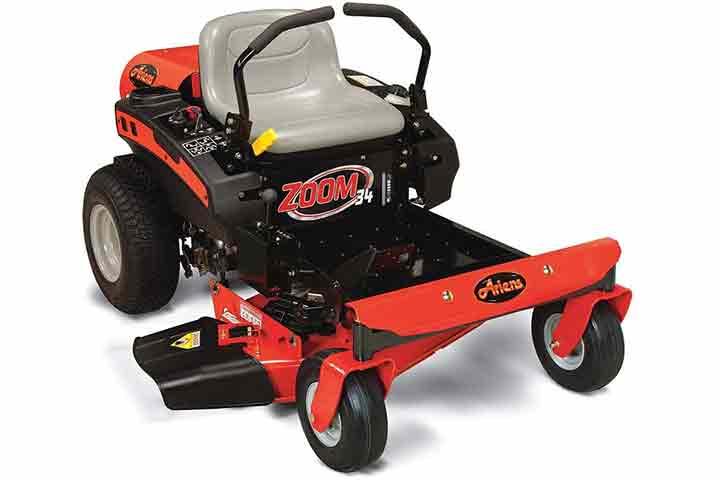 Ariens lawn mower is equipped with a 34-inch stamped deck made of a heavy-duty 12-inch steel guard. It is powered by a 660cc professional-grade Kohler 660V twin engine. The four-point deck hanging system makes it easy to get the work done. It features a foot-operated deck lift and a back-padded seat.
Pros
Powerful and well-built
Heavily made and does the work done quickly
Comfortable to ride-on
Cons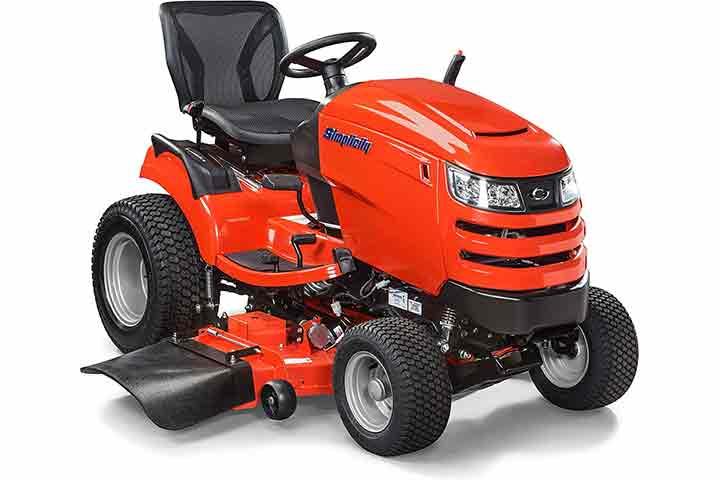 The Simplicity Conquest Mower is equipped with a 25hp Briggs and Stratton Commercial series V-twin engine. It is extremely powerful and has a gross horsepower of 3600 RPM. This 55-inch beast mower is made of ten-inch gauge steel with reinforced skirts, top, and edges. It features a push-to-start button and a complete instrument panel with a fuel gauge. The electronic fuel management gives you an automotive-style start, while the cyclonic technology forces debris away. The LED light and dual rear suspension give you the utmost comfort.
Pros
Rear rollers provide a smooth finish
25% less impact felt than a standard tractor
Free-floating deck gives a contoured cut
Engineered to be compatible with a full line of attachments
Cons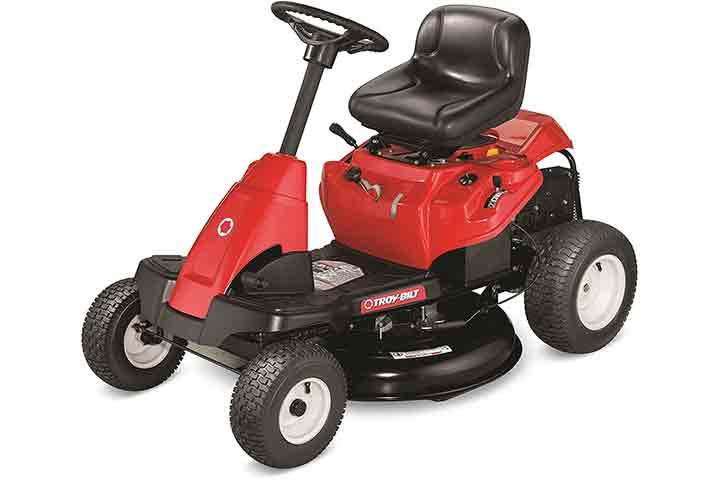 The 382cc Troy-Bilt riding lawn mower is powered with an auto-choke OHV engine and a six-speed transmission that reach up to 4.25 MPH. Its 30-inch deck feature has five adjustable settings. The 13x5in front wheel and the 16×6.5in rear wheels turn in an 18-inch turning radius. It also features a manual power take-off for smooth blade engagement.
Pros
Comfortable mid-back seat
Compact and easy to store
Wheels are durable and built to last
Includes warranty against damage
Minimum maintenance
Cons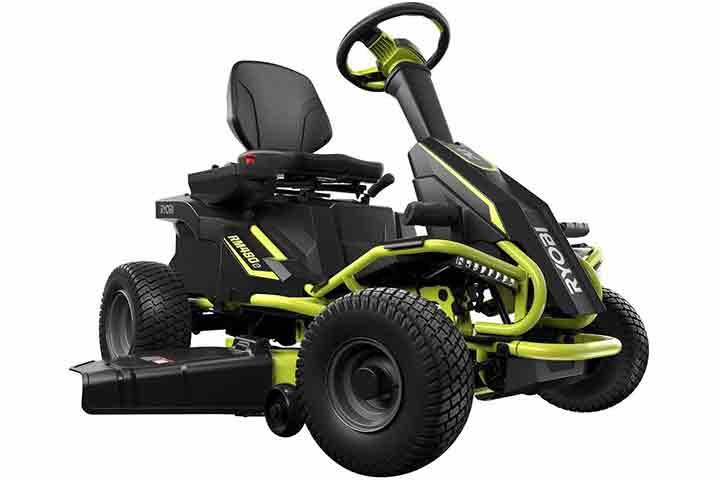 The 38-inch riding lawn mower by Ryobi is equipped with a 100Ah battery. It features three brushless motors for optimal performance and superior power. The fully charged battery gives up to two runtime hours or covers up to two acres. It supports standard 120V outlets and is compatible with a USB phone charger. The 12-position manual adjustable feature and cruise allows you to cut your lawn at a uniform level conveniently.
Pros
Battery lasts up to ten hours on standby
Fast and speeds up to 8mph
Blades are easy to replace
Quiet operation
LED headlights
Cons
No suspension on uneven grass
How To Choose The Right Riding Lawn Mower?
Here are a few things to keep in mind while buying a riding lawn mower.
Landscape: Choose a riding mower that matches the slope and size of your property. In case your yard looks like an agility training course, opt for a zero-turn mower ideal for mowing lawns with irregular shapes.
Hour-meter: The hour-meter indicates how long your mower has run from the last maintenance or oil change. It makes sure you keep your mower intact and serviced. Some recent models are equipped with a smartphone app that allows you to link your mower and keep track of the parts.
Fuel checking meter: Choose a riding lawn mower that indicates the fuel level, so the mower doesn't stop in the middle. It would be much preferable if you can see the levels from your seat.
Sound: You can choose from several low-sound riding mowers, including the Ryobi lawn mowers.
Engine type: Choose between fuel-operated and electric-operated lawn mowers according to your convenience. If you regularly trim your lawn or have a larger space, a battery-operated lawn mower is convenient.
Cup holder and high-back seat: Comfortability is necessary to mow your lawn with ease. Choose a supportive seat for you to sit comfortably and a cup holder to save you from the hot, sweaty days.
Mulching options: Most models have mulching options that make sure the clippings are held in properly and chops finely before blowing them back to the yard.
Cruise control: Just like a car, cruise control allows you to lock in a ground speed with your lawn mower for a uniform finish.
Riding lawn mowers have higher fuel capacity and are easy to handle. The engines are powerful, allowing you to cut grass of all sizes. Choose the right riding lawn mower from our list that suits your needs and trims your lawn with ease.
Why Trust MomJunction?
Our team of skilled writers and editors have compiled this list of the best riding lawn mowers to help keep your garden in shape. After carrying out meticulous research and sifting through multiple products and user reviews, we have handpicked the best lawn mowers that are efficient and durable. Besides the detailed descriptions of each product along with its pros and cons, the article comes complete with a helpful buying guide to help you get your hands on a product that meets your needs.
Recommended Articles: 
The following two tabs change content below.

Wedetso Chirhah
Wedetso Chirhah holds a masters degree in English Literature. He had written content for more than 15 B2B websites and edited school books before joining MomJunction as an editor. Wedetso ensures the articles meet the highest editorial standards. He enjoys making content understandable and relatable to readers, and he is a big fan of the versatile em dash. He also...
more