The one thing you wouldn't want to find inside your kitchen and other parts of the house is a roach. The best roach killer can let you eliminate these insects and get your home in order.
Cockroaches are filthy insects that multiply fast and infest every part of the house. Before you know, their numbers increase, leaving everything dirty. In this post, we have listed some tried-and-tested roach killers. Choose one to keep your house free of these pests.
15 Best Roach Killers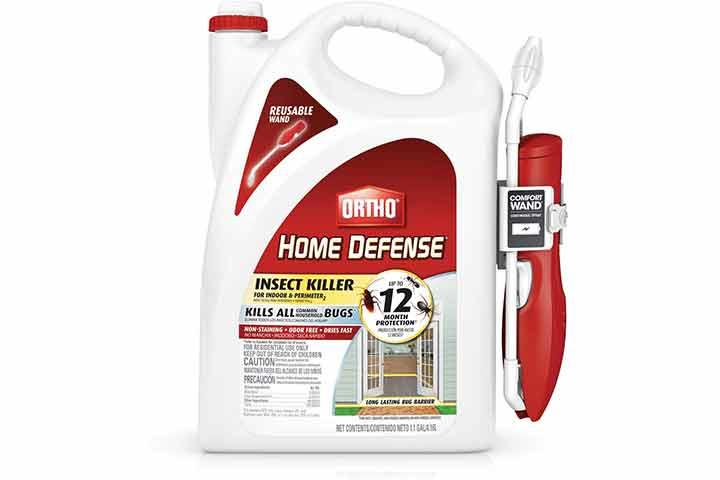 The Ortho home defense insect killer kills ants, roaches, spiders, and many other insects. This long-lasting bug barrier comes with a comfort wand that makes pumping easy and fatigue-free.  The product lasts for up to 12 months and is completely odor-free. If you need more convincing, feel free to take a look at this YouTuber's video on the merits and demerits of the product.
Pros
Reusable wand
Non-staining formula
Dries out quickly
Perfect for indoors and outdoors
Gives one-touch continuous spray
Cons
Can create noise while spraying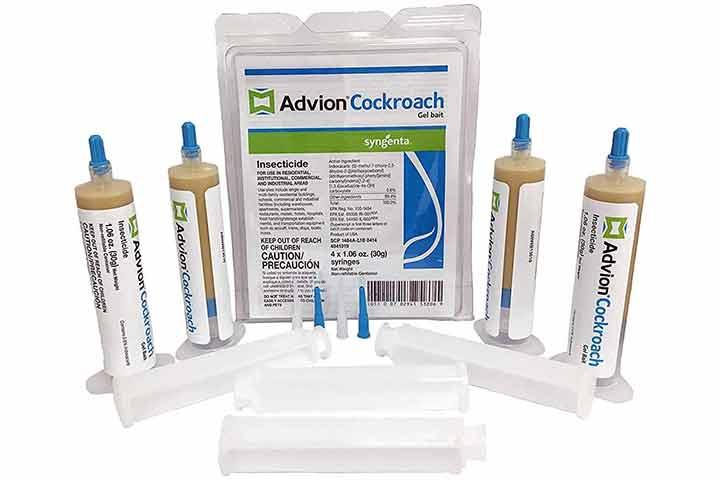 Advion cockroach gel bait is long-lasting and is available in a set of four tubes and four plungers. This gel-based formula is perfect for killing insects and is safe for use in sensitive outdoor and indoor areas. The product contains 0.6 % of indoxacarb, suitable for eradicating insects and pests. If you want a detailed review of the product, make sure to take a look at this video.
Pros
Non- repellant
Easy to use
Safe for sensitive application
Easy to use
Cons
Gel hardens if you leave it for a long time
The home pest spray from Max Magma is an organic pest control formula safe to use all-around your home. It has a pleasant fragrance that lasts for longer. This spray formula is risk-free and lasts for up to 60 days.
Pros
Made from natural ingredients
Non-toxic formula
Completely safe for your family and pets
Terminates pests effectively
Creates a rapid and long-lasting effect
Cons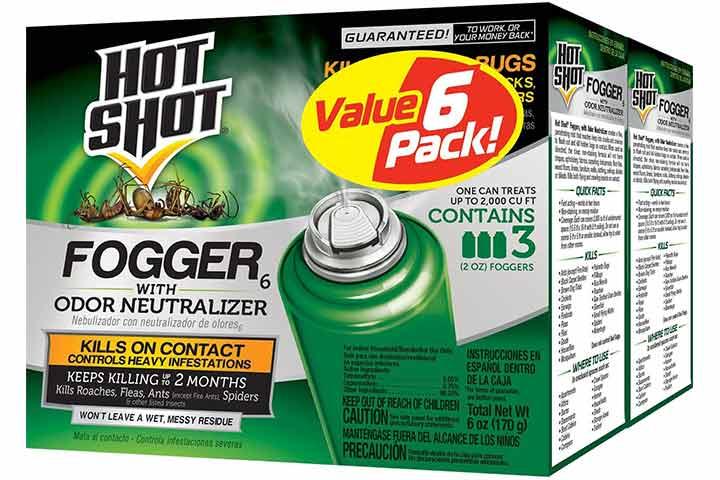 This pest control formula with odor neutralizer can kill heavy infestation for up to two months. It creates a fine mist that penetrates deep inside the crack, holes, and crevices where most insects can hide. This non-staining formula does not leave any wet or messy residue. You can also check this YouTuber's detailed review to know more about the results after using this product.
Pros
Neutralizes odors
Kills hidden bugs
Covers 2,000cu.ft.
Controls heavy infestations
Effective up to two months
Cons
Fog might clog if not used properly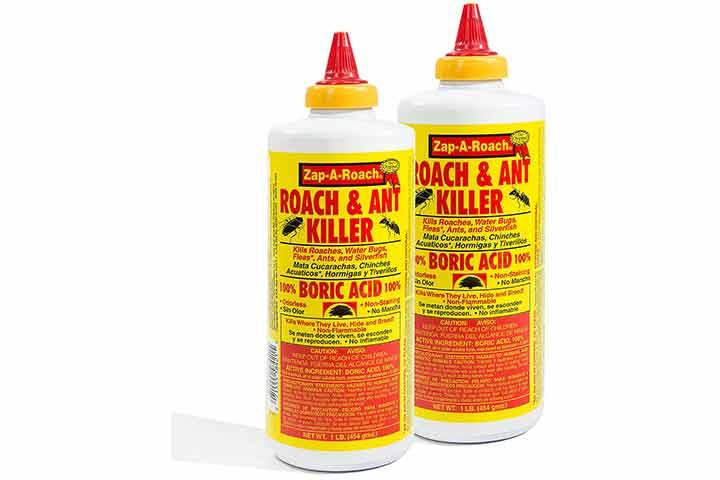 Zap-A-Roach cockroach and ant killer is made from 100% boric acid and is specially designed to eliminate adamant pests. It has a non-staining compound perfect to use on any fabric or surface.
Pros
Safe to use
Toxic to bugs
Protect your home
Kills bugs promptly
Easy to apply and non-toxic
Cons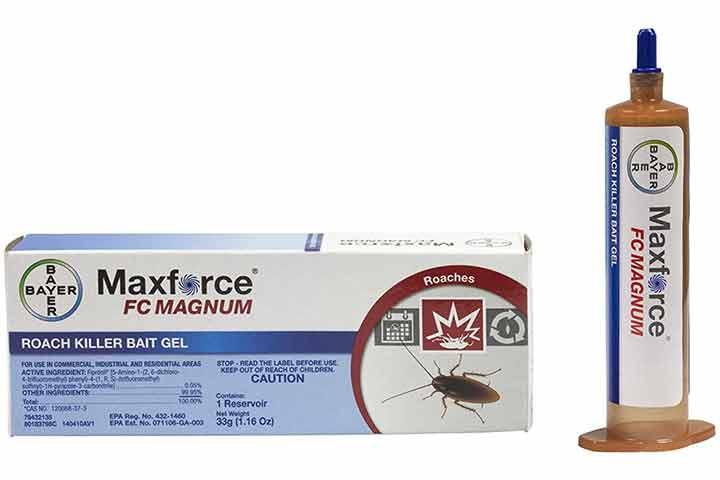 FC magnum is the newest and fastest-acting roach bait created by Maxforce. The roaches get attracted to its irresistible formulation and die through direct contact or ingestion. The product is perfect for indoors, outdoors, commercial, and residential areas.
Pros
Pet-safe
Most powerful roach bait
Easy to use
Can last up to two years
Gel formula is easy to apply
Cons
May not work in dusty areas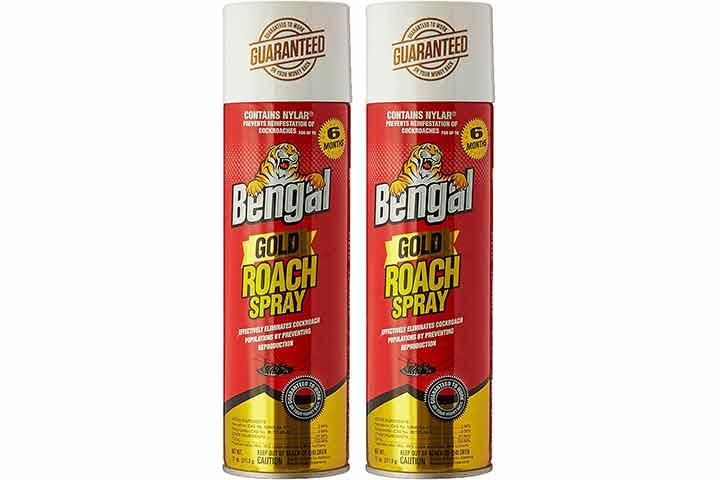 Bengal roach spray is a permethrin-based product that effectively eliminates cockroaches. Its unique dry spray penetrates the deep cracks and crevices and prevents the reproduction of cockroaches and insects.
Pros
Contains Nylar
No odor or mess
Easy to use
Destroys the eggs and larvae of roaches
Prevents reinfestation for up to six months
Cons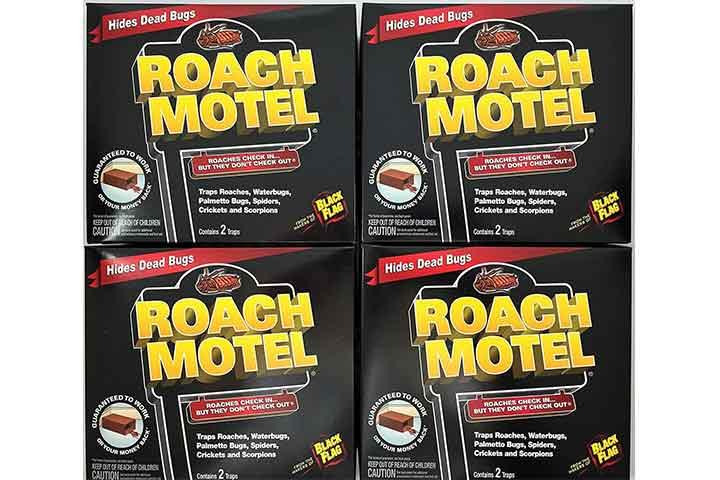 The Black Flag roach motel traps cockroaches, water insects, worms, scorpions, and many more. This pest control works effectively for up to four months.  This is safe to use and keeps dead insects hidden from view.
Pros
Mess-free
Safe for pets and kids
Provides a long-term result
Cons
Traps can turn out greasy over a period
Terro roach killer contains protein-based bait that attracts and kills cockroaches. These adhesive strips can be placed or attached anywhere in the house. It features a see-through window to monitor bait levels.
Pros
Easy to use and store
Uniquely designed
Consists of six roach bait stations
Adhesive strips keep the bait in place
Cons
Might take a longer time to show results
The gel-based formula comes with a syringe applicator ideal to cover up ultra-tiny gaps. It is useful in killing different insects, including ants, roaches, and spiders. The gel is mess-free and is completely safe for children and pets.
Pros
Easy to apply
Suitable for outdoor and indoor use
Can be applied to your electrical appliances
Single dab of gel is enough
Works instantly
Cons
Gel might get too hard if kept for a long time
The quick kill foam from Combat uses a micro-foam technology that expands into crevices and cracks where most insects hide. This foam formula lasts for up to ten months when used on the non-porous surface.
Pros
Foam dries up quickly
Long-lasting effect
Easily expands into hard-to-reach places
Kills roaches by contact
Cons
Might not be suitable for outdoor areas
Wondercide pest control spray is a plant-based product comprising natural essential oils with no artificial color or fragrance. It is completely biodegradable and cruelty-free. They are available in four aromatherapeutic fragrances. The formula can be sprayed under toilets, drawers, closets, kitchens, washing rooms, holes and cracks.
Pros
Creates no stain
One application of spray is enough
Safe for kids and pets
Contains no harsh chemicals
Covers up the tiny cracks.
Cons
Might not provide a long-lasting effect
Natural Armour pest control consists of concentrated peppermint, clove, and vinegar that effectively kills the roaches and other insects. The pest killer comes with a heavy-duty trigger sprayer that guarantees no-clog spray. The product is cruelty-free and completely safe for kids, pets, and the environment.
Pros
Repels fast for up to 12 months
Easy to use
Money-back guarantee
Made from natural ingredients
Safe for pets and children
Cons
Might cause staining; hence, do not use it on fabrics
Ecosmart ant and roach killer is a plant-based product consisting of natural essential oils with no artificial color. It is safe for kids, pets, and cruelty-free. It can be used in your surroundings and outside the boundaries of your residence. The chemical kills ants, spiders, bed bugs, dirt mites, roaches, and more.
Pros
Safe for outdoor and indoor
Kills the bugs instantly
Can enter the hard-to-reach tiny cracks
Eco-friendly product
Cons
Fragrance might cause irritation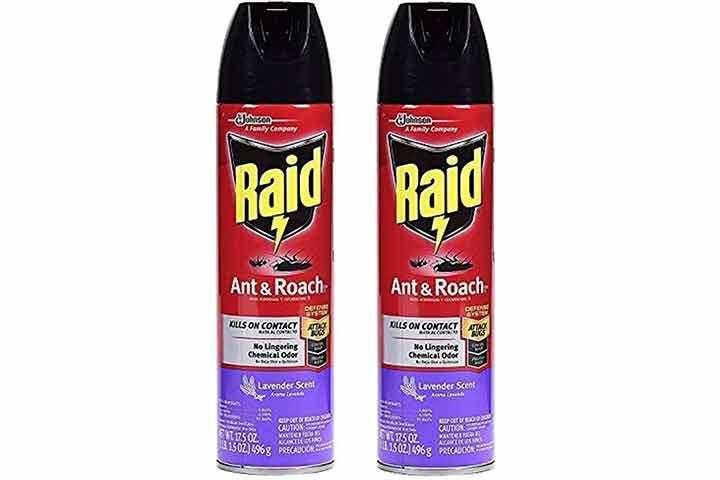 The lavender scent killer spray is specially designed for terminating roaches, and it provides a long-lasting effect for up to four weeks. It does not leave any wet residual toxic scent. The chemical is made from natural ingredients and is extremely safe for pets and children. You can use it indoors and outdoors.
Pros
Easy to apply
Accessible to hard-to-reach places
Single press of spray would be enough
Leaves no lingering chemical odor
Cons
You have to be cautious in case you have kids or pets
How To Choose The Right Roach Killer?
Type: Based on the amount of roach infestation, choose from these three types of roach killers.
Surface sprays: They provide long-term control and can be applied on crevices, dustbins, shelves, etc. Surface sprays attack the roach's nerve function with synthetic pyrethroids, causing paralysis and death.
Traps and baits: Traps and baits provide a longer roach control and are effective when used along with a surface spray. They contain indoxacarb that enters into the insects' nervous system and blocks sodium channels, causing dehydration and death.
Knock-down sprays: Knock-down sprays contain similar key active ingredients but help target a single cockroach at a time and eliminate them instantly.
Level of toxicity: Check the product label to find the toxic level of the product. If "caution" is mentioned, they are moderately poisonous. In case "poison or dangerously poison" is mentioned, please stay away, cause even a small accident will be fatal. Several kids- and pet-friendly roach killers, such as glue papers, one-way doors, and ultrasonic repellents are less effective and safer than regular roach killing products.
Length of efficacy: The length of efficacy defines how long the roach killer's intensity will work before it requires a replacement. It depends on how much product you apply and how fast the active ingredients break down. Mostly, roach killers will have an efficacy period of one month to two years. Choose the product depending on large or minimal infestation.
Precautions To Take While Using Roach Killers
Vacate the treated area after applying the roach control pesticides.
Keep foggers away from fire or any ignition sites.
Do not overuse foggers or spray.
Read the warning instructions carefully before using the pesticides.
Place the pesticides away from the reach of children and pets.
Cockroaches have high survival tolerance and getting rid of them isn't easy. Roach killers have been proven effective and help in eliminating the pesky roaches. Go ahead and choose the best roach killer, so you no longer have to share your house with the creepy crawlies.
Why Trust MomJunction?
We have sought out the best roach killers in the market by conducting extensive research on multiple related online forums. These sprays will save your precious lawns and beautiful interiors from being damaged by these harmful insects. We have also listed the pros and cons of each product and the features to look out for to help you easily make the right choice.
Recommended Articles: