At any house that is ruled by pets or kids (in some cases, both), it is nearly an impossible task to keep them from making a mess. To top it off, it becomes an equally daunting task to clean up that mess which can get annoying really soon. The best way to avoid any manual cleaning work is to own the best robotic vacuum cleaner. A few years ago, robotic vacuum cleaners were considered a tech from the future, but now more and more people are getting accustomed to this technology. Robotic vacuums are pretty easy to use and they do not require much manual intervention either.
Since these things can be expensive depending on the features or the brand, you need to be sure and well-informed to buy the right one. In this article we will help you with a list of the 13 best robotic vacuum cleaners that you can choose from.
13 Best Robotic Vacuum Cleaners In 2021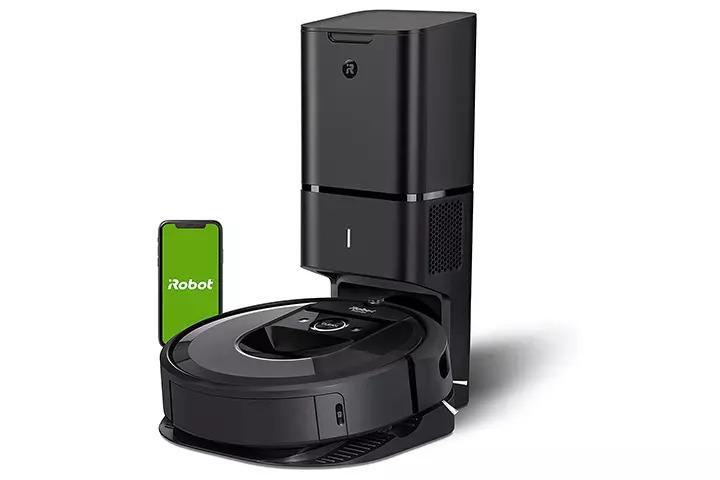 Is the mess too much from last night's party? With the help from iRobot Roomba i7, you don't need to worry about cleaning the floor anymore. It uses power-lifting suction and dual multi-surface rubber brushes that pull in all kinds of dirt and debris. It has a vSLAM navigation feature that maps the entire floor to clean every corner of the house. The system learns from its cleaning habits to offer customized cleaning sessions. It also suggests extra cleaning schedules depending on the pollen count present in the room.
Pros
You can set a schedule for regular cleaning using the mobile app.
The voice-controlling function is compatible with Google and Alexa voice assistant devices.
With the help of the Clean Base Automatic Dirt Disposal, the vacuum can empty itself for up to 60 days.
It features Smart Charge and Resume function that allows the vacuum to intelligently charge the exact amount of battery to complete the remaining area.
Owing to its Smart Mapping feature, you can choose to clean either one-specific room or the entire floor.
You can customize the maps to keep them away from certain areas.
With the help of its Imprint Link Technology, you can team it up with Braava Jet M6 Robot Mop (sold separately) to vacuum and mop automatically.
The auto-adjust cleaning head changes the height of the brush to adapt to the type of floor it is currently cleaning on.
The Dirt Detect™ Technology concentrates on areas that require additional cleaning.
Cons
It might not be very efficient while cleaning pet hair.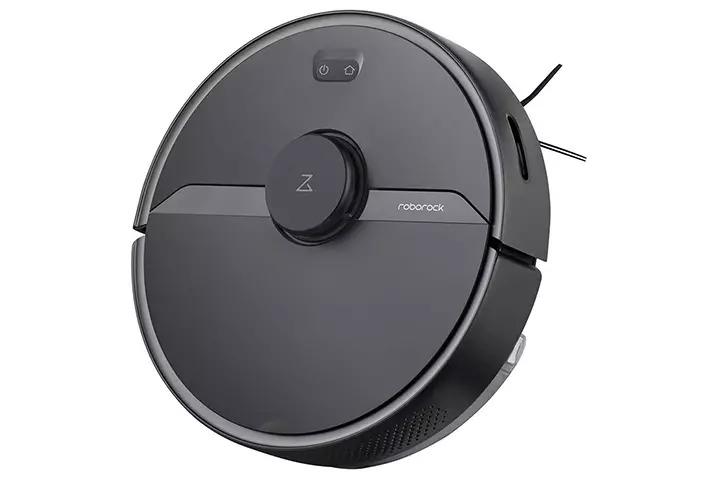 Work-from-home might have saved you time on traveling to the office but it does not make it any easier when it comes to getting your chores done. While you might have your hands full with other work, Roborock S6 Robot Vacuum takes away the pain of cleaning the house. It uses Precision LiDAR Navigation that maps your entire home with every minute detail. It utilizes its Z-shape Cleaning Route feature to offer the best cleaning results. It has a powerful 2000Pa suction capability to gather all kinds of dirt with ease. No matter what type of floor your house has, it cleans it all.
Pros
You can use the Roborock app to customize settings as per your needs.
You can save multiple maps with No-go zones for each of them.
It can be connected to your Siri or Alexa voice control assistants.
The Automatic Carpet Boost function allows the vacuum to reach its full power for deep carpet cleaning.
You can individually select a specific room and schedule for cleaning.
It has an adjustable 180ml water tank that can mop areas of up to 1610 sq ft.
It has a 5200mAH battery that can run up to 3 hours on a single charge.
The advanced airflow management design allows it to do its job with minimal noise.
You can detach the brush and the wheel for ease of cleaning.
It automatically docks itself on the charger when the battery is low.
Cons
The wheels of the vacuum might be too hard for some floor types.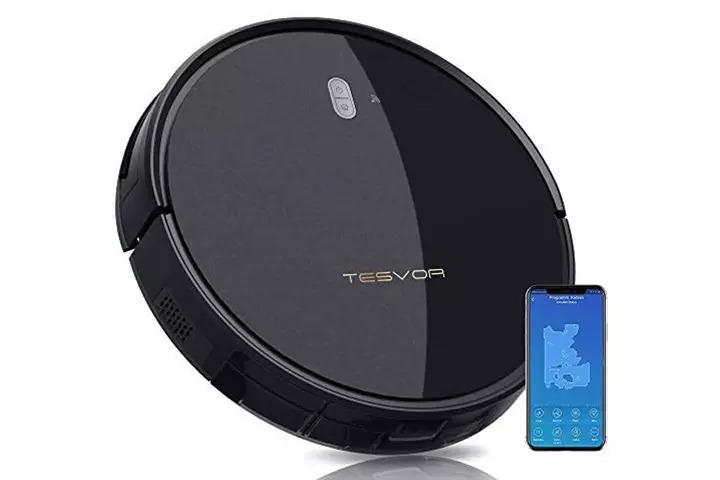 Get used to having super clean floors and carpets with the help of Tesvor Robot Vacuum Cleaner. Its Innovative Supclean technology allows the vacuum to run at 4000Pa suction power that sucks most pet hair, dirt, dust, and food crumbs from the floor. It is equipped with anti-drop and anti-collision sensors to protect it from falling over from stairs and bumping into furniture and other objects. It moves in an S-shaped pattern to ensure thorough cleaning and the sleek design allows it to clean under sofas and closets.
Pros
It can be connected to Google or Alexa voice assistant devices.
You can use the app to schedule and monitor cleaning modes and timings.
It has a 5200mAH battery that provides a runtime of up to 150 minutes.
It automatically recharges itself at the docking station when the battery is low.
It has four modes— Quiet, Normal, Strong, and Max that you can switch between easily with the mobile app.
It provides real-time mapping for you to monitor the cleaning status and coverage using the app.
Cons
It could get pretty loud while in use.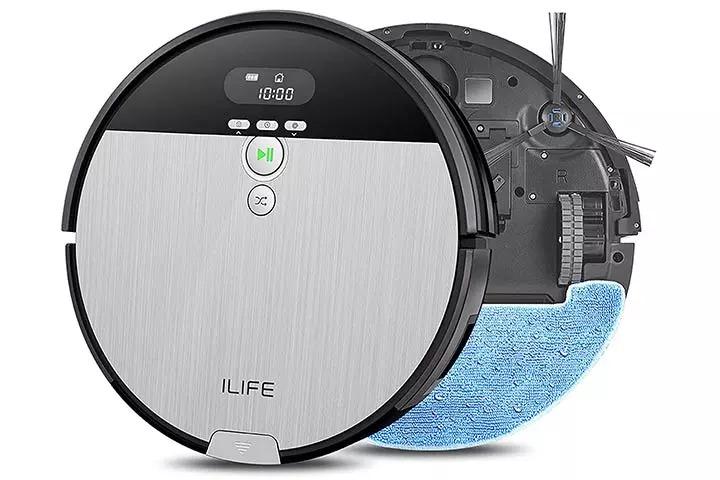 *CRASSSHHH!!!* Did your pet just drop the cereal bowl that you were about to eat? Don't worry, ILIFE V8s is here to clean up the mess with just a touch of a button. It is a 2-in-1 mopping and robotic vacuum cleaner that is powered by Gen 3 CyclonePower System to offer powerful suction for the best cleaning results. It has an enhanced suction inlet with a unique structure to ensure all pet hair and dirt is collected from the floor. It also has an intelligent wet mopping system that adjusts the water output level depending on the situation. It comes with a 750ml large dustbin to collect dust and dirt.
Pros
It has a large LCD display with all the controls that are required to set up the vacuum with ease.
It has rubber wheels that are built to climb over the carpets without getting stuck.
The Cliff sensors prevent it from falling down the stairs or ledges.
The infrared sensors allow it to gently tap the furniture or avoid it altogether.
When the battery is low, it automatically docks to its charger.
Its floating design helps it to adjust to any type of floor.
It can run up to 110 minutes on a single charge.
Cons
It is not suitable to be used on high-pile carpet or black colored floors.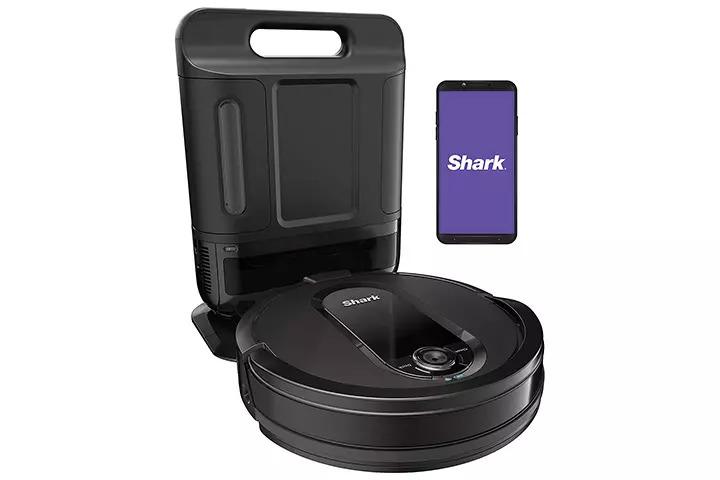 We live in a world where technology is getting smarter and convenient with each passing day. With that implication, we can say that we are also entering into the world of smart robot vacuum cleaners. This model from Shark has a smart system that empties itself into a bagless base which can hold up to a month's worth of dust. It has a powerful suction that sucks all types and sizes of dust and debris particles. And, it has a self-cleaning brushroll that cleans pet hair and long hair without getting it tangled in the brush.
Pros
It can be connected to Alexa or Google voice assistant devices.
With the help of the SharkClean app, you can choose to clean the entire home or just specific rooms.
It follows a row by row cleaning pattern then moves to other rooms to eventually cover the entire floor.
When the battery is low, it returns to its charging base and when recharged, it resumes to the location where it stopped the last time.
Its dual spinning side brushes collect debris from all edges and corners.
It has proximity sensors that detect walls, furniture, and other obstacles.
Cons
It could get pretty loud while in use.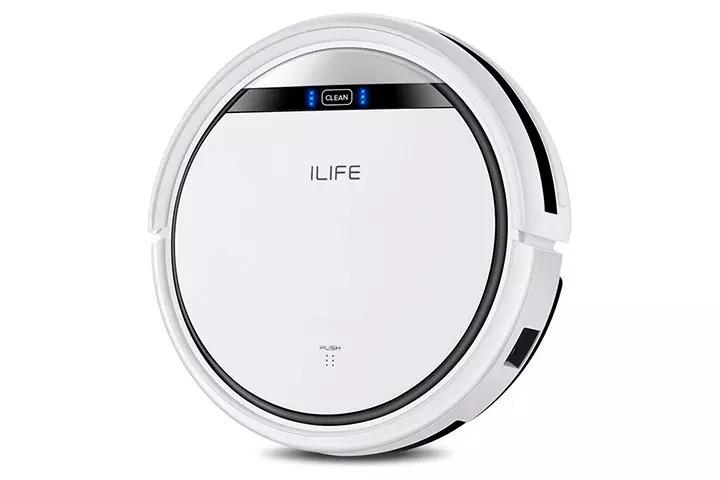 You work yourself out during the weekdays at the office; you don't want to spend the whole weekend just cleaning the house too, isn't it? ILIFE V3s Pro Robot Vacuum Cleaner is here to relieve you from that task so that you can enjoy your day-offs. It is extremely easy-to-use; you can either select "Clean" from the remote control or select any of the 3 available cleaning modes to start cleaning. It has RoadRover wheels which allow the vacuum to smoothly glide from the hard floor to the low-pile carpet for complete cleaning assistance.
Pros
It has a low profile design that allows it to reach under furniture and hard-to-reach places.
It has a suction power of 600Pa and a battery capacity of 2600mAH.
It has a strong suction passage instead of a roller brush to prevent any hair from getting tangled.
You can set cleaning schedules in advance and set a daily routine as well.
It has 10 sets of front sensors that detect and avoid obstacles in front.
It has 3 built-in infrared sensors underneath that detect stairs and prevents the vacuum from falling.
It automatically docks itself to charge when the battery becomes low.
It has a 300ml dust bucket to collect dust and debris.
Cons
It does not indicate when the dirtbag is full, you will have to manually check and empty it.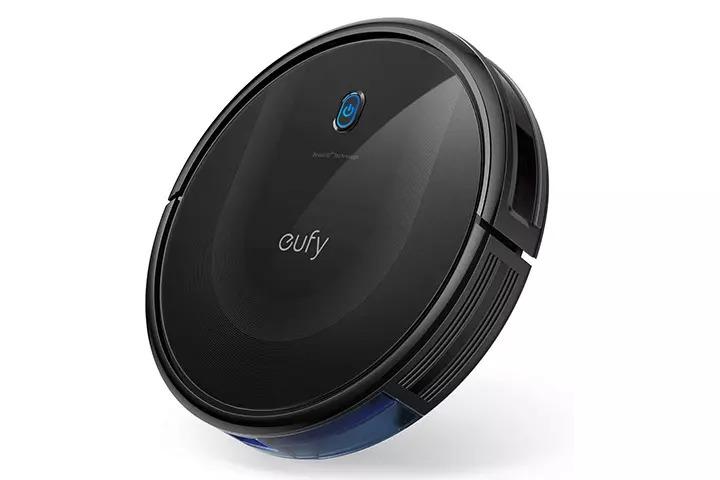 With an incredible maximum suction power of 2000Pa, collecting dust and debris will not be a hassle for this robot vacuum cleaner. It will automatically adjust the suction power for the areas where extra vacuuming strength is required. It has a 3-point cleaning system with a strong suction power for superior cleaning. It has a unibody filter which makes it very convenient for cleaning and maintaining the vacuum. It has a height of 2.85-inches, making it easy to glide under furniture for cleaning.
Pros
It is extremely quiet even when at maximum suction power.
It can run up to 100 minutes of consistent and powerful cleaning activity.
It has an anti-scratch tempered top-cover and infrared sensors to avoid hitting any obstacles.
It uses its drop-sensing tech to prevent it from falling over stairs and ledges.
It automatically returns to its dock for charging.
Cons
It is not suitable for high-pile carpets and dark-colored floors.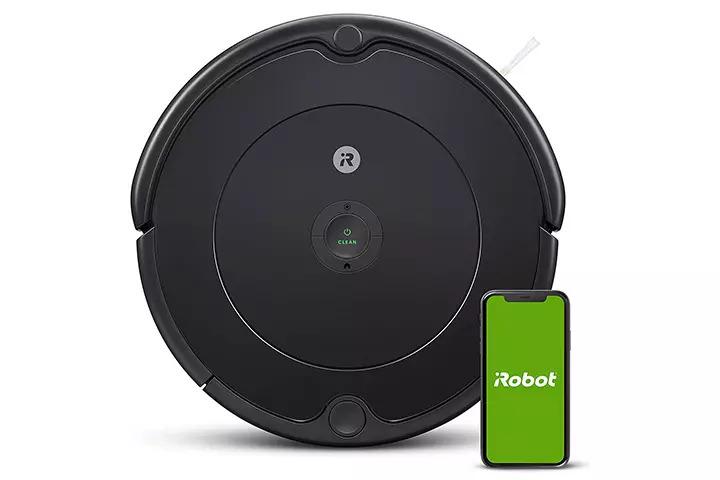 iRobot has yet again made it into our list with another amazing automatic robot vacuum cleaner to make your life easier. To take it up a notch, this robot vacuum cleaner learns your cleaning habits and can create customized cleaning schedules automatically. It has a 3-stage cleaning system teamed up with dual multi-surface brushes to grab dirt from both hard floors and carpets. It also has an edge-sweeping brush to take care of the dirt in the corners.
Pros
It is compatible with Google and Alexa voice assistant devices.
It has advanced sensors that help in navigating around the house without bumping into any obstacles.
iRobot's updated app offers hassle-free monitoring.
Its patented Dirt Detect Technology allows it to find dirtier areas and clean them much more thoroughly.
It has an auto-adjust cleaning head that modifies its height when it moves from hard floor to carpet areas and vice versa.
It runs up to 90 minutes on a single charge and docks automatically to charge when the battery gets low.
Cons
It could get noisy while cleaning high traffic areas.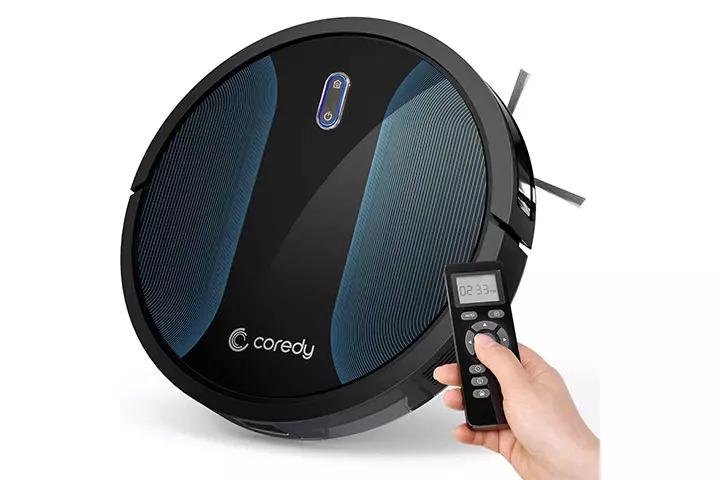 Imagine getting stuck between two choices— spend the entire day cleaning the house or put on that show that you have been meaning to watch. What if we told you that you can get both things done with a third option? Let Coredy Robot Vacuum Cleaner take care of the cleaning while you enjoy the show. This 3-in-1 robot vacuum cleaner not only cleans open spaces but also the hard-to-reach places under the sofa and cupboards. It has a super-thin built that stands at just 7.2cms with an anti-scratch tempered glass top cover design.
Pros
It has 5 cleaning modes that you can choose from.
It has a battery capacity of 2600mAH and a runtime of up to 120 minutes.
It is extremely quiet while in use.
It includes a 3-point cleaning system and dual-edge brushes to collect dust and pet hair from hard floors and carpets.
You can use the remote control to clean, schedule, and customize cleaning settings.
It supports wet-dry mopping function, dry sweep hardwood floors, vacuum multi-surfaces, or wet-dry mop hard surface floors.
It has anti-collision and anti-drop features that prevent it from crashing into objects or falling from stairs.
It has a self-charging technology that returns to the dock when it needs recharging.
It can easily change its suction power depending on the mode of cleaning; it has a max suction power of 1400Pa.
Cons
The area mapping might not be very accurate.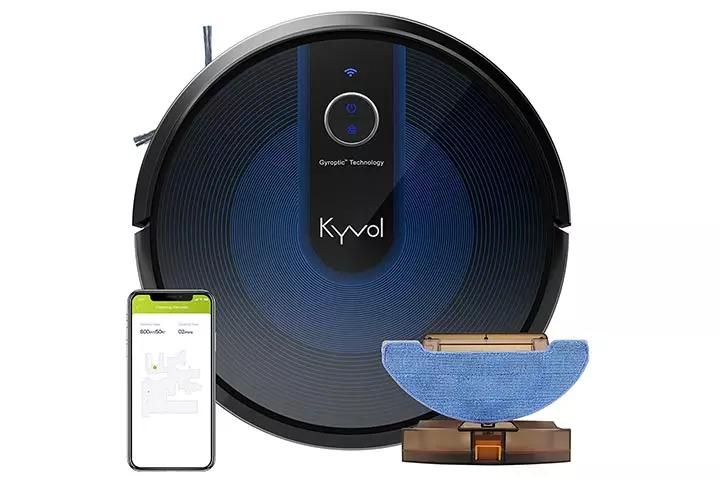 You do not need to own a mop and a vacuum cleaner separately. This multi-purpose vacuum cleaner is engineered to work as both a vacuum cleaner and a mop. It also includes an advanced gyrostatic navigation system and state-of-the-art optic flow sensor that reaches the corners and cleans them without leaving any dirt or debris behind. It has a 600ml large dust collecting box and a 300ml water tank to store water. For thorough cleaning, it follows a zig-zag pattern.
Pros
It can be paired with Alexa voice assistant devices.
You can use the boundary markers to limit the vacuum cleaner from getting access to certain areas.
It has anti-collision and anti-drop sensing technology to avoid falling from edges or stairs.
When the battery is low, it goes back to its charging dock eliminating any manual intervention.
It has a suction power of 2200Pa to easily absorb all kinds of debris and pet hair.
It has a 2.85" super-slim body to reach the narrow space beneath the furniture.
With a 3200mAH battery capacity, it can run up to 150 minutes of cleaning time.
You can use the Kyvol app to customize the cleaning schedule.
Cons
The boundary markers are not included in the box.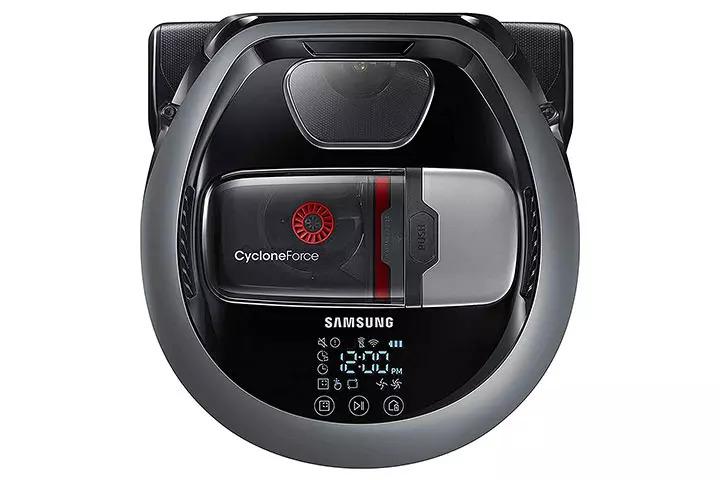 If you have "Clean the house" on your list of to-do things for this weekend, you can strike it right off when you buy this POWERbot™ R7040 from Samsung. Samsung has a reputation for manufacturing superior-quality brands which makes buying this smart vacuum robot definitely worth your money. Depending upon the cleaning requirement, you can choose between the different suction and cleaning modes. It uses its Visionary Mapping™ Plus feature to create a clear path to clean and avoid any obstacles.
Pros
It can be connected to Alexa, Bixby, and Google voice assistant devices via Wi-Fi.
It automatically recharges itself by returning to the dock and resumes the works from where it stopped the last time.
The large wheels under the vacuum help in transitioning from hard floor to carpet very efficiently.
It features CycloneForce™ Technology that offers long-lasting suction power without clogging.
It has a rubber blade that stretches out to clean the corners and hard-to-reach corners along the wall.
It provides 20x more powerful cleaning results than its previous conventional robot vacuum models.
Cons
It might not have a great battery life.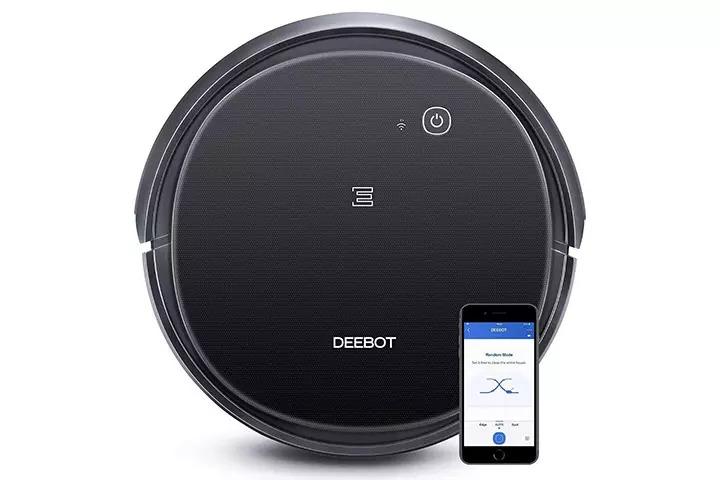 Is it that time of the year when your pet sheds more hair than all through the year combined? Well, it is high time you get Ecovacs DEEBOT 500 Robot Vacuum Cleaner to make your life easier. With two side brushes and one main brush, it will sweep, lift, and vacuum the entire floor. It uses a 3-stage cleaning system for efficient cleaning either on hard floors or carpets. It has a max mode where it doubles the suction power in places where it needs a thorough cleaning. When it is done with the work or needs to recharge, it returns to its docking station automatically.
Pros
It has a runtime of up to 110 minutes.
It has anti-drop and anti-collision sensors.
It is compatible with Alexa and Google voice assistant devices.
Ecovacs mobile app comes with over 5 advanced features like scheduling, cleaning modes (Auto, Spot Clean, and Edge mode), status updates, direct control, and accessories status to name a few.
With the noise level maxing out at 65.6 dB, it is extremely quiet while in use.
It can easily cross door sills making it easy to move from one room to another.
With the help of the mobile app, you can create a cleaning schedule.
It also includes durable protective bumpers, an anti-scratch finish, high-efficiency filters, and an easy-to-empty dust bin.
Cons
The mapping feature might not be very accurate.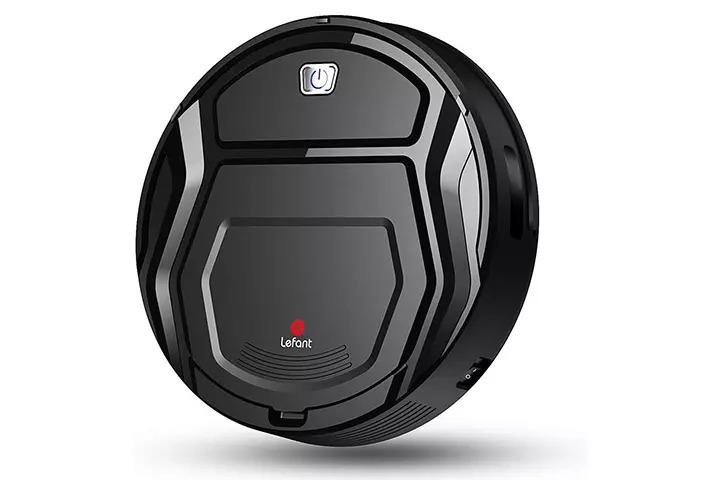 If you are looking for the best hands-off vacuum cleaning experience, we doubt anything could get better than Lefant Robot Vacuum Cleaner M200. It uses FreeMove 2.0 Technology that avoids the vacuum from getting stuck on the carpet. It has a brushless motor with a strong suction design and tangle-free pet hair removal technology that does not allow the hair to tangle like ordinary vacuum cleaners. It has a suction power of 1500Pa to efficiently pick up pet hair, dust, debris and so much more.
Pros
The 6D anti-collision infrared sensors keep the vacuum from bumping into other objects and change the course of its path when needed.
It has a suction power of 1500Pa for intense cleaning.
It claims to be one of the smallest robot vacuum cleaners in the market which allows it to move under the sofa easily.
It uses proprietary lithium iron phosphate batteries to offer a long-lasting battery life.
This redesigned vacuum has a smaller fuselage which improves the pass rate and coverage.
It is very easy to clean and the rotating brush does not require any replacements.
Cons
It is not suitable for high-pile carpets.
There you go! That was our list of the best robotic vacuum cleaners in the market. Are you still confused about which one to buy? We get it, they all are amazing. Check out our buying guide for tips that will help you choose the perfect vacuum cleaner for your home.
Choosing The Best Robot Vacuum Cleaner – A Buying Guide
Since robot vacuum cleaners can be expensive, you need to make sure you know what you are buying. Here are a few features you need to look for which will help you make an educated decision.
Suction Power: Having enough suction power to get the job done is the most common feature that you need to see while getting a vacuum cleaner. Although these are tiny appliances, they have enough power to absorb all the dirt, pet hair, and debris off the floor. Having high suction power will also help the vacuum to remove stubborn dirt from the carpet.
Floor Mapping: Since these vacuums automatically move around, they need to have a good mapping system that can remember all places that it has access to for cleaning. With these maps, you should also be able to restrict the areas that you don't want the vacuum to have access to, this will help you protect delicate objects from breaking.
Infrared Sensors: It is absolutely necessary for robot vacuum cleaners to have infrared sensors. These sensors will help it from bumping into obstacles or avoid it completely. They could also prevent it from falling off the stairs and ledges.
Adaptability: Robot vacuum cleaners are bound to move from hard floors to the carpet while cleaning, but to ensure it does not get stuck while transitioning make sure you buy a cleaner that has the ability to adjust the brush height as and when the height changes.
Mobile App: To make your life easier, choose a brand that has a mobile app to control the vacuum cleaner. The app will offer multiple features like choosing between the cleaning modes, creating a cleaning schedule to automatically allow the vacuum to start cleaning, controlling the suction power, and so much more.
Battery: The base feature of any electronic gadget is that it needs to have good battery life. Having a good battery life in a vacuum cleaner will allow it to work for long hours on a single charge.
Compatibility: Buy a vacuum that has the ability to connect to any of the voice assistant devices so that you don't have to physically switch it on every single time. You can just use voice commands from the comfort of your couch.
Having an automatic robot vacuum cleaner will take the mundane task off your list which will save you loads of time. With that extra time on your hand, you can either work on other important tasks or you can just sit back and relax while it gets the job done. Ever imagined that you get something done without actually lifting a finger? Well, buy one of the above robot vacuum cleaners and experience it yourself!