Rooftop tents help you create a makeshift shelter or camp on your off-road vehicle, no matter where you are. The tent system attaches to the vehicle roof and allows you to spend the holiday in your vehicle, removing the need to find a camping spot.
Rooftop tents are designed for comfort and protection from natural elements like mud, gravel, weather, and wildlife, and are a part of essential gear for regular campers. They also let you enjoy the bird's eye view of your surroundings as you wake up each morning.
Here, we list some of the best rooftop tents for campers. Choose one that could come with you on your next adventure.
10 Best Rooftop Tents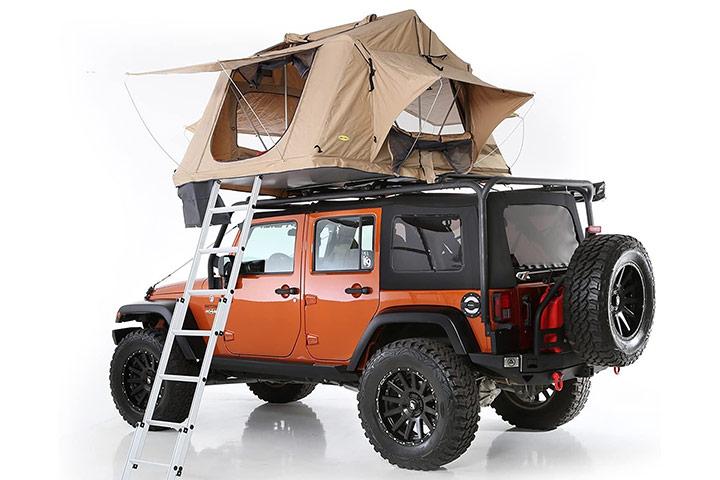 Although ideal for Jeep Wranglers, this rooftop tent is also compatible with a wide range of other cars. It is lightweight, built to last long, and provides a massive space suitable for a family of four. Also available in XL size, it can accommodate extra campers, too.
Features
High-density 92x55in foam double or full mattress
Heavy-duty waterproof PVC top keeps tent dry and protects from sun
Side windows with mosquito meshes
Aluminum tent frame poles
Telescopic ladder and LED strips with power adapter
Easy to set up and remove
Compatible with Smittybilt annex room
The Tuff Stuff ranger overland rooftop tent comes with the largest annex room. It is constructed from a durable and sturdy aluminum frame, and installation takes about two hours. The hardware required for the installation is included with the set.
Features
Three windows with awnings for ventilation
High-density 2.5-inch foam mattress
Large area that can accommodate two adults
Retractable and foldable ladder
Blend of polyester and cotton ripstop fabric
Waterproof and breathable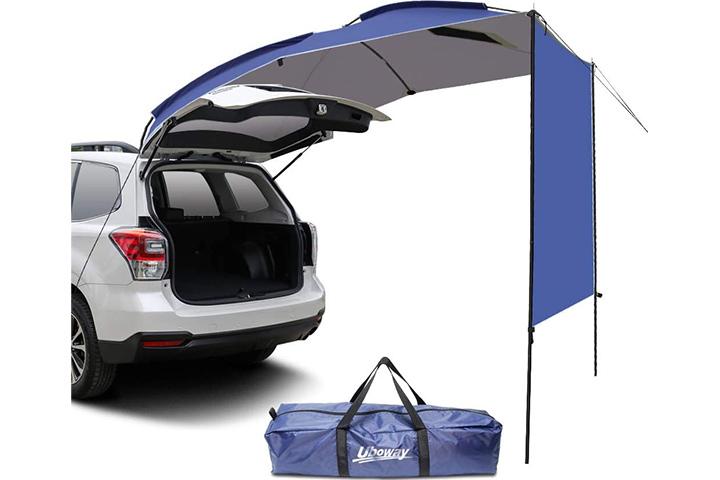 This rooftop tent could be used as a car tent for MPVs, SUVs, hatchbacks, sedans, and trucks. You may also use it as a separate sun shelter when camping. The tent comes with a unique rain-resistant design and adhesive seams.
Features
Large shade that is rainproof and waterproof
Easy to install and store
Extra sky window for ventilation
Better lighting in the tent for reading
Includes two sandbags and six ropes with stakes for stability
Anti-UV 210D polyester fly with a silver coating material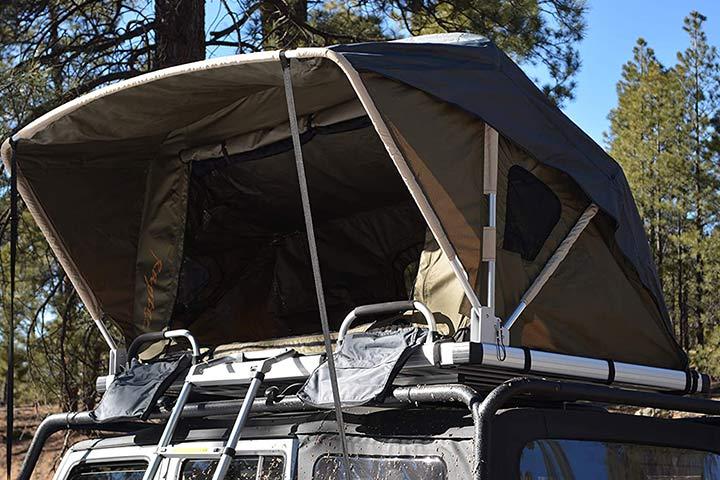 Made especially for Jeeps, this Raptor Series rooftop tent can also mount on other vehicle's roof rack. It is aerodynamically engineered to resist rains and heavy winds. The tent door rolls down from the top for airflow, and the built-in awning gives a panoramic view from inside.
Features
Accommodates up to 750lb weight and two persons
High-density 78x48in foam full mattress
Heavy-duty eight-foot telescoping aluminum ladder
Built-in air vents with an adjustable control feature
Two hanging shoe and storage pockets
Large living space and place to hang the gear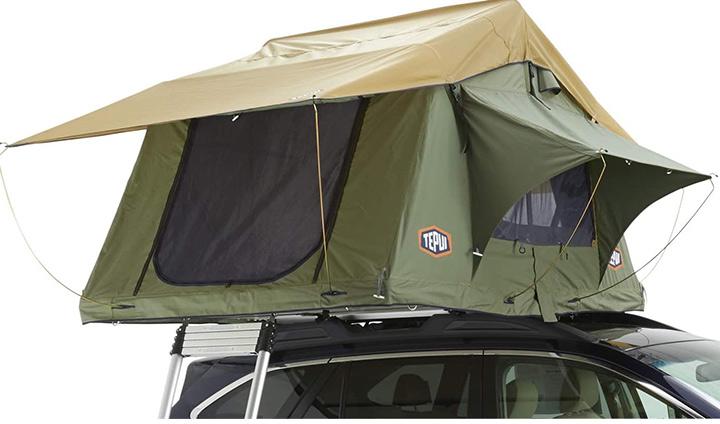 The Tepui Explorer Kukenam tent works in all seasons, whether rain, shine, or snow. Designed with an interchangeable canopy, it adapts with ease in changing situations when you strap it to the top of the car. Constructed with a heavy-duty polyester and cotton fabric, it has good aesthetics, too.
Features
Accommodates up to three people
Mesh panels provide plenty of ventilation
UV and mold resistant fabric withstands elements of any weather conditions
Waterproof zippers and taped seams
Mounting brackets for quick and easy installation
Includes ladder for easy reach
Crafted with care and precision, this TMB rooftop tent gives ultimate comfort for campers. It includes a free flashlight, ladder, and an extra storage bag. You get them in five different colors and a pre-installed memory foam mattress that is comfortable for two people.
Features
Suitable for vehicles with roof rails and crossbars
Comes with a six-month manufacturer warranty
Side pouches for storage
Inner and outer zippers for easy closure
Shock assisted arms for easy opening
Sturdy and durable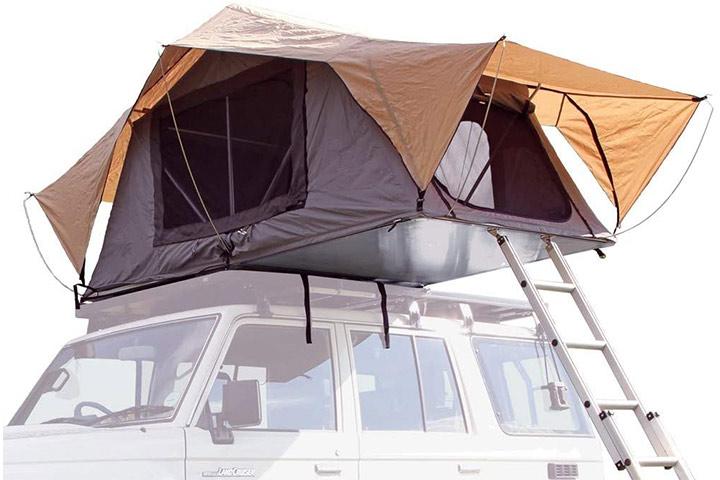 The Front Runner rooftop tent is quick and easy to install, making it a good option for weekend camps. It features a mattress, zippered windows, and mesh screens in the roof for stargazing. Weighing less than 88.18lb, it is a good alternative to a lightweight tent.
Features
Accommodates two people comfortably
Leaves enough room for placing essentials
The open dimensions are 4.3×7.9in
Requires a Front Runner Tent mount kit for installation
Waterproof, breathable, and mold-resistant
Interior pockets and Velcro light loops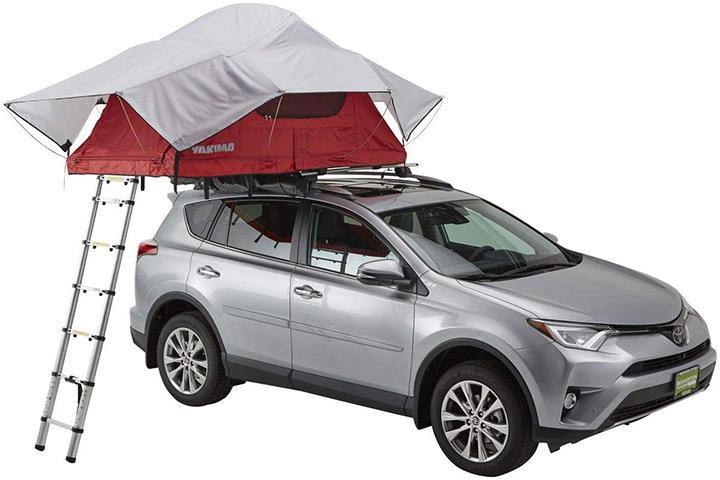 The Yakima skyrise rooftop tent can fit up to two people at a time. Constructed from a durable Nylon material and fitted with aluminum poles, it gives protection from winds and rains. It comes with an aluminum ladder, travel cover, SKS lock core, and 2.5-inch foam mattress.
Features
Double-layer windows with zippers for protection from harsh weather
Mesh layers on the windows for ventilation
Built-in waterproof rain cover
Lightweight and breathable
Withstands a maximum capacity of 600lb
Compatible with Yakima's other great accessories – kayak rack and annex room
The Nomadic line of tents from Overland Vehicle Systems uses the finest materials, including a double-insulated, one-piece diamond-plate base, reinforced stainless steel hardware, and hinges. Made of premium double ripstop cotton-polyester canvas, it can handle the harshest of the weather conditions.
Features
Polyester waterproof rain cover
Fade-resistant gaze breathable windows
Three-inch foam mattress with quilted cotton cover
Overhead storage loft for essentials
Large collapsible tubular telescoping ladder
Pair of polycotton shoe exterior pockets
40-in LED light strip
Heavy-duty Velcro straps
Includes memory foam pillows, lap table, dustpan, and mini broom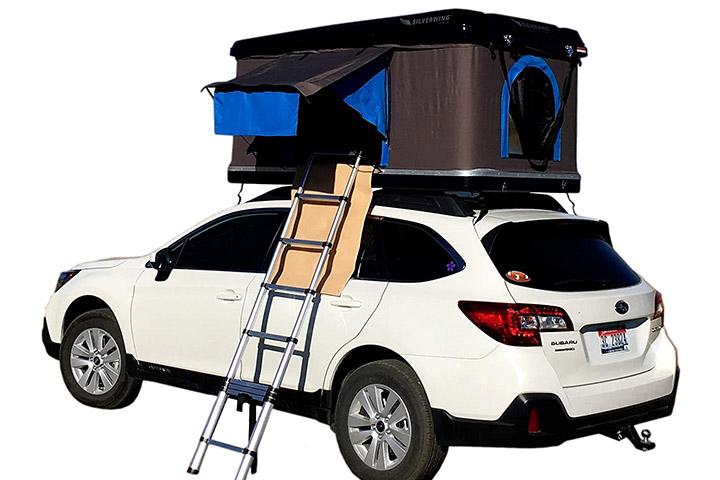 Large enough for two people and their gear, this could be an outstanding tent from the Silverwing brand. It is a pre-assembled unit that sets up in one minute and measures 82x48x39in on opening. It includes an aluminum ladder that is adjustable up to 8.5in.
Features
ABS reinforced hard shell and water-resistant tent fabric
Large rain awning for entry
Mesh windows and fully zipped doors offer protection from dust and snow
Hanging storage net on the ceiling
Two storage pockets for essentials
Two extra metal hooks
Thick foam mattress
Safety straps hold the ladder in place
How To Choose The Right Rooftop Tents?
Some key considerations before planning to buy the best rooftop tent are mentioned below.
Storage capacity: Consider the number of campers in your trip. Buy the one that has enough space to accommodate all or most, with room for essentials.
Weight: Hardshell rooftop tents weigh more than traditional counterparts. Check for the maximum capacity your car can withstand and then pick accordingly. For some cars, you may also need to have a stronger rack, which can also add to the weight.
Material: Check if the materials used for the frame, mattress, and the ladder are comfortable with added durability. Also, check if the exterior material is waterproof and weatherproof.
Ease of installation: Any rooftop tent should be easy to install and remove. Go for the one with easy-to-read instructions, and that comes with the hardware needed for the installation.
Rooftop tents offer ground clearance, weather resistance, and can set up wherever you park the vehicle. Take time to check the features, read the reviews, and compare the technical aspects to get an outstanding tent.
Recommended Articles: