If you live in the coldest regions, then jackets, coats, and comforters may not be sufficient to keep you warm and cozy. A convenient solution is to get the best room heater home. It is an affordable and portable heating appliance that works on electricity or gas to warm the space.
The market is filled with different models of room heaters with various features. We have narrowed down the best room heaters for winter in India in this post. Scroll through them and read the buying guide to find the best room heater to keep your home warm even in chilly weather.
Safety Measures To Take When Using Room Heaters
Room heaters are needed to survive cold, freezing winters. However, you should follow safety precautions when using them.
Place the heater on a flat, hard, and non-flammable surface as flammable surfaces like carpets and beds can catch fire and cause an accident.
Do not leave the electric heater unattended or leave the room while it is operating.
It is better to keep the heater three-feet away from the furniture, curtains, and materials that can easily catch fire.
Keep children and pets away from the heater when switched on, as the heater's body may get hot and scald your skin.
Before using the heater, check the wires and device. The damaged parts of the heater should be used only after repairing. Also, it is recommended to get the heater serviced regularly.
Always unplug the device before sleeping.
Types Of Room Heaters
Room heaters vary in shape, style, and other features. There are three types of room heaters based on the method of heating technology.
Convection heaters are also called fan heaters. They have a fan that blows out hot air for heating a large space in a short time. They are not too expensive and safe to touch.
Radiant heaters heat the objects and people that are directly in front of it. They do have fans and are much quieter. Radiant heaters work on the principles of infrared technology and are suitable for heating a small room. They provide quick and spot heating in the cold chilly winters.
Oil-filled heaters take a longer time to be heated, but once they get heated, they provide heat for a long time even when switched off. These consume low power or energy to generate the necessary heat gradually.
11 Best Room Heaters For Winters In India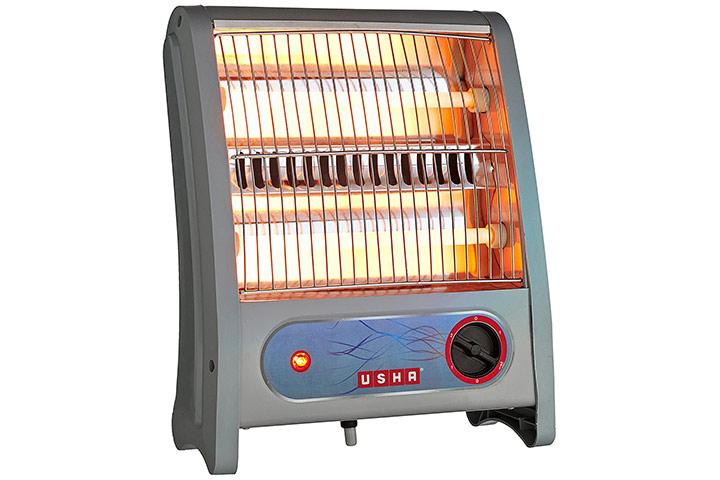 The Usha Quartz is the best heater for a large room as it provides quick heating with its high-grade reflectors. This heater has a low power consumption of 230v and an auto-switch off function as a safety measure for overheating or power tripping. It is equipped with two heating options for better coverage and has a powder-coated finish with two mounting hooks for storage.
Pros
Anti-corrosion
Lightweight and easy storage
Prevents overheating
Ideal for a 150sqft room
Cons
Filament tube may be fragile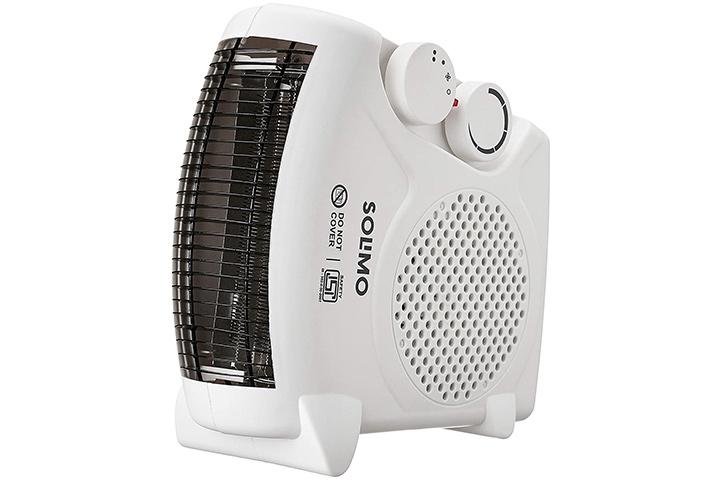 The Solimo room heater effectively heats its surroundings, making the space cozy and comfortable. It has an inbuilt convection technology that produces enough heat to warm up a room. The auto switch and safety fuses turn off automatically in case of overheating when the temperature reaches over 130°C. The copper element of the portable room heater is locked in a metal grill, which makes it a safe bet for your home and family.
Pros
Portable and lightweight
Rust-free metal grill
Fire-retardant body
Can be placed vertically and horizontally
Cons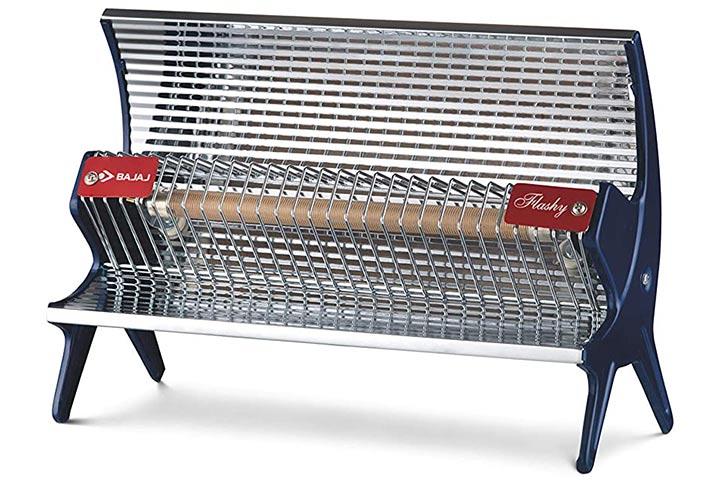 The Bajaj Flashy heater is suitable fora small room to give you radiant warmth. The heater uses 230v power through a safe cotton braided cord and functions on 1000w energy. It is made of CRCA material, and the adjustable thermostat allows you to adjust heating during winters. Its nickel chromium-plated mesh grid and corrugated stainless steel surface ensure even heating throughout the room. The powder-coated heater has a simple operation with a 1.5m cord for easy maneuverability.
Pros
Compact design
Flexible stand
Energy-efficient
Two-year warranty
Simple and safe operation
Cons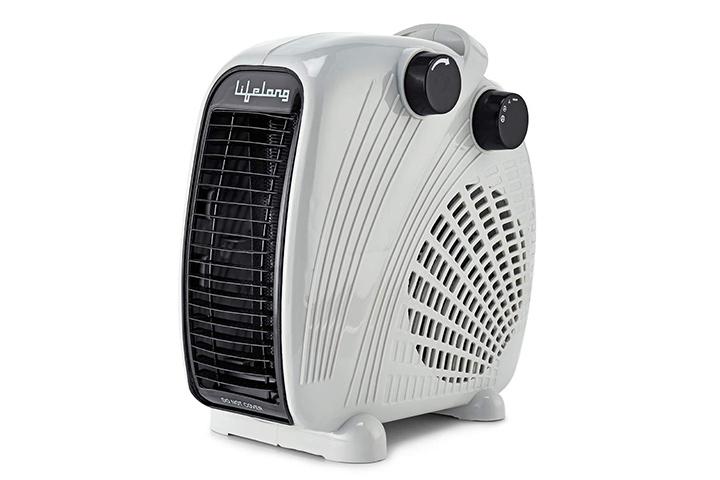 The Lifelong room fan heater is a suitable device for cold wintery days. The motor and safety fuse automatically switch off when the temperature is at its maximum of 130°C and 126°C, respectively. Its 2400rmp copper-winded motor and 2000w energy produce enough heat to keep a room warm and cozy. The plastic body is fire retardant and features a metal grill that locks the copper element. It is a multitasking appliance, which doubles up as a personal fan in summer.
Pros
Adjustable thermostat
Silent and compact
Portable and noiseless
Built-in overheating protection
Safety mesh grill
Cons
May have a slow fan speed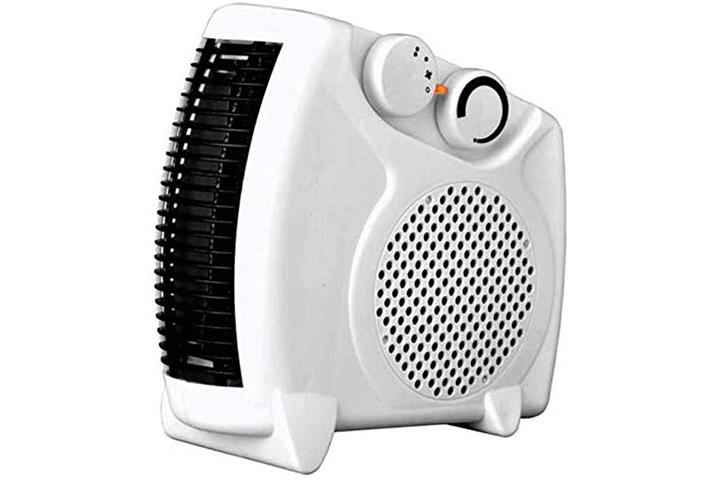 The convector room heater works on 2000w to provide instant warmth during chilly winters. It has temperature control and an adjustable thermostat that can be set according to your heating needs and comfort. The inbuilt auto thermal shut off and a thermal fuse protects against overheating. The convenient, portable, and elegant room heater has an air throw range of ten feet and allows horizontal and vertical installation.
Pros
Spot heating
Knob for heat setting (1000w/2000w)
PVC cord
Wall-mountable
Suitable for a small room
Can be used as a personal fan
Cons
May have a flimsy plastic body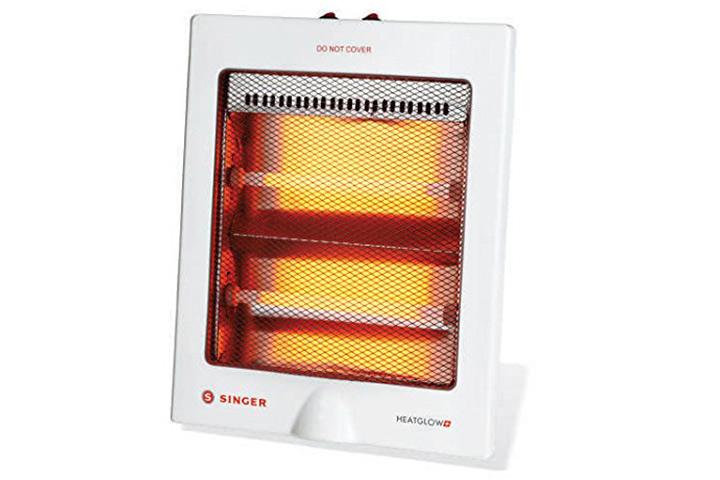 The Quartz heater works on low power consumption and is equipped with a heat glow and quick heating technology to heat the surroundings, keeping you warm and active. It comes with a dual heat setting that works on 800w to operate two rods and low as 400w with a single rod operation. The heater allows you to manage the amount of heat required depending on the temperature outside.
Pros
Noiseless operation
Lightweight and stylish
Easy to use and portable
Powerful and noiseless
Tip-over safety switch
Cons
Doesn't have a swing operation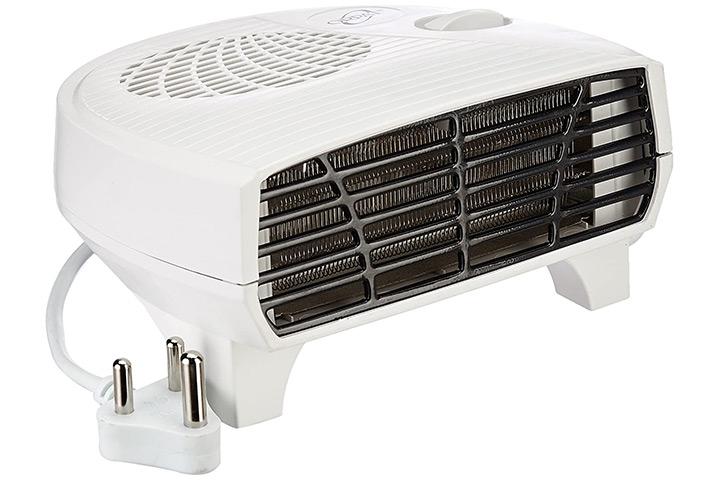 The Orpat OEH fan heater is equipped with a wide-angle oscillation function to distribute heat evenly throughout the room. It has three long halogen tubes for adequate heating, and a two-meter long power cord makes it easy to maneuver. The heater has an oval-shaped base with a cool-touch body for higher stability and safety. It comes with a safety tip-over switch, which prevents it from overheating.
Pros
Adjustable thermostat knob
Auto-revolving feature
Portable and child-safe
One-year warranty
Cons
May not be suitable for big rooms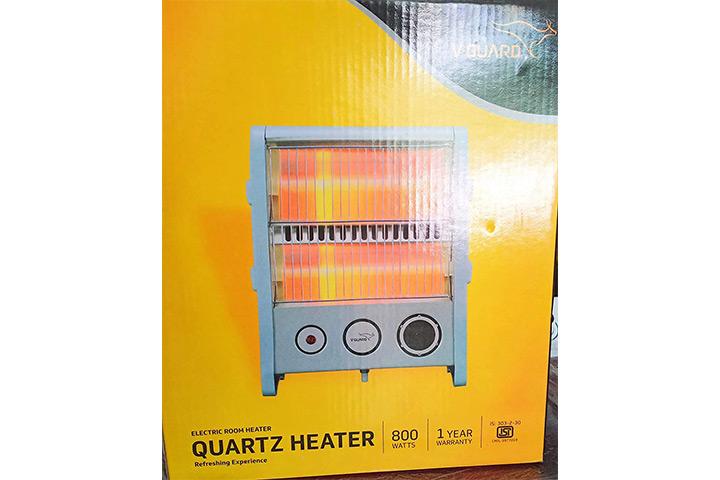 The V Guard Electric Quartz room heater is suitable for extremely cold winters as it comes with a dual heat setting of 800w and 400w. This reliable heater assures safety from overheating by its inbuilt cut-off feature. It is convenient to carry and use and ensures comfort during chilly winters.
Pros
Not noisy
Compact and elegant
Auto-shut thermostat
Spot heating
Lightweight
One-year warranty
Cons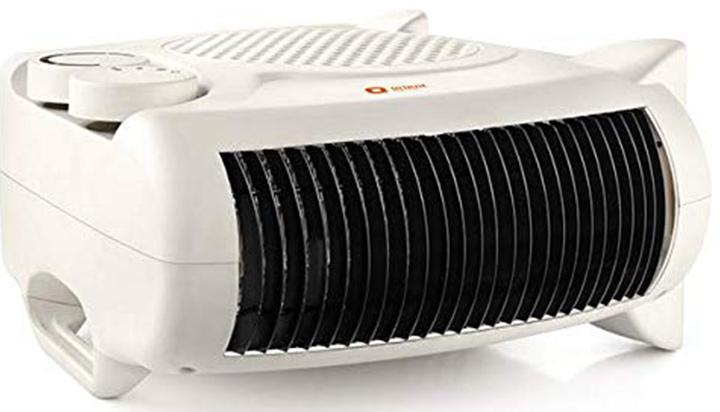 The Areva room heater from Orient works on advanced technology to ensure uniform heat distribution. It is perfectly designed for quick and spot heating of the room. For more durability, the motor is winded with full copper and outer body with ABS plastic. It comes with a knob to set the temperature between the two heating modes of 1000 and 2000w. The heater is inbuilt with dual function and has five levels of protection. The fan works on 2300rpm to generate sufficient heat to warm a medium-sized room in winters.
Pros
Adjustable thermostat
Mountable horizontally and vertically
One-year replacement guarantee
Easy and safe operation
Cons
Doesn't have a swing function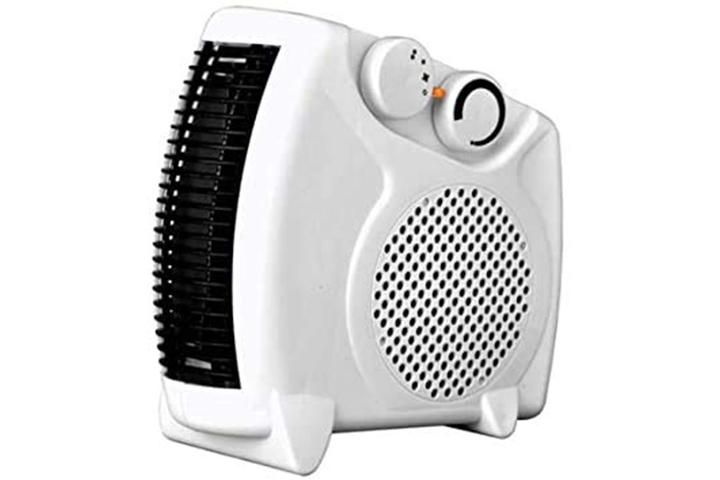 The Aqua heater is inbuilt with a durable heating element that heats up within a few minutes. It has two heat settings of 1000 and 2000w. Its heating element produces heat by consuming 1000w and distributes warmth to every corner of the room. The auto-cut thermostat switches off as the heating rod reaches its maximum capacity to prevent it from overheating. It also features a cool-touch outer body for safety.
Pros
Safety cut-off
Overheat protection
Durable heating element
Long life heating element
Cons
Doesn't have temperature control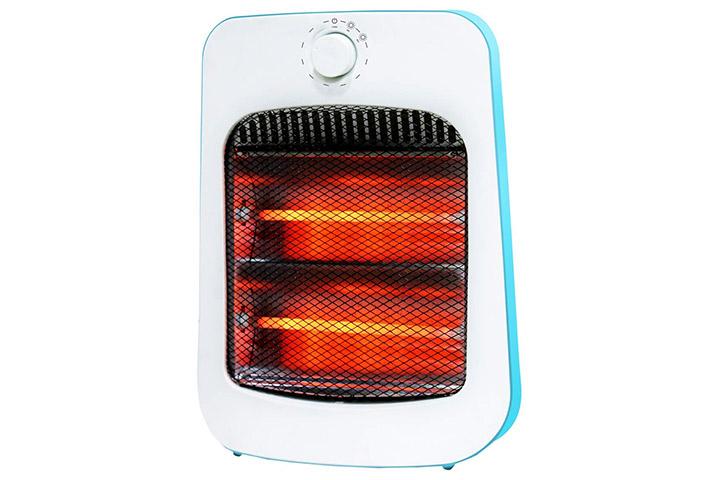 Cozio Quartz offers the best spot heaters with two inbuilt quartz heating tubes that work on the principle of low power consumption. It spreads heat evenly throughout the room and is equipped with a high-grade stainless steel reflector for safety purposes. The 230v heater has two power settings of 400 and 800w and comes with a safety tip-over switch that automatically shuts off the heat when it reaches a maximum of 800w to prevent overheating.
Pros
Portable and lightweight
Rust-free
Front grill for safety
Simple to install
Two-year warranty
Cons
Doesn't have a swing feature
How To Choose The Right Room Heater?
Here are some points to consider when you choose to buy a room heater.
Technology: Room heaters work on two basic technologies. The convection heaters are blowers throwing hot air. They are safer and slowly warm the entire room. Radiant heaters work on the theory of coil heating and are better for heating objects nearby. Convection heaters cause dehydration, whereas radiant heaters do not dry out the moisture content of the room.
Type heater: Ceramic and infrared heaters are mainly suitable for small spaces where objects and people are nearby. Oil-based heaters are better for larger areas, around newborn babies or elderly, sick people.
Safety: The heaters are power-operated. Therefore, you should check the safety measures like an adjustable thermostat, tipped over cut off switch, and overheat protection switch. They should be heat resistant and cool to touch. Another important safety factor is to check the oxygen level of the room. The fan-based or halogen room heaters reduce humidity in the air by burning oxygen.
Heat settings: A heater with different heat settings will allow you to set the temperature as per your comfort and requirements. With an in-built knob, it is easy to change the temperature according to your heating needs.
Power consumption: Opt for a room heater that is efficient and consumes low power. It will not only minimize your bill but also saves electricity.
Frequently Asked Questions
1. Which type of heaters is safe?
The unvented space heaters are the safest option to use inside your home. Oil-filled heaters are also useful from a safety point of view.
2. Which type of heaters consumes less energy?
The oil-filled heater and infrared heaters consume less energy, saving money and electricity.
3. Do room heaters reduce oxygen levels?
Yes, fan-based or halogen room heaters reduce humidity in the air by burning oxygen. Infrared heaters do not reduce oxygen levels of the room to a great extent.
4. Can infrared heaters cause cancer?
Usually not, as we do not sit very close to the heater to absorb direct infrared rays. Also, since heaters are only used in winter, exposure is less.
5. Do room heaters dry up the air?
No, a room heater does not dry up the air unless it is heated for long. But the convection or blower heater does cause some amount of dehydration in the room. It can be fixed by keeping a bowl of water in the corner of the room.
Make sure you always follow the safety precautions when using a room heater. Never let it run throughout the night while you sleep. Using it for long hours can reduce the room's oxygen level and make you feel dizzy or nauseated, impacting your health. If you are still in doubt regarding which model to choose, compare the short-listed room heaters for winter in India and find the perfect match.
Recommended Articles: