If you are an adventurer, sports enthusiast, or someone who loves to work out a lot, then owning a pair of the best running gloves is very essential. But, most people's idea of essential gears just includes a pair of shoes, track pants, t-shirts, and most probably a backpack. This list looks great but doesn't it look a little incomplete? To ensure your complete safety, we highly suggest adding a pair of running gloves to this list.
You need to take extreme precautions to take care of your hands because your skin is prone to crack, especially during the winter season. Running gloves will keep your hands warm and protected throughout your activities. Now let us take you through our list of the 13 best running gloves that you need to try.
13  Best Running Gloves in 2021
When you are exploring nature or working out in the gym, you are bound to sweat. A lot! Don't let the sweat come in the way of your workout. Made from the combination of some advanced materials like 95% Polyester and 5% Spandex, the full finger gloves from SIMARI provide your hands the breathability to keep them sweat-free and incredibly comfortable. They also have a layer of silica gel that can endure even the most extensive workout regime. The design and functionality is definitely something you will fall in love with.
Pros:
Windproof and water-repellent
Suitable for both men and women
Touch screen sensitive thumb and index finger fingertips
Maintain a firm grip on the handle with anti-slip silicone covered palm.
Provides safety with a reflective patch on the back that is designed to be visible in the dark.
Cons:
Might not be suitable for places with temperatures below 30 degrees.
With proven history to perform well under extreme conditions, Aegend Running Gloves are the go-to choice for most people. It is made from premium compression soft fabric to ensure warmth and comfort. This multi-sporting product can be used just like a regular glove and also as a liner that can fit under your ski gloves, half-finger biking gloves, or any other bulky gloves for further safeguard. The palm has an anti-slip silicone design to make sure you maintain a strong grip. Available in 3 sizes— small, medium, and large.
Pros:
Ultra-lightweight and thin
Multi-sporting gloves
Zero-pilling, sweat-wicking, and anti-static functions
Suitable for outdoor activities regardless of what season it is out there.
Touch screen sensitivity for using your phone without taking off the gloves
Cons:
The fingers might be a bit long for some hands.
Achieve your goal by upgrading your old running gloves to more innovative, stylish, and vibrant apparel by New Balance. You might as well look nice while trying to keep warm. They are light as a feather and protect your hands from the harsh cold winds while you are out jogging. They are engineered with antimicrobial properties to eliminate the odor from all that accumulated sweat. You can choose from their two color variations— Marathon Black and Marathon Heather. Take your workout to the next level or add it to your everyday attire.
Pros:
A blend of function and fashion
Touch-screen friendly fingertips
Made from moisture-wicking fabric
Can be used by both men and women
With 240 GSM, they have a silky smooth fleece
Grippers on the palm give you a firm and secure holding on objects
Cons:
The thumb finger might not be a good fit for most people.
This winter, one-up your protection level by gearing yourself with a pair of LANYI Winter Gloves. The superior quality fabric creates good breathability so that you can complete your outdoor activities with the gloves on and not in your pocket. The polyester fleece liner brings warmth and ease of movements to your hand. The gloves feature a built-in touch screen sensitivity so that you can reply to your texts without taking off the gloves. They are made to fit your hands and with their anti-splashing and windproof design, they will last for a very long usage period.
Pros:
Can be used by men and women
Great for your casual winter wear
Ideal for all your winter outdoor activities
Perfect balance of weight and thickness
Snug fit expandable cuffs to fit hands of any size
Compression stretch fabric for zero-pilling and breathability
The skin-tight material keeps snow and cold wind out of the gloves.
Cons:
You will need to order a size smaller than your regular ones.
With HiCool you can trust that you are getting a top-notch winter glove that is versatile and comfortable at the same time. Unlike most gloves, the elastic wrist strap on this enables you to put on and take off the gloves without any hassle. These thermal running gloves have a premium conductive PU coating, that allows you to freely play your favorite mobile games, take pictures, and reply to your messages while the gloves are still on.
Pros:
Windproof to keep your fingers warm
Ideal for your casual winter wear
Elegant workmanship for that desired snug fit
Can be used by both men and women.
The palm has a well placed anti-slip design.
It has reflective cuff design to let the passing vehicles know while you ride in during the night.
Cons:
Not great for extreme temperatures
Owning a Unigear Running Glove means that you'll never need to look at any other bands to match your winter gear needs. Your hands receive the maximum thermal protection since all the moisture is being eliminated from your skin. With their featured latest fabric material, avoid any type of static electricity and fabric pilling. If you are entering harsher environments, you can use these as an inner lining and team-up with other heavy gloves.
Pros:
Machine-washable
Provides a tight fit with its 4-Way stretchy fabric
Anti-slip silicone printed palms for the superior grip on objects
Touchscreen compatible so that you don't have to freeze your fingers
The newest fiber material reduces fabric pilling.
Cons:
Might be a little too tight for some 
Made from a combination of reinforced nylon/Spandex to keep your hands warm for an extended period of time while you are outdoors. They retain dexterity with the help of form-fitting performance and 4-way stretch fabric. You can use them as a regular glove during the fall or as a liner during winter. They are available in multiple sizes ranging from X-Small to X- large for both men and women.
Pros:
Super lightweight and comfortable
Has a touch screen feature to help you use phones while you're wearing the gloves
Generates warmth without feeling bulky
When not in use, they can easily fit in your back pocket
Consistent protection even after using it for a long duration
Works great as regular gloves when the temperature is down to about 40 degrees and 30 degrees when used as a liner
Cons:
The touch screen feature might not work as well as expected.
Simplicity at its best! If you are in the market for lightweight gloves that have a simple design yet get the job done well, then gloves from AMORON is a great option for you. They are lightweight gloves that feel fit perfectly and snug. The material is adequately soft and the 4-way elastic fabric lets you function your hand without any discomfort. You can use these as your primary winter running gloves. For anything extreme outdoor activity you can these as a baseliner with other heavy gloves.
Pros:
Touch screen sensitive for your basic mobile usage
The minute pores provide enough breathability for your hands to stay sweat-free.
The anti-slippery silicone material on the palm ensures a firm grip on the items you are holding.
Cons:
Might be best for short-term usage 
Tired of taking off your gloves every time you have to capture that beautiful sunrise while you are on top of a mountain? We understand your adventure needs. And, that is exactly why we think that it is high time you switch to something modern and convenient. FRDM Convertible Vigor Liner Gloves are touchscreen-friendly and let you use your phone without even taking them off or you could just slip your thumb and forefinger through fingertips. Ain't that convenient? They are designed to protect your hand from the elements that can render damage to them.
Pros:
Super lightweight and sweat-wicking fleece
Designed to be used by both men and women
Silicone pattern printed on the palms for better grip
Thin material that can be used as a base layer under your snow mittens
Made from breathable elastane/polyester for the ideal warmth and comfort
Cons:
Not suggested for temperatures under 40 degrees 
Disappointed with gloves that just claim to keep your hands warm but never do so? Be at peace because Eadali Winter Gloves are made of double-layered composite cotton that will keep your hands toasty no matter the conditions. And, the humanized design is sure to check every single box on your checklist and give you the ultimate user experience. It comes with an additional anti-lost buckle which means you can hang it on the side of your backpack to save space.
Pros:
Long knit cuffs
Works for both autumn and winter outdoor activities
Proven efficient touch screen usability
Does not let things slip through your hands
Moisture-wicking fabric to keep your hands dry
The lightweight polyester material offers zero-piling and anti-shrink functions.
Cons:
Might not perform well under extreme weather conditions 
In need of a sporty-looking glove? This stylish running gear from GearTOP is where you hit the brakes on your search. They are known not only for their impressive design but also for that exceptional protection against cold winds. The palms are printed with a unique anti-slip grip technology for a more superior grip even during the most intense motorbike rides. And of course, they are made from featherweight sweat-free material to protect your hands from all the moisture that tries to accumulate on your hand.
Pros:
Reinforced stitching and 4-way stretch for an unparalleled fitting
Quick-drying material
Stretchable fabric for easy hand movements
Constructed to last a very long time
Comes handy in all weather conditions
Acts as a sweat cloth to get rid of the moisture from your face with ease
The retro-reflective properties keep you visible during your night rides.
Cons:
The stitching may not be perfect. 
Going on a hike this winter? The temperatures up there are sure to become extremely low, and your ordinary running gloves are not enough to give you complete protection. Designed for frigid weather conditions, TrailHeads' waterproof running gloves can easily be converted into mittens to grant you that extra layer of protection you need. The conductive fabric on the thumb and forefinger lets you use your phone even with the mittens on. The fabric of the wrist has magnets that keep the gloves together when you are not using them. Don't let any external factors stop you from reaching your destination.
Pros:
Machine-washable
Lightweight and lengthy cuffs
Waterproof shells to keep your fingers from freezing
Reflective logo for additional visibility in low-light conditions
The thumb is capped with a grid fleece to wipe the sweat off your eyebrows.
You don't have to carry the mittens separately; their top part can conveniently be tucked into the wrist pockets of the gloves.
Cons:
This model is available only in one design.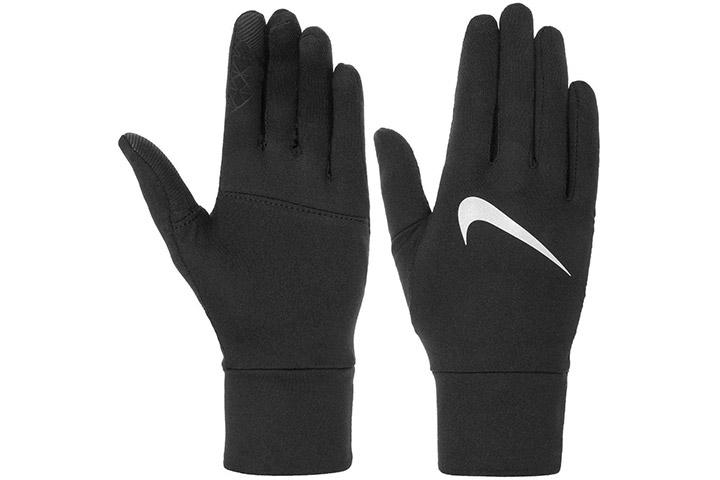 Searching the web for high-quality running gloves for women? We are certain that you have heard about Nike. They are known to manufacture some of the best professional-quality apparel in the industry. Their sturdy and durable products are built to stay with you for a very long time. The gloves wick the moisture away efficiently from your hands even if you wear them for long hours. The soft polyester material gives you amazing flexibility to move your fingers naturally.
Pros:
Machine-washable
Silicone pattern grip for a robust hold
Can be spotted in dim-lit roads with its reflective patches
Made from soft, light, and comfortable fabric
Integrated touch screen technology to change the music or even reply to your messages
Cons:
The material for this model might be a little thin for some users. 
Phew! Those were the 13 best running gloves that we think you should give a try this coming winter. If you are still confused about which gloves to buy? Continue reading to see how to choose the right one.
How To Choose The Right Running Gloves That Works For You? 
High-quality Material: When you are looking for running gloves, the first thing you should consider is the material and how warm they can keep your hands in the outdoors. Gloves need to be made from superior polyester fleece material that is known to be the best protection against the low temperature during winter and fall. 
Anti-Slip Stability: When you are heading out on your bicycle or just trying to manage your phone, you need to have a firm grip to avoid any untoward incidents. So, having a glove that offers an anti-slip silicone will establish a secure holding.
Breathability: The fabric on the gloves plays a very important role. You are bound to gather some moisture on your hand during your outdoor activities which can cause a lot of discomfort. You don't have to keep removing your gloves to wipe them off, most of these gloves above are designed to repel snow/moisture and keep your hands dry at all times. Look for a fabric that breathes!
Touch Screen Sensitive: Again, you don't have to keep removing your gloves for anything! Not even to use your smartphone. Some of the gloves have electrically conductive pads on the thumb and forefingers that will help you navigate your phone to reply to texts, shuffle playlist, and take pictures.
Fitting: Choosing apparel that fits your hand perfectly is of the utmost importance. If they are too big, they might slide off your hands and if they are too small, your hands will feel suffocated and it might cause poor blood circulation. Let's keep our hands functional, we need them. Use the chart given on the product page to select the right size.
Reflective Surface: Riding your bicycle in the dark could prove to be very dangerous. But if you are a person who does it nonetheless, you should be well-equipped. Gloves with reflective surfaces or prints will alert the passing vehicles and can be life-saving.
Multi-sport Apparel: If you are someone who likes adventure, you are sure to take part in quite a lot of activities. And, with that in mind, it is folly to have different gloves for each activity. So, you might want to put in some extra bucks and pick gloves that can endure various environments.
That was our list of the top 13 best running gloves. These gloves are definitely worth upgrading from your old running gloves. We are pretty sure you have heard that famous catchphrase— Winter is coming! So, gear up and be ready. Do let us know in the comments which one you loved the most.
Recommended Articles: