If you like to run every day to stay fit and strong, you can't let a little drizzle, or a bit of rain interrupt your routine. While running in heavy rains or windy conditions may not be possible, running when there is light rain is possible when you have a good quality running rain jacket.
The perfect rain jacket for runners should protect you in bad weather conditions like rainfall or strong winds and be made of breathable fabric to let you move freely.
Whether it's rainfall or windy weather, a running rain jacket allows you to run without hassle. From breathable, soft fabric to thick protective fabric that works as a shield, running rain jackets are made from various materials. Our list of the best running rain jackets features them all. Keep reading to find the most suitable one for yourself.
17 Best Running Rain Jackets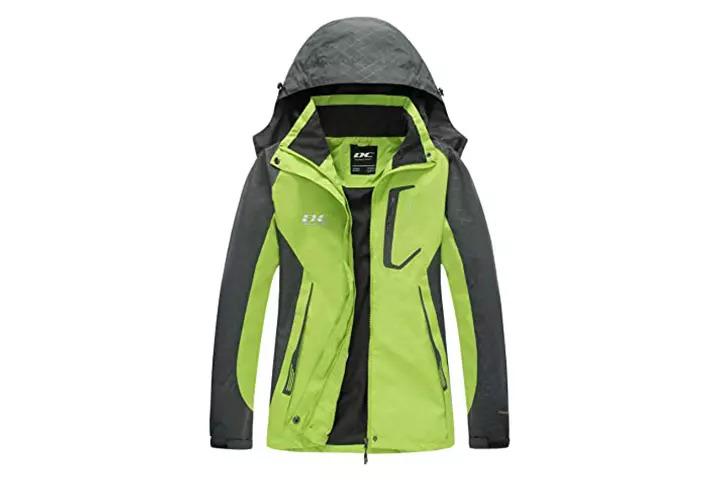 The Diamond Candy lightweight rain jacket is made of a soft and lightweight fabric to keep you safe from heavy rains and wind while keeping you comfortable. The waterproof jacket comes with a hood that can be adjusted to get the right fit and shield you in bad weather. Comfortable to wear in all weather conditions, it is ideal for wearing when you go camping, trekking, picnicking, running, and walking in the morning.
Features
Has a detachable hood
Available in blue, hot pink, green, red, and black colors
Made of good quality fabric
Has enough pockets to carry a phone
High collars to protect your neck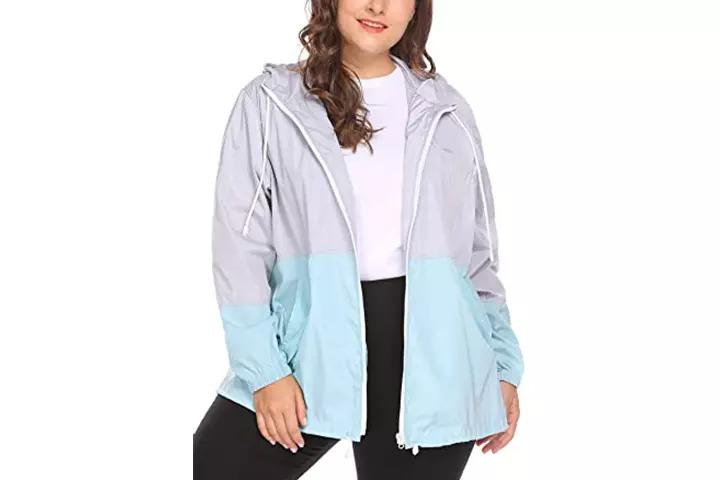 The In'Voland women's rain jacket comes in 14 color combinations! The fabric is made of 95% polyester, giving your body enough freedom to move when you run, and 5% spandex for a sporty athletic look. Built to protect you from light rain, the jacket allows you to walk and run care-free as it soaks in all the water to keep you dry. It is suitable for all outdoor activities, including cycling, hiking, camping, and trekking.
Features
Has a superior stitching
Comes with a bungee cord hood
Two large front pockets to keep your belongings safe
Waterproof long sleeves
Lightweight and soft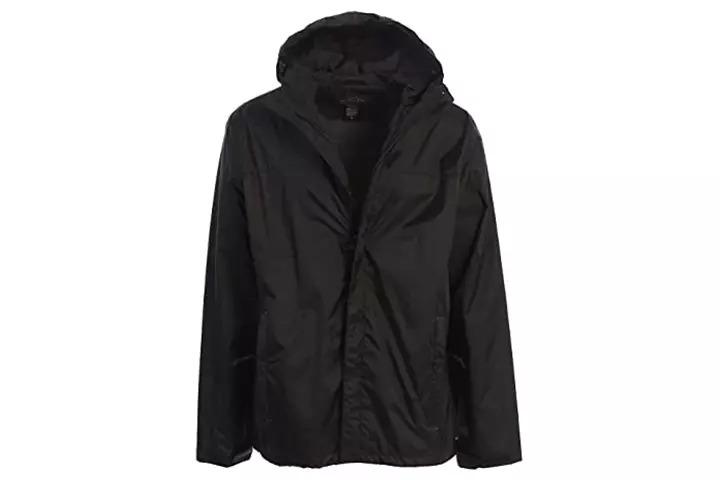 The jacket's fabric is developed with the latest waterproof technology that kicks-off all the moisture giving you the mobility to breathe and run freely. This waterproof running jacket is designed with fully sealed seams so that water cannot enter inside. The meshed lining inside allows excess heat and vapor to escape, keeping you comfortable all day.
Features
Two zippered pockets with a drawstring at the hemline
Adjustable pull strings and Velcro sealing for the hood
Packable and easy to store
Unisex, available in various sizes
Suitable for sightseeing, vacationing, and camping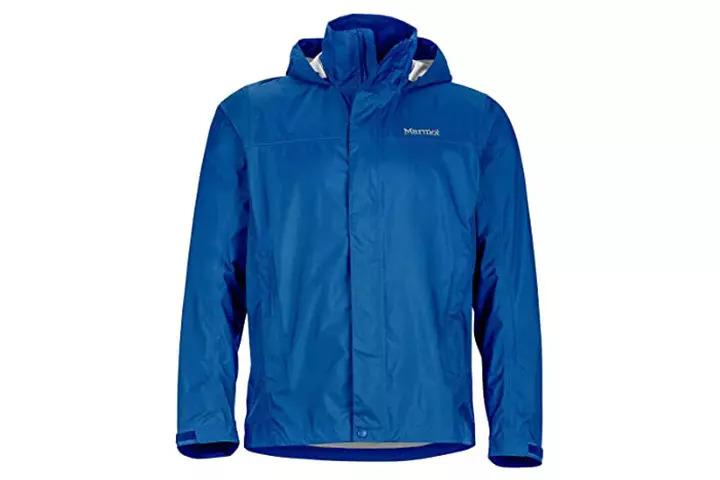 The waterproof jacket is made of 2.5-layer performance Nanopro fabric, suitable for light snowfall, heavy rainfall, and windy weather. Its waist is secured with elastic so that you can move freely and walk comfortably. The jacket also comes with pockets both in the front and the back for holding your belongings.
Features
Made of good-quality fabric, 100% nylon
Waterproof and comfortable
Lightweight and breathable fabric
Comes in 10+ vibrant colors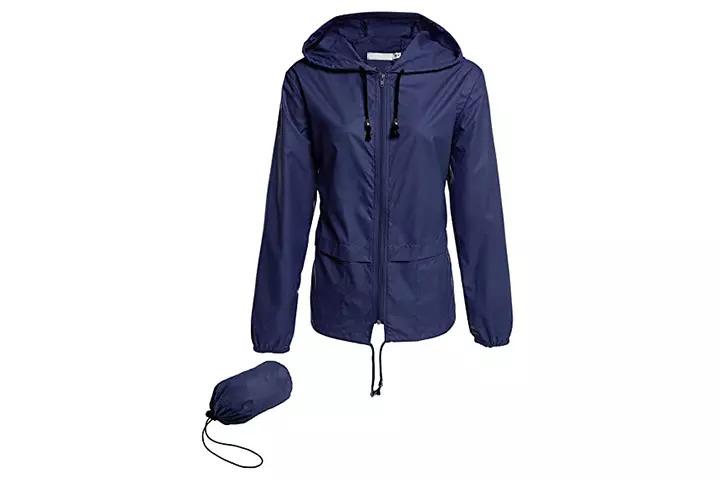 The Hount women's running rain jacket has a zipper closure and long-sized sleeves. It is made of a combination of 98% polyester and 2% rayon for a smart look and comfort all day. Suitable for cold and humid seasons, the jacket has a quick-dry feature that soaks all the moisture and makes you feel breathable and care-free.
Features
Small-sized pouch available
Lightweight and soft
Waterproof and flexible
Easy to carry and pack
Has enough space to store your essentials
Comes in more than five different colors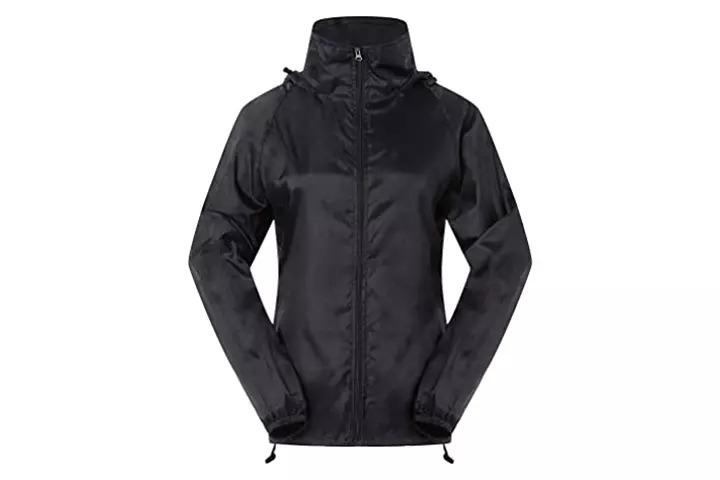 The 100% polyester jacket has a neat finish with a high-quality seam and water-repellent properties to protect you from rainfall. It can be folded small and packed for easy portability. The stackable jacket has a bottom hem with elastic that can be adjusted according to your comfort.
Features
100% waterproof
Suitable for all seasons, spring, summer, and autumn
Comes in seven different colors, including acid blue, grey, hot pink, white, black, blue, and navy
Fashionable and comfortable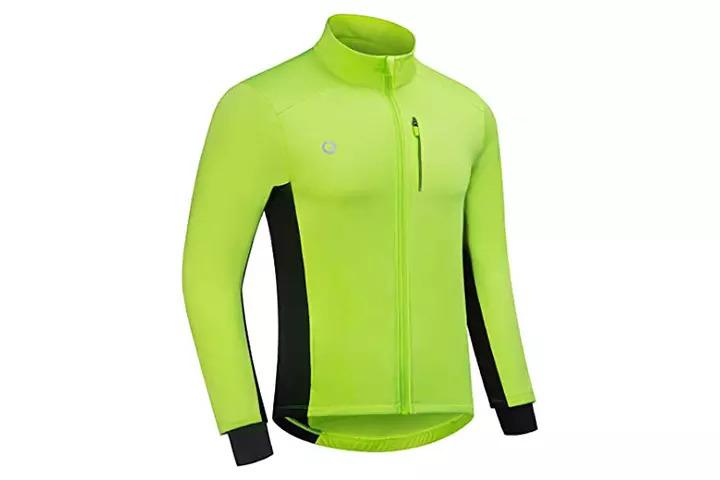 If you love cycling and your morning starts with this sport, the Przewalski jacket can be a good choice for you. It is designed specifically for cycling as its fabric provides ventilation and wicks all the moisture away from you. The high collar is made to give you both warmth and comfort so that your neck stays protected from early morning precipitation and cold winds.
Features
Comes in five unique colors
Interiors of the jacket retain your body warmth
Two rear pockets for safe storage
Zipper pulls up and down smoothly without creating any friction
Breathable and windproof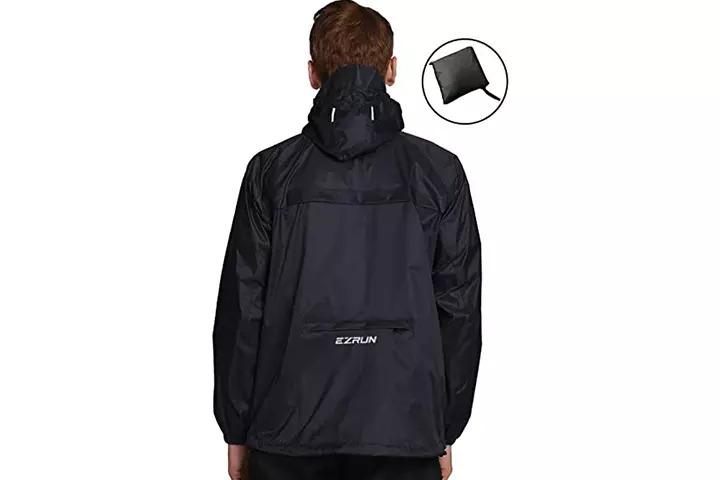 The 100% nylon jacket is more durable and breathable than the regular ones. The lightweight feature makes it comfortable for you to run, walk, and cycle easily without stressing about rainfall and cold winds. Its fabric has elastic cuffs and rope for comfort and flexibility all day. You can find it in six different colors and five sizes.
Features
Funnel hood with cord adjuster
Mobile phones, protein bars, and other things can be kept in the pockets
Ideal for all outdoor activities
Lightweight, breathable, and convenient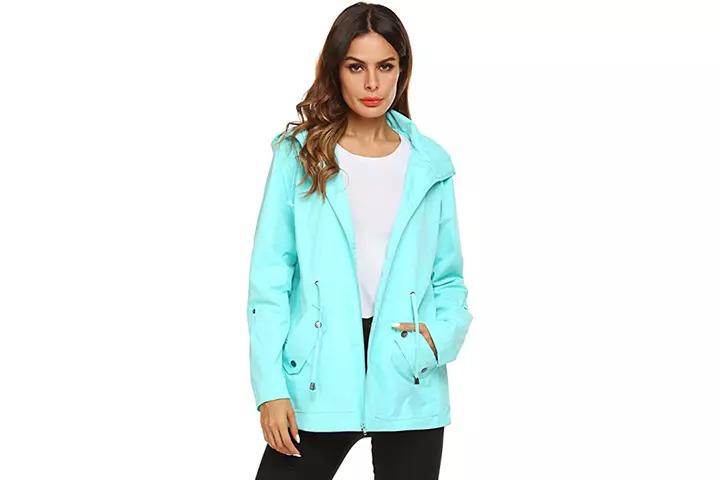 The trendy and fashionable jacket from Zhenwei is suitable for the spring, fall, and winter seasons. Made of polyester and spandex, it is both lightweight and comfortable, giving you ample space to store your essentials. The lotus leaf self-cleaning effect lets the water slip off and doesn't penetrate inside.
Features
Made of high-quality waterproof and stainproof fabric
Comes with mesh lining
Super comfortable and breathable
Has unique roll-up mesh sleeves
Designed with an adjustable belt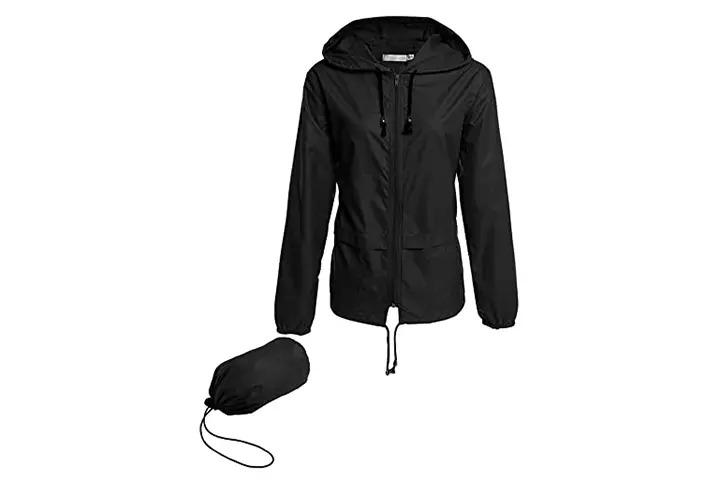 Lightweight and breathable, the Avoogue raincoat jacket is made of super water-resistant material. You geta packable pouch complimentary with the jacket to carry your essentials such as a mobile phone, protein snacks, or small water bottle. Drawstring hem and hood let you be comfortable and care-free when enjoying sports or outdoor activities.
Features
Water-resistant fabric
Elastic cuff keeps your hand and arms dry
Has two big pockets to keep your belongings safe
Suitable for all types of adventurous activities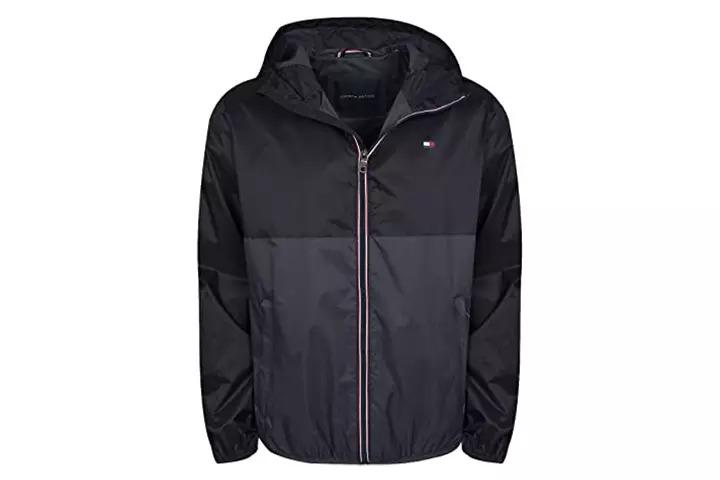 The Tommy Hilfiger jacket is made of 100% nylon and has a zipper closure designed with tricolor including, red, white, and navy. It has a hood with adjustable drawing cords to give you style and comfort. You can find it in varied bright colors and different sizes.
Features
Water-resistant feature wicks off all the water and moisture
Made of good quality fabric
Machine-washable
Suitable for all weather conditions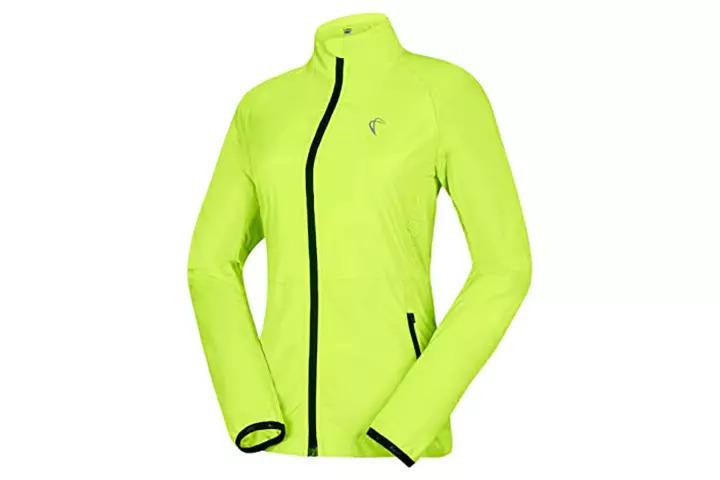 The jacket is made of 100% polyester that is waterproof and shields you from windy and rainy weather conditions. The soft feature of the jacket makes it stand out from the rest. It has an adjustable hem at the bottom with elastic clasps that keeps you warm, making you feel comfortable.
Features
Lightweight and breathable
Has a ventilation system in the back
Reflective elements for low light visibility
Zipper garage seals in all the air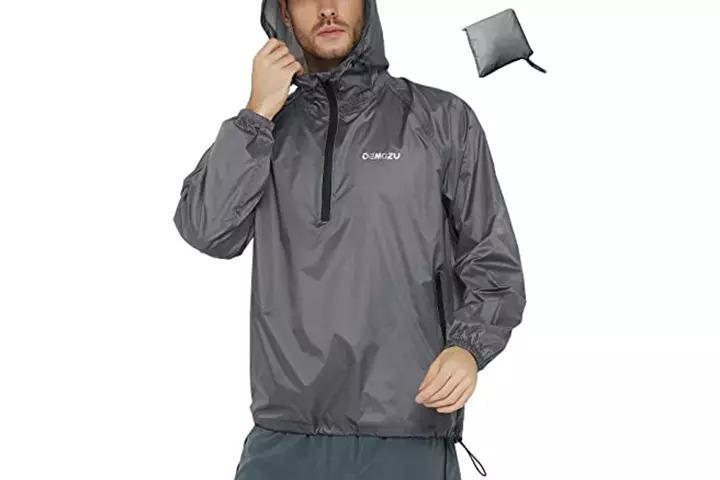 Keep out of the rain with this jacket from Demozu, designed to give you comfort and mobility. The good-quality nylon fabric makes it a durable essential for all types of outdoor adventures. It has a half zipper closure with two side pockets, letting you take your essentials with you. It also has detailed reflective features that make it perfect for night travel.
Features
Has a loose fit for an oversized and comfortable feel
Suitable for activities such as camping, hiking, running, and trekking
Comes in four different colors including, neon, navy blue, grey, and black
Baggy fit and super stylish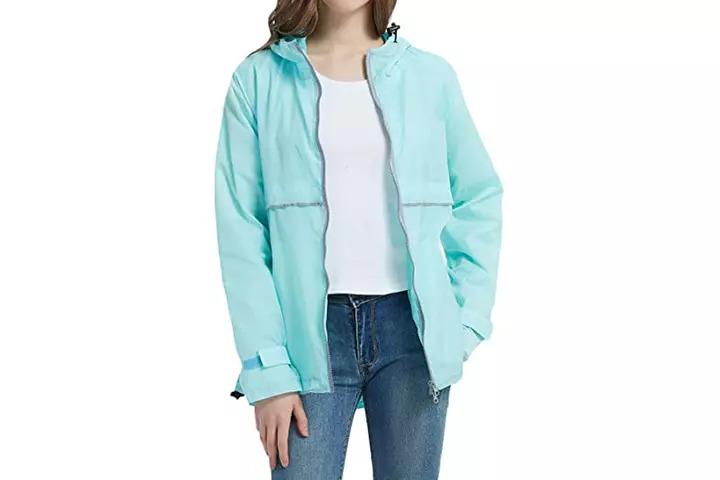 The Sunday Rose women's rain jacket is 100% water-repellent and designed with stylish zipper closure. Offering protection from both drizzle and sun rays, it works well in rainy and summer seasons. The jacket features an adjustable drawstring hood, long sleeves with Velcro cuffs, and two front pockets. The reflective strip on the back makes it suitable for use during the night too.
Features
Breathable and comfortable
Comes in unique, vibrant colors
Lined with mesh fabric
Easy to pack and store
Suitable for both outdoor and indoor activities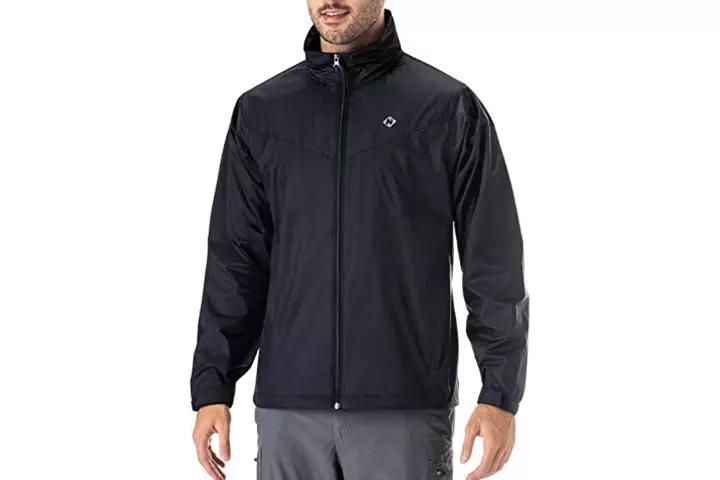 The men's jacket from Naviskin is made for protection during heavy rainy days. Its waterproof, lightweight, windbreak, and durable features make it comfortable and skin-friendly as it fits your body like a second skin. It has a funnel hood covered under the collar, secured with Velcro closure, to prevent your hair from getting wet and dirty.
Features
Two zipper pockets to keep your essentials
Reflective logo in the front enhances the visibility
Lightweight and can be folded to fit into a small bag
Comes in three unique shades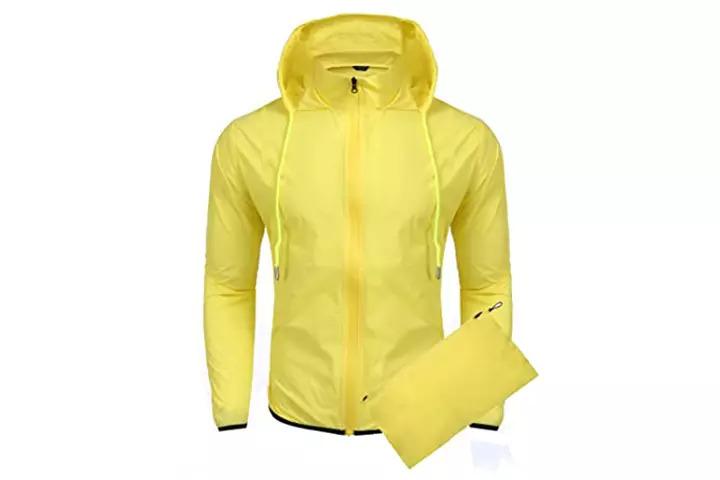 The Coofandy jacket is made of high-quality, skin-friendly, and waterproof fabric and is available in three different colors. Its trendy design makes you look stylish and makes it comfortable to wear. The EVA waterproof materials are odorless and keep you comfortable, cool, and dry in humid weather conditions.
Features
Can be rolled up to fit the pocket or a small bag
Suitable for all types of outdoor sports
Can be washed in a machine
Waterproof and windproof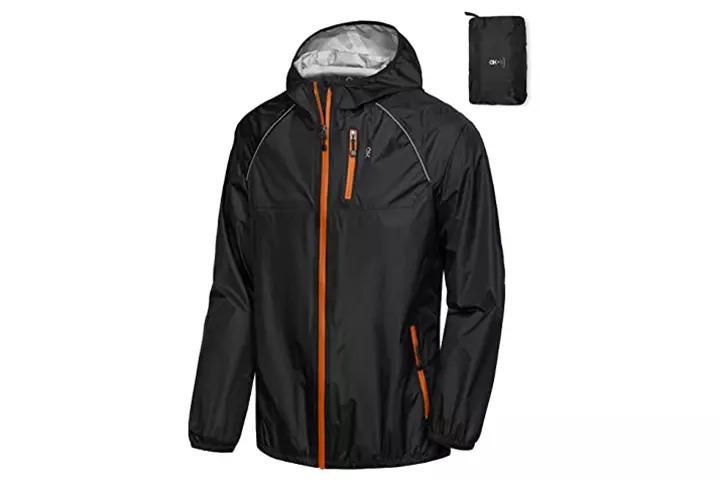 The waterproof jacket is made of100% nylon fabric and is available in black, green, yellow, and grey. Sealed and welded with a TPU membrane, the jacket comes with a waterproof zipper. It is lightweight and can be folded and fit into your pocket.
Features
Designed with two reflective strips
2.5 waterproof layer and breathable technology
High-density nylon fabric
Comes in four different colors
Available in all sizes
How To Choose The right Running Rain Jacket?
Here are some factors you should look at when buying the best suitable running rain jacket for yourself.
Waterproof: It's one of the essential features of a rain jacket to wick off extra moisture so that you can walk and run freely. You can look for a 2.5 waterproofing layer for the best results.
Breathable fabric: A waterproof rain jacket could sometimes cause itching and skin irritation. So, choose a material that's both comforting and protects you from rain. You can buy a jacket that fits you like your second skin for complete protection from rainwater.
Lightweight and foldable: You wouldn't want to wear a heavy jacket that limits your mobility. Thus, consider a light jacket that can be folded to fit in our pocket. This way, you can move freely without feeling heavy.
Hood: It protects your hair from precipitation and covers your face and ears from cold wind. Hence, it is one primary feature of a rain jacket.
Pockets: To keep all your essentials with you, this perhaps is a vital feature to reckon with. Two zipper pockets in the front or back can store your mobile, wallet, and bicycle keys. So, try looking for a jacket that has one or two pockets.
Changes in the weather should not hinder your morning fitness routine. Buy a good quality running rain jacket and ensure it fits you well enough and has all the features that make going for a run in the rain comfortable. Our list features many options suitable for men and women. Consider the options, check the buying guide, and you can find one most suitable for yourself.
Recommended Articles: