A bunion is a painful swelling on the first joint of the big toe, which occurs due to continuous pressure on that area from wearing tight or pointed-toe shoes or overpronation. However, there are special running shoes designed for people with bunions. These shoes can help you run comfortably despite the bunion and prevents it from getting worse.
Below you will find our list of the best running shoes for women with bunions.
Top Products From Our List
5 Best Running Shoes For Women With Bunions
Brooks women's adrenaline is suitable for runners who are searching for support with optimum cushioning. The crash pad can adapt to your stride, improving breathability and giving your feet a secure and modern fit. The product measures 10x15x6 inches and weighs two pounds. These running shoes offer an improved ride, stability, and reliable support. They are ideal for running, gym, and cross-training.
Pros
Soft and comfortable
Multiple colors
Certified PDAC A5500 diabetic shoes
Durable
Cons

With a comfortable lace-up design and high-quality material, these shoes can make running enjoyable. They are one of the best sneakers for bunions and are made of 95% leather and 5% mesh. Whether at the gym or work, the thickly padded lining and insole will offer full support. The rubber soles are flexible and provide traction to prevent slipping and injuries.
Pros
Lightweight
Synthetic sole
Removable insole
Durable outsole
 Cons
May not have adequate arch support

If you have foot or heel pain, these shoes from Orthofeet can be an ideal choice. These wide-toe box running shoes for bunions can provide comfort and style. Their ergonomically designed, lightweight soles provide optimum cushioning. The insoles give arch support, and the cushioning layers provide support, comfort and help ease pain from the foot, heel, knee, and lower back. These women's sneakers are available in medium, wide and extra-wide widths, providing a secure fit. Their unique therapeutic design can help reduce joint stress and improves stability and walking.
Pros
Extra-foam padding
Anti-odor fabric and foam
Heel cushioning
60-day wear test
Cons

One of the best athletic shoes for bunions, Mishansha women's sneakers are suitable for walking, running, jogging, yoga, cycling, or playing sports. The upper is made of lightweight knitted fabric for comfort and breathability. Their inner lining is made of a soft sponge to reduce friction between feet and sneakers. The arch support insoles offer enhanced comfort and keep the foot positioned correctly, providing pain relief and support. Its shock-absorbing air cushion protects the knees and feet. An oxford patch is fixed to the soles, increasing friction.
Pros
Multiple colors
Wear-resistant rubber sole
Non-slip
Durable
Cons

Versatile and equipped with many performance features, these shoes from New Balance are designed for comfort and confidence. They have an EVA foam insert and fresh foam midsole cushioning for adequate support. The sturdy toe tip protects your feet from sharp objects, rough terrains, rocks, and debris. Made from 50% synthetic and 50% textile, these running shoes offer a sleek fit.
Pros
Multiple colors
No-sew construction
Durable AT tread outsoles
Lightweight
Cons
May not have sufficient padding

How To Choose The Right Running Shoes For Women With Bunions?
Here are a few points you need to consider before buying running shoes for women with bunions:
Comfort: If the bunion is small, you need comfortable shoes with enough toe space and low heels (less than one to two inches). The spacing inside the shoes should be wide to accommodate the entire foot comfortably.
Custom Made: If you have severe bunions, you should get customized running shoes. Choose function over fashion when it comes to buying these shoes. Look for lace-up or strapped shoes so that you can adjust them if there are changes in your feet due to a bunion.
Cushion: Make sure the shoes provide optimum cushion and a snug fit. Cushioned insoles give a soft feel to the feet.
Frequently Asked Questions
Why does my bunion still hurt after wearing properly fitted running shoes?
Choose a shoe that has a wide toe box as it gives space for your toes to move. You can use protective padding, such as bunion pads or sleeves, to relieve the pain. A podiatrist may also suggest you place fitted orthotics inside the shoes to prevent bunion pain.
Can I continue to wear high heels if I have a bunion?
You should not wear high heels as they can cause excess pressure on your bunion, worsening it. If you keep putting more pressure on your bunion, it will become bigger and more painful.
Do bunions get worse over time?
Bunions can worsen over time and cause excruciating pain if your shoes do not have adequate width for your feet. If you continue to wear shoes that are ill-fitting or have pointed toes or heels, the bunion will increase in size and cause more pain and discomfort.
Is it okay to run with bunions?
Yes, it is okay to run with bunions only if you have the proper running shoes of your size for comfort and support. Increase your pace slowly and if you experience any pain, take immediate action.
Is walking barefoot good for bunions?
Walking barefoot may seem appealing if you have a bunion as nothing rubs on it, but you should avoid doing so. Less arch support can cause overpronation and may worsen the bunion.
Wearing properly fitted running shoes will give you comfort, stability, and good traction while running. A good pair of running shoes designed to give more space to your toes can help alleviate pain from the bunion and keep your feet healthy and happy. We hope our list of the best running shoes for women with bunions can help you choose a suitable product.
Recommended Articles:
The following two tabs change content below.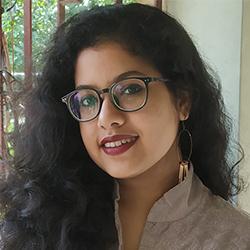 Poulami Nag
Poulami Nag is a writer and associate editor at MomJunction. She did her MA in English from Miranda House, University of Delhi and has qualified UGC-NET. Her journey as a content writer began in 2017 and since then she has garnered diverse interests along the way. Her knowledge of literature and language has given her an eye for detail and...
more