If you are fond of running or walking to stay healthy and fit, you will need a good pair of running shoes. A robust pair of running shoes will help you get the maximum result out of your running. The best women's running shoes ought to be light in weight and comfortable for the wearer.
The shoes should offer you an effective cushioning and support the heel. Women's running shoes must be equipped with lighter midsoles as women's weight remains lesser than men's weight. Here, MomJunction gives you a list of the best running shoes for women to choose from.
17 Best Running Shoes For Women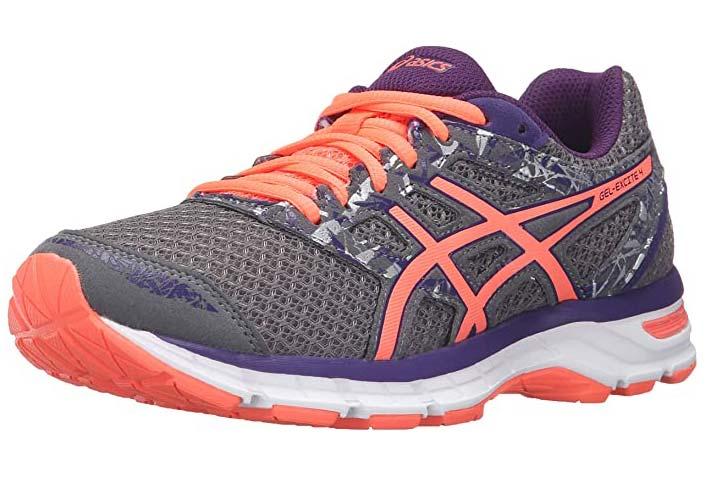 The ergonomically designed running shoes are effectively cushioned for maximum comfort. The feature of gel cushioning offers good shock absorption for softer landings. The versatile shoes with a mid-sole of 150 inches platform are lightweight and provide effective transitions. For better fit and longer durability, the overlays of the running shoes are placed tactically. They are available in 15 colors and design options.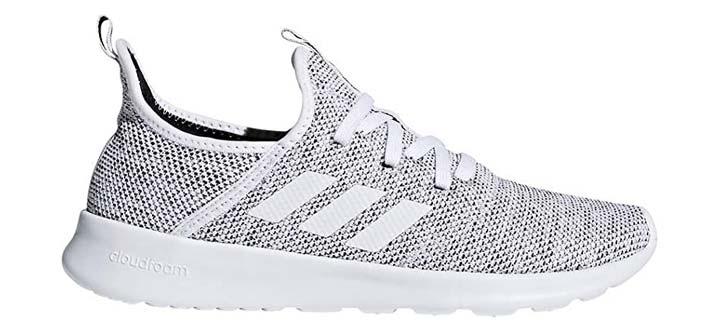 The shoes are ideal for everyday runners and come with a rubber sole for utmost comfort. You can buy these lightweight and comfortable shoes in five different colors. Manufactured using cloudfoam memory sock liner, these shoes are attractive too. The boot opening of the running shoes measures six to 12 inches while the platform measures 0 to 3 inches. When you wear them, you will get optimal support and good cushioning.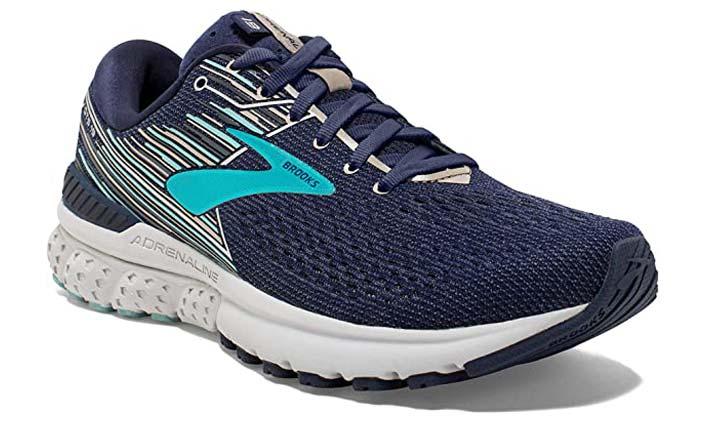 The shoes have a rubber sole to provide you with the desired foot support. The shoes' guide rail support system focuses on the injury-prone part of the women runner's body. Guiderails help you walk and run effortlessly and comfortably, without letting you feel exhausted. The footwear offers the correct amount of cushion in every step that you take. The DNA Loft cushioning feature of the shoes ensures softness and durability.

These women's shoes offer users a basic Fresh Foam midsole along with a breathable engineered mesh upper. They are equipped with a regular heel fit in case you do not have a liking for the molded heel of the recently launched Fresh Foam models. The shoes have been designed in such a way that you get the necessary relief and sophisticated style. Their strong cushioning and softness give users much-needed comfort while running.
5. Under Armour Women's Charged Assert 8 Running Shoe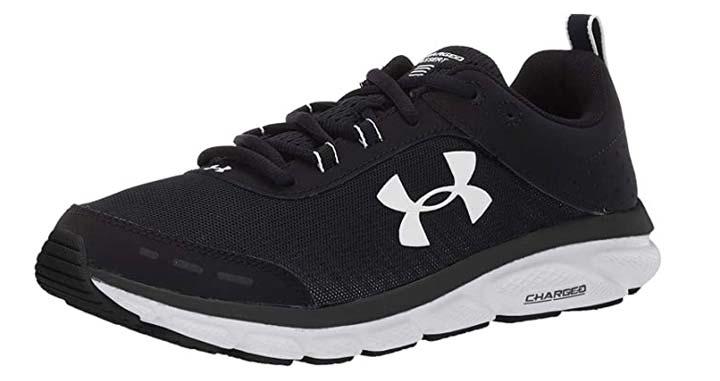 Under Armour shoes are just appropriate for runners who are looking for flexibility and cushioning. The lightweight mesh upper with three-color digital print ensures complete breathability to users. The shoes have been manufactured from long-lasting leather overlays to give maximum stability. The presence of EVA sock liner gives women complete softness and thorough comfort. The shoes offer traction and durability as a result of the strong rubber outsole.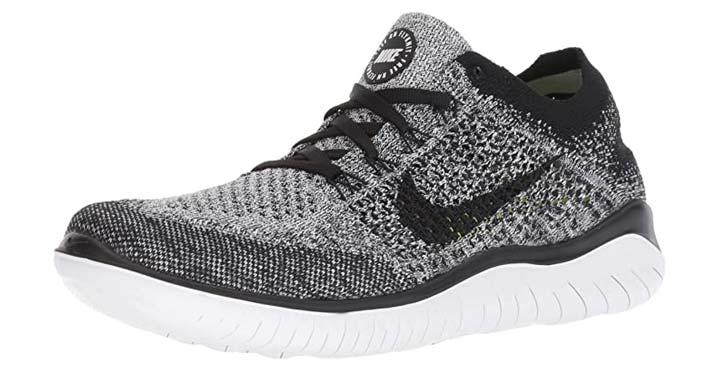 Nike's women's shoes are super light and offer you a hug-like fit. They give you more cushion and provide natural flexibility while running or walking. The shoes feature reflective strips on side-seams so that you remain visible even during foggy conditions. They are manufactured using Dri-FIT fabric to keep sweat at bay. They keep the feet dry and comfortable for long hours.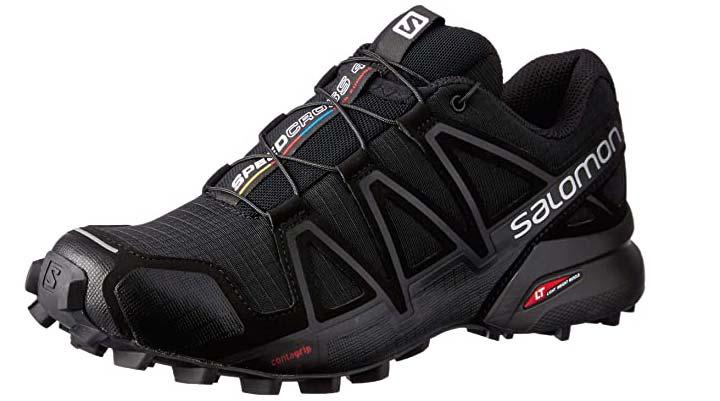 You will like the comfort and fit that these shoes offer. Salomon Speedcross running shoes have the appropriate level of cushioning around ankle areas. The lacing system and sock liner of the shoes give women a supportive fit. The grip is perfect in most conditions, and you can run easily on grassy slopes or rocky trails. The design and spacing of the studs are planned in such a way that they do not get clogged up with dirt or mud. The soles of the shoes offer good durability.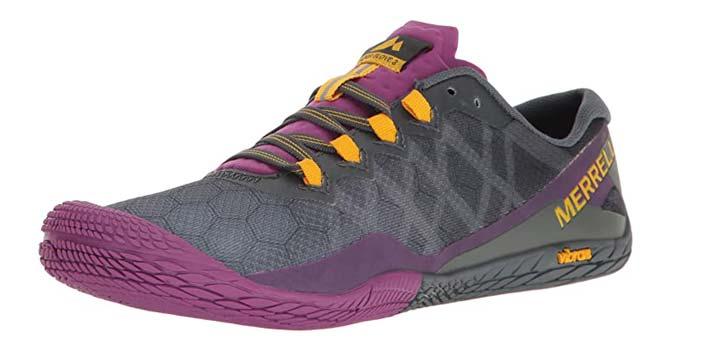 The outsole of the shoes provides users a stable grip while walking and running. You will find these shoes to be lightweight, flexible, and comfortable for a relaxed run on various terrains. The shoes offer adequate ground sensitivity in different conditions. They are affordably priced and will not cause a hole in your pocket. This pair of shoes from Merrell, available in eight attractive colors, also offers users optimum arch support to let them enjoy their run.
9. Saucony Women's Excursion Tr11 Running-Shoes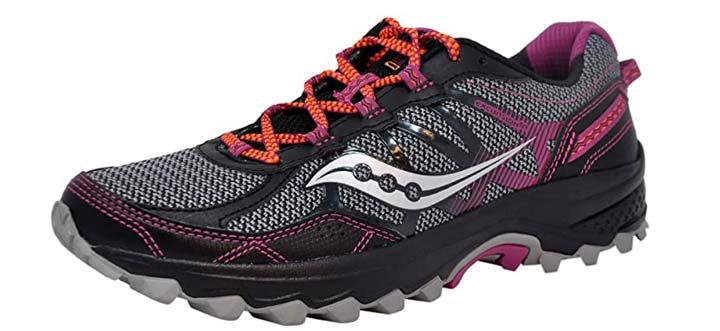 The mesh material of the shoes has small openings that can prevent small rocks and dirt from getting into the shoes. The shoes are lightweight and allow optimum ventilation. The upper of the shoes feature a heel tab and a well-padded collar and comes with a removable insole. The shoes are comfortable and have a soft cushioning. They are made of breathable material and provide optimum traction on various types of surfaces. Users can pick from many color options.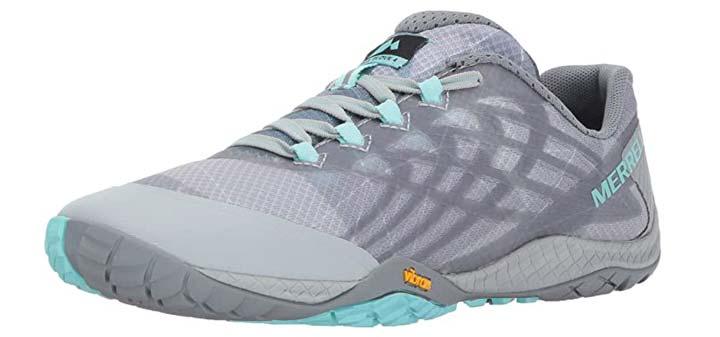 Merrell's shoes have emerged to be protective and stylish for fashion-oriented women. The pair has performed effectively on short and long-distance trail running and offers users a comfortable and secure tongue unit and laces. The shoes are also ideal for casual occasions because of their formal design. They offer users more flexibility, durability, and a proper grip on slippery surfaces. Their Trail Protect pad offers protection to the sole as well.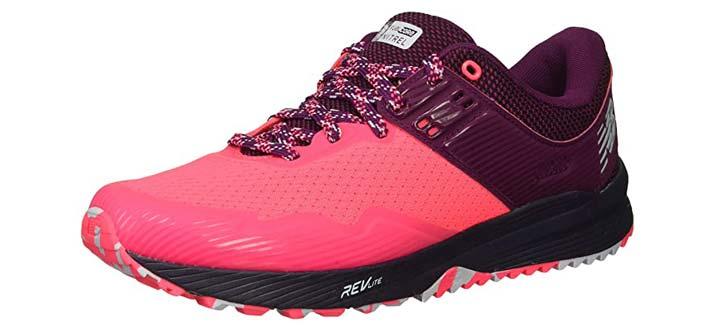 This pair of New Balance shoes give the users desired comfort during trail runs. The shoes provide responsive performance appreciated by trail and road runners alike. They are lightweight for training and running. Users can experience the right amount of support, especially in the heel region. The outsole grip of the shoes is quite versatile and ideal for various terrains. The shoes feature a comfortable and spacious toe box and are quite affordable.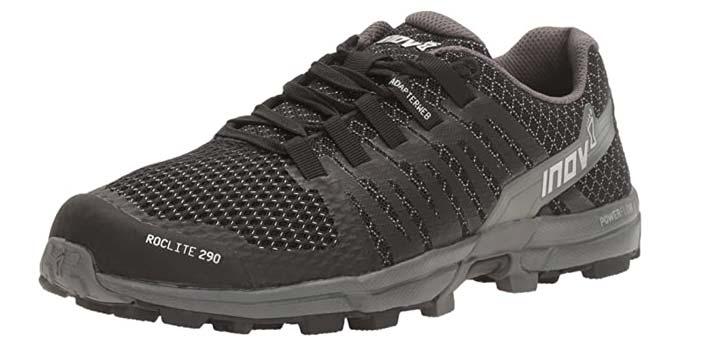 The powerful trail shoes are ideal for sprinting on rough and rugged terrain. The superior quality sole gives you a light feel along with adequate flexibility. They have been designed to build speed on rocky trails without much hassle. The shoe offers a good level of cushioning in the midsole and can effectively create a strong lug that wears well and holds tight on various types of terrain.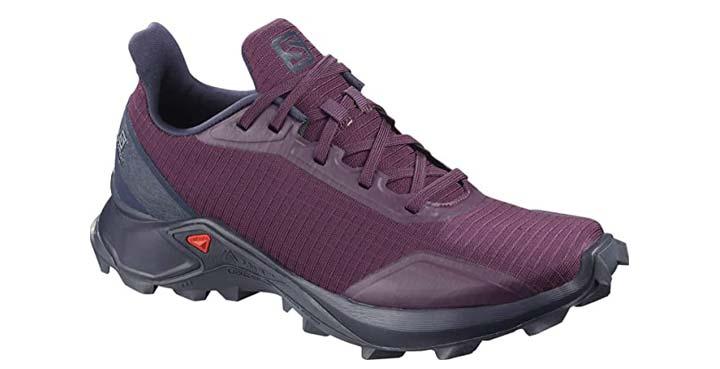 Alphacross from Salomon offers users ideal traction on muddy and slippery trails. They help in offering the required warmth and oxygen during cold weather. The shoes are ergonomically designed and are popular, especially for their choice of upper fabric and soles. They are manufactured using EVA foam construction that helps you feel neutral when you run. The upper fabric of the shoes is stitch-free and gives a smooth feel.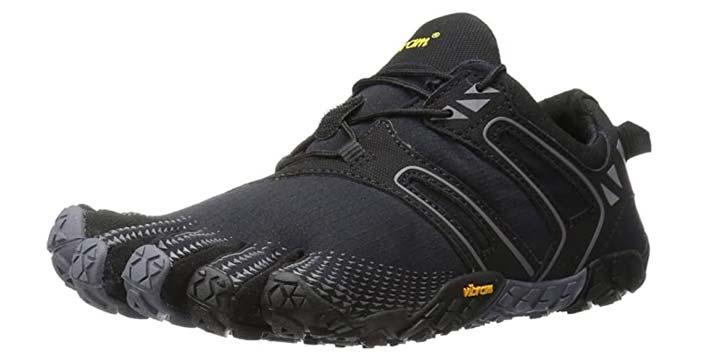 The shoes have emerged to be quite comfortable and breathable. They are durable and do not reflect any sign of wear even after wearing several times. The pair gives a subtle amount of cushioning desired for the long-running and walking. Users get good protection from rocks and rough surfaces with the 3D Cocoon technology used in designing these shoes.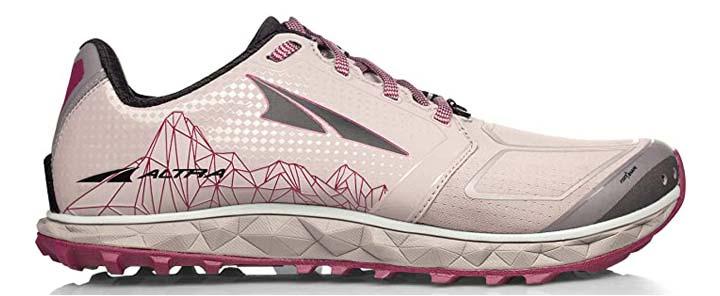 The affordable pair of cushioned trail runners offers good foot protection. The shoes' cushioning and rock plate work together to keep your feet safe. The outsole of the shoes performs well on slippery and rough trails and offers flexible movement on harder surfaces owing to its ideal lug pattern. The material of the shoes is comfortable and soft and makes them lightweight. The trail shoes offer light cushioning.


La Sportiva shoes come with significantly enhanced cushioning when compared with their earlier models. They offer users a stable running and walking experience and provide adequate stability on most trails. You will not witness any discomfort, even on a rockier surface. The shoes promise to give users an appropriate grip on any kind of terrain, whether it is dry or wet. The tongue of the shoes is ergonomically designed. This pair by La Sportiva is reasonably priced.


The shoes offer women effective cushioning, better fit, and a flexible midsole. You will receive an outstanding trail experience when you wear these shoes, which are lightweight and have a rugged outsole to make you feel comfortable. They feature a 4-point Gaiter Trapo that can keep all the debris away, thus letting you enjoy your outdoor experience. The presence of a foot shape toe box lets you relax your toes.
Benefits Of Using A Running Shoe While Running
You can benefit in the following ways by using running shoes while running or walking.
Arch support: Arch support has become vital for women with flat feet. If you follow a regular exercise regimen, it becomes imperative to invest in top quality running shoes that offer good arch support.
Fewer chances of injury: Running shoes can significantly prevent injuries. Most people often sustain injuries when they do not wear running shoes while walking or running.
Better performance: Women using the right kind of running shoes will experience better athletic experience. The shoes will help in boosting their comfort and running capacity.
Cushioning: Running shoes provide ideal midsole foot cushioning that can eliminate the stress on the heel, ankles, and toe areas. Right cushioning may also tackle knee, hip, and back pain.
Types Of Running Shoes For Women
Every runner may have different requirements. When you buy running shoes, you may need to find out what kind of support, cushioning, and gait you will need. There are three types of shoes available in the market as per a woman's requirements.
Trail running shoes: These shoes have been designed to withstand various types of terrain while keeping your feet safe, secure, and protected. The outsole of these shoes offers robust traction along with forceful lug, better stability, and comfort. You will get better safety from trips and falls on hard and rocky surfaces.
Road running shoes: They are smaller and lighter when compared with trail running shoes. The shoes are designed to run on flat terrain with little or no debris. The construction of these shoes mainly emphasizes on speed and responsiveness than protection.
These shoes lay emphasis mainly on two factors, technology and innovation. Women's running shoes have various features that may include waterproof lining, energy transforming technique, skin suitability systems, and 3D inspired cleat designs, among others.
How To Choose Right Running Shoes For Women?
You need to consider the following factors to select the right running shoes.
The thickness of the sole: The thicker the sole, the higher will be the cushioning. It will go a long way in offering you required support for running longer distances
Weight: Lighter shoes are ideal for racing. Meanwhile, heavier shoes mean that you will get more cushioning and stability features.
Material: You must check the material of the shoes and your requirements. Ideally, the material should be breathable and waterproof. Other types of materials in shoes may include seamless knit, mesh, and thicker materials that are ideal for cold regions.
Tread: Shoes offering increased bumpy tread suit hard terrains. Meanwhile, flatter treads are suitable for road racing. Spikes are appropriate if you are part of a weekend cross country team.
Heel to toe drop: This is basically the difference between the height of the heel and the toe of a shoe. If the number is larger, it implies that the heel is higher than the toe of the shoe. It may be ideal for heel strikers.
Comfort: You must consider buying those shoes that offer you the right comfort and durability. Investing in poor quality shoes may only cause irreparable harm to your feet.
Frequently Answered Questions
Can you wear running shoes for walking?
Yes, you may use traditional running shoes for either walking on the road or on the treadmill. Trail running shoes should always be used only for trails.
How often should you change your running shoes?
The estimates on how long the running shoes may last tend to vary. However, if they are in the right condition, they should last between 310 to 465 miles.
If you go out for walks and runs regularly, it becomes inevitable to invest in good quality running shoes. You must pay attention to key factors such as performance, comfort, and durability while buying the best running shoes for you. You may select the one that will meet your requirements and help in boosting your performance.
Recommended Articles: