If your child is starting to explore and move around the house, we have created a list of the best safety gates for babies to help you babyproof the home efficiently. These gates are made of plastic, metal, or wood and are commonly installed in kitchens, doorways, and stairway entrances to keep your little one safe from injuries. They are expandable and can fit most areas without hassle.
So, if your child is running around the house opening drawers and doors, these gates can prevent them from accessing dangerous areas. However, with multiple options available, choosing the right safety gate might be challenging. So, read on to learn more.
Tips On Using And Installing Baby Gates Safely
Here are a few tips that can help you use and install the baby safety gates correctly.
Do not climb over the safety gates as this will not only dislodge them but will also give your babies an idea to get out.
Do not install the gate at the top of the stairways to avoid the risk of dislodging or tripping.
Install the safety gates at the bottom or the top of the stairways to block access from both sides.
Go for specialty gates and extensions for creating a barricade around oddly shaped areas.
Instead of using hollow wall anchors, use wood or wall studs to install the gate hardware.
Always keep the doors closed.
Do not install the gate too high as it can create entrapment risks.
Choose safety gates approved by JPMA (Juvenile Products Manufacturers Association).
13 Best Safety Gates For Babies
Regalo safety gates and play yards for babies are generously wide, consisting of eight panels. Measuring 28in high and 192in wide, the four-pack wall mounts require no tools for installation. Each of the panels is designed to adjust into any opening and makes perfect baby gate doors for hallways, angled openings, the bottom of stairs, or doorways.
Keep your little ones safe with this retractable baby gate made of heavy-duty steel. Made with difficult-to-climb vertical bars, this wall-mounted gate is designed for babies from six to 24 months. The 31-inch-high gate opens easily with one hand and needs a gentle push to close and lock. It is an elegant safety gate that makes an attractive choice for stairways and large room openings.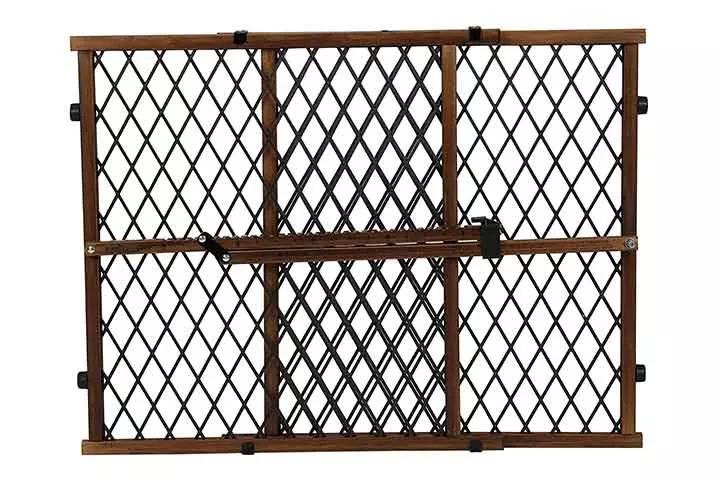 It is an easy-to-install 23in-high pressure-mounted baby gate intended for babies of six to 24 months. This is one of the most versatile wooden safety gates that can fit in different doorways with ease. The black plastic and dark wood stain make it a good fit for various home decors. It has a durable and secure mesh design for protection.
If you are looking for tall safety gates, you may buy this stylish baby gate made of New Zealand pine wood with a slate metal finish. It has three durable extensions that are easy to install and require no drilling. Designed for convenience and comfort, it has an easy-to-operate 32-inch-high gate that keeps babies and pets safe from trip hazards.
With a generous width and height, this staircase safety gate keeps crawlers safe. The double-lock safety and auto-close make it suitable for babies aged between six and 36 months. This strong retractable gate can handle the impact of up to 210lb and can be installed with easy pressure mounting in ten minutes.
Designed to accommodate different openings, it is one of the best baby gates for doorways, stairways, and hallways. It includes a hardware mounting kit for easy installation. The comfortable grip handle makes it convenient for one-handed release. Made of wood, it is a durable and high-quality safety gate with a removable swing stop.
The pressure-mounted, JPMA-certified children safety gate for stairs, doorways, and hallways includes 2.75in, 5.5in, and 11in extensions. The 36in high gate with a width of 29.5 to 51.6in has a door lock with a simple push-to-close mechanism. Its double-locking system makes it easier for adults to handle but cannot be opened by children.
This discreet and functional baby safety gate is used in hallways, doorways, and stairs with pressure-mounted installation and requires no tools. The magnetic latch promises auto-lock, and the SecureTech indicator helps you know if it is locked or not. It creates a secure space for kids to play and comes with a one-year warranty and JPMA certification.
This is one of the best safety gates for babies comprising eight colorful panels shaped into various geometric shapes. You can use this gate to create a safe play area in any corner or the middle of a room. The locking gate feature adds to the security, and there are suction cups that comfortably stick on the carpeted and hardwood floors.
A simple and sturdy white baby gate for stairs and doorways is made of premium steel. The unique directional stop prevents the gate from swinging over the stairs. It comes with a convenient one-hand operation for adults. The hinge side hardware can be easily mounted on angled surfaces, and its quick-release design makes it safe to remove when not in use.
It is an extra-wide baby gate with dual-locking and auto-close features. The easy-to-install 40.5-inch-high construction requires pressure mounting and no tools. The kit includes 2.75in and 5.5in extensions along with four pressure mount rods. Made of high-quality steel, it is sturdy and strong that can withstand weight up to 200lb.
For complete safety of your baby, install this tall baby gate that comes with components including catch mounts, stainless steel screws, and wall scrapers for easy installation. It can be adjusted to fit subjective needs and retracted when not in use. You can use it indoors and outdoors to secure stairs and doorways.
OTTOLIVES Retractable Baby Gate is a transparent woven mesh that prevents your baby from being hurt if they unexpectedly bump the gate. The gate comes with a double locking mechanism. It is helpful for both infants and pets. It can be operated with one hand. It is suitable for stairways, doorways, and hallways, and for indoor and outdoor use.
How To Choose The Right Baby Gate?
Here are some points to keep in mind while buying a safety gate for a baby.
Width: Measure the width of the particular opening where you wish to install the gates. It can be a staircase, a hallway, or a doorway.
Installation: Pressure-mounted baby gates are designed to fit different stairways and doorways and do not require any drilling. Another choice of gates includes fixed or wall-mounted. They make a good choice for long-term use and require drilling holes in the wall.
Material: Baby safety gates are made of metal, wood, and net. It is your personal preference to pick the one depending upon your interiors.
Opening type: Some gates can be opened using one hand, some gates have a stay-open option, and some gates can swing open in both directions. Consider based on the area where you wish to install.
Closing type: Some gates require manual closing, some come with push-button closures, some simply slam-shut, and some have an auto-closing feature. It is again your personal choice on which one to pick.
When Should You Start Using Baby Gates?
The right time to install baby safety gates is just before your baby starts to crawl or scoot. It is usually when the baby turns five months old and begins to move around to explore.
Installing baby safety gates is important to protect your little ones from moving into areas that can be hazardous for them, like the staircase or kitchen. These retractable gates are easy to install, sturdy, and do not allow babies to move into risky areas. Use the above list of the best safety gates for babies and pick one that best suits your needs.

Recommended Articles: