If you love including green veggies in your foods, a salad spinner is a must-have tool in your kitchen. A salad spinner uses centrifugal force, separating water from the leaves without the need for shaking or patting. A salad spinner is quicker and more effective than a colander and leaves your leafy greens crispier.
With a good salad spinner, you can prepare a healthy salad in seconds. All you have to do is place the greens in the strainer basket and wash them with water. Then cover the spinner with the lid and start spinning the device for 15 seconds. Drain the excess water and enjoy a crunchy salad meal.
Several types of salad spinners, operated with a push-button or a string that needs to be pulled, are available in the market today. We have listed some of the best salad spinners that you can buy online.
11 Best Salad Spinners In 2021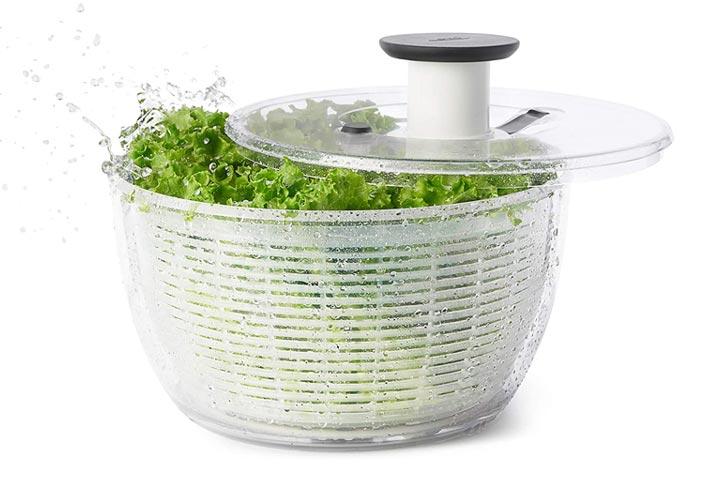 Unlike most salad spinners, OXO Salad spinner comes with a big button in the middle of the lid to rinse and dry the leafy greens quickly and easily. You can easily operate the salad spinner with a single-hand. Just place the leafy greens, fruits,or herbs and push the button, and use the brake button to stop the spinner.The crystal clear bowl and durable plastic basket give the salad spinner a premium look.
Pros
One-hand push button spinning for convenience
Has a clear bowl, giving a clear view of the ingredients
Non-slip knob helps secure the lock easily
Secure, transparent lid
Dishwasher-safe and BPA-free
Cons
Faster spin may not be possible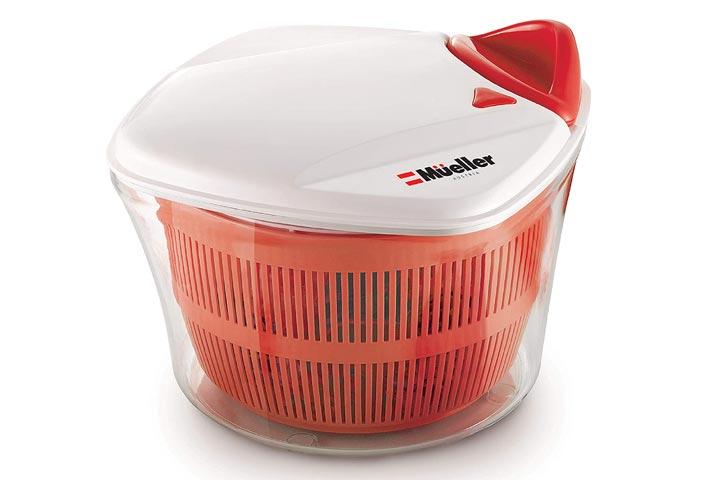 Mueller's heavy-duty salad spinner is made of BPA-free plastic and can be operated with pull control. The salad spinner comes with a stop button and brake feature,which makes the operation easier. Mueller's anti-wobble technology keeps the spinner and the bowl securely on the countertop. The German-engineered spinner has non-slip foot pads that make it sturdy.
Pros
Comes with smart lock lid to avoid accidental spills
Dishwasher-safe
Easy to clean
Has a brake and locking lid
Cons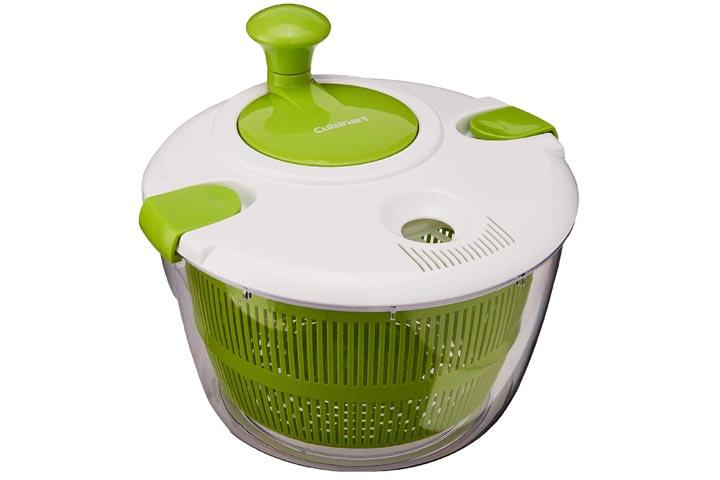 Cuisinart offers a spinner bowl that makes washing and drying the greens easy. The compact design makes the bowl sturdy, reliable, and well-built. The salad spinner has a clear base and can be used as a serving bowl.
Pros
Non-slip base keeps the bowl firm in one place
Allows to add/drain water without removing the lid
Can hold a large number of vegetables and greens
Has an easy-to-turn knob
Cons
Storing can be a hassle because of a bulky knob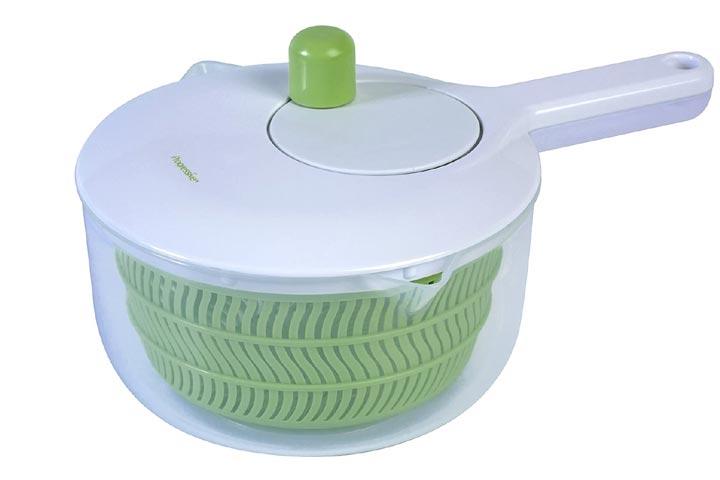 Made of premium-quality materials, Prepworks salad spinner has a handle that makes it easy to carry it wherever you go. The spinner has a sturdy design and a pour spout that makes it easier for both right-and-left-handed individuals to operate the machine. With sturdy components, the salad spinner can be easily removed for cleaning vegetables.
Pros
Has an easy-spin mechanism
Made with flexible plastic to avoid damage or breakage
Dishwasher-safe
Great for washing and drying leafy vegetables
Cons
May be smaller than others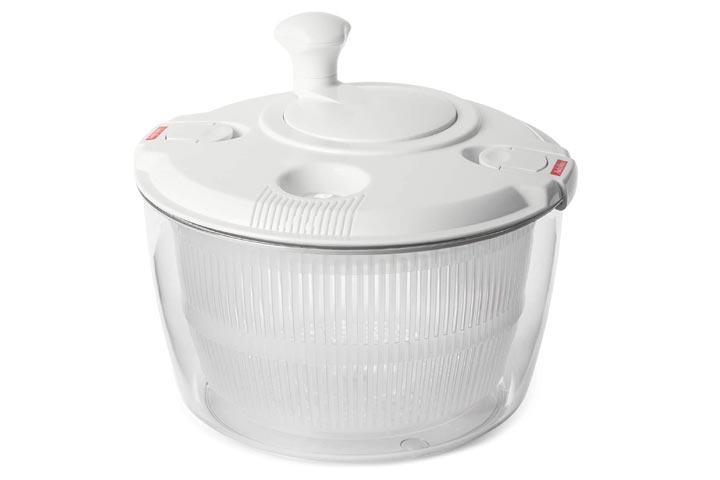 Andcolors' superior quality salad spinner is made of food-grade material and easy to use. The spinner doubles as a serving bowl, and the center basket can be used as a colander. The salad spinner, equipped with a pouring hole,enables easy draining of the water, and allows for faster drying.
Pros
Ergonomic design with an anti-wobble mechanism
Allows large quantities of vegetable and fruits to be washed
Designed to withstand high spins
Made of BPA-free plastic
Cons
May not completely dry leafy vegetable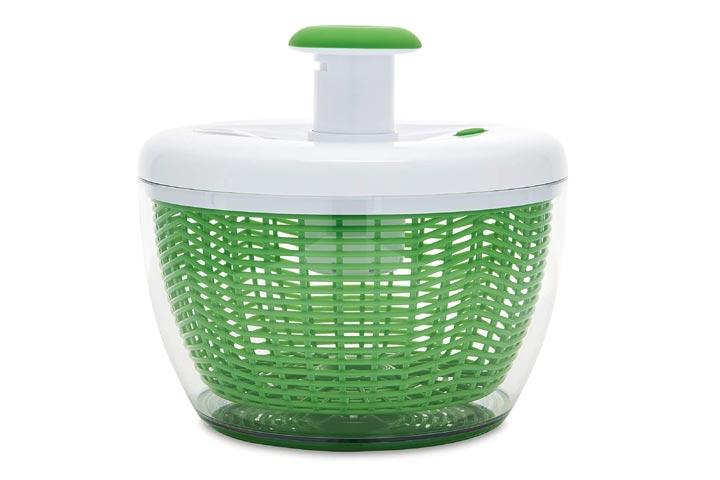 The salad spinner comes with a hand pump mechanism, with a soft-touch pump and a push button that easily allows drying of greens. The soft-touch push button brake enables the spinner to stop the basket from spinning quickly. The spinner has a secure lock that slides inward to hold the soft-touch pump for storage. The non-slip foot keeps the spinner intact on the counter while in use.
Pros
Multipurpose usage as a colander and clear serving bowl
Large capacity to hold greens, vegetables, fruits, berries
Anti-scratch mechanism due to non-slip pads
Can be used single-handedly
Cons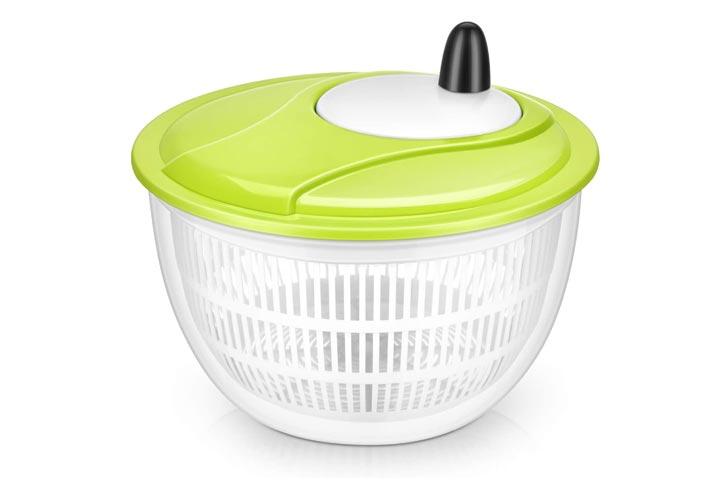 Lougnee salad spinner is ergonomically designed to suit all kitchen counters. The ISO-certified spinner is made of high-quality materials, dishwasher-friendly, and used as a vegetable washer. The premium salad spinner comes with a clear bowl and an inner removable strainer.
Pros
You can use it as a colander, clear serving bowl, drain basket, salad bowl, storage basket
Dries salads faster
Made of BPA-free plastic
Easy to use and clean
Cons
May not clean the greens effectively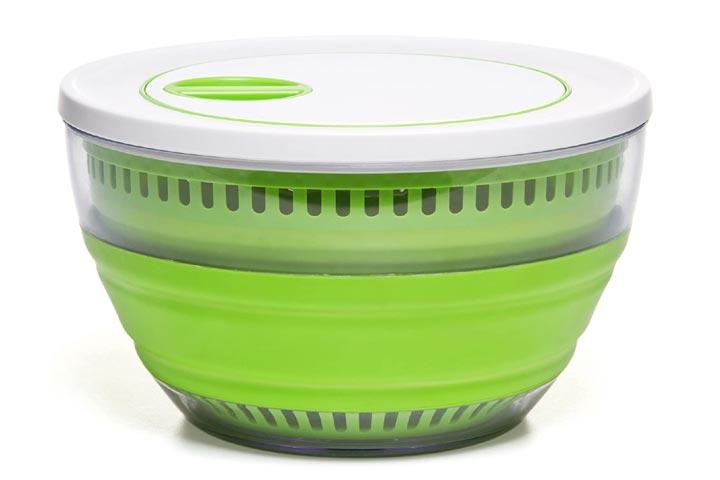 The innovative salad spinner is a built-in collapsible model. What makes Progressive special is its ability to collapse and use half the storage space. The salad spinner has a strainer basket that allows easy cleaning of the veggies. The large comfortable handle can spin clockwise and anti-clockwise. The spinner drains the water well and doubles up as a colander.
Pros
Ideal for storing in small spaces, including dorm rooms, cabins, RVs
Made of BPA-free plastic
Non-skid base to provide stable hold on counters
Easy braking to stop the basket
Cons
Spinning mechanism could be hard to operate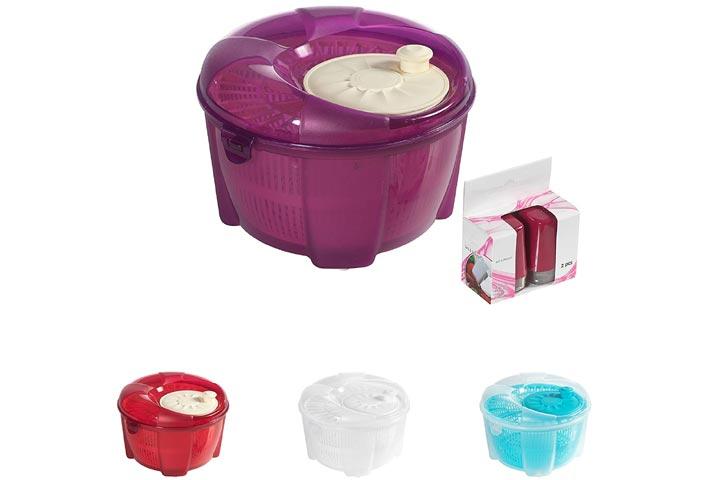 Mabel salad spinner removes extra water swiftly. The spinner allows you to make a salad with ease and minimum effort. It is made of high-quality polypropylene and comes with a salt and pepper shaker. The spinner can be used for washing a variety of vegetables, greens, and fruits.
Pros
One-handed operation makes it easy to use
Has a fast spin option
Compact design suits all countertops
Can be used as a salad tosser
Cons
May not be sturdy when you use a fast spin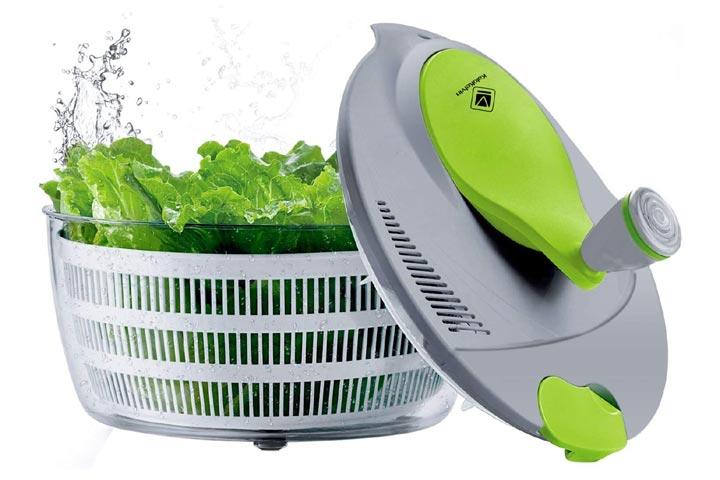 Made of a 100% BPA-free, food-grade, heavy-duty material, the spinner has a unique built-in drain that makes it easy and fast to use. The salad spinner can be used in high spin mode and can rotate clockwise and anti-clockwise. It features anti-skid pads giving it a firm grip.
Pros
Faster drying of salad due to high spin mode
Strong centrifugal force allows water inwards to the bottom of the bowl
Suitable for right-and-left handed users
Can be used as a colander
Removable panel at the top to make cleaning easy
Cons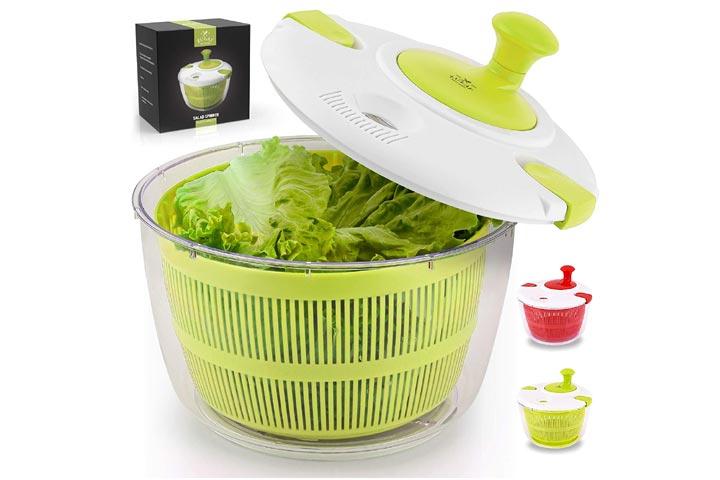 The durable spinner from Zulay has a stylish crank-style rotating handle and comes with two built-in lid locks. The spinner has a sieve basket and a durable transparent bowl. The lid locks keep the lid secure even when you spin it faster.
Pros
Can be used as a colander and serving bowl
Easy to clean, rinse without hassle
Made of BPA-free material
Built-in draining system
Cons
May be more suitable for leafy greens than other vegetables
How To Choose The Right Salad Spinners?
A salad spinner must have a robust spinning system that allows efficient drying. It should be stable enough to keep the greens spinning with ease and prevent water from spilling. Here's a list of things to consider before buying the best salad spinners.
Dimensions: One of the important aspects to look for in a salad spinner is its dimensions. The spinner you choose must fit onto your kitchen counter and should not be too large or too small.
Materials: Most salad spinners are made of plastic. However, some are made of stainless steel, which is more durable, while plastic is lightweight. Plastic spinners can be used for multifunctional purposes like serving bowls and salad tossers.
Durability: Durability is another important factor to consider while using a salad spinner.The material it is made of and the build help you determine the durability of the spinner.
Spinning mechanism: Spinners come with a press button, string pull mechanism, and crank system. You should choose a salad spinner that requires minimal manual intervention. Check for models that allow faster spinning and drying.
Safety features: A good salad spinner should have a non-slip and anti-skid design. Such a mechanism will prevent the salad spinner from flying off the counter.You should choose a salad spinner with a rubber base. Such a feature keeps the spinner intact without causing any damage to the spinner.
How often you will use the salad spinner, how much space you have on your counter, and what you plan to use it for will play a crucial role in choosing the right salad spinner. Budget and your specific needs are also important to factor in. The salad spinner should be handy and easy to clean. Invest in a good salad spinner and enjoy your healthy meal loaded with fresh veggies.