If you or your children love sandwiches, you will need the best sandwich makers. A sandwich maker is a device you can use to make sandwiches by stacking up layers of meat, eggs, cheese, or vegetables. They help in toasting your sandwiches until they achieve the required brown look.
Also, if you have a suitable device, you can make the best sandwiches without bread for a perfect paleolithic diet. Read on as we list the best sandwich makers available online and tell you what you should consider when choosing the right sandwich maker.
13 Best Sandwich Makers to Buy
This sandwich maker is a great option for making two customized sandwiches at a time. It cooks sandwiches within five minutes, and comes with a plate for cooking and layering an egg within the bun. You may check more about this easy-to-use product from this video.
Pros
Non-stick coating makes it easy to clean
Removable parts are dishwasher-safe
Egg plate slides out after cooking
Digital timer with beep alert
Handy recipe guide included
Cons
Eggs may leak out of the plate
Plate may not cook eggs properly
2. Cuisinart WM-SW2N Dual-Sandwich non-stick Electric Grill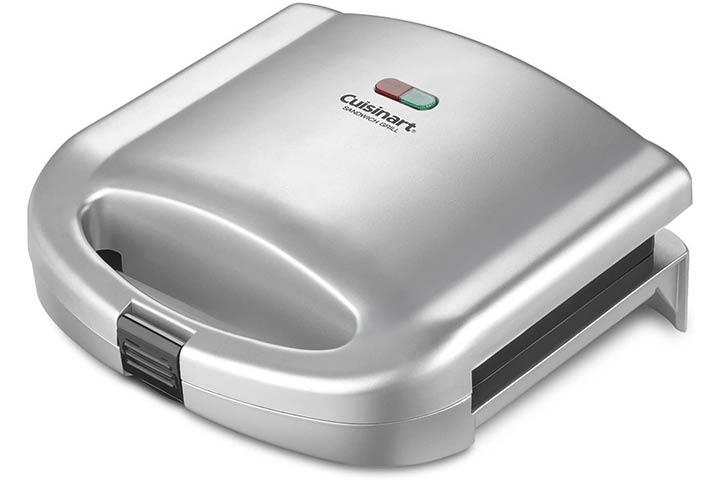 This grilled sandwich maker is a good choice if you want to cook gourmet food on functional grills. It can fit up to two sandwiches that can be diagonally cut when cooking and comes with a three-year warranty. This video gives you more information about the product.
Pros
Durable grill plates
Non-stick surfaces for easy cleaning
Cooks omelets, waffles, and French toast
Locking lid ensures both sides are browned evenly
Dual indicator lights
Cons
Heat may not be adequate for cooking sandwiches
Cooking area is not very deep
This is the best sandwich maker if you have a kitchenette. It is designed to allow you to customize your sandwiches. The machine can also be used for grilling fruit, meats, and vegetables and making great food for breakfast.
Pros
Durable and lightweight build
Quickly reaches optimum temperature
PFOA-free, non-stick cooking surface for easy cleaning
Large preheating and cooking indicators
Non-slip feet make it sturdy
Easy-to-lift handle
Cons
May generate a lot of smoke
No switch to turn it on/off
Sandwiches have to be flipped
This sandwich maker has two sets of cooking plates that can be switched to make waffles or sandwiches. The electric sandwich maker is a great option for making breakfast for your family.
Pros
Fits up to two sandwiches/waffles
non-stick plates are dishwasher-safe
Easy to clean and maintain
Indicator lights for cooking/heating
Can be stored vertically
Cons
Handle may break easily
Manual provided may not be useful
This is one of the best toasted sandwich makers for use on a stovetop. Made of durable aluminum alloy, this sandwich maker is a good option if you want to toast a sandwich on an open fire outdoors or a gas stove.
Pros
Non-stick coated interior
Durable heat-resistant handle
Requires less oil when cooking
Cons
Material of the pan is thin
This is a stylish pocket sandwich maker. It fits four sandwiches that can be perfectly cut and cooked. It reaches an optimum cooking temperature quickly and creates sandwich pockets within minutes.
Pros
Easy-to-clean non-stick surface
Ceramic- and titanium-reinforced surface releases food quickly
No need for oil or butter
Heat-resistant handle
Offers diagonal indentation
Compact and durable build
Indicator lights let you know when the sandwiches are cooked
Cons
Does not fit in thick sandwiches
Does not close properly
Handle tends to break
This device is one of the best toasted sandwich makers as it comes with a floating hinge that allows you to adjust the cooking height. It is a good choice to cook gourmet food and paninis or toast/grill vegetables and meat.
Pros
Grills sandwiches, vegetables, and meats
Non-stick surface can be easily cleaned with a cloth
Durable build with steel exterior
Power and heat indicator lights
Sturdy and safe handle
Cons
Difficult to close
Hinge may not be durable
This sandwich maker is a must-have kitchen item that features non-stick cooking plates. It has a compact build, is easy to use, and creates perfectly cooked grilled-cheese sandwiches within minutes.
Pros
Non-stick coated surface can be easily cleaned
Preheating and power-on indicator lights
Can be stored upright
Cord can be easily wrapped
Efficient locking system
Cons
No grill lines
Uneven heating
This is the best grilled sandwich maker that can also work as a panini press. It is designed to fit two sandwiches with a lot of filling. It can also be opened flat, and you can use each grill side individually.
Pros
180-degree open-flat cooking position
Floating hinge design
Bottom and top grill plates can be operated individually
Skid-resistant feet and compact build
Removable drip tray
Non-stick plates can be quickly cleaned
Cons
Does not fit two sandwiches comfortably
Closes at an angle and is difficult to use
This electric sandwich maker is a versatile offering and has removable plates that can be used to grill meat/vegetables and make waffles and sandwiches. It has a durable build and elegant design to suit most modern kitchens.
Pros
Grill, sandwich, and waffle plates
Preheating and power indicators
Heat-resistant handles
Non-stick plates are dishwasher-safe
Run-off channels for removing grease
Cool-touch handles
Cons
Non-stick coating is not durable
Temperature cannot be controlled
This sandwich maker cum panini press is a great option if you want to cook healthy meals with whole grain bread. It has a good-sized cooking area that can fit up to two sandwiches and toast them fast.
Pros
Power and preheating indicators
Secure lock on the handle
Can be easily carried and stored
Non-stick plates can be easily cleaned
Cons
Handle and exterior may not be durable
Non-stick coating peels off
This is a good-qualitypocket sandwich maker. The versatile device can also be used to make panini sandwiches and allows you to make nutritious breakfasts and snacks for your family.
Pros
Non-stick coating on plates
Easy to clean with a damp cloth
Fits two sandwiches easily
Two indicator lights
Cable can be easily wrapped and stored
Safety lock allows for easy closure
Cool-touch handle
Double-side baking
Cons
Does not close properly
Exterior parts may crack/break quickly
This elegant sandwich maker can be easily operated and has a versatile design, allowing you to cook omelets, pocket sandwiches, and French toast. It heats up quickly and gets breakfast cooked faster.
Pros
Heats up within three minutes
Anti-skid feet prevent any slipping
Durable and heat-resistant body and handle
Non-stick coated and deep-pocketed plates
Lightweight device can be easily transported
Power and preheating indicator lights
Cons
Produces a foul smell as it heats up
Non-stick coating may peel off
How To Choose The Right Sandwich Maker?
To know how people go about choosing the right sandwich maker for their needs, continue reading.
1. Consider your family size
If you have a family of around 4–6 members and need to make snacks or breakfast every day, buy a sandwich maker that can hold a minimum of two sandwiches. This will allow you to make breakfast at a faster pace.
2. Versatility of the device
Buy a sandwich maker that has removable plates for making waffles or grilling vegetables. This allows you to get the most out of it when making breakfast or a snack.
3. Electric or stovetop
Based on whether you want to cook without increasing your electricity bill or just want to go camping, choose an electric or stovetop sandwich maker. A stovetop sandwich maker comes in handy when cooking outdoors.
4. Durability and compactness
Getting a sandwich maker that is compact allows you to store it in an upright position, which is perfect for a small kitchen or a college dorm room.
5. Coating on the cooking surfaces
A sandwich maker that has a Teflon or non-stick coating on the cooking surface or plates can be easily cleaned with a damp cloth and kept free of rust and corrosion.
5. Thermal insulation and floating hinges
Sandwich makers with good thermal insulation can be operated easily as the handles and body remain cool to touch and do not cause burns. Floating hinges allow for sandwiches with more fillings to be toasted easily, while locks allow the lid to remain secure.
6. Additional features to consider
The best sandwich makers come with several nifty features, including space for wrapping the cable, power indicators, and an on/off switch. So, consider these additional features.
Why Trust MomJunction?
Our household and kitchen appliances expert, Sakshi John, prioritizes quality products that are highly safe, portable, and easy to use. This list of top sandwich makers available in the market was compiled after extensively researching multiple online forums and user reviews. Furthermore, these sandwich makers have various features, such as an in-built waffle maker, to help you pick one according to your requirements.