If you suffer from sciatica, you need a comfortable chair. We present our list of the best seat cushions for sciatica. If you cannot change your whole chair, you may try these cushions to relieve the discomfort.
The regular chairs are not built for all individuals. The firm seat could sometimes cause and put pressure on the sciatic nerve that passes through the hip and buttocks. This pressure could cause immense back pain, which worsens over time. Seat cushions designed for sciatica tend to conform to the person's build. The soft cushion provides comfort and applies less pressure on the hips.
So if you plan to invest in this cushion, here is our recommended list.
In time, seat cushions were no longer just pieces of foam but have revolutionized through the use of state-of-the-art technology into something more than a simple seat cushion. In today's world, seat cushions have become saviors when it comes to sciatica pains or pains radiating from the back and buttocks. Delve into our well-researched list of the 15 best seat cushions for sciatica.
15 Best Seat Cushions For Sciatica Pain Relief In 2022
This comfort cushion by Everlasting is specially designed for those suffering from sciatica. Its U-shaped design makes sitting for prolonged periods comfortable as the cushion adjusts and molds to the shape of the person sitting on it. The carefully crafted contours provide for a relaxed sitting experience. All while the memory foam cushion provides support to the lower back and reduces the possibility of developing sciatica. The ultra-thin cover is soft and fits the cushion seat perfectly. This orthopedic seat cushion is available in a variety of different colors.
Pros
Portable
Non-slip bottom
Heat responsive
Machine-washable cover
100% premium memory foam
Cons
The seat may flatten due to prolonged use.
You can now turn any chair into a comfortable seat with this U-shaped cushion by ComfiLife. This seat cushion is innovatively designed to provide support to the spine and promote a healthy posture. The contour design takes the natural shape of your bottom. As a result of the advanced heat-responsive technology, the cushion adjusts to changes in temperature, providing a comfortable experience. This sciatica pain relief cushion is available in light gray.
Pros
Portable
Anti-slip bottom
Ergonomic design
Removable and washable cover
100% memory foam and cooling gel
Cons
May take a long time to respond to temperature changes
The U-shaped and ergonomic design of the memory foam cushion by Xtreme Comforts is perfect if you're suffering from lower back pain. This seat cushion has been designed to promote proper spine alignment and even reduces pain for those suffering from sciatica, stenosis, and herniated discs. The durable mesh cover is easy to remove and clean. This cushion is made of superior quality memory foam to reduce the possibility of it flattening and becoming lumpy. The contour design is ingeniously planned to distribute body weight across the seat.
Pros
Portable design
Non-skid bottom
Breathable mesh cover
Removable and washable cover
Deluxe body active memory foam
Cons
May become uncomfortable to sit on for long hours
This universal seat cushion is ergonomically designed to give your body the best possible posture when at work or even while driving your car. The seat cushion chair is soft and fits well in almost all chairs. The U-shape design, coupled with the contours, provides a comfortable base for your bottom. The firm and supportive cushion distributes body weight evenly and increases blood flow. In addition to this, it also reduces strain on the neck, spine, and tailbone and relieves lower back pain. The mesh cover is soft and provides for a perfect grip while in a seated posture.
Pros
Non-slip base
Removable cover
100% memory foam
Easy-to-carry handle
Breathable mesh cover
Cons
May be too small for a large-sized adult
This well-padded and supportive seat pillow is orthopedically-certified and will improve your seating posture. It helps in reducing pain arising from sciatica or injuries to the tailbone. You can easily transform your uncomfortable chair into a relaxing office chair in no time. This sciatica cushion, like most other seat cushions, adjusts to changes in temperature, offering a snug and comfortable fit for your behind. Apart from the seat cover being soft and breathable, it is also washing machine-friendly.
Pros
Portable
100% memory foam
Removable cover
Ergonomic design
U-shaped design for added comfort
Cons
The seat may become too hard when adjusting to temperature changes.
A striking and noteworthy feature of this seat cushion is its honeycomb vent design. This ergonomic seat cushion can be used on any chair, including home, office chairs, and even wheelchairs. Its universal use and multifunctional application has made it extremely popular and a noteworthy mention on our list of the best cushion seats for sciatica. The ergonomic and U-shape design with contours allows for your bottom to fit naturally and comfortably. This seat cushion is available in different color options.
Pros
Washable cover
Carrying handle
Anti-skidding bottom
100% memory foam with a rubber gel bottom
Cons
May tend to become too soft when under a lot of weight
This pressure-relieving seat cushion by Plixio features a breathable mesh cover with a convenient zipper. This well-padded seat cushion is equipped with a rubber bottom to ensure that it remains firmly in place on almost any chair. Its U-shaped and portable design makes it convenient to carry from your home to the car and office. The cushion helps alleviate sciatica and reduce pressure on the spine and tailbone. If back pain has been plaguing you while driving or sitting in the office, then this Plixio memory foam cushion is for you.
Pros
Carrying handle
Ergonomic design
Memory foam and gel seat
Removable and washable cover
Cons
May release an unpleasant odor
Has lower back pain been troubling you? Are you tired of losing sensation in your behind when sitting for prolonged periods? If so, what you need is this seat cushion by Stuffed. Its ergonomic and U-shaped design will treat your bottom with care and reduce strain to your lower back. This seat cushion has been designed, keeping in mind healthy posture and proper spinal alignment. The fabric of the seat cover allows air to percolate through it and reduces the chances of excessive perspiration. This memory foam cushion is available in a navy blue color.
Pros
Two-layer design
Built-in handle
Non-slip rubber bottom
Washing machine-friendly cover
Cons
Might be too small for a large-sized individual
This multipurpose socket seat by Aylio provides added comfort, allowing the buttocks the comfort of sinking into a high-density foam. The leather base of the seat cushion and gray and black design gives it a premium and classy appearance. While it can be used in numerous environments, its design and comfort make it perfect for use at the office. The company's use of an innovative airflow mesh reduces the possibility of perspiration and makes it easy to clean. This soft cushion alleviates lower back and buttock pain arising from sciatica.
Pros
Universal fit
Carry handle
Washable cover
Ergonomic contour design
Cons
May lack a non-slip design
This wedge-shaped cushion by ROYI can relieve pressure and pain in the lower back region. Its ergonomic design reduces pain caused due to sciatica. The added support provided by this cushion allows for correct posture, minimizing the risk of back pain and injuries when in a seated posture for a prolonged period. Its multipurpose nature allows for ease of use anywhere. This seat cushion transforms not only your office chair into a comfortable wonder but can do the same even while driving or traveling on an airplane.
Pros
Universal fit
Breathable and washable mesh cover
Portable and lightweight
Non-slip mesh rubber bottom
Cons
May not have sufficient padding
This gel-based seat cushion is rectangular and incorporates a unique design for utmost comfort. The company has resorted to medical-grade gel material to avoid the possibility of skin allergies. The ergonomic honeycomb design is flexible and allows your behind to sink in without any effort. It helps in relieving pain radiating from the buttocks to legs and lower back. The use of this completely gel-based cushion eliminates the drawbacks associated with memory foam-based seat cushions. It is available for purchase in two different sizes.
Pros
Breathable design
Universal application
Magnet non-slip cover
Washing machine-friendly
Cons
May compress too much under a lot of weight
The high-quality memory foam used in this seat cushion will treat your behind with tender loving care. In addition to that, it will also help in maintaining a corrected seated posture and reduce lower back and buttock pain. The inventive design allows you to sit comfortably for prolonged periods. The ergonomic design allows your tush to naturally sink in with tremendous comfort provided to your hips and lower back. Bundled with this VISHNYA memory foam seat is a black colored face mask.
Pros
Anti-skid design
3D contour design
Multi-scenario application
Removable, breathable, and washable cover
Cons
The cushion might be too soft.
This high-density foam and gel-based cushion has a portable design and relieves pressure on your neck and spine. This seat cushion has been carefully crafted for those suffering from sciatica. Its universal and multipurpose functionality makes it one of the best seat cushions for sciatica. The cushion is made of a material that is washing machine-friendly. The stone-wash gray color makes it look elegant and stylish, making it suitable for multiple environments.
Pros
Cooling gel seat cushion
Non-slip bottom
Carrying handle
Ergonomic U-shaped design
Cons
The foam may flatten after prolonged usage.
Say goodbye to bad posture and sciatica pain with this soft and durable seat cushion by Bokemar. This portable seat cushion has a polyester cover that is easy to clean. You can use it on almost all types of chairs, and its black with white edge lines makes it perfect for informal as well as formal environments. The non-slip surface prevents the cushion from slipping, keeping it in place.
Pros
Universal usage
Breathable cover
100% memory foam
Durable metal zipper
Cons
May become too hard after prolonged usage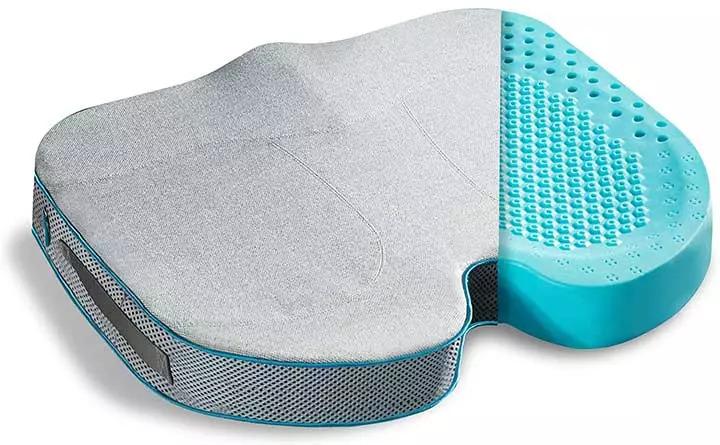 The honeycomb design allows for easy dissipation of heat and increases the circulation of air. This gray-colored gel-based seat cushion is fashionable and can be used in numerous environments. Its shape allows for a comfortable experience by reducing stress to the neck and lower back. The elastic gel-based material is durable and manages to retain its shape even when exposed to continuous usage.
Pros
Portable
Versatile
Ergonomic
Non-slip bottom
Breathable design
Cons
The size might be small for some.
Now that you've had a glance at the list of the best seat cushions for sciatica, you need to know what to look for when purchasing the best seat for relieving pain. Carefully scan through the buying guide to learn all you need to know about choosing the best seat cushion to save your aching back.
How To Choose The Best Seat Cushion For Sciatica
1. Type of seat cushion
The three most popular seat cushions for relieving sciatica pain include the memory foam cushion, gel cushion, and hybrid cushion (comprising a mix of gel and memory foam). While all three are helpful, some of the best cushions for reducing lower back pains are the ones that use a combination of gel and memory foam.
2. Seat cushion shape
While there are many to choose from, some of the most helpful seat cushions are the ones that have a U-shaped design with contour. This allows your behind to have a more natural and comfortable feel when compared to the other shaped seat cushions. Some other designs include the donut shape, wedge shape, and rectangular shape ones.
3. Size
One of the main drawbacks when it comes to seat cushions that relieve pain is the size of the cushion. The size you require will be based on your preference. However, try to avoid getting a small seat cushion as they can cause more harm than good for your lower back.
4. Features
Last but not least, pay close attention to the special features of each cushion. While all will help in relieving back pain, not all will be feature-filled. Things to consider include the kind of cushion cover, whether or not it is easy to remove, washing machine-friendly, portable, and usable in all chairs.
Why Trust MomJunction?
After conducting thorough research on the user reviews on several trusted websites, we have compiled this list of the best seat cushions for people suffering from sciatica pain. These cushions are made of high-quality materials and are durable for long-lasting use. We have also mentioned the pros and cons of each cushion to help you make an informed choice based on your body type and needs. In addition, a buying guide has been included to help finalize the right one for you.
Recommended Articles :