Acne development on the skin is often a result of dust, grime, and other impurities accumulating in the dermal pore. It will therefore leave the facial skin dull, leading to blemishes. The serum has been a popular choice to control acne growth. It is a lightweight formula packed with potent ingredients to help treat breakouts fast.
We bring you some of the best serums for acne prone skin in India to suit your skincare needs.
13 Best Serums For Acne Prone Skin In India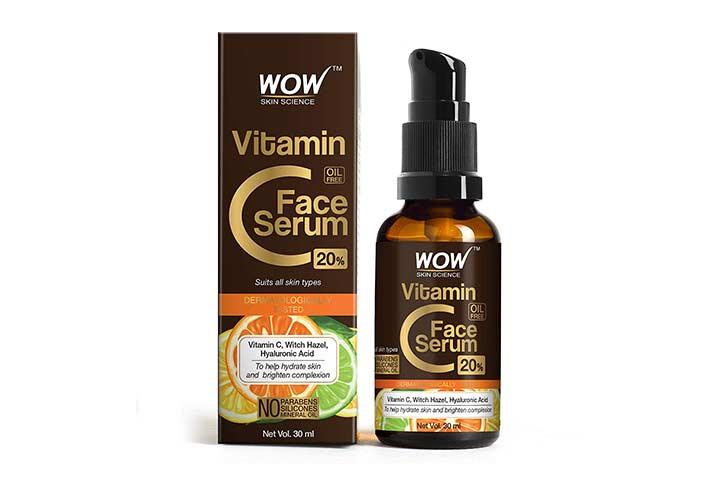 For acne prone skin that might lead to microbial growth, serums infused with vitamin C are among the best solutions. This acne serum from Wow is packed with the goodness of vitamin C, hyaluronic acid, and hazel that keeps your skin free of fine lines and sun damage. The supercharged face serum carries anti-aging properties to keep your skin young and bright. Use it twice for nourishment and to keep the skin neutralized of free radicals. It is made in the Himalayas and is 100% vegan and gluten-free, carrying no harmful chemicals.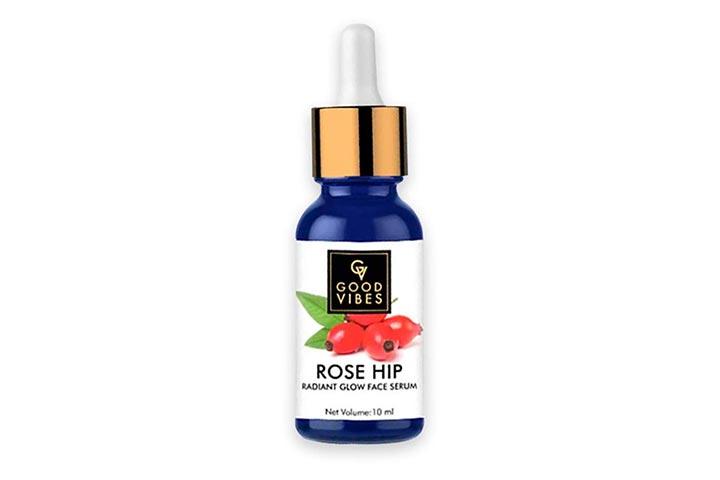 The face serum from Good Vibe is a lightweight hydrating formula that keeps the skin fresh. It is cruelty-free and helps treat rough and uneven skin surfaces. It carries rosehip as the primary brightening ingredient, reducing acne scars, dark circles, and melanin patches. Massage with it daily after cleansing and toning your face for the best results.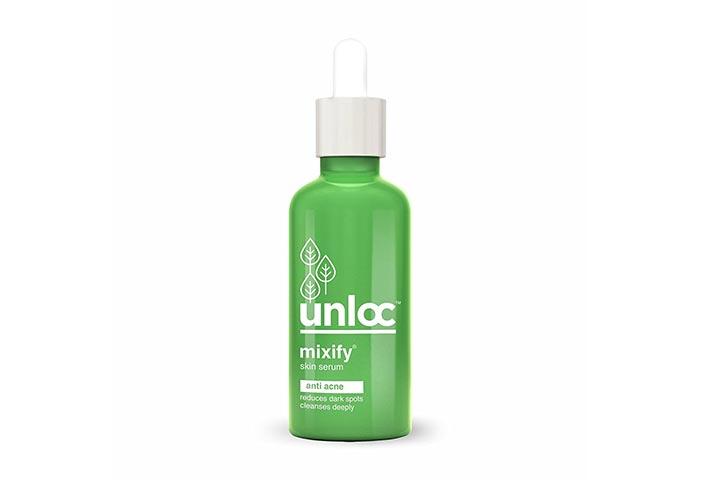 The paraben-free face serum from Mixify is loaded with natural, nutritional extracts from tea tree oil, antibacterial plants, and licorice. Its AHA and BHA composition make it one of the best serums for acne prone skin in India. It helps remove dark spots and acne marks from the skin, keeping it pigmentation-free. Rich in antioxidants, it keeps the skin pores unclogged and reduces acne development. It has anti-inflammation and deep cleansing properties.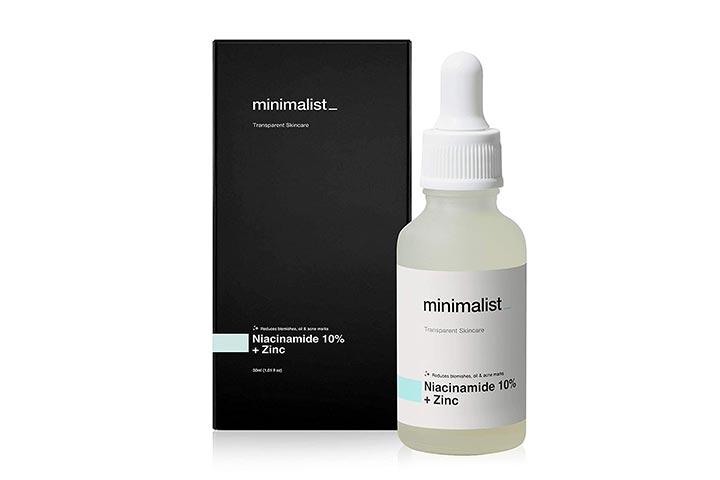 The Minimalist face serum is a suitable acne-removing solution that cleans oily skin, often prone to bacterial development. Its nutritional properties keep the skin free of acne marks and spots, blemishes and help balance oil. The skin clarifying properties leave your face bright and might add a youthful glow. You can observe the results within two weeks of its regular application. Its effectiveness is clinically proven, with non-comedogenic effect and cruelty-free formulation.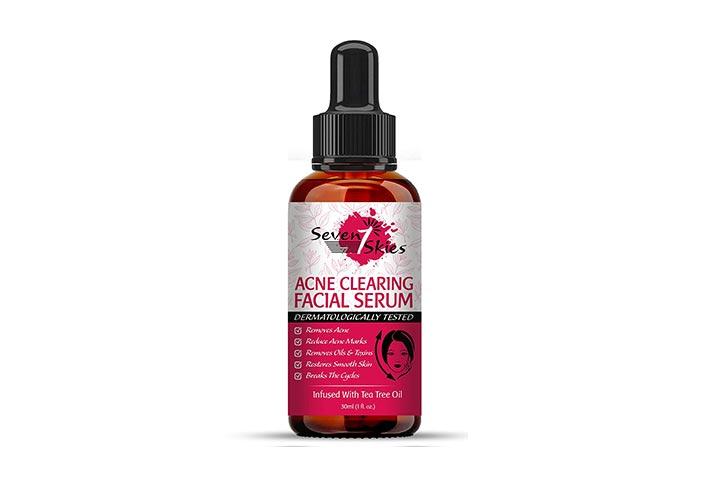 The nutritional serum formulation from Seven Skies is infused with tea tree oil to keep acne marks and dark spots at bay. It heals acne breakouts and helps clear the skin of whiteheads and pimples within 24 hours. You can also use it to dissolve pore-clogging oil for deep cleansing and reduced inflammation. The cruelty-free and chemical-free organic serum is a decent solution for hyperpigmentation and fine lines.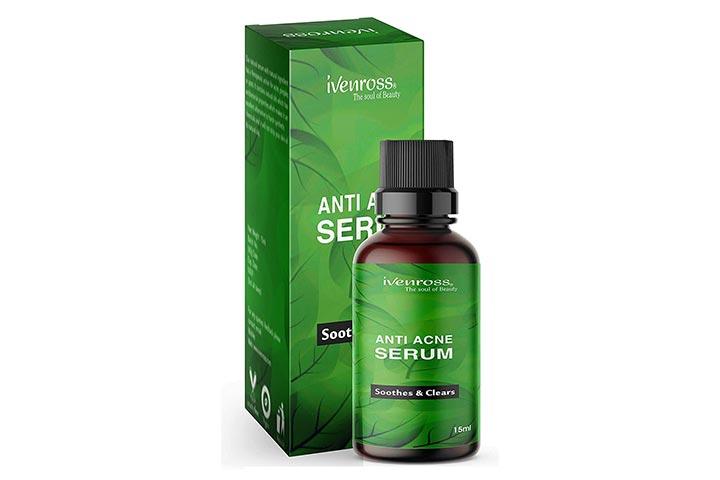 The anti-acne serum from Ivenross is packed with the goodness of tea tree oil and nutrient-rich rosehip extracts. Its natural healing properties with skin brightening effects make it one of the best serums in India. It is a potent blend of effectiveness and smoothness with natural qualities infused through organic ingredients. Use it with moisturizer or cream, or dab two to three drops with a cotton bud for a gentle feel.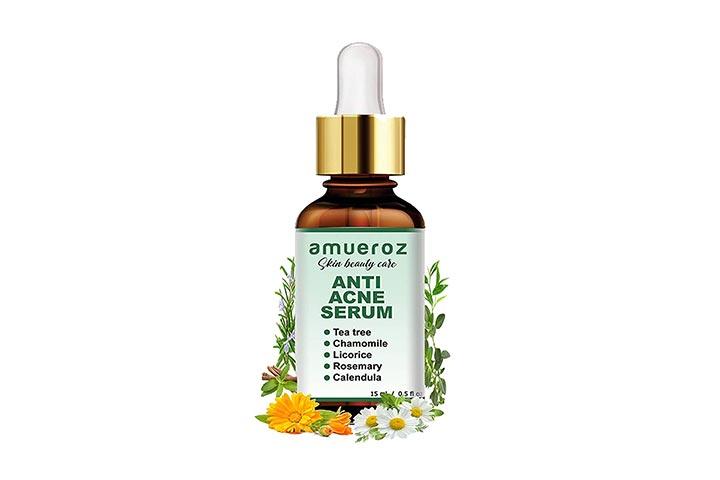 The Amueroz anti-acne serum is loaded with healing properties for scar and dark spot removal. It also protects the acne-prone skin from anti-microbial growth. It is infused with organic goodness from rosemary, tea tree, licorice, and chamomile for reducing blemishes and pigmentation. The oil-free and non-comedogenic serum is suitable for dry and sensitive skin. You may notice the results in 30 to 40 days on regular application.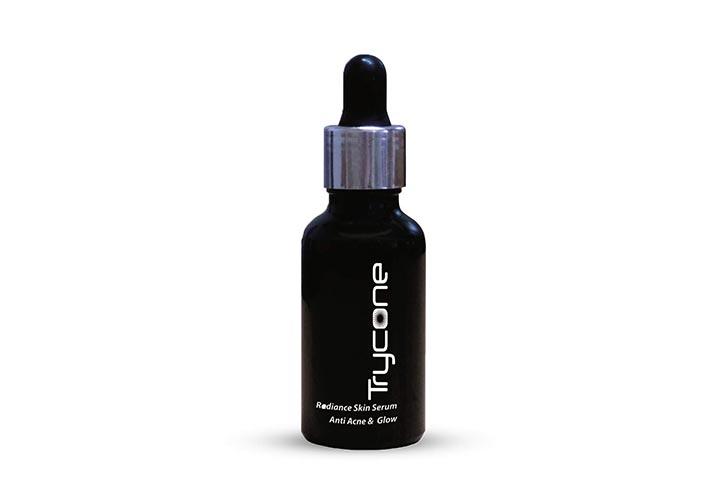 Packed in a 30ml bottle, this facial serum for acne prone skin is a paraben-free formulation comprising natural plant extracts with AHA and BHA molecules for smooth, clear, and acne-free skin. The acne serum treats acne scars, pimple marks, and spots. Its mulberry extract infusion helps purify the skin. The organic extracts enrich the skin with balanced nutrition, reducing dullness and blackheads. It is suitable for all skin types.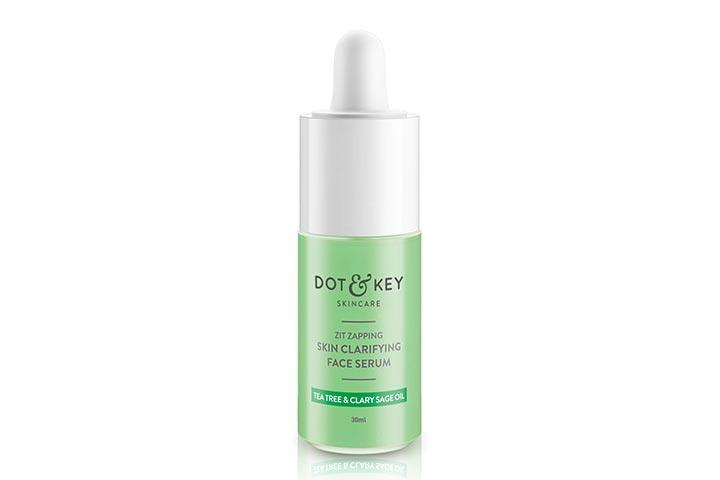 The skincare and beauty product from Dot & Key has a harmful, chemical-free formulation. It has the goodness of tea tree extracts and clary sage with anti-inflammatory effects for pimple and acne reduction. It helps balance sebum production in the skin pores and keeps them unclogged, removing dead cells. The serum is also useful in scar removal from acne or any other skin inflammation.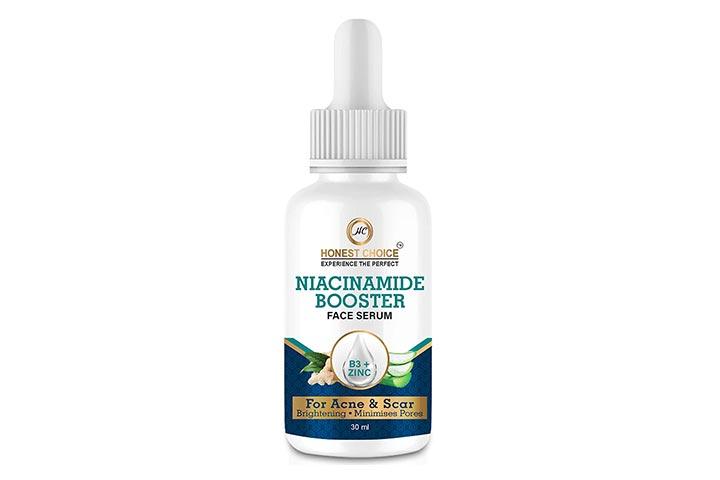 The Honest Choice product comprises 1% of zinc and 10% niacinamide. It helps minimize pores and lightens dark spots, preventing microbial growth through unclogged pores with regular use. It also soothes the skin with the goodness of chamomile extract and helps maintain an even skin tone. The facial serum also helps eliminate fine lines and wrinkles.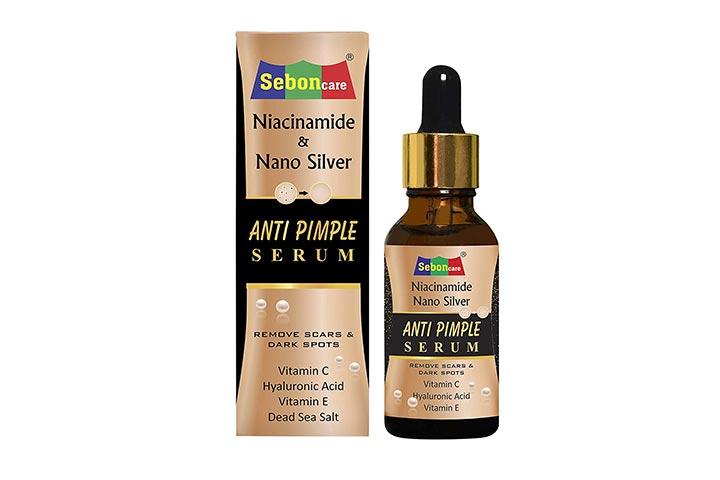 The SebonCare serum is packed with the goodness of vitamins A, E, C, nano silver, niacinamide, neem extract, and licorice sulfate. Its 100% cruelty-free and paraben-free formulation carries anti-inflammatory properties for reduced itchiness, redness, and pimples. It also minimizes pore appearance, lending the skin a smooth texture. It is useful in removing pro-aging free radicals and restores damaged skin cells. Regular application can keep your skin hydrated and young.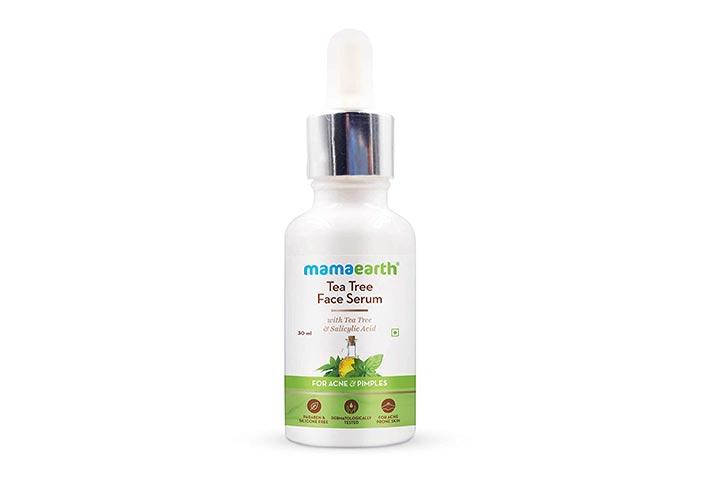 Mamaearth face serum is rich in tea tree extracts and salicylic acid. It helps prevent acne and pimple growth through gentle and deep clarification of skin pores. Its soothing effects naturally seep into the skin for healing and exfoliation, leaving the face soft. The dermatologically tested, sulfate-, and paraben-free serum is suitable for all skin types.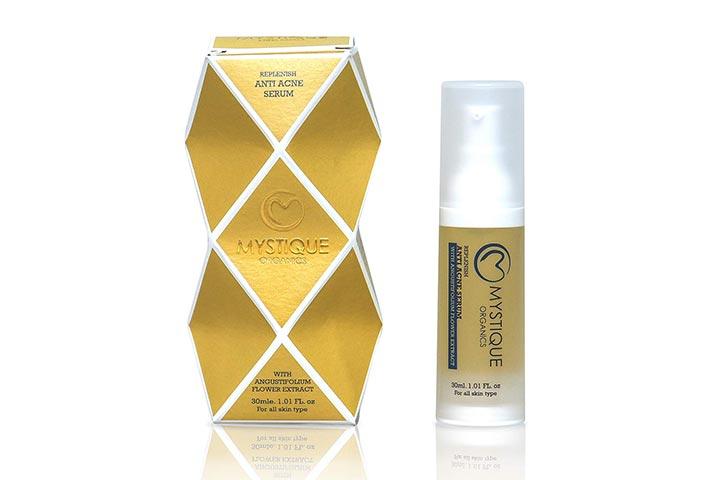 Suitable for men and women, this product from Mystique Organics has a rich infusion of natural extracts. It deeply cleanses the skin by removing impurities and reduces blemishes and pigmentation. Its oil-free and non-comedogenic ingredients make it a suitable serum for summer use. The anti-inflammatory property reduces skin irritation and redness and helps improve the overall skin texture. You can also experience minimized acne and scars with its three-in-one pore shrinking action.
Things To Consider While Buying A Serum For Acne Prone Skin
Keep the following factors in mind to choose the best serum for acne prone skin.
Skin problem: An acne prone skin can be subjected to various issues, such as skin damage, excessive inflammation, blemishes, dark spots, and acne marks. Identify the purpose and choose a serum accordingly.
Skin type: While acne prone skins often fall under oily skin type, frequent acne breakout can be a problem for other skin types. Identify your skin type before proceeding to buy.
Ingredients: Go through the ingredients used and their effects on your skin type for a better decision. For instance, dry skins experience effective healing with the best vitamin C serum infused with hyaluronic acid.
Effectiveness: Most serums heal the skin from the roots for a long-lasting and blemish-free complexion, while some offer immediate results. Consider buying the one as per your needs.
Additional benefits: Check for a serum with additional benefits, such as exfoliation, deep cleansing, and hydration.
Once you have considered all these factors, read through the products' reviews to choose the most suitable serum. Including it in your everyday skincare routine and using it after deep cleansing and toning aids better absorption and effects.
Recommended Articles: