As a parent, it is essential to maintain the correct hair care regime for your kids. You need to look for the right hair care products that are safe for your child's hair. If you are struggling to decide the right shampoo for your kids, this post may help.
When shopping for a kids' shampoo, it is essential to look for a shampoo that protects their sensitive skin and hair while providing the essential nutrients to the scalp. This post list some of the best shampoos for kids and a buying guide to help you choose the right product.
Top Products From Our List
13 Best Shampoos For Kids In India

With its no-tears formula, Himalaya's Baby Shampoo prevents irritation of the eyes and nourishes hair. Its core ingredients include hibiscus, chickpea, paddy, hibiscus, and khus grass to clean and strengthen the delicate hair.
Pros
Improves hair growth
Prevents dandruff
Soothes scalp with its antibacterial and antifungal properties
pH-balanced shampoo
Cons
Some parents report hair becomes sticky after the first wash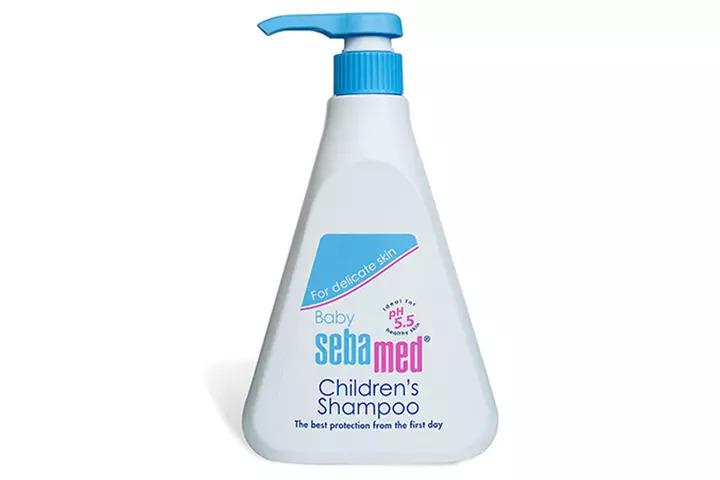 Sebamed extra mild shampoo has special chamomile extracts that soothe the scalp to alleviate skin irritation. It does not burn the eyes due to its unique no-tears formula. The shampoo also contains a sugar-based mild cleanser that cleans the scalp and makes the hair soft.
Pros
Ideal for sensitive scalp
pH strengthens the scalp for optimal hair growth
Prevents flaky scalp
Free from soap, alkalis, and SLS
Cons
Not recommended for dry hair
[ Read : Sebamed Baby Wash Extra Soft ]

The Mee Mee Mild Baby Shampoo is infused with natural extracts and has a tangy and sweet fragrance that your baby will love. The mild formula not only maintains the quality of hair but also conditions it.
Pros
Lasts longer
Cleanses well
Microbiologically tested
Makes hair soft and shiny
Cons
Some may not like the strong fragrance
[ Read : How To Use Mee Mee Baby Lotion? ]

Johnson's shampoo contains argan oils and silk proteins, making your child's hair extra shiny and smooth. It is free from parabens, phthalates, and dyes, and is ideal for all hair types.
Pros
No-tears formula
Five-level safety assurance process
pH balanced
Leaves a soft fragrance
Cons
Take more shampoo required than stated for one wash
Might take time to wash off oils

If you prefer Ayurvedic shampoo for your kid, then this could be the pick. It contains pure green apple extract, sea algae, and Centella that cleanse your child's delicate scalp, giving a fresh feeling.
Pros
100% soap-free shampoo
pH balanced
Improves hair texture
No-tears formula
Cons
Not suitable for dry hair

The Chicco Shampoo is formulated with pot marigold and glycerin that prevents tangled hair and retains the scalp's moisture. It is dermatologically tested and safe for the baby's hair.
Pros
Suitable for sensitive scalp
Deeply nourishes and cleanses hair
Free from SLS, SLES, dyes, colors, and alcohol
pH balanced
Cons
Might make the hair dry and rough

The Moms Co. is known for clinically tested baby care products. It contains organic oils and vitamin B5 that moisturizes and strengthens your child's hair. The coconut-based cleansers make the hair healthy and shiny.
Pros
Toxin-free shampoo
Gentle on eyes
Cleanses the baby scalp gently
Improves the appearance of elasticity
Free from parabens, sulfates, mineral oil, and fragrances
Cons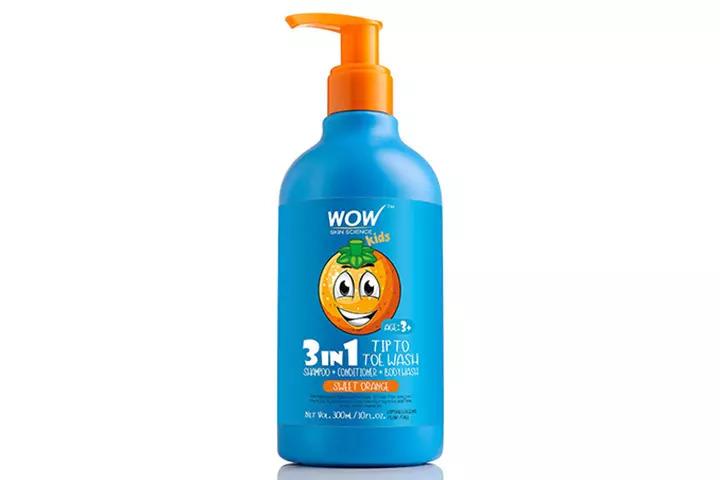 The three-in-one product works both as a shampoo, and a body wash. Its orange peel extract cleanses your body and hair and also keeps them soft and smooth. The natural ingredients leave your child's hair soft and smooth without creating any knots and tangles.
Pros
Gentle on the eyes
Skin-friendly
Reduce rashes and dryness
Tear-free and hypoallergenic formula
Cons
Might make the hair rough and dry

The L'Oréal Kids Strawberry Shampoo contains the richness and nourishment of strawberries. With a no-tear and no-knot formula, the shampoo leaves the hair soft and smooth.
Pros
Leaves hair shiny
Extra gentle on hair
Free from parabens and sulphates
Skin-friendly
Cons
Bubble gum fragrance may be a bit strong

Formulated with natural olive and coconut oils, the Cocomo shampoo plus conditioner deeply nourishes the delicate scalp and hair. The tangle-free formula makes your hair less frizzy and easy to manage. It is pH balanced and helps prevent any skin irritation.
Pros
Dermatologically tested
Free from parabens, SLS, artificial fragrances, and dyes
Gentle on eyes
Cruelty-free product
Cons
Might not be suitable for dry hair

The enriching Cocomo Moon Sparkle shampoo plus conditioner contains plant-based nourishing ingredients safe for the hair. It contains neem extracts, tea tree oil, coconut oil, and olive oil that cleanse and condition the hair while retaining its natural shine.
Pros
Reduces dandruff
Reduces tangles
Makes hair soft and smooth
100% safe and skin-friendly
Dermatologically tested
Cons

The Avon Kids two-in-one formula cleanses and conditions hair, leaving it soft, shiny, and manageable. It contains natural apple extracts and olive oil that is mild on the scalp and treats frizzy and dull hair.
Pros
Suitable for all hair types
Free from parabens and sulphates
Tear-free formula
Dermatologically tested
Cons

With the goodness of aloe vera, pea protein, grapefruit extract, and fenugreek extract, the shampoo nourishes your hair without over-drying. The formula works on extremely dry hair, giving a flawless and seamless texture to it.
Pros
Cleanses and nourishes the hair
Deep conditions the hair
Helps maintain coarse and dry hair
Natural and sulfate-free formula
Cons
Might cause hair-fall with frequent usage
How To Choose The Right Shampoo For Children?
Here are some essential points to keep in mind when selecting a shampoo for kids.
Mild or no fragrance: Consider mildly-scented or unscented products with natural fragrances. Synthetic fragrances may lead to skin infections and nasal problems.
Tear-free formula: Go for a 'no-tear' shampoo that does not contain any harsh ingredients to irritate the baby's eyes.
Chemical-free: Kids shampoos should not have parabens, sulfates, colors, or dyes that may degrade the quality of the hair and cause skin irritation. Look for products with natural ingredients.
Mild lather: A less foamy shampoo that not only cleanses your kid's hair but also prevents it from damage is ideal. Consider shampoos that form a gentle lather.
Frequently Asked Questions
1. Can my child use a regular shampoo than a kid's shampoo?
Regular shampoos may contain chemicals and are not as gentler as kids' shampoos. Shampoos formulated for use by adults can lead to skin and eye irritation in kids.
2. Can a kid's shampoo be used as a body wash?
If a shampoo has a three-in-one feature and claims to work as a shampoo, conditioner, and body wash, you can use it as a body wash for your child.
3. Does a kid's shampoo sting a child's eyes?
Kids shampoo generally have a no-tear formula that prevents shampoo from stinging a child's eye.
4. What is the best kids shampoo to remove chlorine out of the hair?
There is no specific shampoo to help remove chlorine out of a child's hair. Any shampoo can be used to do the job. But if you are trying to remove chlorine build-up in your child's hair, you can try home treatment for it.
The best shampoos for kids help provide essential nutrients to the scalp and strengthen the hair from root to tip. They are formulated to be gentle, tear-free, and soft on the skin. This article above listed shampoos that are pH balanced, dermatologically tested, and do not contain harmful chemicals that can irritate your child's skin. When choosing one, make sure to check the ingredients used, as it will help you avoid those that contain allergens or fragrances that might not suit your little one.
Recommended Articles
The following two tabs change content below.

Vibha is a coder turned content writer. She holds a Masters degree in Computer Applications from Osmania University, Hyderabad and a certificate in 'Introduction To Child Psychology'. Her passion for writing fresh and informative content made her a full-time writer. Holding certifications in content writing and creative writing, she writes on electronics, baby and health products for MomJunction. Apart from...
more