Who doesn't like to have beautiful and manageable hair? Whether it is curly or straight, frizzy hair can be a nightmare and tough to manage. The loss of moisture and hydration is believed to be the leading cause for frizzy hair. If you have to deal with frizz in the hair and are looking for a solution to fix it, try the best shampoos for frizzy hair in India listed here, and flaunt shiny, healthy, and voluminous hair at all times.
Read on as we list some of the best shampoos that can deal with unmanageable frizzy hair and provide long-lasting hydration to dry and damaged hair.
15 Best Shampoo For Frizzy Hair In India
Herbal Essences is a natural shampoo extracted from real botanicals, which can cleanse and help repair frizzy hair. This shampoo has 90% natural origin, can moisturize and restore its smoothness. It contains bio renew, a fantastic amalgamation of sea kelps, aloe, and essential antioxidants. The creamy vanilla, frizzy citrus, and exotic spices aroma of this cruelty-free natural shampoo will take you to the warm sands of Morocco. The shampoo does not contain parabens, colorants, and gluten.
StBotanica shampoo is infused with natural extracts and essential oils, such as argan, rosemary, almond, jasmine, jojoba oils, and sage extracts, Ginkgo Biloba, silk protein, and green tea. The shampoo can penetrate, moisturize, renew, and create softness and strength while protecting your hair from harmful styling heat and ultraviolet rays. Rosemary oil in the formulation soothes dry scalp and relieves itching, while jojoba oil nourishes the scalp. Green tea extract and Ginkgo Biloba makes the formula rich in vitamins. The shampoo contains no chemicals, toxins, sulfates, parabens, SLS, or colors.
Dove daily shine shampoo uses a nourishing serum to form a protective layer around the hair fibers and shield your hair from damage. It is a gentle hair cleanser that keeps your tresses healthy and lustrous. The nourishing serum is absorbed into the hair strands to keep them shiny. The formula can resist daily wear and tear, prevent frizz and dryness.
WOW shampoo is rich in almond, soybean, and argan oils and is suitable for men and women. Soyabean oil provides bio lipid care, which can restore life to dry and frizzy hair caused by humidity and lack of moisture. Soybean bio lipids wrap the follicles, smoothens the hair, reduces frizz, and makes the hair bouncy and glossy. The formula does not contain parabens, silicones, and sulfates.
Luxura Sciences shampoo is rich in argan, coconut, olive oils, vitamin E, aloe vera, and shea butter, which can restore softness and increase moisture in your hair. It has a magical effect on curly hair, fine hair, keratin, and chemically treated hair.
Professional hairstylists recommend this shampoo for all hair types, mostly wavy, thick, and frizzy hair. The formula is free of parabens, gluten, sulfate, and sodium chloride.
The light oils in this antidote shampoo make the hair shiny, while apricot kernel oil softens frizzy hair. Keratin infusion forms a protective layer around the hair shaft and nourishes the limp hair.
The product does not contain any harmful chemicals and is gentle on the hair. It can remove all impurities and dirt on the hair and scalp and make dull hair shinier.
Pilgrim shampoo is an excellent blend of argan oil and camellia. The nutrients in this formula can stimulate hair growth and add life to dull hair strands.
It does not contain parabens, mineral oils, and sulfates and is gentle on the hair and scalp. With this, you can cleanse excess oil and dirt without disrupting the natural oil balance of the hair. It tames flyaway, controls dryness, and locks in moisture to keep the scalp and hair hydrated.
Nuray Naturals keratin shampoo is rich in germanium, keratin, almond oil, shea butter, aloe vera, and coconut oil. Germanium is a well-known natural ingredient that balances oils and makes your hair look healthy. An ideal solution for oily and dry hair, as it regulates sebum secretion.
When massaged into the scalp, shea butter can relieve dandruff problems and cradle cap in infants. It locks in moisture and reduces flakiness. Almond oil is another effective ingredient, composed of phospholipids, magnesium, Omega3 fatty acids, and vitamin E. At the same time, aloe vera contains minerals such as copper and zinc, which are known to keep hair healthy.
Anveya shampoo is suitable for dry, brittle, and frizzy hair. The shampoo uses natural moisturizing hyaluronic acid because it forms a protective layer around the hair shaft, moisturizes the hair, reduces breakage, and creates an anti-pollution barrier. The gentle cleansing product can remove any dirt and buildup on the scalp. The formula does not contain parabens, sulfates, and harsh chemicals.
Mamaearth Onion Hair Fall Shampoo is made of natural ingredients and is suitable for most hair types. Onion oil is the active ingredient in the formula, stimulating hair growth and promoting blood circulation. On the other hand, plant keratin can strengthen hair, prevent damage, and tame frizz. The formula does not contain sulfates, parabens, silicones, and mineral oils, making it ideal for chemically treated and colored hair.
Just Herbs shampoo is a mixture of henna, neem, amla, and other herbs. These powerful ingredients can strengthen roots and hair follicles and eliminate dandruff. Neem reduces inflammation and forms a protective layer on the scalp and hair, while henna provides natural color to the hair, soothes, and stimulates blood flow in the scalp. Wheat germ oil can nourish deeply and help tame the flyways and make your hair frizz-free.
Zurich oil shampoo is made from rosemary essential oil, Moroccan argan oil, sweet almond oil, green tea extract, and virgin golden jojoba cold-pressed oil. This shampoo strengthens hair and protects it from harmful pollutants and UV rays.
In addition to improving scalp health, it can also revitalize dull hair. It is an excellent formula, free of toxic chemicals, sulfates, parabens, and silicones. This product will meet all your requirements, from restoring moisture to strengthening and keeping hair shiny. Men and women with any hair type can use this shampoo.
Good Vibes provide deep nutrition, rejuvenate hair, shine, and luster. Banana is an effective ingredient, rich in vitamins, minerals, and potassium, improving hair elasticity.
This shampoo can help fight split ends, prevent breakage, and lock in moisture to provide beautiful, healthy, and nourished locks. This mild cleanser prevents dirt and buildup and checks the overall health of the hair.
Myparina hair shampoo is rich in argan oil extract, known for its anti-dandruff properties, forming a protective layer against dust, smoke, and pollution. Argan oil can also prevent premature graying of hair, seal split-ends, and detangle hair. On the other hand, amla can strengthen hair against UV rays and other pollutants. The shampoo makes hair voluminous, promotes hair growth, and nourishes the hair. Bhringraj extract vitalizes hair and strengthens hair roots.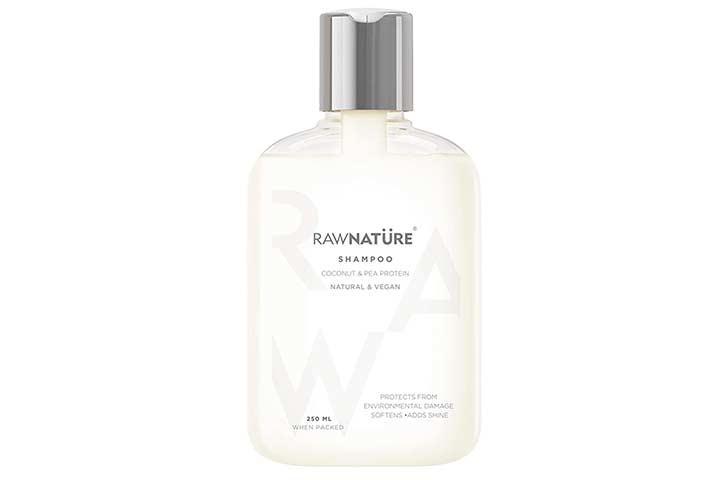 Rawnature is a mild product that repairs damaged hair and is ideal for daily use. Coconut oil in the formula nourishes the scalp and penetrates the hair cuticles deeply. It eliminates sebum from the follicles and stimulates the growth of hair. Pea protein, on the other hand, offers healthy, vitalized, and voluminous hair.
How To Choose The Right Shampoo For Frizzy Hair In India?
Consider the following aspects when shopping for the best shampoo for frizzy hair.
Ingredients: Always choose shampoos containing moisturizing ingredients such as almond oil, argan oil, milk protein, and coconut milk, which can help treat frizzy hair and maintain pH balance. Don't buy shampoos that contain alcohol, minerals, and parabens.
Damage control properties: Choose a shampoo that can nourish, repair, and prevent any damage. Anti-frizz shampoos should help keep hair thick, shiny, and healthy.
Hair issues: Choose a shampoo that can solve all hair problems, such as dandruff, hair fall, etc. If you have chemically treated hair, choose a mild shampoo that does not contain SLS.
Frequently Asked Questions
1. How do I know if my hair is frizzy?
If you have frizzy hair, managing it in extreme weather such as monsoon and summer is difficult. It also becomes coarse and difficult to brush.
2. Why does the hair become frizzy when combing?
Combing frizzy hair can disturb the hair cuticles and stretch their fibers. This makes the hair difficult to manage and, thereby, rough.
Maintaining frizzy hair can be quite a task as it is hard to comb and gets tangled quickly. However, with our list of gentle anti-frizz shampoos, managing your hair has become easier than ever. So, pick from the extensive list of best shampoos for frizzy hair and stop stressing about managing your hair. Moreover, we have also provided a comprehensive buying guide that will help you categorize your preferences and hair status and select the best product for your hair.
Recommended Articles
The following two tabs change content below.

Poulami Nag is a writer and associate editor at MomJunction. She did her MA in English from Miranda House, University of Delhi and has qualified UGC-NET. Her journey as a content writer began in 2017 and since then she has garnered diverse interests along the way. Her knowledge of literature and language has given her an eye for detail and...
more