If you want a gentle shampoo for your child's delicate hair, here's our list of the best shampoos for babies to help you choose the right one. Children need special shampoos to prevent irritating the skin and eyes for a comfortable bathing experience. Although available easily, many of them might contain harmful ingredients such as formaldehyde which might harm your little one. We have researched several products to ensure the shampoos are made of chemical-free, child-safe ingredients. With mild fragrances, these shampoos gently wash your baby's hair and treat scalp issues without hurting. However, choosing the right shampoo can be challenging with different products available. So, browse our list of products and their features and benefits to find a shampoo that suits your child's requirements.
When To Start Using Shampoo On A Baby?
You can start using shampoo on your baby when they are around two months old.
Safety Tips For Using Baby Shampoo
Use warm water: Cold water can make the baby ill, whereas hot water is not suitable for their delicate skin. Check with your elbow or wrist to ensure it's just the right amount of warmth. It will allow you to prevent any hot or cold patches of water as long as you mix it well.
Keep everything handy: You might be holding your baby against the knees or putting them down on the changing mat, but that doesn't mean you can take your eyes or hands off them for more than a second. To make bath time more convenient, keep everything you need within arm's reach, from shampoo and body wash to towels, nappies, and fresh clothes.
Don't wash too often: Babies don't need to have their hair washed every day as their skin and scalp are sensitive, and washing too often can result in dryness. Giving them a shampoo bath twice or thrice a week is sufficient.
Top 11 Baby Shampoos
Being a mother, we know that you want nothing, but the best for your baby. But with seemingly endless offerings in the market, choosing one shampoo can give any parent a hard time. To help you, we have come up with a list of top 11 shampoos for your baby.
SheaMoisture Baby Wash and Shampoo is formulated to gently cleanse and hydrate the baby's skin. It keeps the skin soft and smooth, and the sweet pea infused into the formula gives it a delicate fragrance. The shampoo is cruelty-free and is free of sulfates, parabens, phthalates, propylene glycol, mineral oil, and petroleum. It has a watery consistency. You may check out this video to learn more about this product.
Pros
Certified safe
Enriched with 100% virgin coconut oil
Soothes baby's skin
Gentle formula
Cruelty-free
Cons
Bottle may not be user-friendly
May not be tear-free
Formulated with three essential ceramides and hyaluronic acid, this gentle body wash and shampoo strengthens your baby's skin barrier while retaining the skin's moisture. It is accepted by the National Eczema Association, making it a safe choice for babies with sensitive skin. It rinses without leaving behind any residue and keeps your baby's skin hydrated and supple.
Pros
Developed with pediatric dermatologists
Enriched with vitamin E
Sulfate- and dye-free
Free of parabens and phthalates
Tear-free formula
Cons
May not lather well
May make hair greasy
This is one of the gentlest shampoos you can use on your baby. It is free of toxins, making it the perfect choice for your baby's extra delicate scalp, and the shampoo's tear-free formula ensures a gentle and enjoyable cleansing experience. And as the shampoo is infused with jojoba oil, aloe extract, calendula extract, and coconut-based cleansers, it leaves your baby's hair soft, smooth, and moisturized.
Pros
Non-allergenic and tear-free formula
Soothes dry scalp
Prevents irritation
Dermatologically tested
Has moisturizing properties
Cons
May have a slightly strong fragrance
May not be suitable for dry hair
It is an excellent pick for your little love. The soothing ingredients of the shampoo are perfect for infants with sensitive or irritated skin. And it is enriched with the goodness of calendula extract and aloe vera to hydrate the hair and scalp.
Pros
100% plant-based
Free of nasty chemicals
No added fragrance
USDA-certified
Vegan friendly
Cons
May not suit eczema-prone skin
Bottle may be smaller than you expect
Aveeno's baby wash and shampoo is perfect for your darling. The soap-free shampoo is enriched with natural oat extracts for gentle cleansing. And as the scent of the shampoo is mild, it does not irritate your baby's tiny nostrils.
Pros
Hypoallergenic
Suitable for normal and sensitive skin
Soothing and nourishing formula
Free of parabens, phthalates, and sulfates
Cons
Some may not like the smell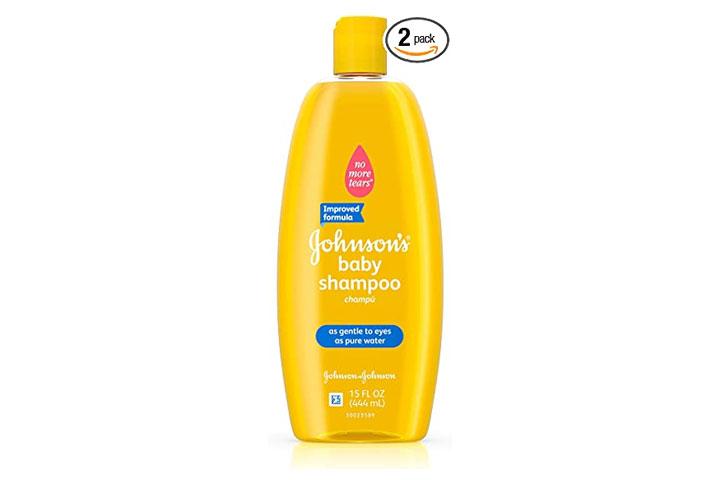 Johnson's baby shampoo leaves your baby's hair feeling clean and soft with its tear-free formula. It gently rinses the hair and scalp while ensuring no irritation to your baby's skin and eyes. The shampoo leaves behind no residue and makes your little one's hair look healthy and shiny. Further, it has a mild and calming scent of avocado.
Pros
Soap-free formula
Rinses quickly and easily
Dermatologist-tested
Paraben-free
Clinically proven to be hypoallergenic
Cons
Consistency may be a little too thick
May not get rid of buildup
The fragrance-free wash by Burt's Bees is a popular choice amongst new mothers. It is a tear-free and natural baby shampoo containing the goodness of plant products like soy proteins and oat proteins. This video will help you make an informed decision about your purchase.
It is a dermatologically-tested shampoo enriched with pot marigold to prevent hair tangling and glycerine to condition and nourish the hair and scalp.
Pros
Rinses off quickly
Gentle on the baby's hair and scalp.
Paraben- and SLS-free
Hydrating formula
Cons
Some may not like the smell
Bottle may be smaller than you expect
Here's a pediatrician-approved baby wash and shampoo for your little one. It has a mild and natural fragrance that comes from the chamomile extract infused in the formula. The extra gentle tear-free formula with added provitamin B5 is all your precious little one needs for a head-to-toe bath.
Pros
Paraben- and dye-free
Hypoallergenic formula
Convenient pump bottle
Rinses off quickly
Cons
May not lather well
May not be hydrating enough
Count on this plant-derived baby shampoo to make your baby's bathing time a tear-free affair. Infused with rich ingredients, such as sugarcane-derived squalane and Pogostemon cablin leaf oil, this shampoo nurtures your baby's hair and skin without exposing it to synthetic chemicals. It also leaves your baby's hair and skin hydrated minus any irritation. The shampoo is suitable for sensitive skin and is tested to ensure it is clean and hypoallergenic.
Pros
Free of sulfates and synthetic fragrances
Vegan-friendly and cruelty-free
EWG-verified
Dermatologist-tested
Pediatrician-approved
Cons
Some may not like the scent
Pump may not work well
This shampoo cleanses the baby's hair and leaves it squeaky clean. It is formulated with calendula, aloe vera, and vitamins E and B5. Moreover, it is clinically tested and is free of parabens, colorants, and mineral oil, making it ideal for everyday use. The dermatologically tested and tear-free formula is a good alternative to conventional soaps and shampoos for babies. Take a look at this video to learn more about this product.
Pros
Hypoallergenic
Moisturizing and soothing formula
Cleansing formula
Ideal for everyday use
Cons
Bottle may not be user friendly
Some may not like the slightly strong fragrance
How To Choose The Right Shampoo for Babies?
Consider the following factors when choosing the right shampoo for babies.
Read the ingredients: Read the label carefully to determine if the product contains safe ingredients. It is a necessary step to check for any toxic chemicals that might harm your baby's health. To avoid this, you can try using an all-natural shampoo compatible with babies' delicate and sensitive skin.
Opt for tear-free: Tear-free formulas are designed to shield children's eyes, so they don't cause irritation and spoil their bath time. This is a must-have feature for all soaps or shampoos you use for your baby.
Healthy pH balance: Shampoos designed for babies will take care of their pH balance, which is 5.5 when they are newborns. These products are great for the skin as they promote healthy development and keep skin issues at bay.
Why Trust MomJunction?
We have reviewed the best shampoos for your baby after analyzing each product on factors like formula, fragrance, and ability to cleanse the scalp gently. The description of each product is also based on user reviews to help you pick the right one for you and your baby. With in-depth research, our curated list contains only the best products in the market compiled after comparing and analyzing several items.
Recommended Articles: