Knives are a primary kitchen tool. But over time, they tend to lose their sharpness. So, we have made a list of the best sharpening stones to help you choose the right one. Sharpening stones, also known as water stones or whetstones, are rectangular stone blocks. They are used to hone the edges of a dull or blunt knife.
By sharpening the knife on the edges of these stones, you can bring its shine and effectiveness back with minimal effort or injuries. These stones are made of various materials and are available in many sizes. Read on to know more about these essential stones and the features to look for. We have also included a buyer's guide to help you choose the right one.
Types Of Sharpening Stones
There are four varieties of knife sharpening stones.
Water stones: Most widely used for sharpening kitchen knives, water stones are easy to use and reasonably priced. They are made of synthetic materials or Arkansas and do not need expensive liquids or oil as lubricants. Soak them in water for 10 minutes, and they are good to use.
Oil stones: Made of silicon carbide or aluminum oxide, these stones can be expensive. They promise sharper edges and better shine and require the use of oil or different liquids for maintenance.
Ceramic stones: Made of materials like aluminum oxide or silicon carbide, ceramic stones make better choices for final polishing or finishing. Ceramic stones are softer than water stones and oil stones but are best suited for sharpening deep blunt edges.
Diamond stones: Diamond stones are the most expensive and effective sharpening stones as manufacturers use diamonds of industrial grade. They make a good choice for sharpening outdoor knives.
Top Products From Our List
11 Best Knife Sharpening Stones To Buy
The Sharp Pebble whetstone is versatile and can sharpen different types of knives and even an ax. Made of aluminum oxide, the high-quality double-sided whetstone comes with two grit levels and a bamboo base to hold the stone. For beginners, Sharp Pebble offers a detailed eBook on how to sharpen a knife with a whetstone.
Pros
User-friendly design
Easy to assemble
Promises mess-free sharpening
Easy to clean
Comes with a silicone holder
Non-slip bamboo base ensures better safety
Comes with a guide for sharpening
Cons
The Japanese knife sharpener stone from Bea rMoo Whetstone is double-sided with two different grit levels – the coarse side with 3,000 grits and the fine side with 8,000 grits. Made of premium white corundum material, the Bear Moo stone can keep different kitchen knives in the top edge. The stone should be soaked in water for at least five minutes before you start sharpening your kitchen knives.
Pros
White corundum resists heat and corrosion
Comes with clearly demarcated corners and edges
Non-slip silicone base keeps it in place
Offers a generous working space
Can be used for different kinds of blades
Cons
May not be suitable for ceramic knives and serrated blades
Smith's sharpening stone system features three different kinds of stones to ensure impeccable sharpness. The set includes two Arkansas stones (fine & medium) with 800 and 1,000 grit and one coarse synthetic stone with 300 grit that ensures all-round sharpness. The stone comes with molded plastic and non-skid rubber feet for safety.
Pros
Powered with convenient stone rotation
Comes with sharpening angle guide for better performance
Easy to use and handle design
Comes with a high quality honing solution
Long-lasting and durable
Cons
Stone may clog
May not be suitable for beginners
The Sharpalsharpening stone is a durable, multifunctional sharpener made with high-quality monocrystalline diamond grit selectroplated on its stainless steel base. It is compact and has acoarse 325 grit and extra-fine 1200 grit. The stone comes with a 2m paracord wrapped around the handle, which is perfect for survival tasks.
Pros
Offers better sharpening than water and oil stones
Multifunctional sharpener
Does not require any oil or water for maintenance
Quick and durable
Comes with three years warranty
Includes a genuine cowhide leather sheath
Cons
Leather cover may be difficult to remove
Dalstrong offers two whetstones made of premium corundum with 1000/6000 grit. The two thicker and larger stones offer a bigger surface area to hone the knife. The premium whetstone is ideal for sharpening German and Japanese style knives and blades.
Pros
Comes with an Acacia wood base to hold the stone
Includes Nagura flattening stone for conditioning
Has a silicone holder for better stability
Comes with a stain and rust remover
Versatile
Cons
Grits may not be effective
Made with high-quality silicon carbide, the Sharp stone is compact and designed to provide maximum sharpness with minimum effort. With a coarse side of 150 grit and a fine side of 320 grit, the stone can be one of the best choices.
Pros
Offers 40% bigger surface area
Ergonomic design promises better grip
Dual grit multipurpose whetstone
Comes with a magnetic bamboo box for storage
Portable and compact
Mess-free design
Cons
The Fallkniven ceramic whetstone is curated to take care of different sharpening needs. A dual-sided construction crafted with synthetic materials, the stone comes with 2000 grit on one side for finishing touches and 1000 grit for smoothing the surface. The pocket sharpening stone makes the perfect pick for outdoor activities.
Pros
Doesn't require water or oil for lubrication
Compact and portable
Easy to clean
Comes with a leather pouch
Promises quick sharpening
Ergonomic design that fits in hands
Cons
May not be coarse enough to remove nicks
May not be effective on extremely dull blades
Measuring 7X3.5in, the diamond grindstone with a molded plastic base is suitable for different kinds of blades, kitchen knives, and ceramic knives. The diamond stone comes with design highlights that offer it a unique texture. The 600 grit side removes imperfections and nicks, while the 1200 grit side is good for honing.
Pros
Effective and functional
Durable and sturdy construction
Does not require water during the sharpening process
Comes with an anti-slip base
Portable design
Cons
Diamond coating may wear out with time
Dan'spocket sharpening stone is made from premium Arkansas stone. Designed to sharpen the dull edges of the blades quickly, the stone is durable and dependable. The small-sized stone contains high-purity silica Novaculite.
Pros
Offers extra hard surface
High-quality sharpening stone
Perfect for outdoor sharpening
Comes with a handcrafted leather pouch
Compact and portable design
Long-lasting
Can be used for sharpening different kinds of blades
Cons
May have a small surface area
Spyderco offers a flat and wide ceramic stone that is designed for restoring old and dull knives. With medium grit, the stone measures 2x8x0.5in and is low on maintenance, not requiring cutting liquids like water or oil.
Pros
Comes with a polymer case
Can be washed in a dishwasher
Has non-skid rubber feet
Durable and sturdy
Functional design
Cons
Made of high-quality alumina oxide, Sparta offers a set of two sharpening kitchen knives with a stone. Designed to sharpen different blades, the stone is durable. The stone comes with different grits – 3000 and 8000 grits for polishing, 400 grit for dull edges, 1000 grits for sharpening tasks, and 320 grit and 240 grit for flattening. The wooden base and silicone pads add to the convenience of using this set.
Pros
Comprehensive set
Designed for sharpening different kinds of blades
Comes with an angle guide
Long-lasting and highly durable
User-friendly design
Easy to assemble
Cons
May not be suitable for ceramic and serrated blades
How To Choose The Right Knife Sharpening Stones?
To help you find the right knife sharpening stone, we have listed some essential factors that you must consider when shopping for one.
Size: Most stones measure seven to eight inches in length. You should choose the correct size depending upon the kind of knife you wish to sharpen.
Type of sharpening stones: You should choose a sharpening stone depending upon the type of blade you want to sharpen.
Grit: You have to select from coarse (220 grit), medium (1000 to 1500 grit), and fine (up to 4000 grit). Coarse grit promises razor-sharp edges quickly. Medium grit is effective in giving a good polish. Fine grit is the last level and offers superbly sharp edges with shine.
Range of grit: Sharpening stones come in different grit ranges, and depending upon your requirement, you can pick the right grit.
Frequently Asked Questions
1. How do I sharpen my knife using a stone?
The sharpening stone should be saturated in water or oil before use. You should follow the manufacturer's guidelines before using the sharpening stone.
Place the sharpening stone on a flat and non-slip surface. Now hold the knife with the blade's heel positioned at one end of the sharpening stone at an angle mentioned in the manual and cutting edge facing away. Use your other hand on the blade's top side. Sweep your knife down and across the stone in a semi-circle shape. Repeat this ten to 15 times and then use the same method to sharpen the other side.
2. Is there a sharpening stone for a ceramic knife?
You can use water stones or diamond stones to sharpen ceramic knives. Using diamond stones is always a better choice because they are harder and require less time and effort to sharpen the knife.
3. For how long do I need to soak my whetstone?
You should soak the stone in water for five to ten minutes as water functions as a lubricant when you sharpen the blades.
Sharpening stones are an essential kitchen tool as they keep your blades in top shape. If you want to ensure that your knives are sharp, invest in the best sharpening stone. A sharpening stone is the easiest way to maintain a variety of knives, chisels, and axes. We hope our list of the best sharpening stones from some of the best brands in the market will make it easier for you to make an informed decision.

Recommended Articles:
The following two tabs change content below.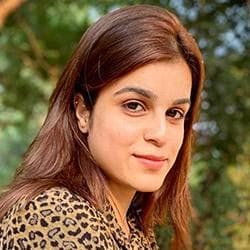 Sakshi John
Sakshi did her graduation in Journalism from the Madras Christian College, Chennai, before starting her career as a freelance writer. She is into blog writing and for MomJunction, she covers various topics, including products to buy for your kitchen, furniture, and other home requirements. Previously, she interned as a content writer in a cyber security firm. As a content writer, Sakshi...
more