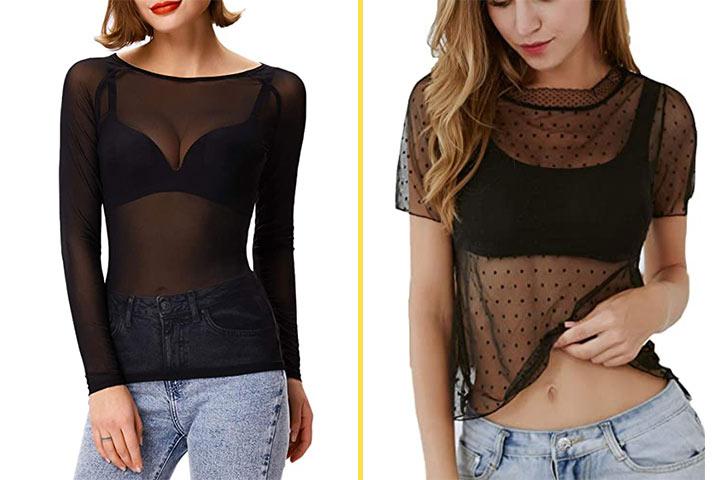 Tops that are described as "sheer" are created from fully or partially transparent material. Sheer tops are designed to provide a clear view of your undergarments such as bras. Some of these tops have a hint of shine and shimmer and are perfect for clubwear, while others are ideal for daily wear. Suitable for various body types, the best sheer tops for women are available in lace, tulle, and other trendy fabrics.
In this post, MomJunction brings you a list of 13 flattering sheer tops for women.
What Is A Sheer Top?
Here is something more about this outer garment that is fast becoming a wardrobe staple.
A sheer top can be a blouse, tank top, crop top, or shirt that is made from see-through material.
Various materials are used to make sheer tops.
Tops that fall into the "sheer" category can be partially or fully see-through.
Sheer tops are meant to be worn with solid-colored undergarments that feature lace or elaborate straps.
13 Best Sheer Tops For Women
1. GRACE KARIN Women's Long Sleeve See Through Mesh Sheer Top Blouse Shirt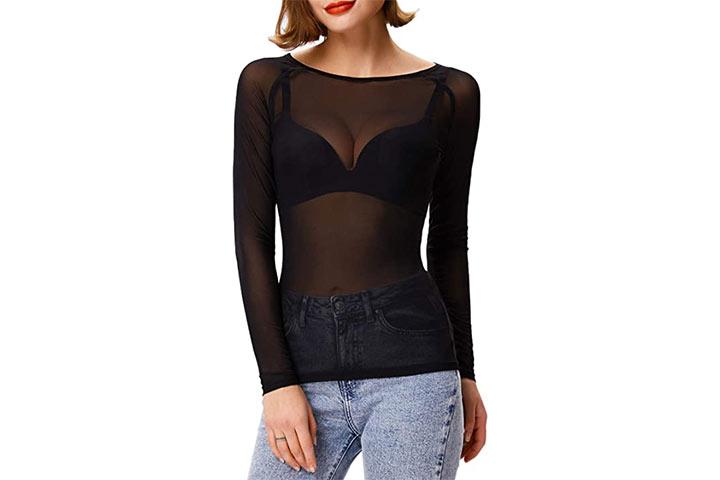 Looking for a classically styled sheer top? This is one of the best options available as it is versatile and can be worn over a bandeau bra, a bra with straps, or a lace bralette. Created from 90% polyester and 10% spandex, the top is soft. Plus, it stretches to provide the perfect fit. Layer it under a jacket and pair it with a skirt when heading to a party. When worn with jeans, it is ideal for everyday wear.
2. MANGOPOP Women's Long Sleeve/Short Sleeve Glitter Sheer Mesh Top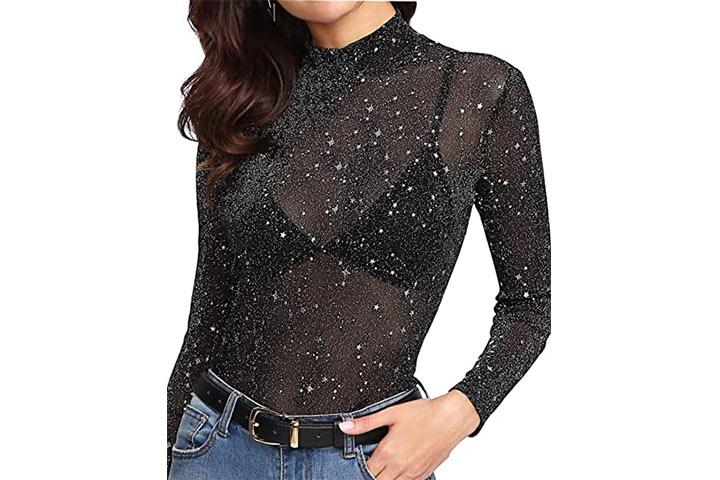 Created with a blend of 95% polyester and 5% spandex mesh, this long-sleeve sheer top is covered with glitter and star patterns. The material causes the top to shimmer and sparkle in artificial lighting and is designed to capture attention when on the dance floor. This top is available in black and comes with either a round neck or a high neck. It is designed to never go out of fashion and is a perfect option for party wear. It can be worn over a variety of bras, tank tops, or sleeveless tops as per your preference.
3. Kate Kasin Women's Mesh Tops Long Sleeve Sheer Blouse Sexy Shirt High Neck Clubwear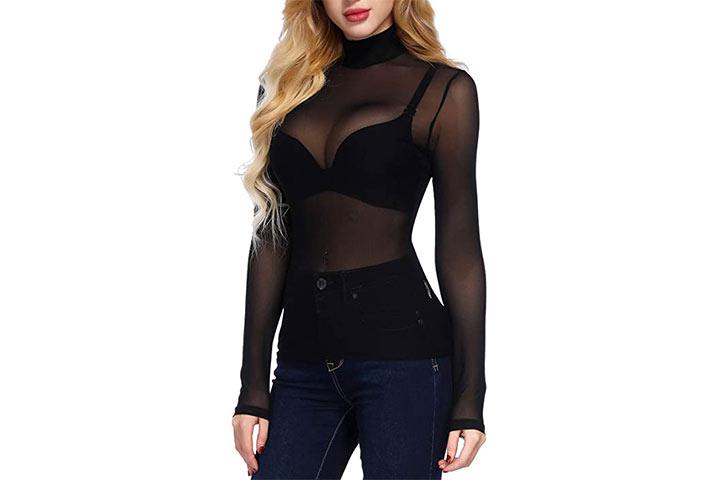 This see-through top comes with a high neckline and is suitable for clubwear. Available in black, the top is made from a material that is a combination of 90% Polyester and 10% spandex. It is, therefore, lightweight and ideal for summer wear. It is soft, stretchy, and showcases lacy bras or bralettes well. The sheer-mesh long-sleeve top is quite long and can be layered with a shiny jacket and worn with jeans, skirts, or a variety of pants when partying.
4. SweatyRocks Women's Sexy Sheer Mesh Fishnet Net Short Sleeve T-Shirt Crop Top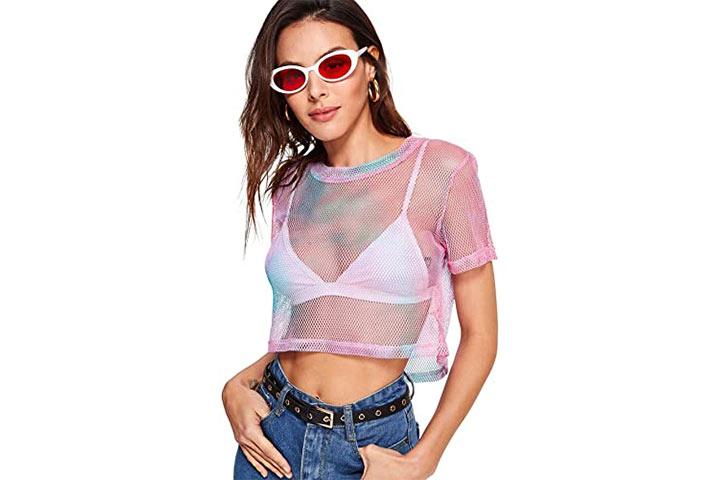 This fishnet sheer top comes in several colors. The polyester material and the mesh design give the top with a round neck and short sleeves a sporty vibe. It is ideal for the summer and can be worn over a swimsuit or bikini when hanging out near a pool. It can also be worn over a tank top or camisole and paired with dark jeans when you go out on a shopping spree with your pals. It is a perfect blend of sexy and sporty and provides a youthful edge to your look.
5. SweatyRocks Women's Long Sleeve Mock Neck Angel Print Sexy Sheer Mesh Crop Top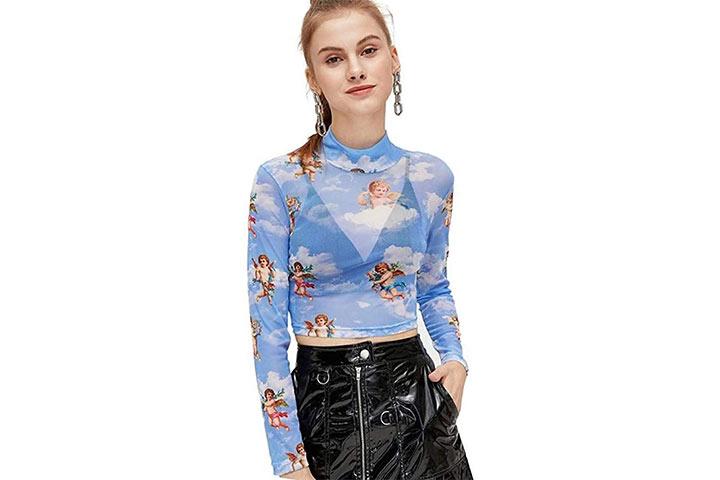 This sheer top is created with a blend of 97% polyester and 3% spandex and fits the wearer like a glove. It is one of the most elegant sheer tops for women as it has an attractive print composed of angels that stand out on the blue fabric. The slim-fit top with long sleeves can be worn over black or white bras or camisoles. It has a crop top cut and casual look, and can be paired with palazzo pants, jeans, or skirts. It is a perfect daily wear for the summer.
6. ROMWE Women's Bishop Sleeve Glitter Sexy Sheer Mesh Crop Blouse Top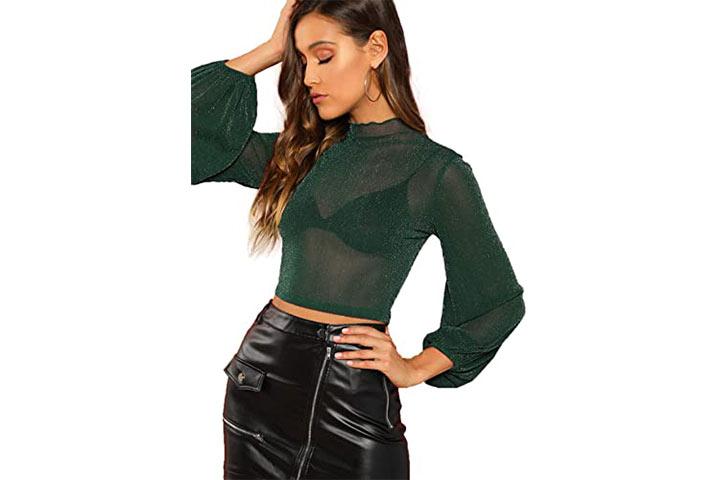 Featuring long bishop sleeves, this sheer top has a shine to it and is a perfect option when heading to a party. It comes in several colors, including green, and is made from a combination of 95% nylon and 5% spandex. It has a soft texture, and the lightweight material falls beautifully to highlight the wearer's figure, making the top an ideal choice for a summer party. The neckline has a curled edge that gives an elegant look to the crop top. It can be worn over a camisole or a lacy bra.
7. Amazon Brand – Daily Ritual Women's Super Soft Modal Semi-Sheer Pocket Tank Top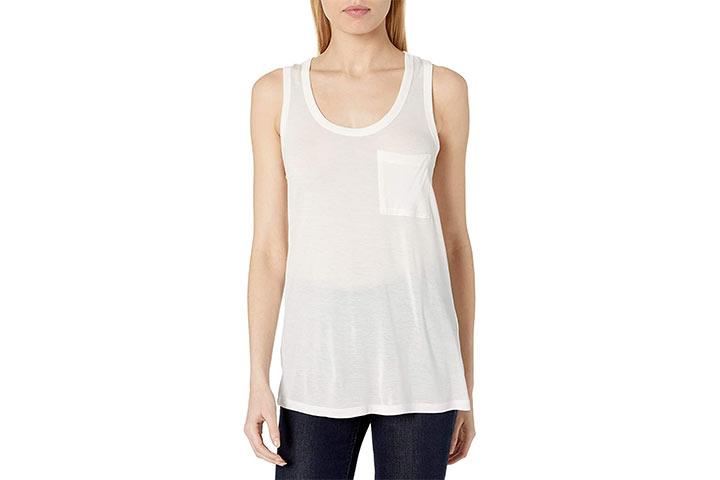 This sheer tank top is made from semi-sheer material and comes in several colors. Created from 100% modal material, it is lightweight, ideal for the summer, and can be easily washed by hand or in a washing machine. It features a tank top style and can be worn over a lace bra, a sports bar, or a camisole. When layered underneath a long-sleeved jacket, it can also be worn to the office with ease, and it features a front pocket that gives it a casual look.
8. AdoreShe Women's Sexy Sheer Dot Mesh Tee Clubwear See Through Top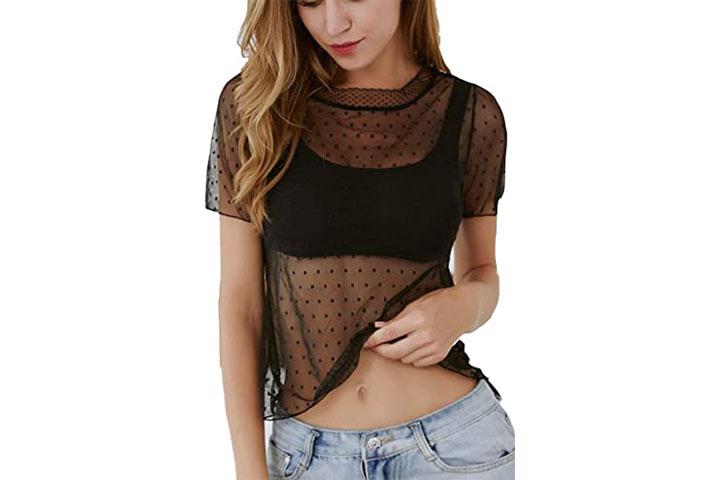 Featuring classy black dots and elegant short sleeves, this sheer top has a party-friendly look. Created with a combination of materials such as polyester, spandex, and nylon, it can be easily slipped on. The spattered dots and its o-neck can be displayed to perfection when worn over a sleeveless tank top, a bralette with sleeves, or a camisole. The sheer top is also versatile and can be paired with a range of skirts, jeans, and dresses of various colors.
9. ROMWE Women's Tie Neck Sheer Contrast Mesh Long Sleeve Sexy Blouse Top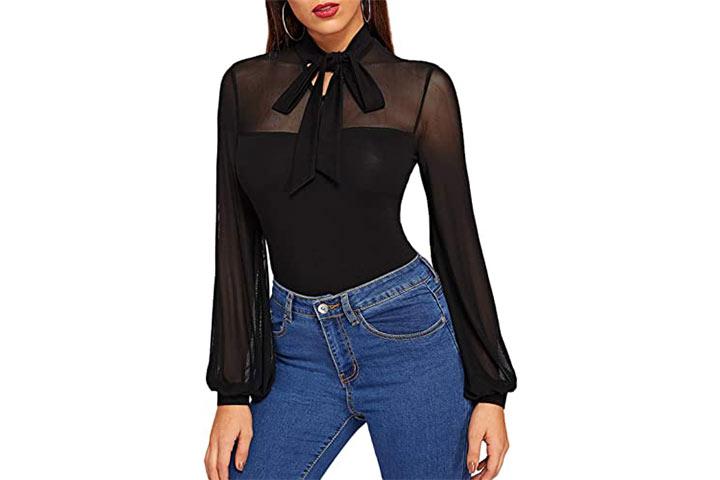 This top has sheer mesh over the long lantern style sleeves, shoulders, and neck, and, therefore, is partially see-through, making it a perfect choice for everyday wear. The top is designed for use with a strapless bra and comes with an elegant bow tie around the neck. It is made from 100% polyester and stretches a bit when worn. It can be hand-washed easily and can be worn with jeans, pants, and even skirts of any length. When layered below a jacket, it is ideal for office wear.
10. Zeagoo Women's Crochet Blouse Batwing Long Sleeve Shirt Lace Sheer Tops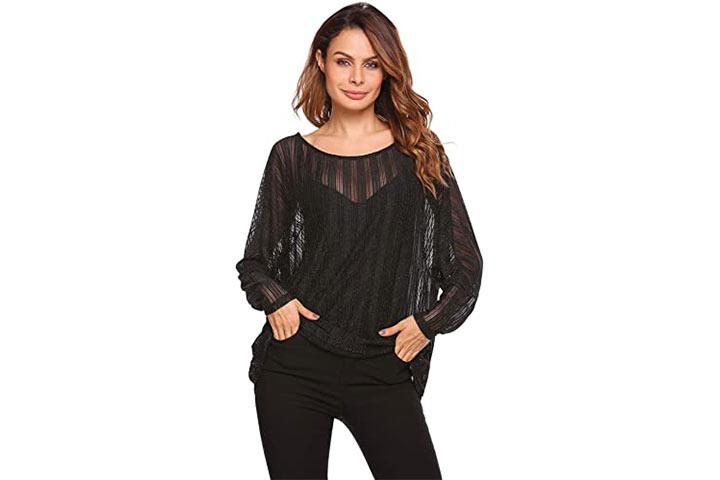 This sheer lace top is soft and stretchable and can be easily worn over any outfit. It is made from lace material that has a subtle shine, and the top can be worn over camisoles or a variety of bras. The long sleeves with bat-wing design give the top an elegant look, and it can be worn either to a party or when hanging out with friends. The top can be worn easily with anything, from leggings to jeans of any color, and even with leather pants when heading to a party.
11. SweatyRocks Women's Long Sleeve Mesh Shirt Sheer See Through Top Blouse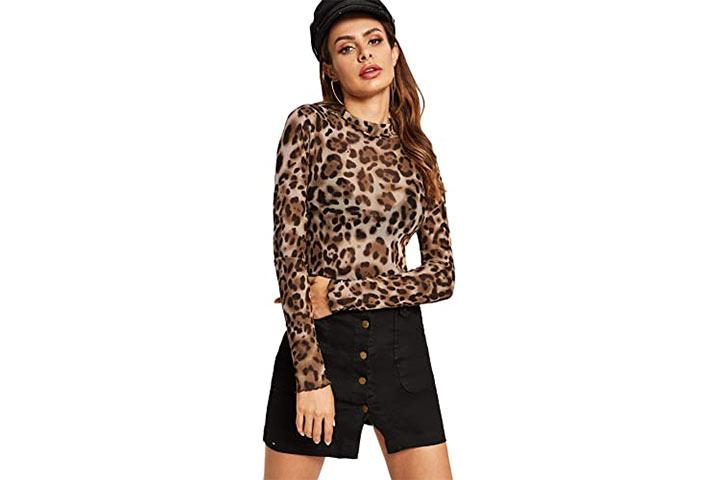 Featuring a leopard print, this top caters to those who want a trendy option for everyday wear this year. It is created from material that is a combination of 95% polyester and 5% spandex. It stretches moderately to allow for a comfortable fit. The sheer long sleeve top can be worn over colored bras or camisoles and gives your outfit a casual look. It can be worn like a blouse and paired with jeans, long black skirts, or leather pants of various colors.
12. SheIn Women's Sexy Polka Dot Mesh Mock Neck Sheer Top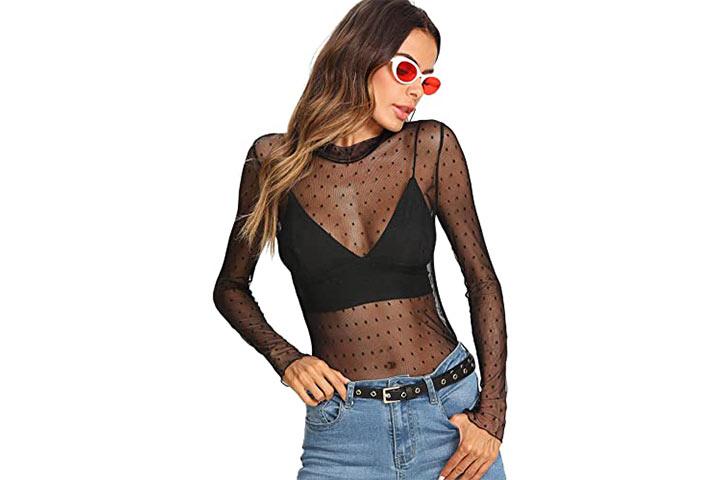 This sheer top comes with a polka dot pattern and is made from 100% polyester material. The slim-fit top has a mock neckline along with long sleeves, and can be paired with jeans and palazzo pants to create a casual look when shopping or hanging out with friends. It can also be layered under colored jackets when out on a date to create a chic look. It is designed to showcase a bra with lace or a bralette with elegant straps.
13. TIMEE Women's Sexy Sheer Long Sleeve Chiffon Blouses Tops Button Down Shirts S-XXL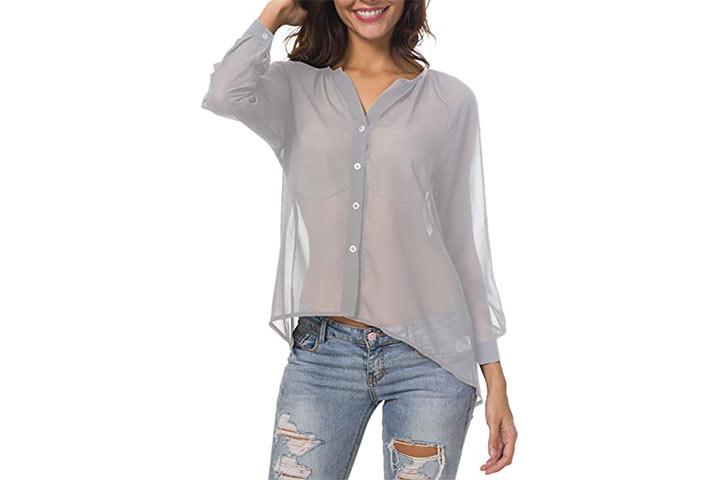 Created from a blend of polyester and chiffon, this top is lightweight and breathable and, therefore, a perfect option for hot summer days. It is resistant to wear and tear and can be used every day. It has buttons running down the front opening and has a high low cut along the bottom edge, which is super chic. It can be paired with jeans, skirts, and more, and when worn over a camisole, it creates a chic ensemble.
How To Choose The Right Sheer Top?
Dressing stylishly often means keeping up with trends. Sheer tops have been worn by women for decades, but recent advances in fabric technology have resulted in these tops becoming even more popular. Continue reading to find out how to choose the right sheer top.
1. Get sheer tops made from breathable material
Since sheer tops are popular during the summer when temperatures soar, choose one with breathable fabric that allows sweat to evaporate quickly.
2. Sheer tops with a drawstring waist emphasize the waistline
By opting for a sheer top with a drawstring around the waist, you can draw attention to your waistline and look slimmer and shapely.
3. Ensure you have the right underwear
Wearing a sheer top well often means having the right type of underwear, whether it is a lace bra with straps or a camisole. Buy the appropriate underwear when choosing your sheer top.
4. Choose your sheer top to go with particular pants, jeans, or skirts
A sheer crop top that looks good with jeans that has a high waist might not look great when worn with a skirt. So, when choosing a sheer top, decide on with what you want to pair it..
Frequently Asked Questions
1. What should women wear under a sheer top?
Sheer tops are designed to showcase undergarments, and women may wear bras, bralettes, or camisoles under such tops. Lace sheer tops can also be layered over sleeveless solid-colored dresses.
2. Is it okay to wear a see-through sheer top?
Wearing a see-through sheer top is completely normal in regions where there are no laws to prohibit such garments.
3. Can sheer tops be worn to parties?
Yes, sheer tops are ideal for parties or clubs. They can also be worn to dinner parties when layered over a camisole, dress, or worn under a jacket.
Picking the right sheer top is not a complicated process. If you follow a few tips, you can get the perfect sheer top. Pair it with the right underwear when heading to a party or layer it with a jacket when going to work. Which of these sheer tops did you like? Let us know in the comments section below.