A comfortable Sherpa blanket could be a great addition to your bed set. Made of artificial fabric material (polyester, cotton, or acrylic), its softness and touch is similar to that of shearling and hence called faux shearling or faux-sheepskin. These blankets have two distinct sides: one is a smooth knit, and the other is a texture imitating real sheep's fleece. Sherpa blankets are lightweight, soft, water-resistant, easy to maintain, and keep you warm and snuggly during colder months.
If you want to get your hands on one, read on for a list of the best Sherpa blankets you can pick and choose online.
11 Best Sherpa Blankets

Bedsure Sherpa Fleece blanket is known for its thick and lush texture that is great for snuggling in. It is made of premium 220 GSM fleece top and 260 GSM Sherpa back, giving you different textures to touch. The generously sized throw blanket measures 50x60in, and it is also available in king, queen, and twin sizes for offering added warmth to standard beds. It comes in 19 different solid colors that feature wrinkle-resistant, stain-resistant, fade-resistant, and quick-drying properties.

Get an extremely smooth and fuzzy feeling with this faux long fur Sherpa blanket made of 100% microfiber polyester fabric. It has a classic appearance and gives an elegant touch to your bed, chair, or couch. There are around 22 different colored blankets that can match with your decor or accent pieces. Each blanket measures 65x50in and is suitable for toddler beds. It can hold up to several machine washes.

Serta blankets combine soft plush material with electric heat technology. This reversible blanket includes an easy-to-use controller with an auto-off function that allows you to stay warm. A 100% polyester micro plush blanket, this has five heating settings that can be adjusted to suit your comfort levels. The controller comes with an 8.5' power cord and built-in four-hour automatic shut off option for convenience, power-saving, and safety. The dimensions of 50x60in offer full coverage for the bed or couch.

Not all throw blankets may be easy to wash or maintain, unlike this quality Genteele Sherpa blanket that does not fade or shed even after several washes. Made of microfiber cashmere velvet, it comes in a wide range of colors and patterns. It measures 50x60in, which gives room for cuddling or relaxing while on the bed or when watching TV. Suitable for bedroom, kids' room, living room, this blanket can be folded compactly and taken on trips too.

Nanpiper plush Sherpa blanket offers warmth and comfort with its fluffy touch. It is made of 100% microfiber polyester and measures 60x80in to fit any standard couch, bed, or sofa. The top flannel fleece and the bottom Sherpa offer two different senses of touch, while knitted edges surround the blanket. It does not fade and is an ideal option for all seasons, including summer and spring too.

The Lomao Sherpa is super soft and sturdy for its rung spun yarn technology that creates high-density and super soft fiber. It is durable, lightweight, and offers different senses of touch. One side is the coral fleece Jacquard face, and the other side is Sherpa fleece. It will, therefore, provide a soft feel and gives you smooth experience and warmth. Measuring 60x80in, it is suitable for any bed, sofa, couch, or car travel.

This solid Sherpa blanket is constructed from high-quality 320 GSM microfiber polyester that is lightweight, soft, supple, and easy to care. It is plush and fluffy that gives you a cozy feel all day long. Measuring 50x60in, it offers plenty of room to wrap around. It is suitable for all seasons, and you can carry it anywhere. The machine-washable blankets are available in 13 vibrant colors that you could mix up with your decor and add style to your living room or bedroom.

Another ideal choice for an electric heated blanket is the Hyde Lane Sherpa blanket, which is known for its therapeutic heat relief property. The steady heat opens up the sore joints and muscles and relaxes them. This is one of the perfect blanket choices for athletes or those who need that extra warmth. There are three different heating levels with a custom LED controller to help you set the heat. The thick micro plush fibers give comfort and softness as you drape it over.

Walensee Sherpa double-sided blanket combines flannel fleece face and plush Sherpa back and offers two unique senses for a soft and cozy feel. It is manufactured from the utmost quality 100% microfiber polyester, which has wrinkle-resistant and quick-drying features. The dimensions of 90x90in make it suitable for Queen size beds. You may use it in your living room, bedroom, kids' room, or even take it for vacation. The fabric will not shed or pill, and the color does not fade even after multiples washes.

With a contemporary look, the LBRO2M Sherpa fleece blanket fits in beautifully with any decor. Constructed from high-grade fleece top and Sherpa reverse, it provides the ultimate softness and warmth. Its high-density polyester fibers make it hypoallergenic, durable, wrinkle-resistant, and shrink-resistant, and suitable for both indoors and outdoors. It is available in multiple colors and in king, queen, and twin bed sizes.

Rose Home Fashion's throw blanket is soft and comes in multiple patterns. You can add comfort and luxury to your bed or couch with this super-soft microfiber blanket. It is ideal for all seasons and comes in four different sizes to fit king, queen, and twin beds, and to be used as a throw blanket. The excellent threading shows its exquisite quality, and it nicely complements your home decor.
How To Choose The Right Sherpa Blanket?
Some important features you should consider when planning to buy a Sherpa reversible blanket are mentioned here.
Material: Consider the material used in the construction of a Sherpa blanket, whether it is cotton, wool, or polyester fibers. The type of material determines factors such as comfort, warmth, and durability.
Size: Prefer the size that would be comfortable for you. If it is just for warming up your feet, you may go for a smaller blanket if you want to snuggle in completely, you need a larger one.
Warmth: A heavy weighted blanket gives more heat and is ideal for colder seasons. A lightweight fleece blanket is ideal for spring or fall seasons. Think about how warm you want it to be and buy accordingly.
Color and pattern: A blanket could add to the aesthetics of a room. If you want to compliment your bedroom or decor with a matching color or theme, get a Sherpa blanket that does it.
Sherpa blankets are beautiful and come in a variety of colors to suit everyone's preferences. They are versatile and not restricted to sleep time alone. Consider the above listed best Sherpa blankets and the factors to invest in a high-quality blanket.
Recommended Articles: 
The following two tabs change content below.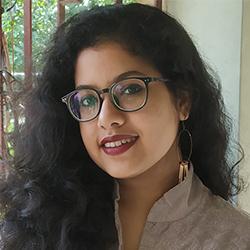 Poulami Nag
Poulami Nag is a writer and associate editor at MomJunction. She did her MA in English from Miranda House, University of Delhi and has qualified UGC-NET. Her journey as a content writer began in 2017 and since then she has garnered diverse interests along the way. Her knowledge of literature and language has given her an eye for detail and...
more