Leather shoes require daily maintenance to maintain their luster. To protect them from wearing out and losing their glamour, check out our list of the best shoe polishes for a mirror shine. These polishes prevent your leather shoes from losing their glory as the days proceed. Due to regular use, they may start to appear shabby as the oil dries out. However, you can replenish their shine with proper care, which includes using shoe polish. Frequent polishing of the shoes could extend their life and retain the leather's quality.
With various options available, choosing the right shoe polish may be challenging. So, explore our list to choose the right shoe polish for your shoes.
11 Best Shoe Polish For Mirror Shine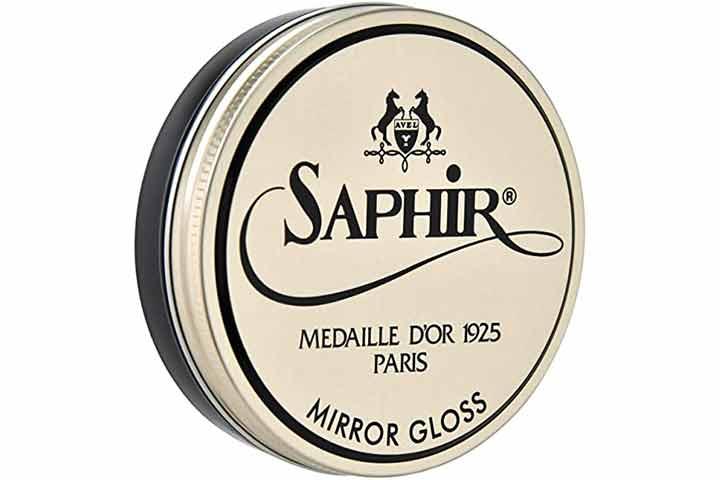 Saphir Medaille D'Or natural wax polish is balanced with natural turpentine solvents. Due to the high concentration of hard wax, it provides a luxurious glossy mirror effect. Apply this easy-to-use polish in thin layers using a soft polishing cloth and buff in circular motions to achieve high gloss. To get a better understanding of the product, you can check out this video.
Pros
Free of harmful silicones and resins
Available in neutral, brown, and black
Contains montan wax, beeswax, and carnauba wax
Long-lasting shine
Cons
May leave a white residue in the cracks
Has a turpentine odor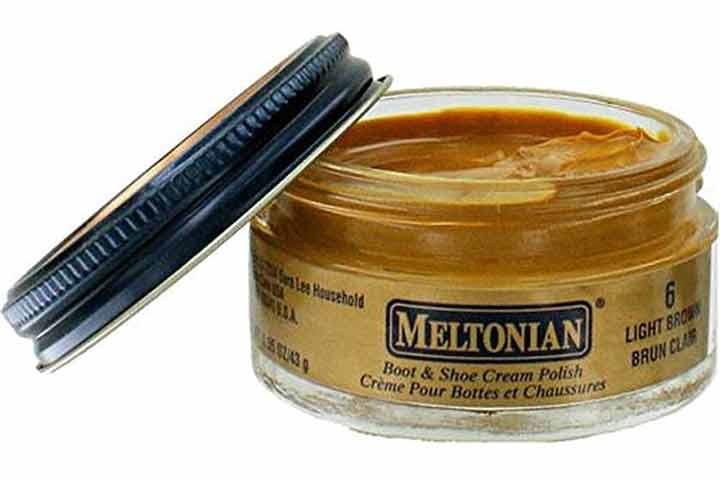 Meltonian cream polish has a unique dye-based formula that can instantly restore the original shoe color. The rich, creamy polish, blended with high-quality waxes, is suitable for smooth leather. It forms a protective layer on the surface to prevent damage from dirt and moisture and glides on effortlessly to deliver a superior sheen and gloss. Check out a review of this product for more information.
Pros
Keeps leather soft
Improves flexibility
Helps fill in cracks in leather shoes
Easy to apply
Available in multiple shades
Cons
Color may be lighter than expected
Some may find the fragrance intense

Kiwi's shoe polish set includes three universal colors — black, brown, and neutral — to meet all polishing requirements. The unique blend of all-natural wax infuses the leather with nourishment and protects it from grime and dirt. It can also fill in scuffs and scratches on shoes.
Pros
Made from carnauba wax
Offers a long-lasting mirror shine
Helps restore color and transforms old shoes
Does not dry out
Cons
May not be easy to open
May be smaller than expected for some
The Griffin shine sponge provides a clean and tidy way to bring instant shine to leather products. This three-pack comes with black, brown, and neutral colors in a compact travel-friendly case. The contoured case is easy to hold and provides efficient high-gloss polishing without the hassle of polishing cloths and brushes. It is suitable for reviving leather shoes and restoring shine.
Pros
Handheld design
Easy to apply
Does not require cleaning
All-in-one, instant shine sponge
Safe to use and protects leather
Cons
Not for suede or napped finishes
Becomes a little thick with each use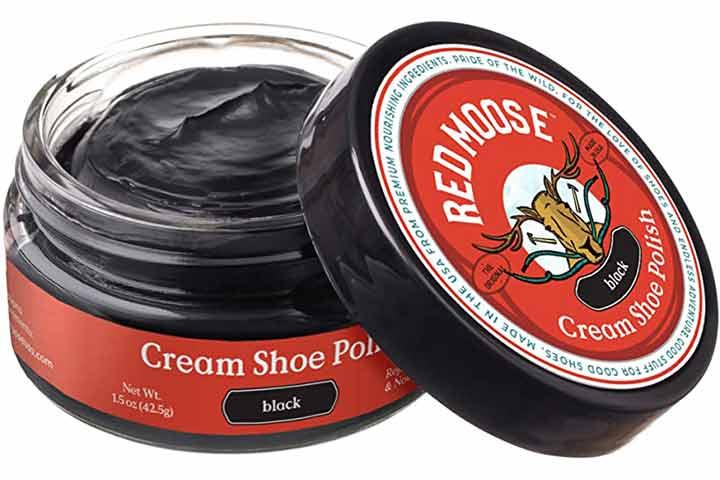 Red Moose's cream shoe polish restores color and maintains the texture of used leather products. This quick-acting cream permeates the leather to fill the scuffs and cracks and revives the look of worn-out boots and shoes with a new gleam. The formula can bring back life to all leather products, such as wallets, handbags, footwear, and furniture.
Pros
Instant and visible shine
Rich in natural waxes, pigments, and oils
Restores damage caused by water, mud, snow, etc.
Mess-free application
Cons
Finish may be a bit patchy
May require multiple layers
Simple Shine's colorless liquid shoe polish helps restore shine and luster to leather goods. This shoe polish does not require buffing or clean-up. It comes in a travel-friendly bottle which makes it easy to carry around. It can brighten dull leather while protecting it from dirt and grime.
Pros
Not tested on animals
High-gloss and clear finish
Sponge applicator for convenient application
Gift-worthy
Cons
May change the color of the leather slightly
May not last long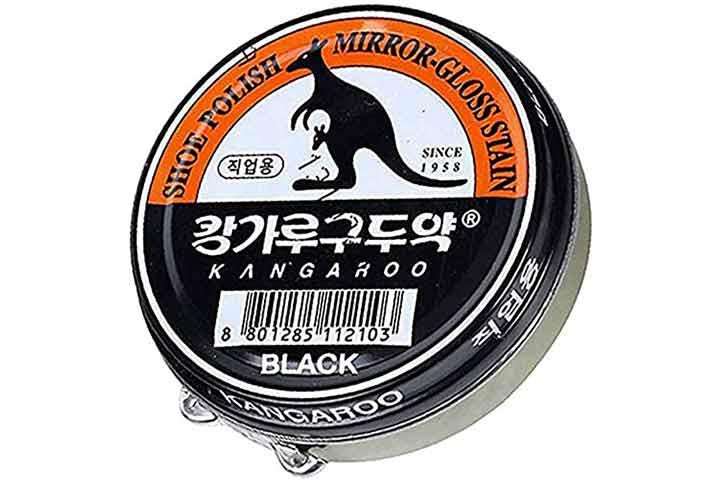 Kangaroo's all-weather shoe polish is composed of wax and gives your shoes a mirror-gloss finish. It can produce a polishing agent's effect on the shoes, thereby bringing lasting luster to the shoes. This hard polish is waterproof and can prevent the adverse effects of humidity.
Pros
Forms a protective layer to avoid scuff marks
A single wipe is enough to get the desired results
Lightweight formula
Prolongs shoe's shelf-life
Cons
Might have a slightly dry texture
Might seem small to some
Saphir's high-gloss Amiral polish offers instant glaze, a rich luster, and a high-gloss glitter effect. This neutral polishing agent is suitable for deep cleaning leather products of various shades. It is suitable for use on hard parts of shoes, stiffeners, and tips.
Pros
Contains hard wax, imported beeswax, and special solvents
Oily texture that stays on firmly
Ideal for suede and canvas too
Has a very mild fragrance
Cons
Not recommended for use on cracks or creases
Some might find it difficult to apply
Cadillac Select's liquid shoe polish contains quality ingredients that can protect and preserve smooth-finished leather products while restoring high gloss. This neutral polish can evenly polish your shoes and eliminate the need to use special solutions with it.
Pros
Attractive sponge-top polish applicator
Suitable for footwear of all colors
No brushing or buffing required
Provides a subtle shine
Cons
Some may find it hard to use
Odor may seem unpleasant to some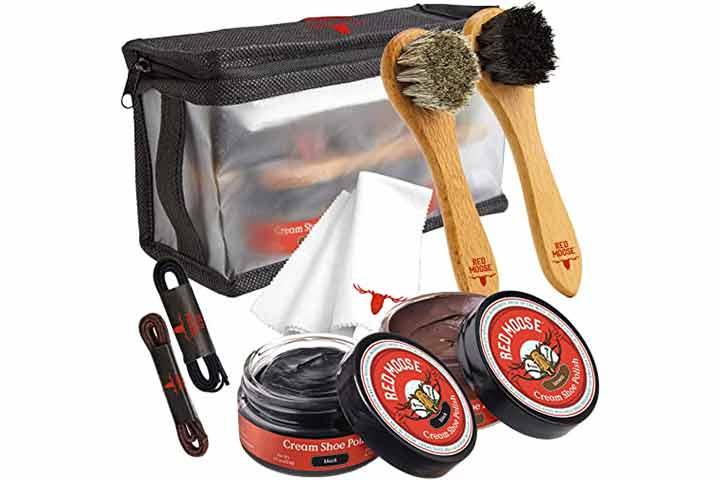 Red Moose's shoe polish kit contains all the necessary shoe care essentials. The seven-piece set consists of black and brown cream shoe polishes made of natural waxes and oils to restore the color of dull shoes while giving them a mirror shine. The product offers black and brown shoelaces to replace old worn-out laces.
Pros
Anti-static bristle brushes
Soft microfiber buffing cloth aids shine
Comes in a compact carrying case
Perfect for gifting
Cons
Brush size may seem small to some
Laces might be slightly fragile
The carnauba wax base, sourced from Brazilian palm tree, in Lincoln shoe polish offers your shoes and leather products a long-lasting shine. It can protect the footwear from dirt and scratches. This hard wax polish requires a little water and heat to give shoes a glass-like shine.
Pros
Does not stain the hand
Lightweight product
Easy to remove
Water-resistant
Cons
Application may be hard for some
Might leave a thin film after use
How To Choose The Right Shoe Polish For Mirror Shine?
High-quality shoe polish can restore the shoe color to its original state and give a mirror-like shine. Before choosing the best shoe polish, you need to keep certain essential factors in mind.
Type of leather: You can choose the shoe polish based on the leather. Soft and hard leather require different types of treatments.
Types of polish: Hard wax, liquid, and cream are some polish types available on the market. If you need protection and gloss, use hard wax polish.
Time: If you need to polish quickly during travel, you can choose a sponge applicator polish. However, if you have time to polish your shoes at leisure, choose a hard wax polish that requires a little elbow grease but can produce a high gloss.
Why Trust MomJunction?
After extensive research and product comparison, we have compiled a list of the best shoe polishes for a mirror shine. These polishes protect your leather shoes from getting damaged and help them stay new for many years. To make the post more comprehensive, we discussed the effect, color, durability, and other important factors for each product. We have also included a how-to-choose section to assist you in selecting the right shoe polish.
Recommended Articles: