Poor posture, alignment, or uncomfortable shoes can cause hip pain. This pain may restrict your mobility, affecting your quality of life. Using the right walking shoes for hip pain may help you overcome this problem. Featuring motion control, arch support, and good cushioning, these shoes can help alleviate pain in your feet, hip, or joints. Such shoes are designed to support the natural alignment from the ground up and use technology to provide stability and comfort. However, it is best to consult an orthopedic in case of chronic pain or if the situation affects your daily activities.
It can be challenging to live with the pain that hinders your lifestyle, and so comfortable footgear may help ease your pain. To help you choose, we have created a list of the best shoes for hip pain to provide you with comfort and support.
Top Products From Our List
10 Best Shoes For Hip Pain
Brooks' women's shoes feature a modern look to provide all-day comfort and a flexible running experience. The knitted mesh upper and 3D-fit print gives it a fashionable look suitable for casual wear or workouts. These women's adrenaline shoes use the BioMoGo DNA cushioning to help reduce impact and adapt to your style of stride.
Pros
Cushioned sole
APMA seal of acceptance
PDAC A5500-certified
Holistic support system
Cons
May not be durable at the toes

Featuring innovative 5Gen midsole design and Goga max insoles, these may be one of the best walking shoes for hip pain by Skechers. These slip-on shoes have a platform base with cushioned support to give you an advanced walking experience. Its advanced mesh upper makes it breathable and keeps you dry after long walks.
Pros
Lightweight
Flexible
High rebound insole
Easy to wear
Cons

Made from 100% leather and textile material, these slip-on style shoes from Easy Spirit are equipped with a removable sock liner that is well cushioned to absorb shock. It features good arch support that helps minimize hip pain while walking, and a cushioned collar with dual side goring supports your ankle and reduces chafing.
Pros
Durable
Breathable fabric
Round-toe design
Easy to slip on
Cons
Leather may not be durable

Featuring a breathable upper, cushioned soles, and lightweight design, these shoes by Ryka provide you with adequate support during your fitness regime. It also features an anatomically designed insole that provides extra arch and heel support, making it one of the best sneakers for hip pain. These shoes are designed with a four-way gradient print for a stylish look.
Pros
Durable laces
Extra-support insole
Strong stability
Wide width
Cons

An ergonomically designed platform shoe that raises your feet to 0.75 inches in cushioned support makes them the best shoes to help with hip pain. For adequate arch support, the shoe is designed with the Dansko natural arch technology that helps minimize hip pain while walking. The shoe looks sleek in full leather upper.
Pros
Extra pads for comfort
Slip-resistant outsole
Spacious at the front
Lightweight midsoles
Removable footbed
Cons

Vionic's walking shoes for hip pain are designed with an orthotic insole to provide maximum comfort and support. Its construction involves leather and suede upper, removable EVA footbed, and a durable and non-slip rubber outsole. The shoes also have a built-in elevation of 0.5 inches to reduce pressure on the hip, helping you walk easily.
Pros
Durable outsole
Suitable for daily wear
Sturdy
APMA seal of acceptance
Cons
May not be suitable for rigorous athletic activities

Merrell's hiking boots are suitable for hip pain, designed to support your long backpacking treks. Made from 100% suede leather, these shoes assure durability and long-term use. It features air cushions in the heels to absorb shock and improve stability while hiking. The upper mesh design makes these shoes breathable.
Pros
Moisture-absorbing
Removable insole
Protective toe cap
Strong stability
Cons

Designed with innovative pain-relief technology, the Orthofeet shoes help alleviate foot and hip pain, making them one of the best shoes for hip and knee pain. Its construction involves anatomical arch support and a contoured heeled seat to control overpronation and reduce muscle fatigue. The shoes also feature a multi-layered cushioned foam design that is breathable to keep your feet dry.
Pros
Wide toe box
Ergonomic sole
Arch support
Anti-odor fabric
Adjustable strap
Cons
Velcro may not be long-lasting

The comfortable women's casual shoes by Orthofeet are designed to reduce stress on joints and hips therapeutically. These sneakers feature an arch booster that you can add inside the shoe to enhance the support under the arch. They feature a wide toe box for a non-binding fit in the front. The stretchable upper enhances flexibility and support while walking.
Pros
Lightweight sole
Anatomical arch support
Multiple cushioning layer
Seam-free interior
Cons
May not be suitable for narrow feet

Designed for comfort and support, the shoe's sole is made from a lightweight MD material that is elastic to provide softness and support. It also features an anti-slip gasket design with a groove pattern at the bottom to enhance performance and support. Made from high-quality woven fabric and inner cotton lining, these shoes will wrap your feet in soft comfort.
Pros
Breathable mesh design
Wear-resistant
Anti-slip outsole
Soft insole
Cons
May have less arch support

How To Choose The Right Shoes For Hip Pain?
Here are a few suggestions you can follow when choosing the right shoes for hip pain.
1. Mesh upper: Choose shoes with a mesh upper fabric for sufficient ventilation and breathability. This helps keep your feet dry and odor-free. Ensure the shoes are stretchable, soft, and breathable.
2. Platform heels: Platform heels provide extra height to your shoes while protecting your heel and hip. They help to absorb the impact from your feet.
3. Outsole: Rubber outsole can provide traction and durability without adding excess weight or stiffness.
4. Midsole: Shoes that use memory foam insoles can provide well-cushioned support. Choose a material that uses the right midsole thickness, not too soft or firm.
5. Rocker bottom: Shoes with rocker bottom are rounded at the sole. It can give you the necessary support from touchdown to toe-off throughout your ride.
6. Reviews: It is advisable to check the customer reviews of the chosen brand to narrow down your search.
A comforting footgear can help relax your feet and alleviate various kinds of pain. However, sometimes overstress on the joints may cause alignment issues, resulting in hip pain. Choosing the right shoes with adequate support may help reduce the pain. Check out our list of the best shoes for hip pain to enjoy comfortable, stress-free movement.
The following two tabs change content below.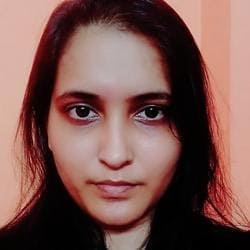 Sristi Suman
Sristi Suman is a freelance content writing covering various segments and specialties. Driven by her love for writing, she expanded her arena to industries, including travel, automobile, FMCG, and infrastructure. She has been associated with MomJunction for more than two years and covers the products in the sports, adventure, travel, and health sections. Sristi continues to tread industry verticals and...
more