A shorty, also known as a spring suit, is a wetsuit cut off at the knees and elbows. A full wetsuit can be heavy and restrict mobility underwater. Shorty wetsuits, on the other hand, provide flexibility, warmth, and protection in the water. They are lightweight and can be worn and removed quickly. Their improved buoyancy and speed further make it a comfortable choice, allowing you to stay in water for long hours.
You can wear it in warm and cold water for various adventure water sports like swimming, paddling, kayaking, triathlons, surfing, scuba diving, and snorkeling. In this post, we share some of the best shorty wetsuits available online and a few tips for buying the most appropriate one.
13 Best Shorty Wetsuits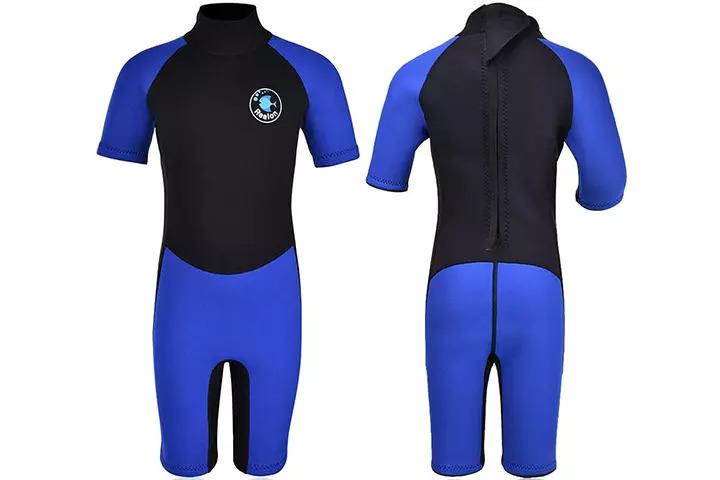 The Realon wetsuit is designed to keep you warm and safe when swimming. It is soft, comfortable, and skin-friendly, made specifically for children. Made of high-quality neoprene material, the 3mm wetsuit features layers of nylon linings with neat flat-lock stitches. This shorty is delicate and gentle on the skin and well-suited for water-related activities like swimming, snorkeling, and scuba diving.
Pros
Provides UV protection
Machine-washable and durable
Thick stretchable fabric
Warm with back zipper
30-day easy return policy
Suitable for children aged between two and 13 years
Cons
Sizing may vary from the standards
Glue smell may take time to disappear from new wetsuits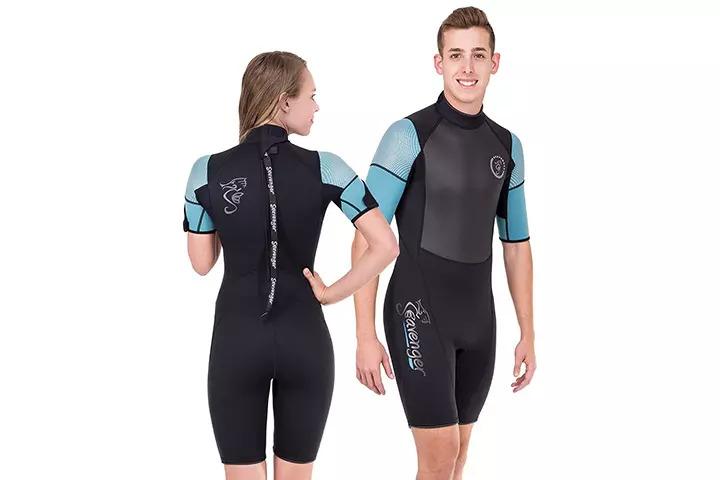 The premium-quality, flexible shorty wetsuit from Seavenger can be the right choice for surfing to snorkeling, and everything in between. It is made of 3mm neoprene to retain the body heat, keeping you comfortable in cold water. The super-stretch armpit panel offers flexibility for you to move freely, and its special shark-skin stomach panel is durable, making it ideal for surfing. The flat-lock stitching gives you a comfortable soft feel that doesn't chafe or irritate your skin.
Pros
Contoured anatomic fit
Color options available
Anti-abrasion shoulder pads for strength and durability
Extra-long leash and #10 YKK zipper
Easy to wear and remove
Available in different sizes for men and women
Cons
Zipper length could be short
May not suit curvy bodies
Size chart may not be accurate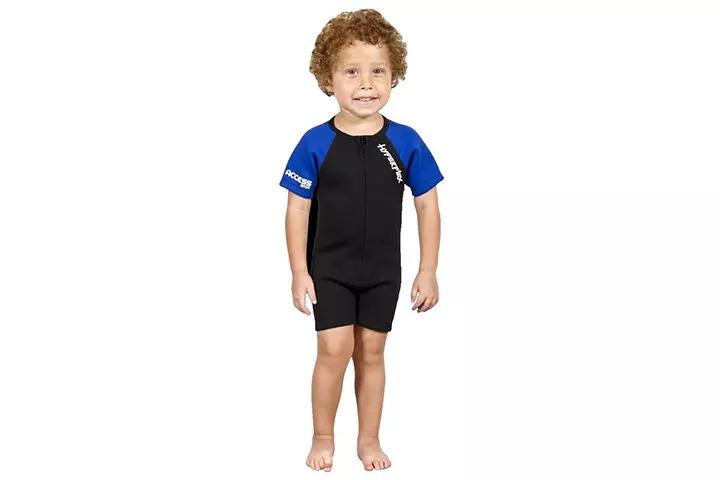 The Hyperflex Access shorty wetsuit is specially designed for children and addresses the needs of their growing bodies. Its low-profile flat-lock seams with water-resistant metal zip sliders offer great comfort and flexibility to the wearer. The wetsuit is made of extremely durable, wear-resistant, and four-way stretch neoprene to last for years.
Pros
Made of 2mm bionic foam neoprene for flexibility
Provides 50+ UV protection
High-quality YKK front zippers
Unisex design that fits well
Available in multiple colors and sizes
Cons
Ziplines are not flat, may cause rashes
Velcro at the neck may rub against the skin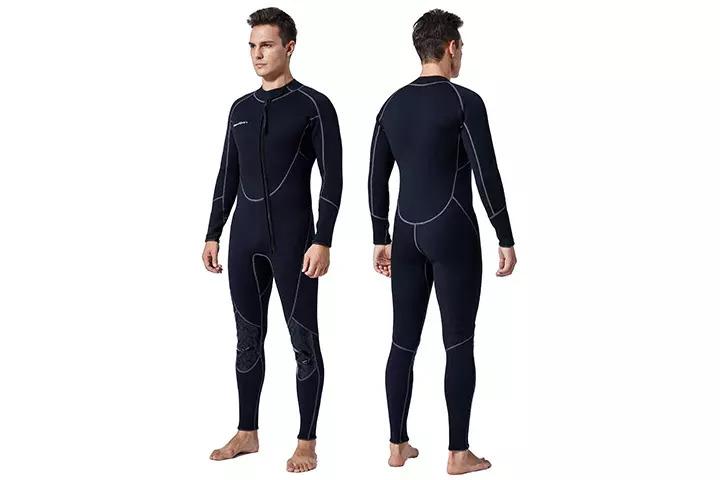 If you're looking for a skin suit for adventure activities, the Seaskin wetsuit can be an ideal choice. It is made of high-quality, stretchable neoprene to provide heat insulation—suitable for aqua aerobics and water sports. The front zippers are made of heavy-duty YKK material and are easy to operate. Its chest zip suit has three layers of waterproof fabrics, with nylon and neoprene layers for additional warmth. The flat-lock stitched seams provide durability and comfort to keep your body warm in the coldest conditions during diving, kayaking, snorkeling, and other water activities.
Pros
Easy to wash with mild detergent
Velcro collar prevents water from entering the neck area
Provides improved buoyancy and higher speed
Easy to reach front zip
Cons
May not be suitable for muscular or curvy body types
May get loose after a few months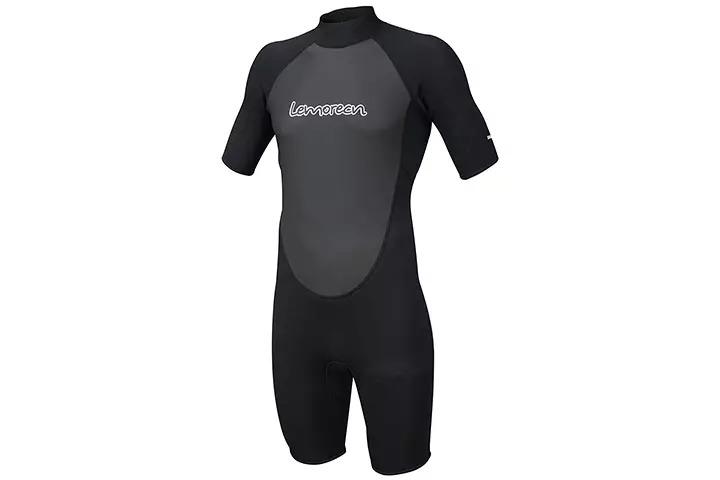 The Lemorecn multi-sport wetsuit is designed for water sports like diving, scuba, surfing, kayaking, and snorkeling. Made of 3mm premium neoprene, it provides warmth without compromising flexibility. Its anatomical tailoring ensures a perfect fit and mobility required for underwater sports.
Pros
Heavy-duty #10 extra-large YKK zipper
Flat-lock stitching reduces seam irritation
Durable and reliable for extended use
Available in different sizes and color combinations
Warm and durable
Cons
Could be smaller than the standard size
Stretchability could be poor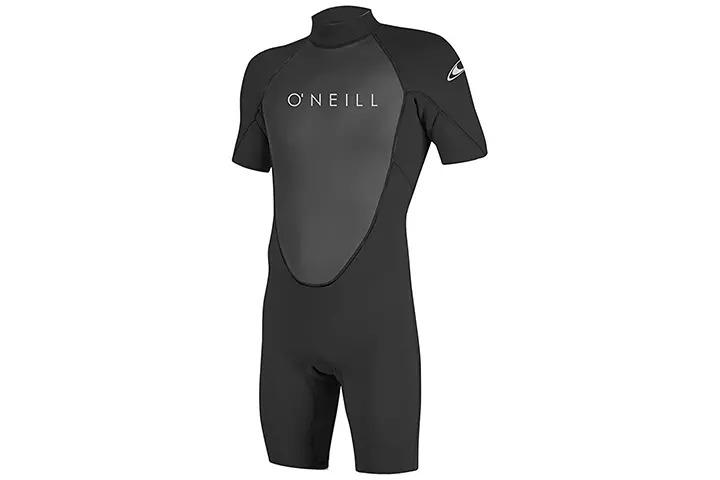 The original maker and inventor of the wetsuit, the O'Neill brand is well-known for its surf-wear related products. The spring Reactor-2 wetsuit has smooth flat-lock stitches that don't rub on the skin. It has 2mm thickness, which makes it comfortable to wear in summer and mild winter. The thigh and neck areas are designed to be soft on the skin and not itchy.
Pros
Stylish and premium design
Reliable size with a contoured fit
Flexible and durable
Doesn't get loose even after being in the water for hours
Cons
Back zipper could be hard to reach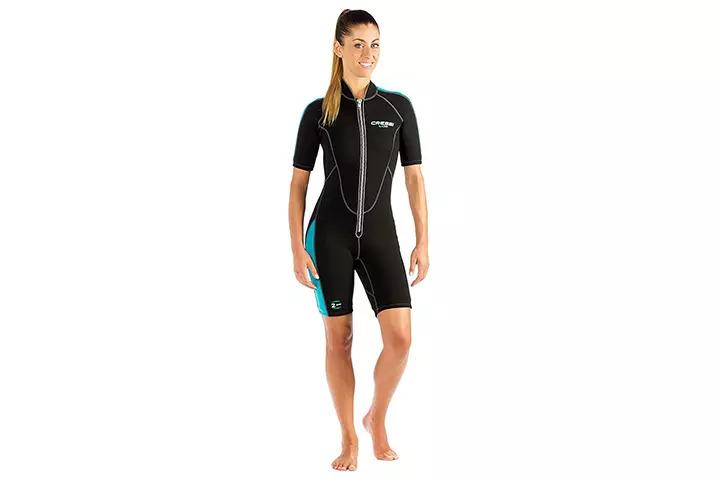 The Lido shorty wetsuit is a comfortable one-piece wetsuit that opens from the front. It is made of 2mm double-lined neoprene to provide excellent stretch so that you move freely in the water. This wetsuit is super easy to put on, thanks to its easy-entry front zipper, and has flat and anti-scratch stitches that are gentle on the skin. The versatile suit can be chosen for swimming, snorkeling, diving, and other water sports.
Pros
Heavy-duty YKK front zipper
Easy-to-reach front zippers
Heat retention feature
Improved buoyancy
Comfortable and flexible
Cons
Size chart may be confusing
Seams may not be smooth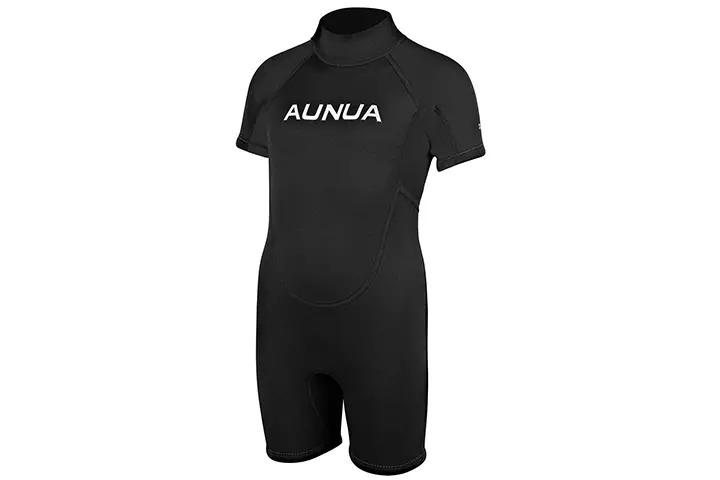 The Aunua shorty wetsuit is designed for children to be warm in swimming pools or the sea. It provides a UV shield to protect from sun exposure, sea lice, jellyfish, and other irritants. The elasticity and YKK zipper offer a smooth and easy-to-wear experience.
Pros
Adjustable Velcro collar
Extra-long pull cord for easy zipping
Low profile seam prevents irritation
Available in four colors and different sizes
Cons
Cannot be machine-washed
Could be smaller than standard size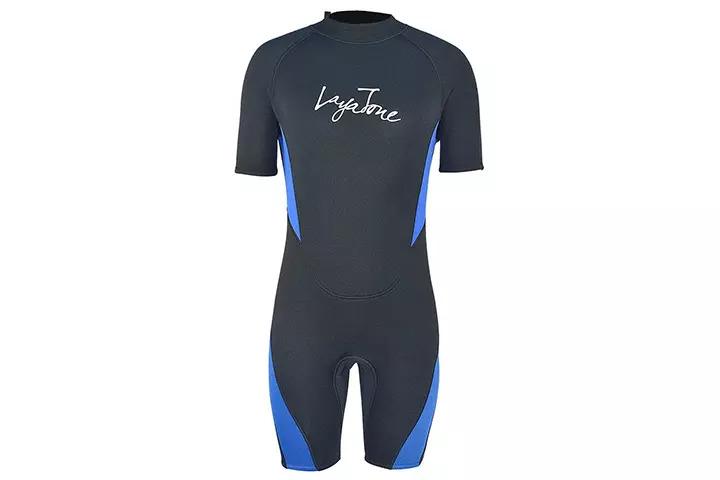 The LayaTone is a premium-quality 3mm thick wetsuit made of 90% neoprene and 10% nylon. It keeps your body warm and provides improved buoyancy to spend more time in the water. The back zipper is made of strengthened YKK material for smooth action. It also possesses additional features like UV-protection, quick-drying, and super-elasticity.
Pros
Round neck, soft on the skin
Easy to reach, extra-long leash on the zipper
Available in two colors
Comfortable and flexible
Cons
Zipper may not be very durable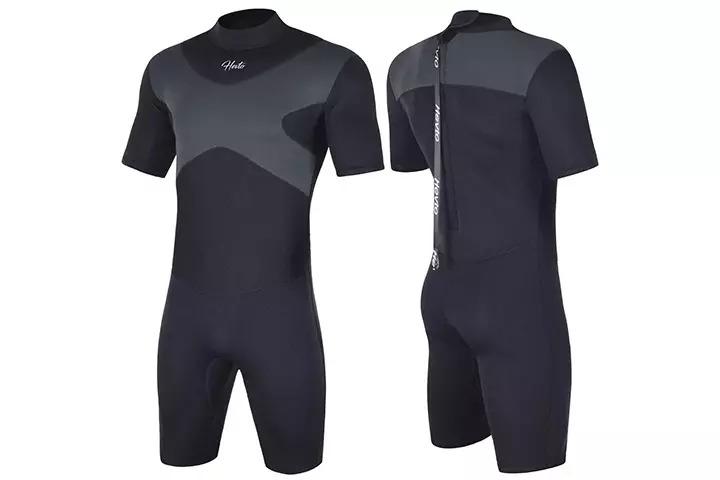 The Hevto wetsuit is made of foamed neoprene material, providing thermal insulation and buoyancy. It protects from abrasion, ultraviolet exposure, and marine organisms. The suit also features nylon elastic fabrics providing maximum flexibility with faster drying ability. It has 3mm thickness with delicate and neat flat-lock stitching.
Pros
Back-zipper with extended pull string
Reliable size chart
30-day return policy and a two-year warranty
Available in multiple sizes and
Cons
Zip movement may not be super smooth
Glue smell can be found in new wetsuits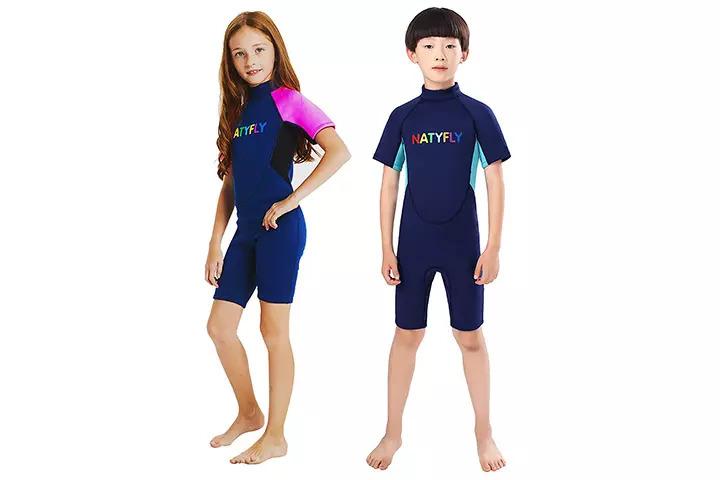 The Natyfly wetsuit has 2mm thickness and is made of neoprene to keep your child warm, allowing them to indulge in water sports without any hindrance. The wetsuit features a convenient YKK back zipper that is easy to pull. It also protects from UV radiation up to UPF50+. The fabric is smooth on the body and doesn't cause any irritation even after prolonged use.
Pros
Classic round neck
Flat stitching with quality seams
Good maneuverability and stretchability
Available in different sizes
Extra-long and easy-to-use leash
Cons
Zip doesn't include a Velcro closure
May take time to dry off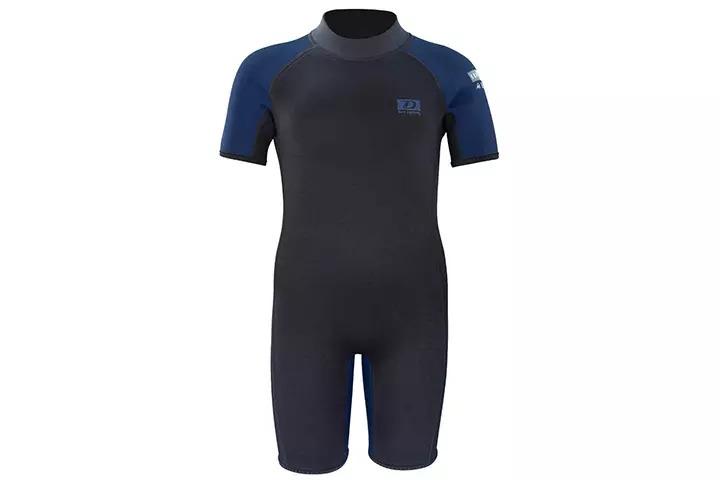 The premium-quality Dark Lightning wetsuit is made of 90% neoprene and 10% nylon, making it a stretchy fabric that is comfortable for children. You can find different size variants suitable for infants, toddlers, juniors, and young children. It keeps your little one warm when swimming or snorkeling.
Pros
Available in two colors
True-to-size fitting, reliable size chart
Lightweight and good mobility
Additional six months warranty
Versatile and multipurpose
Cons
Neck stitching may not be smooth
May lose color if used in pools with high chlorine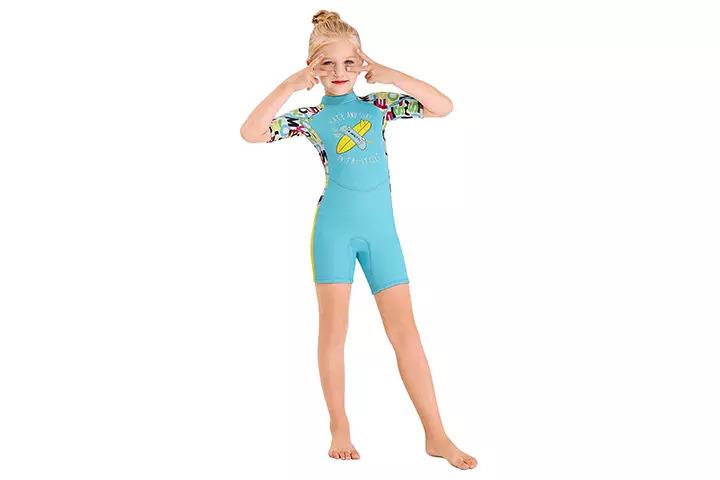 The Skyone shorty wetsuit is made of 2.5mm premium-quality neoprene to give you a comfortable and flexible fit. Its chest area has been lined with a shark-skin section to reduce water resistance and increase the overall buoyancy, offering your kid an excellent swimming and diving experience. This wetsuit also provides UV UPF 50+ sun protection and has a smooth slip-on design with a back zipper for excellent stretchability and free movement in the water.
Pros
Flat-lock stitching for superior strength and durability
Available in a range of size and colors
Lightweight with adequate stretchability
Durable and slip-on design
Cons
May need handwashing
Sizes may differ from the standard American sizes
How To Choose The Right Shorty Wetsuit?
Let's look at the essential factors to consider when purchasing a shorty wetsuit.
Wetsuit material: Neoprene is the go-to material when it comes to wetsuits. Standard neoprene wetsuits are made with a combination of neoprene and nylon. A good quality suit offers more lightness, buoyancy, and stretchability. Several brands provide multi-layered wetsuits for added warmth and flexibility. The standard thickness of these modern wetsuits usually ranges between two and three mm.
Zip position and quality: Wetsuits have either front-zips or back-zips. It is easier to locate a front-zip for quick opening and closing without help from another person. However, the front zip position can, at times, interfere with specific hand movements. Back zips maximize the stretchability in the back area and also minimize water getting through.
Size and fitting: A common issue seen in wetsuit sizes is that the size may differ from standard clothing sizes, and buyers may end up buying either tighter or oversized wetsuits. It is advisable to confirm the size with the seller and check if it has an easy return policy to make exchange hassle-free.
Stitch and seam quality: Quality stitching ensures the wetsuit lasts longer and prevents leakages. Another reason is that low lying stitches may cause less skin irritation. Similarly, if the seams are not flat enough, they may cause chafing on the skin, which could worsen when you are in the water for longer durations. Flat-lock seams are common in most neoprene shorty wetsuits and are usually smooth on the skin.
Shorty wetsuits are lightweight, an excellent choice when you want to stay warm and safe in the water without limiting your maneuverability. They are suitable in summers when putting on a full wetsuit becomes an overkill. With various options available, you can choose one that best meets your needs after comparison. So, go ahead and grab a spring wetsuit to surf comfortably or explore the deep waters of the ocean.
Recommended Articles: