A refreshing shower is the best way to start the day because it can significantly improve your mood. A shower gel is suitable for women with dry skin because soap can dry out the skin. Unlike harsh soaps, shower gels are mild and can effectively remove dirt and grime.
Shower gels generally have a delicate fragrance and make your skin smooth and fresh. The extra lather on your skin will surely pamper you after a long day.
Our list of the best shower gels for women in India will help you find your favorite. With these shower gels, you can fight fatigue, stress, and pollution.
11 Best Shower Gels For Women In India
Pear shower gel with a soap-free formula can make you feel refreshed and youthful all day long. The dermatologically tested gel has glycerin that leaves your skin moisturized and hydrated throughout the day. The body wash has a balanced pH that is ideal for your skin and comes with a loofah so that you can enjoy the rich, bubbly lather. Its shelf life is 24 months, and the net volume of the product is 250ml. 
Pros:
Developed to remove germs
Has 98% glycerin that nourishes the skin
Has a pleasant, refreshing, and soothing fragrance
Contains 100% natural ingredients
Does not contain parabens
Cons:
Not ideal for people with oily skin
You can start your day with this skincare gel instead of ordinary soap. The shower gel for women comes in a 250ml bottle. It provides long-lasting freshness and has an effective cleansing formula that can maintain the skin's pH level. It lathers well on the loofah so that you can enjoy a luxurious bath.
Pros:
Enriched with specially formulated care oil pearls that will nourish your skin
Has a fragrance that lasts the entire day
Contains Frangipani to give you a subtle smell
Does not leave your skin dry as it is formulated with Hydra IQ technology 
Cons:
Non-biodegradable
Has a thin consistency
Enjoy soft baby skin with this gel from the luxury beauty collection of The Body Shop. The shower gel has a transparent light pink color and comes in a sturdy plastic bottle with a capacity of 250ml. Its unique formula can clean the skin without drying it. It has a thick consistency and can foam well on the loofah. 
Pros:
Has the essence of hand-picked roses from Britain
Has a subtle and mild feminine rose fragrance
Not tested on animals
Developed as a soap-free formula
Free of parabens 
Cons:
Fragrance may not last all day long
Dettol's hygiene body wash can ensure complete odor protection for 12 hours. It contains natural ingredients that can make your skin nourished and soft. The gel lathers well on the loofah and has been developed to restore the skin's pH balance. The gel comes in a 250ml bottle and has been dermatologically tested.
Pros:
Formulated with satsuma and orange for a more enriching feel
Has a subtle orange smell
Plant-based cleanser
Developed as a unique soap-free formula
Does not contain harmful chemicals such as TCC and triclosan 
Cons:
Has a moderate consistency
Might have a sticky feel after usage
This shower gel for dry skin from Fiama has a sweet fragrance that lasts all day long in any weather. The product comes in a 500ml pump bottle and is easy to use. The gel creates buttery foam, which adds moisture to your skin. It can easily wash away dirt and dust and make your skin glow. The exotic ingredients help rejuvenate your skin.
Pros:
Includes blackcurrant and bearberry extracts for extra glow and radiance
Incorporates skin conditioners to give you a spa-like experience
Has other natural ingredients that are safe for skin
Lathers well
Cons:
Consistency may be thin and watery
Enchanteur's shower gel combines the fragrances of Bulgarian roses, violets, white jasmines, and vanilla. It is one of the best shower gels for dry skin and has a floral, feminine, and subtle aroma that makes you smell like a dream all day long. The product comes in a 250ml bottle.
Pros:
Enriched with silk proteins
Makes your skin smooth and supple
Subtly cleanses your skin, leaving it rejuvenated
Guarantees soft, radiant, and fragrant skin
Has an optimal consistency
Cons:
Scent may not appeal to some
Use Neutrogena shower gel to awaken the senses, whether it is early morning or afternoon. It comes in a 473ml plastic bottle with an easy-to-use pump. It has a unique fragrance, combining the aromas of fruits, herbs, and spices. You can also use it as a skin-smoothening and nourishing shaving gel. It has a rich lather, which can regulate and clean your skin without any residue.
Pros:
Suitable for all skin types
Developed to clear pores
Has an optimal consistency and lathers well 
Cons:
Scent may not appeal to some 
Aloe Veda's luxurious foaming gel is one the best shower gels for women as it gently cleanses your skin, makes it supple and moisturized, and gives you a spa-like shower experience. The product has a subtle jasmine fragrance, providing you an aromatic experience all day long. It contains a blend of various essential oils to provide additional nutrients to your skin.
Pros:
Contains vitamin E that protects and soothes your skin
Has glycerin and aloe vera that hydrate and heal your skin
Suitable for all skin types
Has an essence of wild jasmine and ylang ylang that gives you a luxurious bathing experience 
Cons:
Has a slightly thick consistency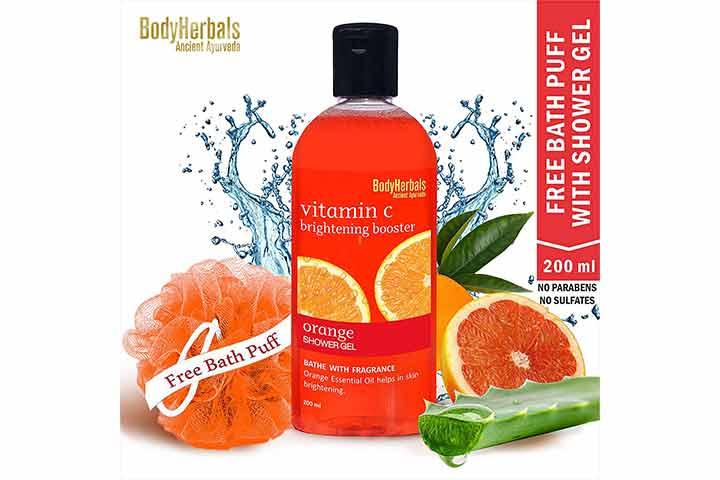 BodyHerbals shower gel contains natural ingredients that help condition your skin. The gel lathers well on the loofah, bringing you a relaxing bathing experience. The exclusive blend of herbs and essential oils soothes your mind and body. The gel is specially infused with vitamin C to clean your skin without drying it out. The gel  brightens your complexion and emits a radiant glow.
Pros:
Contains orange oil and extracts of aloe vera and seabuckthorn
Has a lingering fragrance
Natural ingredients remove impurities from your skin
Has a unique calming formula that soothes your senses
Suitable for all skin types 
Cons:
Palmolive's luminous oil shower gel is made of white orchid extracts and natural fig oil, making it ideal for dry skin. It comes in a bottle with a pump and has a capacity of 750ml. The pH-balanced and non-greasy formula can make your skin smooth and radiant. The product thoroughly cleans your skin, keeping it fresh and hydrated. It lathers well on the loofah, allowing you to enjoy a rich bathing experience.
Pros:
Developed with a 100% soap-free formula
Has a pleasant aroma that revitalizes your senses
Infused with botanical oils for a smooth skin
Free of parabens 
Cons:
Has a thin consistency
Fragrance may not last long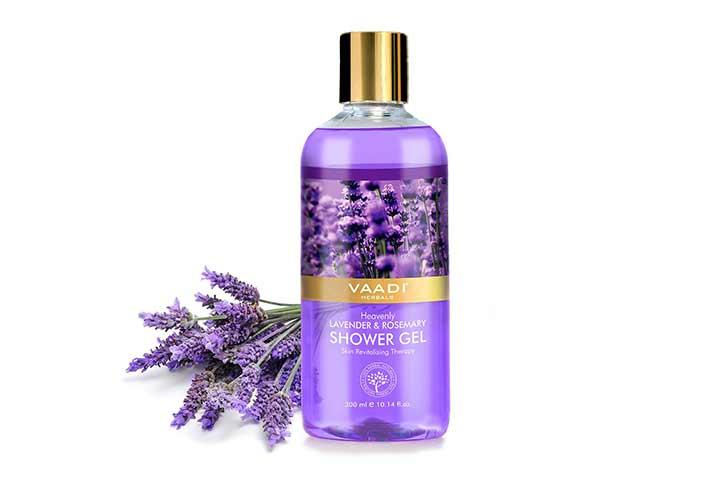 Vaadi Herbals's shower gel combines the unique extracts of lavender and rosemary to rejuvenate your skin, replenish dull skin, and eliminate skin congestion and puffiness. The lavender extract  promotes cell growth in the skin. The gel helps reduce skin eruptions and keeps the skin hydrated for a long time. It comes in an elegant bottle and weighs 290g.
Pros:
Exotic blend of lavender and rosemary helps boost blood circulation
Lavender extract regulates the production of sebaceous glands
Protects the skin from infections and pollution
Essential nutrients help replenish parched skin
Guarantees a spa-like experience 
Cons:
May not lather well
Might change color with time
Things To Consider Before Buying A Shower Gel For Women
Before buying a shower gel, consider the following factors:
Ingredients: Choose shower gels with natural and plant-based ingredients because they are healthy and have additional effects on the skin. Such shower gels give you extra nutrients and a moisturizing effect. Choose a gel that does not contain sulfates, parabens, and other harmful and toxic chemicals. Alcohol-free cleansers should be your first choice.
Skin type: Most shower gels are suitable for all skin types. If you have a specific skin condition, choose a gel accordingly.
Scent: Some people like products that are free of any fragrance, while others prefer subtle and long-lasting aroma.
Packaging: Choose an easy-to-use shower gel with a pump. A transparent bottle is more vulnerable to contamination due to exposure to light and air.
Consistency; The consistency of the gel should neither be too thick nor too thin. The gel should not be sticky on the skin and should have an effective cleansing feel.
Budget: Budget plays a crucial role when choosing a gel. Prices vary from brand to brand, and the better the ingredients, the higher the price. Choose a shower gel that fits your budget while providing numerous skin benefits.
A good shower can help you feel lively, cleansed, and refreshed. And the best way to elevate your shower experience is by purchasing the best shower gels for women. Good shower gels are made from skin-loving ingredients that moisturize and hydrate the skin, leaving it soft, plump, and nourished. When choosing one for yourself, ensure that it does not contain toxic chemicals or strip the skin of moisture, is suitable for your skin type, and has a subtle and long-lasting aroma.
Recommended Articles: 
The following two tabs change content below.

Poulami Nag is a writer and associate editor at MomJunction. She did her MA in English from Miranda House, University of Delhi and has qualified UGC-NET. Her journey as a content writer began in 2017 and since then she has garnered diverse interests along the way. Her knowledge of literature and language has given her an eye for detail and...
more