Silicones are chemical agents that are often used in conditioning shampoos to give the hair a shiny and silky look. These polymers could be harmful to the hair in the long run, as they are not water-soluble and tend to leave buildup on the scalp. This prevents the scalp from absorbing moisture, eventually resulting in dry and brittle hair.
The good news is that there are silicone-free hair products that can keep your hair naturally nourished and shiny. Here, MomJunction lists some of the best silicone-free conditioners that will nourish your hair without leaving harmful chemical buildup.
13 Best Silicone-Free Conditioners

The hair conditioner is all-natural as the name suggests and softens your hair and eliminates the frizzy hair after one rinse. It prevents hair loss and dandruff when used as recommended. The conditioner contains luxurious argan and pumpkin seed oils that detangle the hair and prevent knotting. The product is vegan, gluten-free, and cruelty-free.

No products Found

Coco Soul Ayurvedic hair conditioner has the richness of 100% organic virgin coconut oil and the ayurvedic herbs hibiscus and lunuwila that make the hair soft, manageable, and strong. Also, the herbs in it give your hair a pleasant and long-lasting fragrance. Coconut oil also prevents greying of the hair and promotes hair growth.

No products Found

Marc Anthony Bye Frizz hair conditioner prevents damage with its silicone-free conditioning elements. The all-natural conditioner hydrates your hair and makes it look nourished and healthy from the roots. The shampoo eliminates frizz by preventing a buildup and makes the hair silky soft and shiny. This leave-in conditioner also has coconut oil that provides extra moisture to the hair and strengthens it.


The silicone-free hair conditioner moisturizes your hair with its natural ingredients that include coconut oil, keratin, collagen, jojoba oil, biotin, and honey. The conditioner detangles your hair, smoothens it, and restores the lost shine. Besides silicone, the conditioner is also free of parabens, sulfates, phthalates, petrolatum, and mineral oil. The natural ingredients of the product promote repair of the scalp damage, increase hair's elasticity, and restore shine to dull hair. The conditioner works for all hair types.


This hair conditioner has the richness of cucumber and mint that keeps your hair fresh and free of frizz. Feel the coolness of mint for a long time and have a lasting fragrance hours after the wash. The natural detangling conditioner is silicone-free and contains argan and keratin oils that provide volume and make the hair healthy. This hydrating conditioner gives your hair natural shine without leaving a buildup.


Earth Supplied silicone-free conditioner has 5% African shea butter that fixes the damage done to your hair. It replenishes moisture, detangles the knots, softens the ends, and repairs the damaged curly hair. The conditioner is equipped with the natural oils and butter that provide nourishment to the scalp.

The Novex conditioner is suitable for adults and children with curly hair. The product is dermatologist-tested and gives you frizz-free hair that is also shiny and voluminous. It provides moisture and keeps your hair hydrated, as conditioner is enriched with the goodness of aloe vera. The vegan and cruelty-free shampoo is also free of sulfates, parabens, and silicone

If you want salon-like soft and silky hair, then this Matrix conditioner could be a good investment. The protein conditioner boosts the hair growth and strengthens your hair from the root. It is infused with essential oils that keep your scalp moisturized and give your hair lasting volume.

Lightweight and silicone-free, this conditioner will repair the damage done to your hair. It is infused with rosehip oil that gives your hair volume and nourishes the delicate strands. The conditioner also leaves a mild, airy fragrance that lingers long after the wash.

Marc Anthony products give a salon-like treatment that nourishes and hydrates your hair from the root. The shampoo works on every hair type, and the hair is frizz-free after one wash. The product even volumizes the hair, making it look healthy and fuller because of keratin silk complex and vitamin B5.

Made of natural ingredients, Aromatica gives your hair the nourishment that makes your hair stronger from the roots. The conditioner has the richness of B5+ Biotin, which leaves your hair smooth and moisturized. Also, instead of silicone elements, the conditioner contains natural oils that keep your scalp moisturized and hair shiny.

Made of argan oil, shea butter, and sea buckthorn oil, the conditioner enriches your hair from the root and protects it from the heat that damages the hair. The conditioner helps in the thickening of the hair that increases the volume and boosts hair growth and gives it a shine. The naturals ingredients, such as jojoba oil, pomegranate, hibiscus, and green tea, penetrate the scalp to nourish the roots and fight dry and itchy scalp, as well as dandruff.


Puracy is a plant-driven conditioner that contains no chemicals but has Vitamin B5 & E along with olive oil. Clinically tested, Puracy smoothens your hair and keeps it healthy and nourished from the roots. The scalp stays moisturized to grow smooth and silky hair. Made by a team of doctors, this citrus and mint conditioner is non-toxic, hypoallergenic, vegan, and cruelty-free.
What Are Silicones And Why Do Conditioners Have Them?
Silicones are conditioning elements that keep your hair smooth and shiny. Silicone conditioners have promising qualities, yet, with time, the hair loses the natural moisture and shine, only to become dull and unhealthy eventually. Most manufacturers use silicone in conditioners for quick results that make the hair look shiny and healthy, even though they result in buildup on the scalp.
How To Choose The Right Silicone-free Conditioner?
There are different types of conditioners available, but it is best to look for those that have natural oils or are plant-based. So, check for the ingredients before purchasing any product. Some conditioners also have specific ingredients for addressing specific hair problems.
If your hair is thin and does not have much volume, look for the volumizing conditioners that moisturize and heal the scalp by repairing the damage done. Also, silicone-free hair conditioners are suitable for all hair types. Some are especially for people with curly hair and have plant-based ingredients and natural oils for nourishment and maintaining the curls.
Frequently Asked Questions
How to know if the conditioners are silicone-free?
 When shopping for a silicone-free conditioner, check for the ingredients. Silicone-free shampoos or conditioners should not contain an ingredient like amodimethicone, cyclomethicone, PEG-12 dimethicone, Trisiloxane, etc., which are a few silicone elements used in hair care products.
Is it possible to get shiny hair without silicone?
Yes, one can get shiny hair without silicone. You can look for organic natural products designed to give your hair a natural shine. These natural or plant-based conditioners do not leave any buildup and let the hair remain shiny for long.
Do silicone-free conditioners work on thick and curly hair?
Silicone-free conditioners provide the extra nourishment that thick and curly hair requires. These conditioners rehydrate the scalp and bring back the lost luster. You can also check for natural, silicone-free conditioners that are specially made for curly hair.
If you've been struggling with dull hair despite using a conditioner, try shifting to a silicone-free conditioner. But make sure that you check the ingredients to ensure the product is all-natural and does not have any synthetic chemicals.
Do you have a preferred silicone-free conditioner? Tell us about it in the comments section below.
Recommended Articles: 
The following two tabs change content below.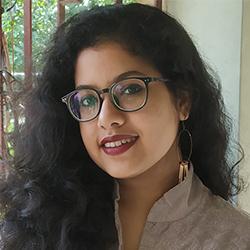 Poulami Nag
Poulami Nag is a writer and associate editor at MomJunction. She did her MA in English from Miranda House, University of Delhi and has qualified UGC-NET. Her journey as a content writer began in 2017 and since then she has garnered diverse interests along the way. Her knowledge of literature and language has given her an eye for detail and...
more