Flawless skin is what people love to have. But how flawless can our skin be? We would say skin is beautiful with all its flaws. However, if you want to reduce hyperpigmentation on your skin or lighten your skin tone, you may want to try a skin lightening cream.
These creams are formulated with either synthetic chemicals or organic extracts. Most of the creams contain the chemical 'hydroquinone,' which is a depigmenting compound. The use of hydroquinone has been approved by the FDA, and even certified dermatologists recommend skin lighteners that contain this component.
Hydroquinone reduces the production of melanin,which gives our skin its color. The production of melanin being controlled, hyperpigmented spots start to fade and eventually vanish.
In this post, MomJunction gives you a list of the best skin lightening creams you may try.
15 Best Skin Lightening Creams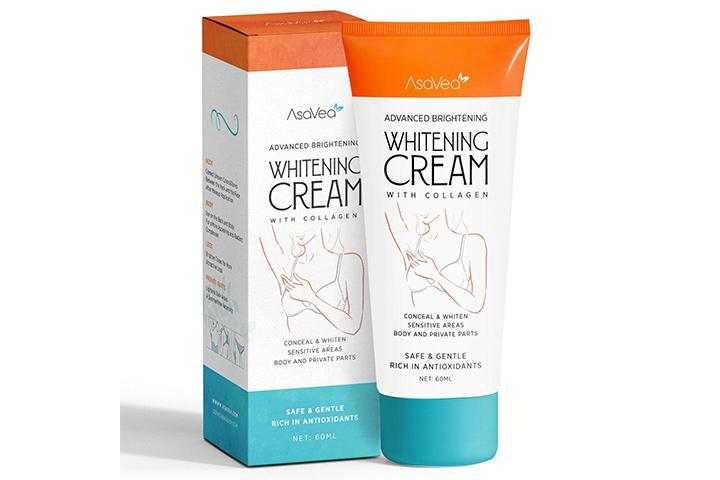 Armpits, inner thighs, or even neck can be lightened like the rest of your body with the help of this cream. With collagen as one of its key ingredients, this cream claims to moisturize your skin and help whiten it.
Pros:
The mild formula can be effectively used on any part of the body
Glycerol helps heal the skin and make it soft and supple
Hydrolyzed collagen makes the skin radiant
Bamboo charcoal sucks out dirt, dust, and toxins
Cons:
Can leave a whitish residue upon drying
Contains some harsh chemicals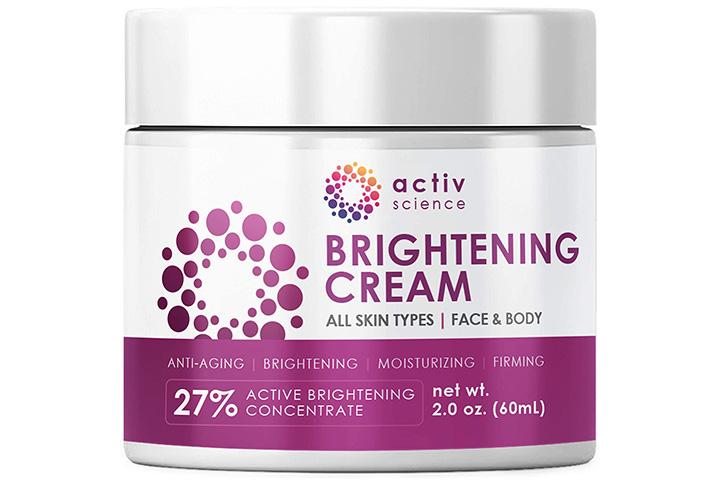 Hate the liver spots on your face? You can try this whitening cream that claims to get rid of liver spots as well as melasma, hyperpigmentation, and sunspots. It is suitable for all types of skin.
Pros:
Treats darkened spots and brightens the face
Antioxidants and fatty acids present in the cream help moisturize the skin
Boosts collagen production
Free of harsh chemicals such as parabens, SLS, silicone, dyes, propylene glycol and so on
Cons:
Can cause itching on sensitive skin
May not suit acne-prone skin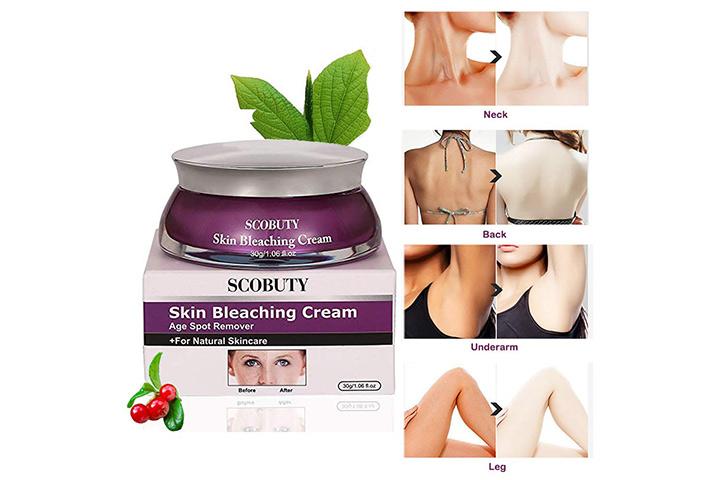 Enriched with arbutin and glycyrrhiza glabra extracts, this bleaching cream claims to fight dullness so that you can flaunt your radiant skin. It works against discoloration, age spots, acne scars and so on.
Pros:
Smoothens and whitens the skin
Promotes the production of collagen
Helps nourish and rejuvenate the skin
Maintains an even skin tone
Free of preservatives
Cons:
Has a strong chemical smell
May not suit sensitive skin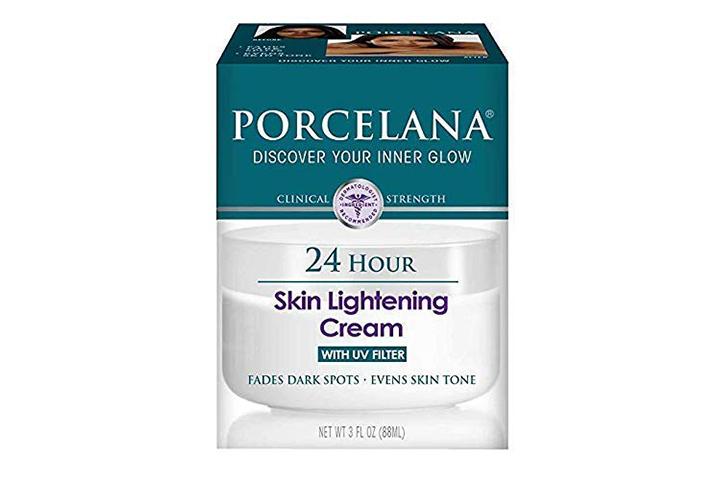 Why buy multiple products when this one cream can give you all the benefits you seek? This lightening cream claims to lighten the skin while providing nourishment like a day-and-night cream.
Pros:
Helps lighten skin spots, melasma, and other skin discolorations
Provides UV-B protection to control skin darkening
Antioxidants work to replenish and nourish the skin
Cons:
May not suit sensitive skin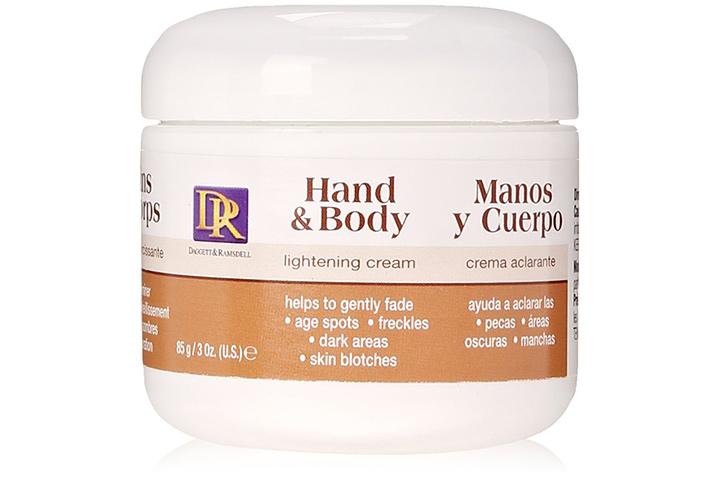 If you are concerned about the skin irritation caused by lightening creams, then you might want to have a look at this skin lightening cream which claims to not cause any irritation. It can lighten the dark spots on the hands and the entire body.
Pros:
Gently moisturizes the skin
Can lighten age spots, freckles, and skin blotches
Cons: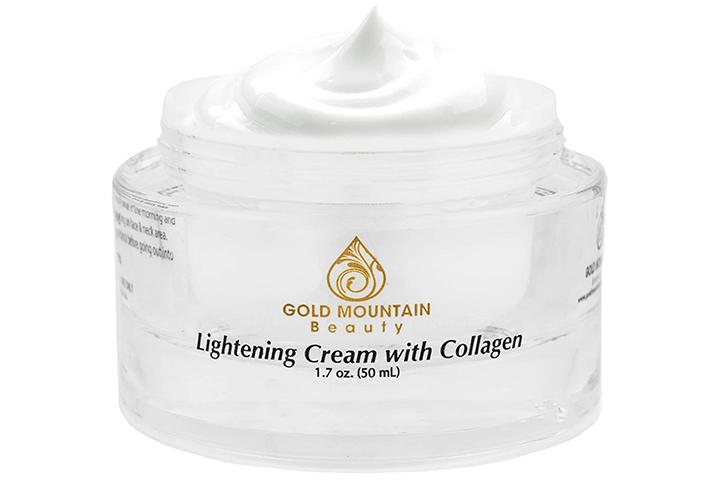 This skin whitening cream claims to not only lighten the skin but also hydrate it to leave it looking fresh and youthful. Its collagen formula promotes skin elasticity, and helps tighten and lift the skin.
Pros:
Reduces dark spots
Helps eliminate redness and dullness
Makes the skin smooth and even-toned
Fights wrinkles, fine lines and other signs of aging
Cons:
The thick formula may not suit oily skin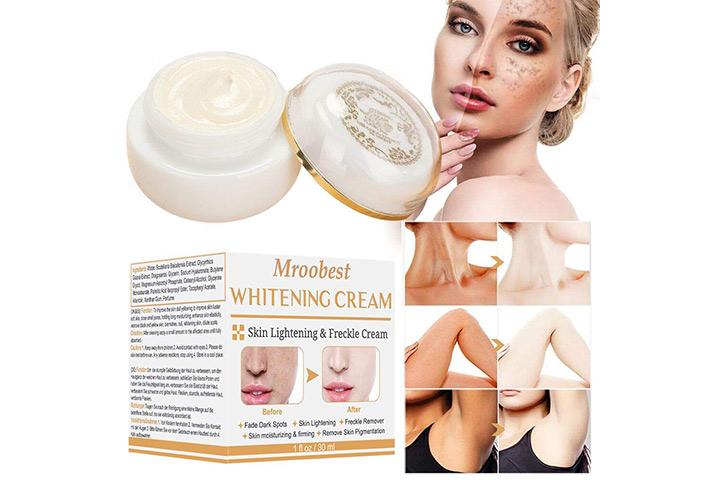 Want a never-fading youthful glow? Well, this whitening cream claims to help you get that along with a healthy-looking even-toned hydrated skin.
Pros:
Moisturizes the skin
Helps lighten skin spots, freckles, and melasma
Can be used anywhere on the body
The formula is free of harsh chemicals or preservatives
Cons:
The thick formula can conceal the spots but not get rid of them


This skin perfector claims to lighten spots and rejuvenate dull skin. It can whiten the skin and help make it look fresh and bright.
Pros:
Hydrating glycerin helps moisturize the skin
Smoothens skin's texture
Helps the skin maintain an even tone
Cons:
Has a strong chemical smell
May not suit sensitive skin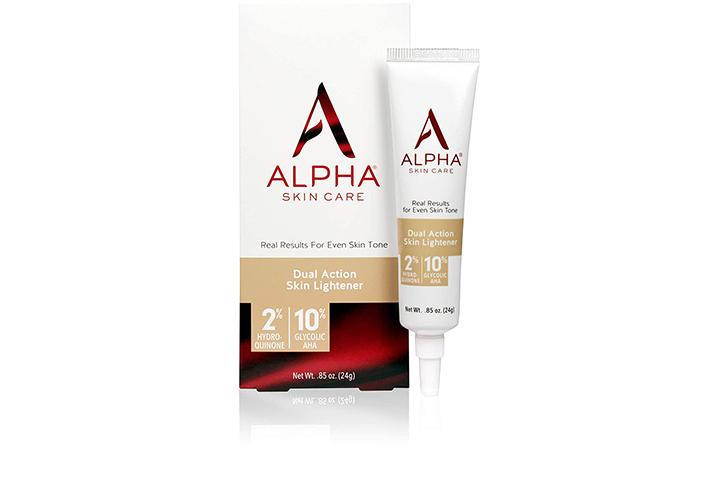 This dual-action skin lightener claims to help you get clear skin and look young always. Its skin lightening formula also fights the signs of aging so that you look bright and youthful.
Pros:
Reduces dark spots
Hydrates the skin
Makes the skin radiant
Free of parabens
Cons:
May not be suitable for oily or sensitive skin
Can be ineffective on dark circles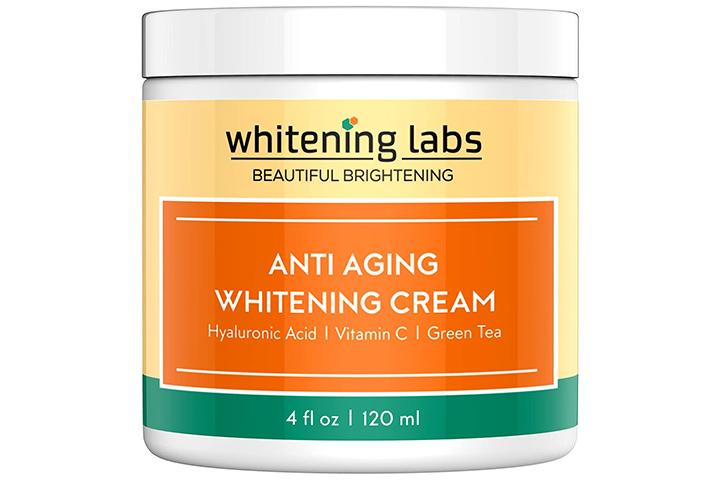 Suitable for the face and the body, this whitening creamis free of harsh chemicals and preservatives and claims to help you achieve a bright and even skin tone.
Pros:
Replenishes the skin
Fights the signs of aging
Contains natural ingredients
Cons:
Alpha hydroxy acid present in the formula makes the skin sensitive to the sun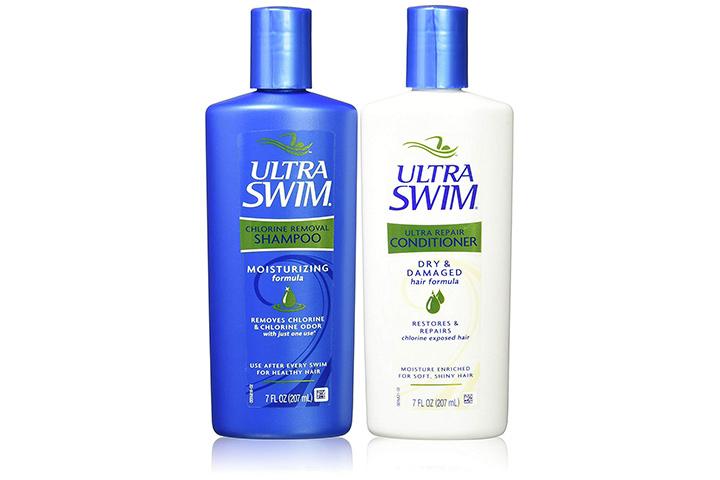 Lemon is known for its skin lightening and brightening effects. With lemon as its key ingredient, this cream claims to reduce the appearance of dark spots and freckles.
Pros:
Helps make the skin even-toned
Lemon extracts fight against skin darkening
Cons: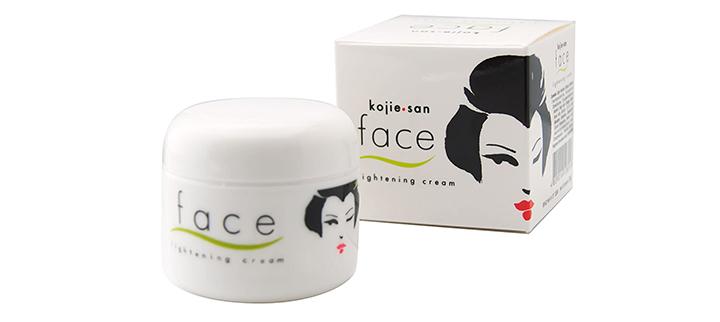 Inspired by Japanese skincare techniques, this Filipino brand claims to lighten your skin and make it flawless. Made from natural plant extracts and kojic acid, this lightweight cream can help brighten your skin tone.
Pros:
Moisturizes the skin
Makes the skin supple
Fights dark spots
Eliminates skin blemishes
Cons:
Expensive for the quantity offered
Does not work on melasma or acne spots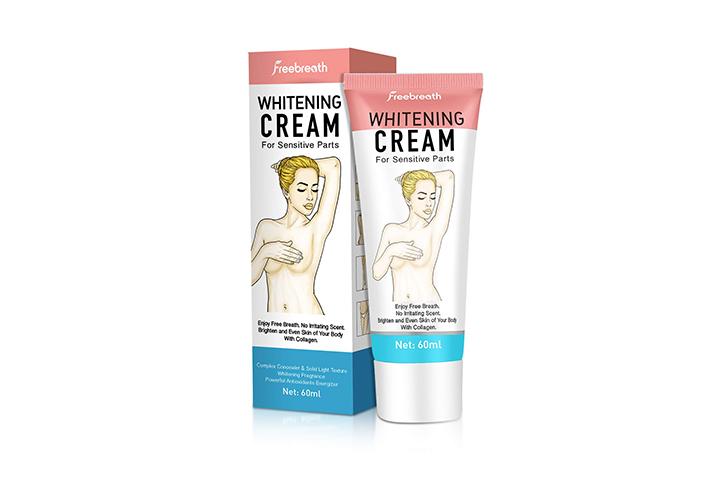 Having a flawless even-toned complexion even around your intimate areas is a dream for many, and this whitening cream might help you achieve that. It claims to make every inch of your skin even-toned and radiant.
Pros:
Hydrolyzed collagen helps lighten and whiten the skin
Glycerol moisturizes the skin
Bamboo charcoal sucks out dirt from skin pores
Sorbitol hydrates the skin
Suitable for all skin types
Cons:
The creamy, powdery texture can stain the clothes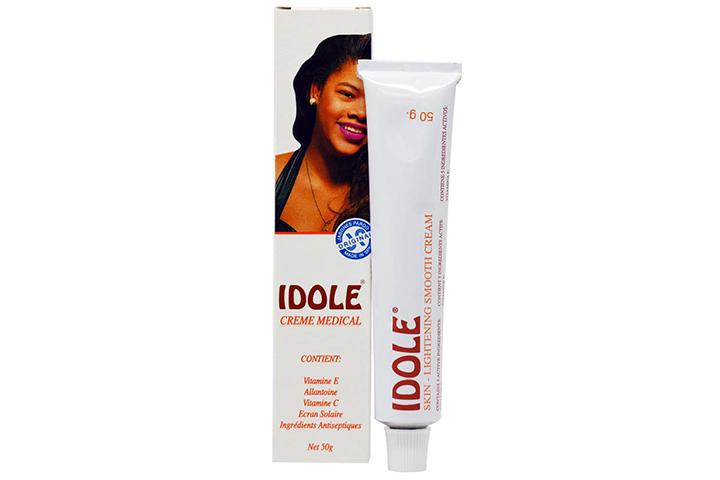 The sun is our only source of vitamin D, and though you may not be able to avoid the sun, you surely can protect your skin from its harmful rays. This cream claims to lighten the skin while protecting it from the sun.
Pros:
Lightens skin spots and blemishes
Helps make the skin radiant
Shields the skin from harmful rays of the sun
Cons:
May not be suitable for acne-prone skin
Fragrance may seem too strong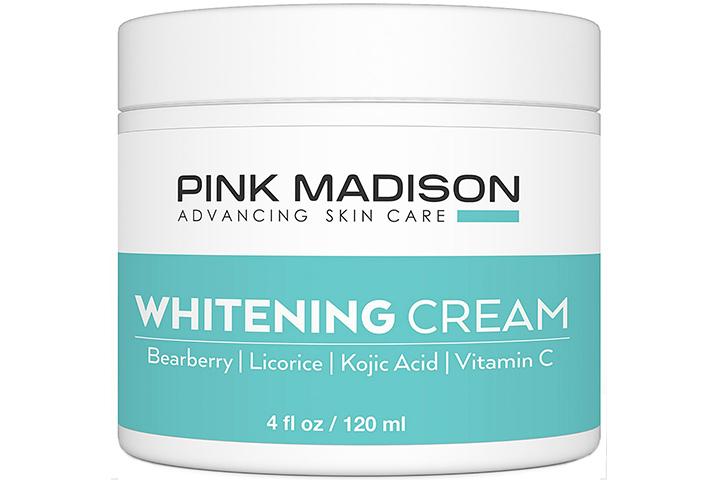 Don't be afraid after reading kojic 'acid' in the ingredients list, because this acid is beneficial for the skin. This cream claims that kojic acid present in its formula can help lighten skin spots and leave your face looking visibly lighter.
Pros:
Infused with bearberry, licorice, kojic acid, vitamin c and hyaluronic acid, it helps achieve an even skin tone
Moisturizes the skin while fighting the signs of aging
Gives off a mild scent of white tea
Cons:
May not suit acne-prone skin
Does not help with melasma
Do Skin Lightening Creams Cause Side Effects?
Skin lightening creams are often criticized for their long-term ill effects. It is believed that these creams contain harmful chemical agents that put the skin at risk and cause side effects such as:
skin aging
sensitivity to sun
skin cancer
exacerbated acne
thinning of the skin
decreased level of collagen formation
The risk of side effects is dependent on the type of chemicals used in the cream and your sensitivity to these ingredients. Know about the complete list of ingredients used in the cream and its effects on your skin type before you use any of these creams.
How To Choose The Right Skin Lightening Cream?
Firstly, make sure that the cream does not contain harsh chemicals, which can harm your skin. Then, look for the benefits it offers. For instance, if you have melasma, you cannot use just any skin lightening cream but the one that claims to help fight skin discoloration. However, we recommend you seek the advice of your dermatologist before using a skin lightening cream anywhere on your body.
What If You Stop Using Skin Lightening Creams?
The effects of skin lightening creams last only as long as you apply it to your skin. When you stop using it, your skin mayget back to its natural color tone.
Like any other skin care product, skin lightening creams too have their unique set of advantages and disadvantages. If you are not fully sure of the cream you wish to use, it is always safe to seek advice from a qualified medical practitioner.
Have you ever used a skin lightening cream? Do let us know your experience in the comments section below.