The best slime kits for kids come with a host of features. Slime is great for improving children's sensory skills, stimulating creativity, and generating keen interest in science. It also helps children grasp important concepts such as viscosity and non-Newtonian fluids.
You can make basic slime at home, but if your child is looking for something more to explore and learn, slime kits are what you should bring home today. Keep scrolling as we bring you a curated list to help you figure out the best ones for your little one.
Safety Measures To Follow While Playing With Slime Kits
Though slime is fun, children need to follow certain safety measures while playing with it.
Slime kits are generally recommended for children aged six years and above.
Children need to play under adult supervision as they might accidentally ingest the slime or the smaller accessories.
Do not replace or add other ingredients in the slime kits.
Read the instructions carefully to make the slime.
Never allow children to put slime in their eyes or mouth.
After making or playing with the slime, always tell your kids to wash their hands.
Clean the workspace with disinfectant.
16 Best Slime Kits For Kids
Making slime has just gotten easy and exciting with this Original Stationary slime kit. This could be one of the best slime kits as it comes with everything you need to make slime. With this kit, your child will be able to make slimes of different colors, textures, and scents. You may check more about this product in this video.
Features
Has all the ingredients to make slime.
A guidelines book with instructions.
Storage containers.
100% hypoallergenic and safe for kids' skin.
Includes accessories such as food colors, glitters, and beads.
If you are worried about your children getting chemical burns from Borax while making slime, then this is one slime kit that you need to try. Made with eco-friendly materials, this slime does not have Borax powder and is recommended for kids from five years and above. Check out this video to learn more.
Features
Quality tested and non-toxic formulas.
Washable and reusable

containers

and slimes.
Eighteen different colors to try out
Twenty-seven accessories for unlimited fun.
Glow in the dark powder.
Throw your kid a cool slime-themed birthday party with the Laevo slime kit. This kit contains everything to make and design unique and exciting slimes. Children would have fun making the slime, twisting, twirling, and stretching it. Watch this video for more information about the product.
Features
Fifty-seven supplies to make various varieties of slimes.
A secure storage container.
Colorfully illustrated

book

with ten easy-to-make slime recipes.
ASTM certified and safety tested by CPSC.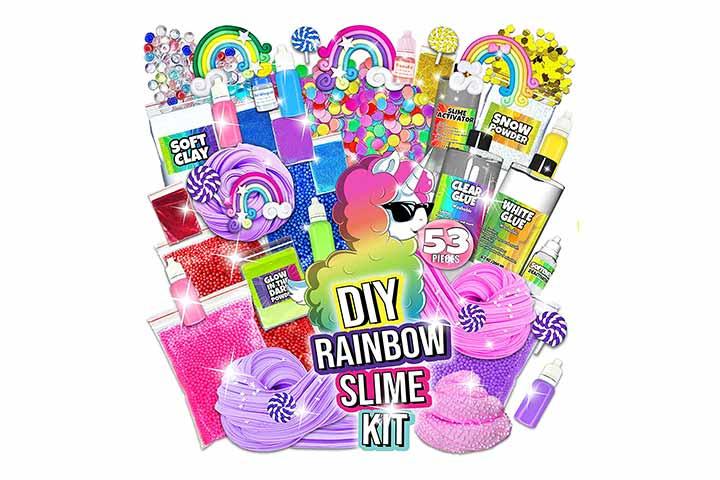 This Unicorn Slime Kit contains 53 pieces so that the parent and the kid can enjoy their fun time together. This slime is safe for kids and adults; it is ASTM certified. It has just the right texture. The set includes glues, activator, deactivator, foam balls, soft clay, etc. This slime kit improves hand-eye coordination, creativity and imagination skills, and fine motor skills.
Features
Glows in the dark
Storage container for slime kit
Different attractive colors
Zip-lock pockets
Help your kids make some out-of-the-world slime with the Elmer's Galaxy Slime Kit. Just mix the glitter glue with some common household items, and your children will be able to make some sparkling slime in cosmic colors. This slime kit comes in six different variants.
Features
Contains 6fl.oz. of pink, blue, and purple glitter glue.
Comes with an easy to follow slime recipe.
Doesn't lose its flexibility even when dried.
Washable and reusable formula.
Non-toxic and safe.
Easy to use and doesn't leave a mess.
This slime kit seems to justify the name 'Mega Slime Kit,' with not just ingredients to make a DIY slime, but also some unique putties to help your kids understand scientific concepts like magnetism, fluorescence, and viscosity. This kit is recommended for children aged eight years and above.
Features
Four different types of slimes and one DIY slime powder.
Four types of interesting Putties.
Sixteen-pages learning guide.
Tested non-toxic formula, safe for kids.
Do unicorns and teddy bears fascinate your child? Then this slime kit could be a perfect gift for their birthday. This kit has rainbow-colored glues, glitters, sparkles, and other accessories to make as many colorful slimy things as possible.
Features
Thirty-five plus accessories.
Cute storage containers and unique glue bottles.
Instructions booklet.
Stylish carrying case to store everything.
Yet another cute and engaging slime kit from Poopsie. This rainbow-themed slime kit has everything for your children to create some unique sparkling slimes. It is said to have eyeshadows and lips colors that could be used to color the slime or use them on oneself. However, precaution has to be taken before applying the colors on the eyes or lips.
Features
Thirty-five plus items, including makeup accessories.
A rainbow shaped storage container.
Many options to choose from and experiment with.
Nine customizable DIY slime powders.
Your kids will have fun making their own slime with this factory themed slime kit. All they have to do is pour in the slime powder, glitter, confetti, and water in the mixer, close the lid and mix using the mixture; that's it, the slime is ready!
Isn't this an easier and less messy way to make slime? This kit is recommended for children age six and above.
Features
Unique mixer for a mess-free slime making.
Glitter, confetti to create various slimes.
Figurines that can be hidden inside the slime for playing.
Storage containers and a mixing station.
If you are looking for an easy to do starter slime kit for your children, then go for the Elmer's Color slime kit. All that the children need to do is pour out the opaque glue into a glass bowl and add some amount of the liquid activator and mix and knead until it reaches a slimy consistency.
Features
Easy three-step process.
The glue is washable with soap water.
Non-toxic and safe for children.
Comes in two vibrant colors.
This is a starter slime kit from National Geographic. So, if your children are new to slime making, then this could be one of the best starter kits that could arouse their interest in science.
Features
Easy to make in three simple steps.
Contains everything needed to prepare the slime.
Comes in single packs as well as a four-pack.
Guidelines and instructions book included.
This DIY slime kit is said to have everything your children need to make the perfect slimes at home. The slime is said to be soft, non-sticky, and can be stretched without any tear. Your kids can make six different colors of slimes and also experiment with glitters and sparkles.
Features
Six colors of slime, one pack of glitter, and one pack of slime.
Non-toxic and safe to use.
Easy to follow instructions.
Comes with measuring cups, mixing spatulas, etc.
The Thoughts of Fun Co slime kit might help your kids to take a journey into the past with its dinosaur-themed slimes and dinosaur figurines. It is said that the more kids play with this slime, the stretchier it becomes. This slime kit is recommended for kids above the age of six.
Features
Twelve different colors of slimes and dinosaur figurines.
Containers to store the slime when not in use.
Borax-free, safe, and non-toxic.
ASTM international toy safety standards certified.
Various kinds of accessories.
Neon slime, colored crystal slime, glow in the dark slime, you name it, and your children can make it with this mega slime kit. This slime kit has everything they need to make all kinds of slimes. Recommended for children above the age of six years, this slime kit might spike your child's enthusiasm in experimenting with slime.
Features
Eight large batches of slime for unlimited fun.
Ten varieties of accessories.
Tested and certified as per ASTM F963-16 toy safety standards.
A booklet with instructions.
Give this all-in-one slime kit for an expert slime maker, and you might have just sparked their creativity and enthusiasm. This kit has everything needed to make many types of slimes for an advanced 'slimester'.
Features
All-in-one storage container.
30 plus accessories
Slime recipes eBook.
Step-by-step instruction manual.
This is another cute unicorn themed slime kit that comes with an easy-to-carry sling bag. Along with making slime, your kids can also share the unicorn friendship rings and make their playtime a memorable one.
Features
Unicorn themed kit with stickers and friendship rings.
Reusable jars to store the slime.
Spill-proof play mat.
Instructions included.
How To Choose The Best Slime Kits?
Consider these points while buying a kit for your child.
Safety: Check the safety standards of the product and make sure the slime kit complies with them. Refrain from buying kits that have smaller accessories for younger children. Also, look for chemical-free ingredients.
Expertise: Buy a simple starter kit if it is your child is playing with slime for the first time. These kits are easy to make and come with detailed instructions. But, if your child is an expert in slime making, then go for the advanced kits.
Easy to clean: Slime making could be messy, so buy a kit that is easy to clean and store. Many kits come with an easy-to-store container.
DIY or readymade: There are two types of kits, one where the kids will have a provision to make the slime on their own, and the second type where the slime is already made, and your children can customize it. Choose the one as per your child's interest.
Be it a holiday or a birthday party activity, slime kits are the best to have some quality family time or for your kids to enjoy with their friends. Pick up the right slime kit and help them explore the vast ocean of knowledge while having loads of fun.
How We Selected The Best Slime Kits For Kids
We have compared and reviewed various products across the market to compile this list. These products are child-friendly and we have considered several user reviews to find the right products for you. Along with this compilation of the best slime kits, we have also included important safety measures for children to follow while playing with slime.
Recommended Articles: